One of the UK's most famous and well-known sites, Stonehenge is a giant Neolithic structure recognisable the world over.
UNESCO-listed and run by English Heritage, this towering circle of huge standing stones delights and amazes just as much as it intrigues and baffles.
While much has been studied and theorised about the place, there's still no clear answers as to what this site meant to our prehistoric ancestors.
With a staycation year thrust upon me in 2020, I knew Stonehenge was one of the absolute musts on my great British bucket list.
After all, it was slightly embarrassing that I hadn't already visited, especially given how close this great icon is to London!
But close it is and get there I finally did, and now I want to bring you all the info about how to travel to Stonehenge from London so you can also make a trip to this amazing monument…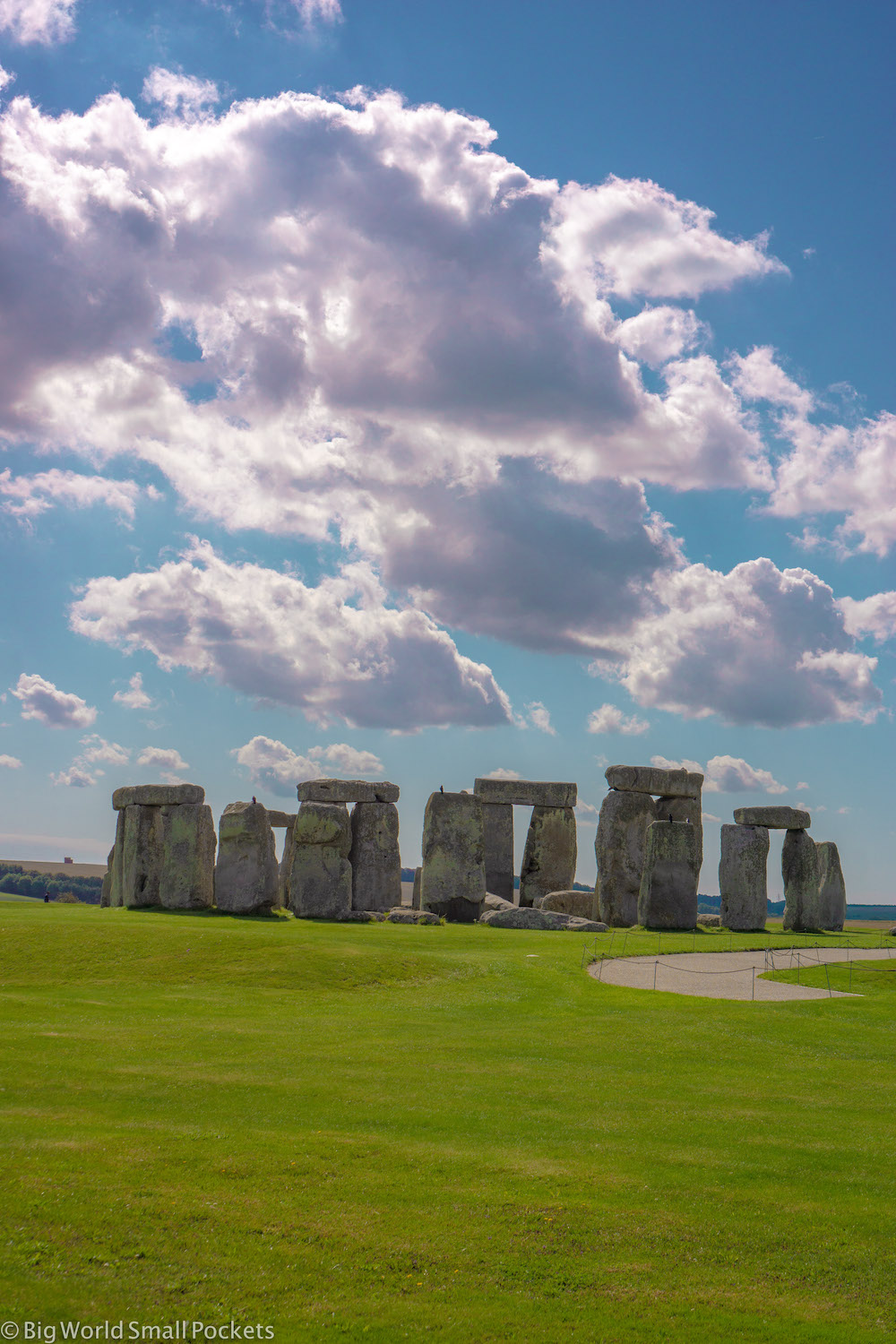 ---
Related Posts
---
This page contains affiliate links meaning Big World Small Pockets may receive a small commission on any purchases at no extra cost to you.
---
Where is Stonehenge?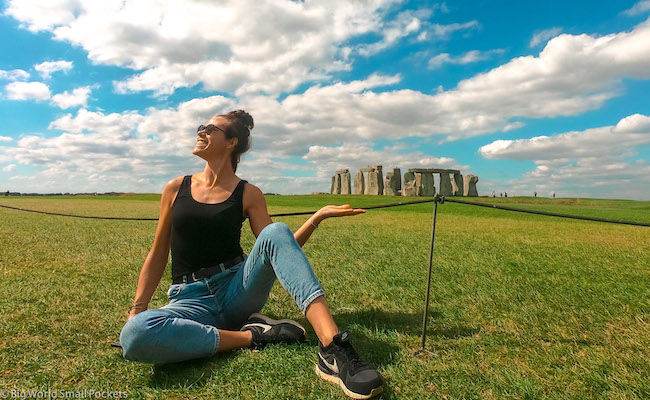 Located in the county of Wiltshire in southwest England, Stonehenge is 3km from the town of Amesbury and a couple hours outside of London.
As such, it makes for a great day trip from the capital, or a super stop enroute from London to other places in this part of the country including Glastonbury, Bristol, Cardiff, Bath and Exeter.
In the middle of the country, the nearest city and the transport hub closest to these giant standing stones is Salisbury, just 13km away.
If you're travelling to Stonehenge via public transport, it's Salisbury you'll want to head to.
Otherwise, driving your own vehicle to Stonehenge is totally possible, as is taking a tour there from London.
I've covered all these options below, so read on to learn more.
Oh and don't forget to pre-book your entrance tickets too… Stonehenge can get very busy, especially in the summer months or at weekends.
How to Travel to Stonehenge from London By Train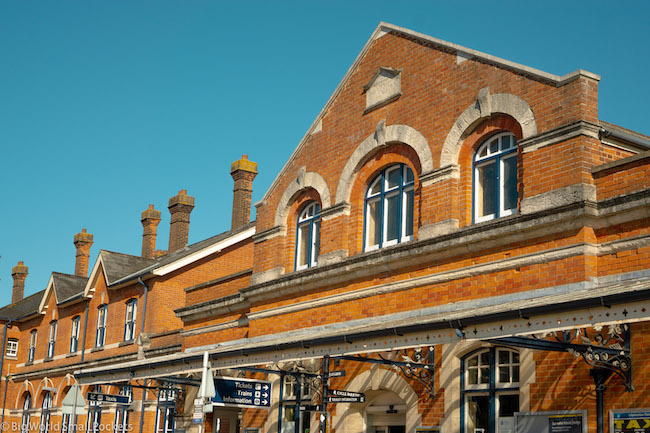 The first option I'm going to cover when talking about how to get to Stonehenge from London is the train option.
This is the option I used to get to these standing stones because, if you are using public transport, this is the quickest and most efficient method.
Regular trains leave London Waterloo and head to Salisbury 7 days a week. They are operated by Southwest Trains.
The journey takes under 2 hours and tickets start from as little as £15, but you must book at least a few days in advance to get these prices, as peak trains and late bookers can see fares skyrocket.
As always, I use Trainline to find the best deals on my UK train tickets.
This clever website and app uses split-fares to find you the best rates and it's easy to compare journey times and ticket prices with them too.
Booking is secure and easy and, once complete, you can use their app to store your e-tickets, meaning no need to stress about collecting any tickets at the station – simple!
To keep prices low on your ticket, you don't need to reserve a seat or choose a flexible ticket, unless you feel your plans might change.
Bearing in mind that it takes just under 2 hours to arrive into Salisbury, and from there that you have to get to Stonehenge, I would highly recommend setting out from London early. An 8-9am train would be ideal (I'll go into more details later).
Ensure you also leave time to journey to Waterloo station and find your platform.
Usually I suggest arriving at this large train station at least 15 minutes before your train departure time to avoid any last-minute scrambles and stress!
You can use the great free app – Citymapper – to find your way to Waterloo station from across London.
Once on the train, sit back and enjoy the ride out through London to the countryside before getting off at the cute and historic train station in Salisbury.
From here, you'll want to walk to the car park just outside to pick up the Stonehenge Tour Bus – more about this in a later section of this article.
How to Get from London to Stonehenge By Bus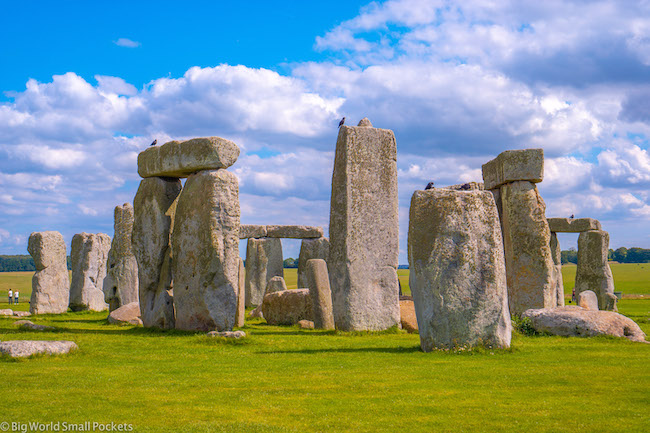 If the train is too pricey for you, perhaps because you're booking late or need to travel at a peak time. then the bus may prove a better option for you, although it will take longer and is subject to traffic delays.
The bus will also be cheaper overall, especially if you are National Express cardholder, which will entitle you to a discount on their service.
National Express buses leave London from Victoria Coach Station, cost as little as £15 and can be booked here.
As I've written about in other articles, the coach station is around a 5-10 minute walk from London Victoria Underground and Rail station, so do allow time to make this extra journey.
National Express buses actually travel to Ringwood from London Victoria, not Salisbury. From Ringwood, you'll then have to change bus to take the local X3 bus to Salisbury Centre.
The X3 is operated by local company Salisbury Reds and leaves from Ringwood Meeting House Lane every half an hour. It will take you to Salisbury City Centre, New Canal in around 40 minutes.
Check the timetables here.
Choosing this route will also allow you to then pick up the Stonehenge Tour Bus from Salisbury centre.
As with the train, if you want to pick up this tour bus, I suggest getting an early bus from London to allow you the time.
Alternatively, you can also get the Megabus from London Hammersmith to the town of Amesbury. This bus will cost you around £20.
From Amesbury, you can then either walk or take a taxi the remaining 3km to the Stonehenge site, essentially bypassing Salisbury all together.
FYI, this walk was voted one of the top 100 strolls in Britain!
If you take the route to Amesbury, don't forget to book your Stonehenge entrance tickets in advance here.
Taking a Stonehenge Tour Bus
If you're getting any form of public transport to Salisbury or you're parking your own vehicle in this city, then there's no question, the easiest way to get to Stonehenge from here is the Stonehenge Tour Bus.
It's probably worth me pointing out at this stage, that this article is not sponsored by these guys, I paid for my own ticket and honestly thought it was a brilliant service, which is why I'm recommending it here!
The tour picks you up from either Salisbury Train Station or the City Centre – New Canal (where the X3 bus from Ringwood drops you off).
It's less an organised tour with a guide (if you want that, skip to the tour section of this article), but is a bus service with an audio guide, that takes you from Salisbury to Stonehenge (as there isn't any other public transport method that does this).
The first Stonehenge Tour Bus leaves the Salisbury Rail Station car park at 10:00 am and then calls at New Canal in the city centre before arriving at Stonehenge at roughly 10:30 am. This is the service I recommend you should get.
That's because you'll want at least 2-3 hours at the stones, meaning you'll likely catch the 12:40 pm or 1:40 pm Stonehenge Tour Bus departure leaving the stones visitor centre.
You then have the choice (depending on the ticket you buy, but why not do it all while you are here?!) to visit the UNESCO-listed Old Sarum, arriving there at either 1 pm or 2 pm depending on the bus you choose to depart Stonehenge with.
I'd allow an hour for Old Sarum, heading back on the Stonehenge Tour Bus to Salisbury from here at either 2 pm or 3 pm.
You can also take any Salisbury Red bus that passes this stop for free – just show your Stonehenge Tour Bus ticket and you will be dropped back in Salisbury City Centre in half an hour.
You can buy different sorts of tickets for the Stonehenge Tour Bus here.
Personally, I think their full bus tour plus your Stonehenge Tickets is the one to go for – it keeps everything streamlined and easy.
If you have an hour or 2 when you get back to Salisbury, then you should also visit the famous Cathedral here.
You can get a Stonehenge Tour Bus ticket which includes Cathedral entry and again this just keeps everything streamlined and simple.
Wandering through the giant Medieval religious building of Salisbury, as well as seeing one of the 4 original Magna Carta transcripts here, shouldn't be missed – fitting this in at the end of your trip to Stonehenge is one of the main reasons I recommend getting the earliest tour bus.
Travelling from London to Stonehenge By Car
If you have your own vehicle, you're venturing on somewhere after Stonehenge, or you want the flexibility or a private vehicle, then you'll be pleased to know you can also travel from London to Stonehenge via car.
This journey will take around 90 minutes, depending on the traffic and where in London you're leaving from.
If you are driving to Stonehenge from London, the best option is to take the M3, then the A303 and finally the A360 to Stonehenge.
Please bear in mind, the traffic on this final road can get really busy, as you can actually see the Stones from along this road. As such, many motorists slow down to look at them (who can blame them?), which can lead to big tailbacks!
If you want to see Stonehenge for free, this is the way to do it!
Otherwise, head to the Stonehenge Visitor Centre and park here. Parking is free with a pre-booked ticket to the site.
Alternatively, you can of course drive to Salisbury and park there (this will cost around £10 for the day) before hopping on the Stonehenge Tour Bus from here.
If you're looking to rent a vehicle, then I thoroughly recommend Discover Cars, who are a very reputable company and offer some great deals.
If you do wish to hire a car in the UK, then check out these top 12 tips I wrote about how to get the best deal.
Top Tours from London to Stonehenge
And finally, the other way you can get from London to Stonehenge is to take a tour.
These are fully organised day trips that include transportation to and from London and sort all the logistics for you too.
They often combine Stonehenge with other destinations in the southwest of England and include a guided commentary along the way.
Here's my pick of the bunch:
What to Do When you Arrive at Stonehenge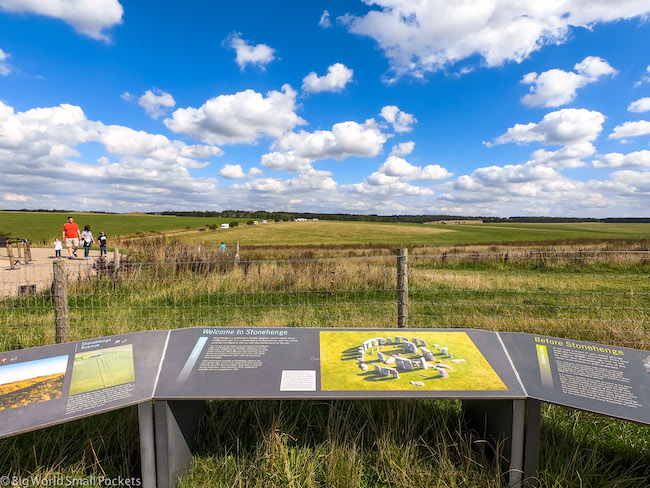 When you arrive at Stonehenge – no matter whether you're driving or using a tour – you'll disembark at the car park and then take a short stroll to the Visitor Centre.
Here you'll show your ticket and then either have the choice of hopping on the free shuttle bus or walking to the Stones.
This is a flat and beautiful stroll taking around 30 minutes, which I highly recommend you make if you can.
Once you reach the Stones, you can listen to the FREE Stonehenge Audio Guide while you walk around them – this provides tons of useful and interesting info.
The visitor centre has free wifi if you haven't downloaded the Audio Guide at home.
After your time at the Stones themselves, you can then either walk or take the shuttle bus back to the Visitor Centre where you can view the Stonehenge museum – this is well worth a visit too and is included in your ticket price.
Top Stonehenge Travel Tips
Given its outdoor setting, there's no question the best time to visit Stonehenge, in my opinion, is during the summer months – this is when days are longest, warmest and sunniest in the UK and make for the perfect stone touring conditions.
That said, Stonehenge can get very busy, especially on sunny weekends and during school holidays, so be careful to avoid these times if you can.
Visiting mid-week outside of school holiday periods are your best bet for avoiding the crowds!
And don't forget the summer and winter solstice evenings (21st June and 21st December) get very busy at Stonehenge thanks to the druid ceremonies.
How Long to Spend Stonehenge
I think a half day is a great amount of time to spend at this iconic attraction.
5 Stonehenge Packing Essentials
Here's my list of the top 5 packing essentials you shouldn't head to Stonehenge without…
#1 A Good Camera – No doubt you're going to be snapping like crazy in this amazing landscape and need to ensure you have a good camera to do the place justice. I love my Sony A6000, which is light, compact and great for travel.
#2 Decent Walking Shoes – No point coming this far and not being able to enjoy a walk to or around the stones comfortably. Get prepared therefore and ensure you have a decent pair of walking shoes – these cross-trainers from New Balance are ideal (and totally stylish) for the job.
#3 Light Waterproof Jacket – Whatever the time of year, you have to remember this is England after all, a country in which the heavens can open at any point! Don't get caught out therefore and ensure you have a good lightweight and waterproof jacket with you. This North Face one is perfect.
#4 Compact Hiking Day Pack – I never go on any day trip without a sturdy backpack to ensure I've got room to carry everything I need and that the weight is equally distributed across my back and shoulders, This super featherweight Kompressor from Marmot is my go-to, because it folds down to nothing and is water-resistant.
#5 Portable Power Bank – There's no denying, power can be an issue on day trips, when constant photo taking, map reading and information sourcing can wear down your phone battery fast. My solution: Come armed with a fully charged Anker power bank, so you can fire up your phone, camera or other devices whenever and wherever you need.
Travel Insurance
World Nomads offers simple and flexible travel insurance. Buy at home or while travelling and claim online from anywhere in the world.
Alternatively, if you're a long-term traveller, digital nomad or frequent remote worker seeking travel health cover, check out Safetywing's Nomad Insurance policies.
Travel Money in the UK
The easy way to spend abroad with real exchange rates, no markups and no sneaky transaction fees, you can use your Wise card just like a debit card here… and it links easily with Google and Apple pay – sold! Grab yours here.
PIN IT TO PINTEREST!
I really hope you enjoyed my guide on getting to Stonehenge from London and found the information useful.
Have you been to this amazing site?
Have any extra info to help a fellow traveller out?
Then please drop it into the comments box below…