Located near Cusco in the south of Peru, in the heartland of the former Inca empire, there's no question the Sacred Valley is an incredible place to explore as a traveller in this county.
From amazing ruins through to stunning Andean views, traditional markets and wonderfully authentic towns, the Sacred Valley is a huge area awash with incredible places and things to discover.
Not least of these is Machu Picchu – the jewel in this region's crown – but even beyond this UNESCO gem, there's a whole heap of wonderful treasures in store.
After all, this is Peru!
So take a look at these top Sacred Valley tours if you want to experience the best of this region and discover some of the top magical moments Peru has to offer…
---
Related Posts
---
This page contains affiliate links meaning Big World Small Pockets may receive a small commission on any purchases at no extra cost to you.
---
Introduction to these Top Sacred Valley Tours
Also known as Urubamba Valley, the Sacred Valley lies just 20km north of Cusco and was absorbed into the Inca Empire around 1000AD.
Covering several historic towns, still full of traditional culture and communities, the main destinations to visit in this area are Pisac, Maras, Moray, Ollantaytambo, Chinchero and, of course, Machu Picchu.
Learn more about all these destinations in these 2 posts I've written:
Short tours (including half day and day tours, as well as longer multi-day adventures) tend to leave from Cusco and this is the place to head to before starting your Sacred Valley trip.
Check this list of the top 14 Cusco hostels if you're looking for somewhere great to stay in this city.
You can also tour the Sacred Valley independently using public transport and I go into this option more in #6 on this list.
If you're travelling the region in this way (as I did), then you'll probably want to base yourself in either Ollantaytambo or Pisac for the longest periods.
Otherwise, check out the top tours I've listed below to help find your perfect adventure…
#1 Best for Those on Short Timeframe
This highly-rated half day tour gets incredible reviews and is a brilliant way to see as much of the Sacred Valley as possible in a short timeframe.
Running in just half a day and picking you up, as well as dropping you back to Cusco, this tour includes Moray and Maras, as well as a cultural demonstration at a local weaving centre.
It also has a bilingual guide included, which is a great way to learn about these incredible Inca sites and to discover the beautiful views you'll see along the way.
#2 Best for Action Lovers
Also leaving from Cusco and covering the fascinating sites of Maras and Moray, this top Sacred Valley tour is ideal for action lovers who want an adrenaline-fuelled time in this part of Peru.
Quad-biking through the Andean countryside is a great way to take in the stunning views, and this tour also allows you to engage with the history of the Incas too.
With a pick-up and drop-off in Cusco, this is another great option for those who want to experience the Sacred Valley in a short amount of time and in a unique way.
#3 Best 1 Day Tour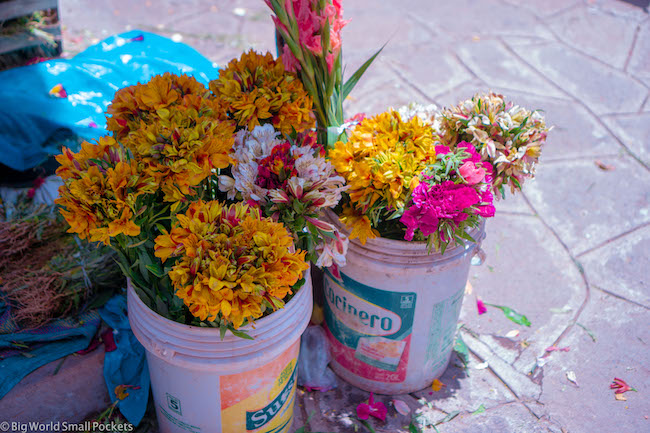 With great reviews and lunch included, this is definitely one of the top Sacred Valley day tours running from Cusco.
A fully certified tour, with a bilingual guide and hotel pick-up in Cusco included, this trip covers an amazing amount of ground with time in Pisac, Ollantaytambo and Chinchero all included.
These means you'll visit a really good amount of ruins, markets and traditional towns, plus some excellent lookouts – not least the spectacular Mirador of Taray.
This tour is a little most costly than some other day trips, but does include a good buffet lunch, transport in a private vehicle and is limited to a small number of people only.
#4 Best Tour including Machu Picchu
Yes there's no question that Machu Picchu is one of the Sacred Valley's most amazing and famous sights, but it can also be a complicated place to get to, with hiking, bus and train options all available.
You can learn more about all of these, as well as my top tips for visiting Machu Picchu, in this mammoth article I wrote about the place; otherwise, if you want to combine exploring this site with time in other Sacred Valley destinations, this is the tour for you.
Departing from Cusco to take in the market and ruins of Pisac, before driving through this gorgeous Andean landscape to see the Incan ruins at Ollantaytambo, you'll finish the first day by catching the train to Aguas Calientes and bathing in the hot springs there.
On day 2, you'll set off early to see sunrise over Machu Picchu and explore this incredible sight.
You also have the option to climb Huayna Picchu, before heading back on the train in the afternoon to Cusco.
If you're on a short timeframe, this is an absolutely amazing tour for covering a lot of the Sacred Valley's main sights.
#5 Best Bucket List Ticker
I've chosen this as one of the top Sacred Valley tours because it really does tick all the major sites of this region off the list in a day.
Leaving from Cusco to take you to Chinchero, you'll then head to Maras and Moray, before enjoying lunch in Urubamba.
After lunch, you'll continue on to Ollantaytambo to see the ruins, and lastly, you'll visit Pisac to discover the local market, before returning to Cusco.
With a tour guide and tour bus included, this is a great value day trip for seeing the best of the Sacred Valley with ease.
#6 Best for Those on a Budget
But don't forget amidst all of this, that you don't have to take a Sacred Valley tour.
No, you can in fact visit this region independently, mostly using public transport.
Of course, this will take longer than an organised tour, but it will allow you to move at your own pace, create your own itinerary and also spend longer in spots that you really enjoy.
Learn more about exploring the Sacred Valley without a tour in my ultimate Peru itinerary, but if you want to explore the region this way, I highly recommend spending nights in both Pisac and Ollantaytambo.
The other thing you'll want to do is invest in a Cusco Tourist Ticket – which will save you a huge amount on entrance fees to the various ruins including those in Pisac, Ollantaytambo, Chinchero and Moray.
It also covers your entrance to some of the museums and ruins around Cusco too.
Learn more about this in the post I wrote about the top things to do in Cusco.
#7 Best for Machu Picchu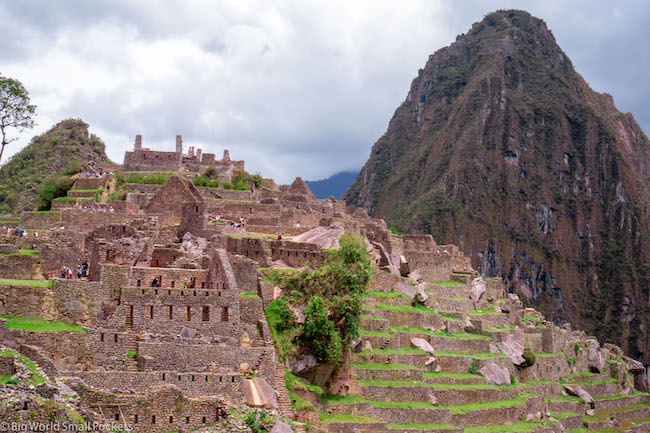 There are so many tours for Machu Picchu, depending on whether you want to hike there, train there or bus and walk there, that it's impossible to list them all here.
As such, the best thing to do if to want to visit Machu Picchu is actually head over to the full article I wrote about this UNESCO world wonder and explore many of the top tours and independent options I list there.
Otherwise, if you want to quickly know how I opted to see Machu Picchu, then I'm happy to tell you it was via the cheapest option possible – the bus and walk option!
This trip involves not only a good hike, but also a night or 2 in Aguas Calientes, as well as the option to enter Machu Picchu for sunrise – as such, it was winner in my book!
If you want to go for this option too, then grab your return bus ticket here, book your Machu Picchu entrance ticket here and book your night(s) at Supertramp hostel in Aguas Calientes here.
#8 Best Extended Tour
7 Day Andean Experience Through the Living Culture of the Incas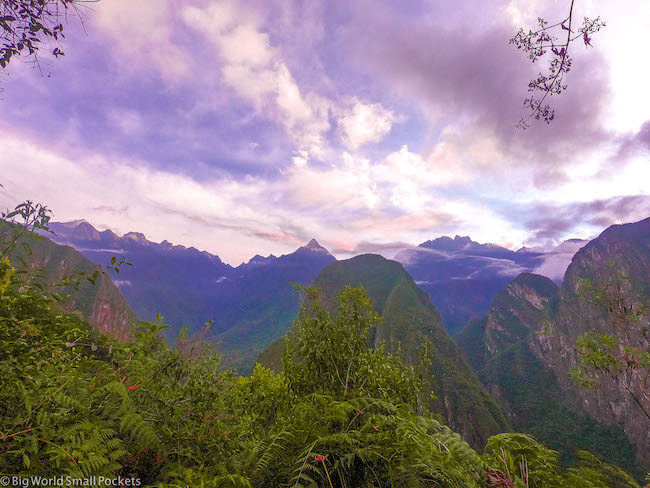 And last but not least on this list of the top Sacred Valley tours, we come to the longest option – a 7 day epic tour that includes visits to Ollantaytambo, Moray, Chinchero, Pisac and Machu Picchu – just about every Sacred Valley tick in the box!
Beginning and ending in Cusco, this tour includes hotel accommodation, as well as an expert guide, meals, transport and more.
When to Visit the Sacred Valley?
Travel seasons in Peru are often a little complicated, purely because of the diversity of this country's topography.
When it's summer on the coast, for example, it's rainy in the mountains and when it's cooler in the jungle, it's freezing along the Pacific.
As such, you're always going to be rolling the dice a little when you travel Peru, especially with global warming messing everything around too.
Bearing all that in mind however, the best time to visit the Sacred Valley is during the dry season in the Andes aka winter in Peru, which runs largely from the month of June through to October.
Trying to combine the best of both worlds i.e. spring on the coast and dry season in the mountains, I visited the Sacred Valley at the end of October and actually found it ideal as there were even less tourists (because it was shoulder season), but it was not yet too cold or wet.
That said, it can, of course, rain any time of year at this altitude, so maybe it was just luck!
Learn more in this article I wrote specifically about the best time to visit Peru.
How to Get to Cusco?
It's pretty easy to get to Cusco overland with regular buses from Lima, Arequipa, Ica and Puno.
Most take over 10 hours however, so strap in for a nighttime ride!
As usual in Peru, you can book buses online and choose from a range of services including day or night buses with varying levels of luxury – the more you pay, the better service you get.
Always book your long distance bus tickets in Peru at least a day in advance, preferably 2.
Alternatively, if you want to save time, you can pick up domestic flights to Cusco from around Peru – with most coming from Lima.
Safety at Altitude in Peru
There is something very important you need to know about the Sacred Valley and that is altitude!
Being in the Andes and situated at over 3,000m above sea level in parts, the Sacred Valley is high and altitude sickness is a real and serious thing here.
This is even more true given that some of the hikes in this area go up to 5,000m above sea level.
As such, you must, ABSOLUTELY MUST, take altitude issues seriously when you come to this region and spend at least 1 day here (better 2) acclimatising before attempting any hiking.
This is especially true if you've come from the coast i.e. Lima, as you must allow your body to get used to the lower levels of oxygen in the air here before attempting any serious exertion.
I've had altitude sickness myself in Ecuador and can definitely attest to the fact it is not nice.
In fact, it can be very serious and sometimes lead to hospitalisation and even death.
Do not take this issue lightly when travelling to Cusco or the Sacred Valley and, if you start to suffer any symptoms, then take the necessary precautions.
You can learn more about altitude sickness, what causes it, what the symptoms are and how to avoid or treat it in this useful article.
Travel Insurance for Peru
World Nomads offers simple and flexible travel insurance. Buy at home or while travelling and claim online from anywhere in the world.
Alternatively, if you're a long-term traveller, digital nomad or frequent remote worker seeking travel health cover, check out Safetywing's Nomad Insurance policies.
5 Packing Essentials for the Sacred Valley
#1 Good Camera – I would never even think of travelling to Peru without a camera good enough to capture the amazing landscape and people of this country. Both my Sony A6000 and my GoPro have been perfect for the job!
#2 Waterproof / Windproof Jackets – With so much of this country situated high in the Andes, taking a waterproof and windproof jacket is essential if you're going to be hiking or sightseeing in the mountains. I highly recommend the North Face Venture 2 for the job.
#3 Hiking Boots – You can't come to Peru and not do some trekking, so make sure you come prepared with some good, supportive hiking boots… I've never worn mine so much in my life! These Keen Targhee II's are the perfect solution.
#4 Day Pack – Also for the hiking and sightseeing, a good daypack to carry water, snacks, camera, hat, gloves and other clothing layers in, is key in Peru! This one from Osprey is my pick.
#5 Travel Scarf – And finally, I've just discovered the amazing travel wraps from Sholdit and am so happy I took mine to Peru. Acting both as a scarf to keep you warm and a place to store your valuables while you're out and about, this great invention is perfect for travel in South America.
PIN IT TO PINTEREST!
And there you have it!
My list of the top 8 Sacred Valley tours in Peru that will have you exploring all the best parts of this incredible region.
Are you preapring for a trip to the Sacred Valley?
What are your plans?
Tell me all in the comments box below…