The Windsor Long Walk has to be one of the most striking strolls in England.
And if you know England… that's quite the claim!
Set in stunning and vast parklands, this straight, 2+mile avenue leading right up to the great gates of Windsor Castle – a Royal residence – is about as iconic as it gets in this country!
Chock full of history and set in the beautiful county of Berkshire, the Windsor Long Walk makes for the most glorious day out, no matter whether you're looking to get your monarchy fix or just want to escape London for some fresh air and open space.
So if you're planning a trip here, either as part of a day trip from the capital or a longer Berkshire adventure, then you can't miss the Windsor Long Walk!
And here's everything you need to know about getting there and enjoying it to the max…
---
Related Posts
---
This page contains affiliate links meaning Big World Small Pockets may receive a small commission on any purchases at no extra cost to you.
---
What is the Windsor Long Walk?
As you may have grasped from my introduction, the Windsor Long Walk is basically a massive avenue-lead up from Great Windsor Park to Windsor Castle.
Although massive avenue doesn't really do the grandeur of this spot justice, because this is, in fact, 2.64 miles of dead straight, tree-lined lead-up that descends down from Snow Hill to the gates of the Royal Castle.
To say it oozes a sense of pomp and ceremony would an understatement!
The best place to begin the Long Walk is from the statue of King George III (on top of a horse) which is located at Snow Hill within Great Windsor Park.
An amazingly elevated spot with 360 views over the surrounding countryside, as well as across to the skyscrapers of London on a clear day, plus Wembley Stadium, Heathrow Airport and many more landmarks, this statue is also known as the Copper Horse.
But of course, most impressive from this raised monument is the direct view along the Long Walk to Windsor Castle's gates.
Perhaps you'll be unsurprised that this royal residence is meant to have been inspired by the Palace at Versailles in France!
But the historical links, don't stop there – King Henry is supposed to have waited here for news of Anne Boleyn's execution and King Charles II planted 1652 elm trees – which is basis of what you see here today, although now the trees are predominantly oak and horse chestnut.
And this being England, the historical connections still extend to today, with the current Royals using the Long Walk to drive their carriages from Windsor to the annual races at Ascot.
In addition, each year, on the Queen's birthday, there's a 21 gun salute along Windsor's Long Walk and, of course, Harry and Meghan drove down here following their wedding in Windsor.
How to Enjoy the Long Walk
The Windsor Long Walk is an absolute favourite with walkers and runners.
The sense of seclusion it holds, along with the amazing drama of the castle and sweeping views, make it a dream on 2 feet.
At a good pace, you can easily stroll the Long Walk in under an hour.
Sadly it's not a dream on 2 wheels however, as cycling is banned throughout and only official vehicles are allowed.
Deer Park
Many people, myself included, expand the Long Walk route to include more of Great Windsor Park as part of a bigger stroll.
The nearby Deer Park, which is part of this vast green space, is a great spot to add on if you want to see a bit more.
After all, who doesn't want to the chance to spot free-roaming deer between some ancient English Oaks!
In total there are 500 deer in this park and they are quite used to people and posing for photos, so camera at the ready!
The Deer Park is a short add on to the Long Walk and a great one for families as the trails are well-marked and easily defined.
From Virginia Water
If you feel like branching out even further however, then why not take in more of Great Windsor Park's 4,800 aches, by beginning your stroll from Virginia Wates and traversing through huge swathes of this free green space to end at Snow Hill and finally the Windsor Long Walk.
If you choose to enjoy the park and castle this way, as I did, then the best option is to buy a one-way ticket to Virginia Water train station, from where you can easily access Windsor Park care of a short stroll.
You'll then walk for over 10km through this amazing green, enjoying many of its lakes, gardens, sculptures and historical features, before finishing at Snow Hill and descending along the Windsor Long Walk to the Castle.
After visiting the Castle itself, you can then enjoy more of the town of Windsor before catching a train home from the train station in town here.
For more details on this, see the next section.
How to Get to the Windsor Long Walk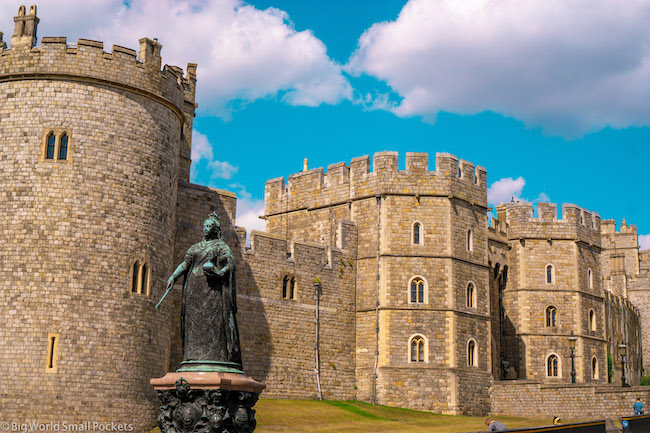 There's a few ways to access the Windsor Long Walk, but for the purpose of this section however, I'm going to cover how to access the Windsor Long Walk in the quickest and easiest way – no extra hiking required!
Train
If you're catching the train to enjoy the Windsor Long Walk, then the nearest station is within Windsor itself.
This station is actually called Windsor and Eton Central, so don't be confused by the name, this is the station you want!
This is a tiny station, with just 2 platforms, but is very close to Windsor's High Street and within a tourist-friendly restored heritage building now turned shopping area.
If you're actually heading to or from London here, you'll likely need to change at Slough – from there trains will then take you direct into London Paddington.
Don't let this put you off however, even though you have to make a change, this is a quick, straight-forward and simple journey that takes little over an hour.
As always, I recommend booking your journey in advance through Trainline.
Booking online in advance is going to give you the best-priced tickets and with Trainline's handy app, you can arrange e-tickets, meaning you don't have to mess around with collecting any passes at the station.
Alternatively, you can buy tickets at the Windsor and Eton Central station itself on the day of travel – you're just likely to pay a bit more, but this does give you flexibility if you're not sure how long you might be.
Bus
If budget is a real issue for you and you're perhaps booking late in the day (meaning the cheapest train tickets aren't available) then you may want to consider catching the bus to Windsor instead.
National Express runs many buses to Windsor's Legoland, which is a major attraction in the town.
There's direct coaches from London's Victoria Station, where National Express have their main terminus in the capital.
The National Express stop in Windsor is then (confusingly) along Victoria Street, from where it's just a short stroll to the Windsor Long Walk.
As always, bus travel in the UK tends to be slower than the train – mostly due to traffic – but it is cheaper.
You can book your National Express buses to Windsor via the Trainline's website too.
Doing so also allows you to easily compare the bus and train services.
Alternatively, Berkshire's White Bus Service runs from Ascot to Windsor if you're travelling in that direction instead.
Cycle or Drive
And finally, you can also cycle or drive to the Windsor Long Walk.
National Cycle Route 4 goes through Windsor Park, where cycling is allowed – it's just the Long Walk bit itself that you have to dismount for.
Alternatively, if you're travelling via 4 wheels, there's several parking lots either within the town itself or within areas of the Great Park if you do want to extend your stroll.
The Park's car parks are open from dawn until dusk and can be found at The Savill Garden, Virginia Water, Ranger's Gate or Cranborne Gate.
For more information, click here.
Parking costs up to £10 per day and machines onsite accept either credit or debit cards.
Windsor Castle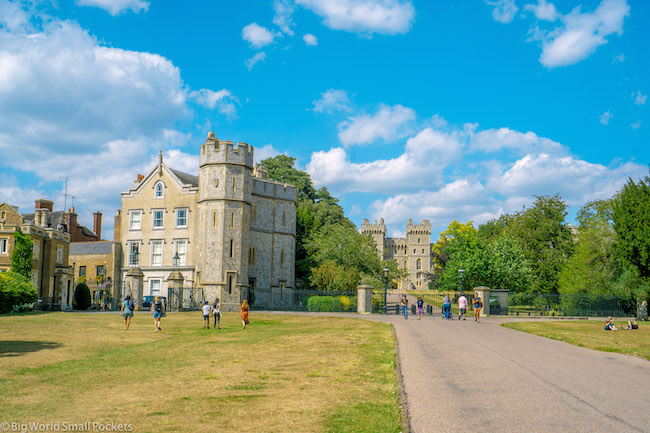 And now a quick word about Windsor Castle itself – after all, this is the main attraction at the end of the Long Walk!
This is the largest and oldest inhabited castle in the world and was founded by William the Conqueror over 1000 years ago!
Allegedly, it is the Queen's favourite weekend home, so when you visit, check which flag is flying from the Round and learn if the Queen is in residence.
When visiting the castle, you also get the chance to observe the changing of the guards – the duty of the Household Troops, who have held this role since 1660!
The ceremony usually takes place at 11:00 on Tuesdays, Thursdays and Saturdays and can be viewed from both inside and outside the castle grounds, although of course the former will afford you the best view.
Allo a few hours to view the Castle and all its gardens, chapels and other buildings, such as Frogmore House, where Harry and Meghan lived for a time after they were married.
The castle opens at 10am and closes at 4pm in the winter and 5pm in the summer. It is open all year round, except during some holidays, such as Christmas.
Tickets cost £23.50 for an adult and include a multimedia guide, book them here.
Of course, there's a strict level of security for entrance so do allow time for this, especially on busy summer weekends or public holidays when there can be a lot of visitors.
Other Things to Do in Windsor
There's no doubt about it, Windsor is a lovely place just to stroll around and is well worth at least an hour of your time after you've visited the castle.
This large town (only not a city because it doesn't have a Cathedral) is chock full of historic buildings and streets, many with Royal connections.
Snap the Castle from all angles, as well as enjoy a heritage walking tour, before stopping at a flower-adorned local pub for a classic English pint.
After this, you can enjoy some of Windsor's museums and don't miss the Crooked House or the beautiful Windsor Bridge either.
There's plenty of places for a bite to eat in Windsor too or plenty of shops if you want to enjoy some retail therapy.
Otherwise, a great hop-on hop-off sightseeing bus tour will get you to most of the major places.
For something a bit more official you can, of course, visit the famous Eton College (where William and Harry went to school), as well as Legoland or nearby Ascot for the races.
Great London Day Trip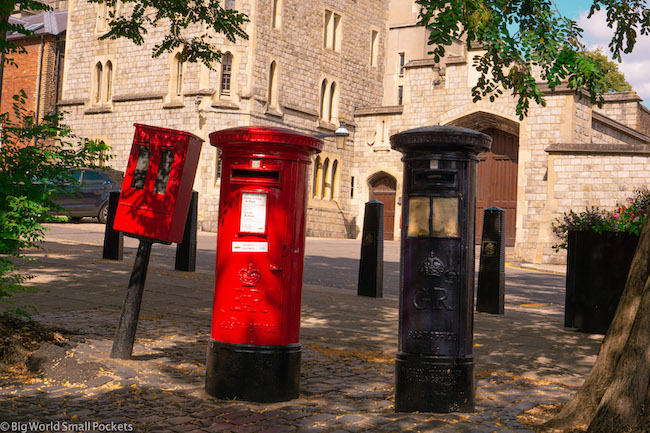 The Windsor Long Walk makes the perfect London day trip.
In fact, in just a day from the capital, it's easy to tie in seeing Windsor itself, the Castle, the Long Walk and parts of the Great Park too.
As I talked about earlier in this article, I made the big walk all the way from Virginia Water through Windsor Great Park, up to Snow Hill, down the Long Walk, up to the Castle and then into the town of Windsor itself, all on a comfortable day trip from the capital.
I would have time to stop in at the castle too, but due to Covid-19 and the Queen being in residence, it was shut!
Not only is this a great day trip that combines history, nature, walking and nice views + some deer if you're lucky – it's also incredibly affordable.
Without the entrance to Windsor Castle, the Park is free and single train tickets from London to Virginia Waters and then back from Windsor & Eton Central to London can cost as little as £10 each way.
Bring your own snacks and drinks and you got yourself a great day for next to nothing!
Worth bearing in mind that this day trip would also be possible from many other nearby English cities including Oxford, Bristol, Bath or Reading.
If you feel more comfortable taking a tour to Windsor from London (rather than navigating it by public transport) check out this top-rated half-day option that will make your life super easy.
What to Pack & Bring
And finally, here my list of the top 5 packing essentials you shouldn't head to the Windsor Long Walk without…
#1 A Good Camera – No doubt you're going to be snapping like crazy with these amazing castle views and need to ensure you have a good camera to do the place justice. I love my Sony A6000, which is light, compact and great for travel.
#2 Decent Walking Shoes – No point coming this far and not being able to enjoy the Long Walk to the max. Get prepared therefore and ensure you have a decent pair of walking shoes – these cross-trainers from New Balance are ideal (and totally stylish) for the job.
#3 Light Waterproof Jacket – Whatever the time of year, you have to remember this is England after all, a country in which the heavens can open at any point! Don't get caught out there and ensure you have a good lightweight and waterproof jacket with you. This North Face one is perfect.
#4 Compact Hiking Day Pack – I never go on any day trip without a sturdy backpack to ensure I've got room to hike with everything I need and that the weight is equally distributed across my back and shoulders, This super featherweight Kompressor from Marmot is my go-to, because it folds down to nothing and is water-resistant.
#5 Sarong – And finally, I would never head off to the Windsor Long Walk without a good picnic blanket – you just never know when you might want to spread it out and chill on the grass with a strawberry or 2! This one, with its waterproof base, is ideal.
PIN IT TO PINTEREST!
And that's everything you need to know about the Windsor Long Walk folks!
Hope you've found this guide handy in planning your time to this amazing part of England.
Have you been to Windsor?
Have any tips to share?
Please drop them into the comments box below so we can help fellow travellers out…