Deep in the heart of Somerset, the magical town of Glastonbury seems to run on a diet of myth and legend.
From narratives about King Arthur, through to Joseph of Arimathea and the Isle of Avalon, this an ancient town, where the wafting notes of history seems to play out everywhere.
If you're not quite up to speed with your biblical and monarchic myths, then Glastonbury is the perfect place to delve in and learn more, otherwise, if you're well-versed in them, then Glastonbury is probably something of a holy grail for you.
In either case, the main thing you should do is visit Glastonbury Town!
A small but beautiful settlement in the rolling green hills of southwest England, Glastonbury makes the perfect place to base yourself if you're enjoying a day, weekend (or perhaps longer) exploring this part of the country.
And to get you excited, here's my list of the top things to do in and around Glastonbury, as well as my top travel tips for your visit…
---
Related Posts
---
This page contains affiliate links meaning Big World Small Pockets may receive a small commission on any purchases at no extra cost to you.
---
#1 Hike the Tor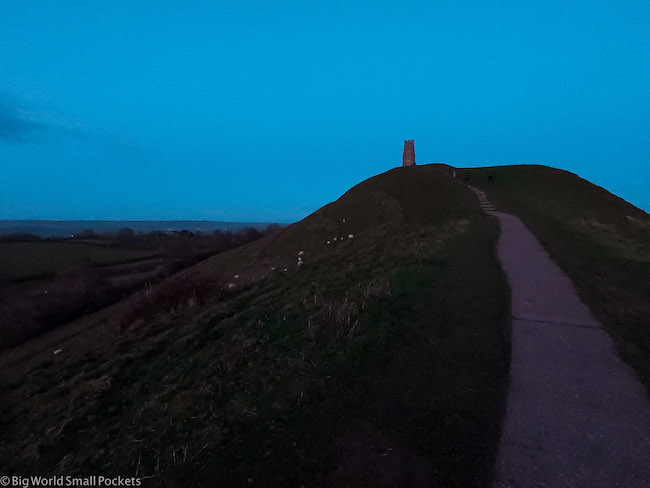 First up in this article, I want to talk about the main things to do in Glastonbury, and who can overlook climbing the Tor as the number 1 on this list!
The hill that rises above Glastonbury, and sits just on the edge of the town, is an absolute Somerset icon and really should not be, nor can it be, missed!
On top of the hill is the iconic ancient Tower, from which climbers are rewarded with incredible 360 degree views over large swaths of Somerset.
Particularly spectacular at sunset, the tower is all that remains of a 14th century Church, which once stood here on a site that was originally a Roman place of worship.
A key pilgrimage for Christians and Pagans even today, the swirl of myth and legends surrounds this Tor, the cave underneath it, and the terraces on its banks, continues.
#2 Fill Your Bottle at the White Spring
And perhaps no greater place do these legends live on than in the amazing 2 adjacent springs which run out at the foot of the hill with completely different water.
The so-called Red Spring is literally red, so thick is it with iron and filling your bottle here is said to do wonders for those with deficiencies among a whole heap of other ailments.
The rusty taste and look really is undeniable and quite amazing.
On the other side of the now road lies the White Spring, which offers water with completely different properties. This is the one to full your bottle from if you're looking for delicious tasting spring water.
And you won't be the only one!
Crowds are a given at this spot at almost all times of the day, so get inline and admire the beautiful cave where the white spring comes out while you're here.
Sometimes open for bathing and with candles lit inside in the evening, this is a magical place that has recently been lovingly restored by a group of local volunteers.
#3 Visit the Chalice Gardens
And just next door to the springs are the beautiful Chalice Gardens.
Although this isn't a free activity (the first 2 on this list are), it's well worth a visit to admire the beautiful, peaceful setting which feels like something from a fairytale.
A place of solace and spiritual rejuvenation, regular workshops and events take place here and there are meeting rooms and a retreat centre that can be hired as well.
Learn more at the Chalice Gardens website here.
#4 Learn About the Legends
And if you hadn't already realised, you surely will have by now!
Yes Glastonbury is a key place to brush up on your legends!
Struggling to remember the significance of the Holy Grail, who King Arthur was married to or why William Blake wrote the poem Jerusalem?
Discover all the answers and more during your time in Glastonbury.
Occupying the heart of so many English myths, this really is the perfect place to brush up on your knowledge and explore dividing the fact from the fiction.
#5 See the Abbey
And the legends continue at the Glastonbury Abbey too!
Since Medieval times, this religious spot has been widely thought of as the earliest Christian foundation in Britain.
Now an atmospheric set of ruins in lovely surrounds (not dissimilar from Bolton Abbey in Yorkshire actually), both King Arthur and Guinevere are thought to be buried here and the Abbey's founder is often accredited with being Jesus' uncle – Joseph of Arimathea.
Now owned and managed by the Church of England and an established charity, this place is well worth a visit and certainly one of the top things to do in Glastonbury.
#6 Shop for Esoteric Goods
Nobody can come to Glastonbury and not sample at least a short stroll through the lovely high street of this cute town.
As soon as you do, you'll realise the myths and legends live on here too as the roads are lined with beautiful independent shops, many filled with esoteric gifts, books, clothes and other treats.
It's a quirky and lovely experience that showcases how unique this ancient town really is from just about anywhere else in the UK.
#7 Enjoy a Historic Drink
And once you've got your fill of the shops, it's time to enjoy a drink in one of Glastonbury's historic pubs or a cup of tea in one of its lovely cafes.
There's plenty of options to choose from here, but Pilgrims' Inn (also known as the George Hotel) has to get a special mention here.
Thought to be the oldest pub in the southwest of England, this is rumoured to have once been the pilgrims' inn of Glastonbury Abbey and is supposed to date back as far as 1542.
#8 Hike Cheddar Gorge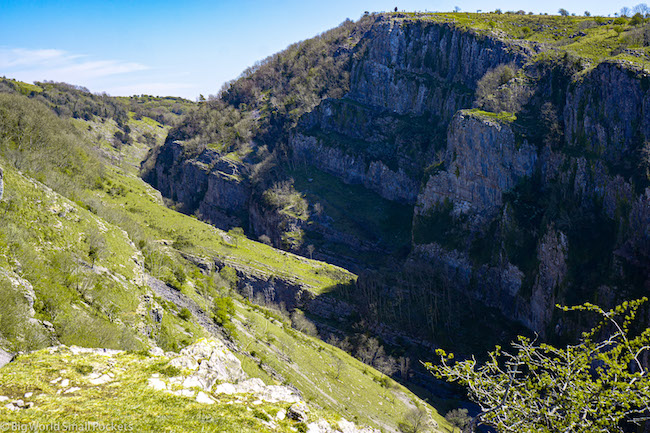 And now we move onto my list of the top things to do around Glastonbury, as there's plenty of these too!
First up, it's the amazing Cheddar Gorge!
Set in the beautiful Mendip Hills, don't miss enjoying a hike along the ridge of this incredible natural spectacle before finishing off at the Cheese shop – of course!
Learn more in this post I wrote all about visiting Cheddar Gorge.
#9 Marvel at Wells
Next up, and so incredibly close to Glastonbury you can easily make the whole town out from the top of the Tor, Wells might be a bit more conservative in nature than Glastonbury, but it's certainly no less beautiful.
The huge Cathedral here even had me lost for words and the Bishop's Palace and Gardens are just delightful.
Don't miss the historic Vicar's Close either – possibly the prettiest street in Britain – or a drink and meal in the beautiful cobbled central market square.
Discover more about Wells – the hidden jewel in the crown of Somerset – in this blog post I wrote.
#10 Explore Bath
And now we come to a rather more famous thing to do around Glastonbury, but a classic for a reason!
Yes one of the UK's flagship tourist cities, and rightly so, from the amazing Abbey to the beautiful buildings and shops, right up to the Roman Baths and riverside location, this definitely a top day trip from Glastonbury you can't miss.
Learn more in my perfect Bath day itinerary here.
#11 Check Out Frome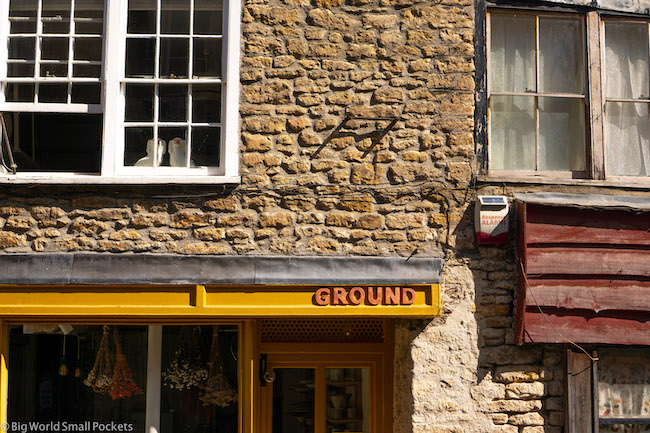 And last but not least, we come to the very cute and quaint Somerset town of Frome.
Not far from Glastonbury, and also quite high on the alternative vibes, Frome is less well-known, but it is still beautiful.
Definitely one of my top days out in Somerset, don't miss strolling by the river in Frome, enjoying a delicious brunch in the Black Swan café, or shopping at the amazing boutique shops on Catherine Hill.
When to Visit?
There's no question in my mind that the best time to visit Glastonbury is during the summer season, when the UK's good weather allows you to get the nicest experience from your time there, especially if you want to take in some of Somerset's glorious countryside.
The solstices are also an incredible time to visit Glastonbury when many celebrations go on at the Tor (and beyond) to commemorate the changing of the sun's cycle.
How Long to Spend There
One full day is enough to explore Glastonbury Tor and the town.
If you're looking to experience some of the surrounding activities I list in this article, then allow a day for each of them, aside from Frome which is quite small and can be enjoyed in a couple of hours.
How to Get There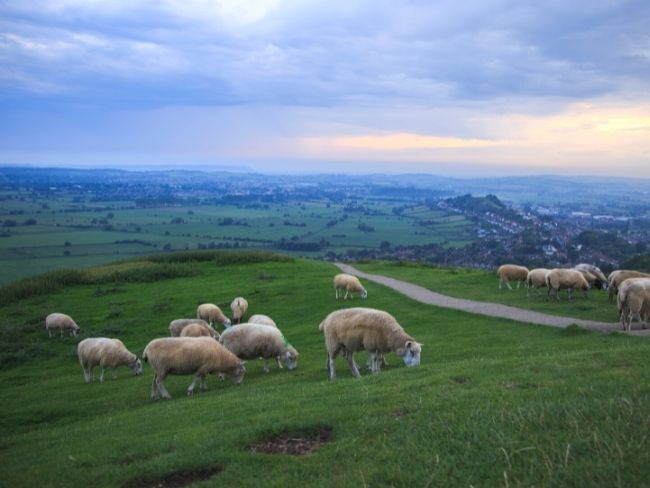 The nearest train station to Glastonbury is Castle Cary.
From here you'll have to take a taxi to Glastonbury as there is no public transport.
If you want to get the train to Castle Cary from London, you'll be using the Paddington to Plymouth line. Book this train, or any from across the country to Castle Cary using Trainline here.
Otherwise, you can get the bus to Glastonbury from a range of different cities including Bristol, Bath and London.
From London to Glastonbury, National Express coaches run from Earl's Court, otherwise from Bristol Temple Mead station, you'll need to take the 376 First Bus to Glastonbury.
From Bath, the best option is to ride on bus 173 to Wells, then from Wells Bus Station take bus 29 or 376 to Glastonbury.
Get more info on all these options at the First Bus website here.
Alternatively, if you want to take a tour to Glastonbury, which will include some of the other highlights in the region (meaning it's a great way to kill 2 birds with 1 stone), check out these top options:
How to Get Around
Glastonbury town is very small and you can easily walk around all of it on foot, including to the Tor and Springs.
If you're looking to explore more of Somerset and things to do around Glastonbury, then I'd highly recommend hiring a car for your trip here, as public transport is thin on the ground and trains largely non-existent!
As always, I recommend Thrifty Car Hire if you're looking to hire a vehicle in the UK as they offer some of the best rates going.
Check out these top tips if you're looking to hire a car on a budget in England.
Where to Stay
When it comes to accommodation in Glastonbury, you'll be hard-pressed to find a better deal than the Glastonbury Travelodge.
Less than 2km from the Tor and within walking distance of the Abbey, there's free parking here as well as many eateries around.
For something more independent, the 4* Glastonbury Townhouse is a top-rated Bed & Breakfast that gets regularly praised for its location, comfort and service.
Alternatively, Middlewick Holiday Cottages offers a farm stay accommodation just outside of Glastonbury town with a range of comfortable rooms, cabins or glamping pods to choose from. This is the best place to take in the wonderful countryside with free parking and farm animals onsite!
4 Key Packing Items for Glastonbury
#1 Walking Shoes
You can't come to Glastonbury and not enjoy some walks in the beautiful countryside of Somerset, so walking shoes are a must-have! I highly recommend these lightweight and comfortable ones from North Face, which are perfect for the job.
#2 Waterproof, Windproof Jacket
Look, as paradisical as I've made Glastonbury sound (and it is), it also is England! As such, you should be prepared for rain at any time of the year! Therefore do make sure you bring a good waterproof and windproof jacket no matter when you're visiting.
#3 Camera
Having an excellent camera to snap Glastonbury in all her glory and preserve the memories is an absolute given if you're travelling down this way. I love my Sony A6000, which never leaves my side on travel adventures.
I also enjoyed having a GoPro when I was here to capture all the hiking action.
#4 Portable Charger
There's no denying, power can be an issue over in Somerset, especially if you're camping. Even if you have a powered site, remembering to charge stuff up, leaving it out overnight, or during the day, and constantly rotating electronics can be tiresome.
My solution: Come armed with 2 fully charged Anker portable chargers, so you can fire up your phone, camera or other devices whenever and wherever you need.
PIN IT TO PINTEREST!
So there you have it, my list of the best things to do in and around Glastonbury.
I hope I've inspired you to explore this great English town, as well as the county of Somerset in general.
It really is a beauty with so much to offer that it should not be missed!