Ahh my favourite of all the northern counties!
Yes, the Grand Old Duke of York knew what he was up to when he marched to the top of the hill around here, because this really is a region of good marching hills and stunning views from the top.
And that's not to mention the plethora of wonderful villages, towns and cities, full to the brim with historic delights, independent shops, quaint streets and thriving communities.
And they're all surrounded by some of the best landscapes in England too of course!
From the North York Moors National Park and the world-famous Yorkshire Dales National Park, through to the dramatic clifftop coastline, sandy beaches and ancient woodlands aplenty – Yorkshire boasts it all.
Which is why it's an absolute fav UK staycation spot of mine and why I return year after year.
Honestly, there's so much to see and do here you'll never see it all!
So if you're looking for a part of England to explore that seems to have it all, look no further than Yorkshire and my list of the 35 best things to do there…
---
Related Posts
---
This page contains affiliate links meaning Big World Small Pockets may receive a small commission on any purchases at no extra cost to you.
---
#1 Row a Boat in Knaresborough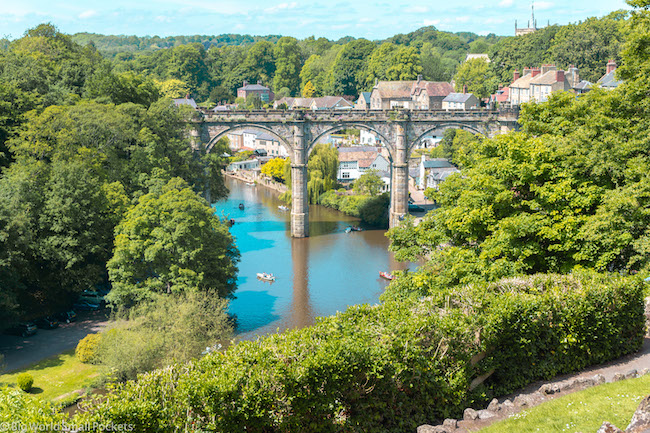 And kicking off this list of the best things to do in Yorkshire, we have an absolute winner, especially on a sunny day.
Yes rowing in a hired boat up the River Nidd under the stunning viaduct in Knaresborough and at the foot of its lovely castle, really is hard to top on a glorious day in my opinion!
#2 Hike the Three Peaks
Next up is a hiking classic – yes the 3 Peaks Challenge in Yorkshire is well-renowned and rightly so.
This serious undertaking will transplant you to the heart of the Dales, but all your efforts will be rewarded when you make it to the stunning summits of the National Parks' 3 highest peaks and enjoy the views!
If you have the time, don't miss the Ingleton Waterfall Trail while you're out here either!
It costs £10 to get in, but you can learn how to sneak in without paying in this post!
#3 Go Back in Time in York
After all that climbing, it's time to come back down to earth and explore one of Yorkshire's top cities.
Definitely a must-visit place in the county, York is a historic city, which boasts beautiful cobbled streets like the Shambles, as well as a beautiful Minster.
And who can forget the National Railway Museum and Viking Centre too – it's all here, which makes a day trip to York absolutely one of the best things to do in the county.
#4 Get your Literature Fix in Haworth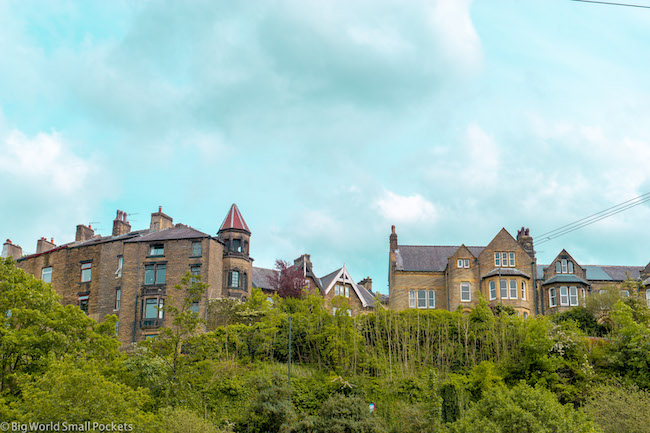 Next up we move from major city to small village, as we head out west to the cute town of Haworth which lies in the Calder Valley region.
Home to the literary superstars the Bronte sisters – you know, the Jane Eyre crew – Haworth is well worth a stop on your Yorkshire itinerary if you want to learn more about these related writers and their family life.
The key place to visit here is the Bronte Parsonage where the sisters lived and worked.
If you're into your classic works of literature, this is a must-see place!
#5 Watch a Performance at Hebden Bridge
And just down the road from Haworth is another famous Yorkshire village – this time it's the creative enclave of Hebden Bridge.
Known for its artistic and liberal community who moved here in the 70's when land was cheap, this is a beautiful canal-side town which boasts loads of wonderful independent shops and artistic venues.
From live music to film festivals, galleries to picturehouses, there's tons going on in this lovely and lively artistic community hub.
Check out my list of the top 15 things to do in Hebden Bridge here.
#6 Enjoy Gibson Mill and Hardcastle Crags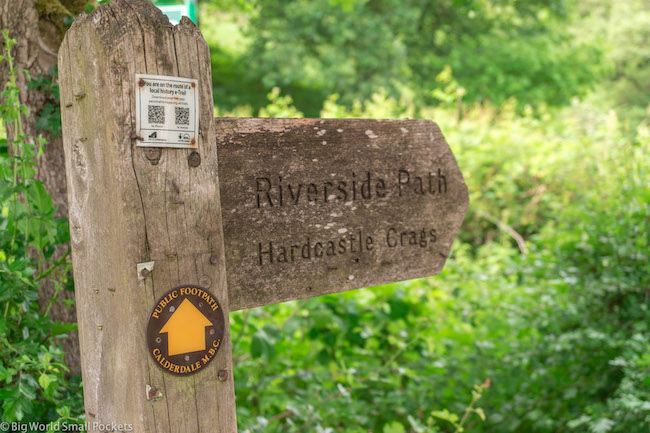 And from Hebden Bridge you can actually enjoy a beautiful walk out along the lovely National Trust spot of Hardcastle Crags.
A delightful woodland area with loads of lovely walking trails and a 19th century mill to boot, combining this place with Hebden Bridg6 makes for a super Yorkshire day out.
Discover my 7 other top Hebden Bridge hikes here.
#7 Let your Hair Down in Leeds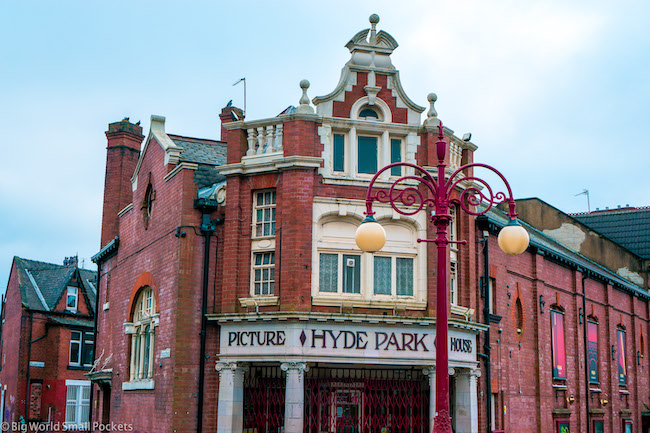 Next up we come to city life again, because absolutely one of the must-do things in Yorkshire, is spend some time in its flagship city of Leeds.
A bustling metropolis full of great attractions, restaurants, bars, cafes and shops, Leeds is actually where I was an undergraduate student so I know it well… and love it a lot.
This city has come on leaps and bounds in the last few years, meaning it's now a real cultural hub in the area and definitely deserves at least a day of your time.
One of the top places to visit in Yorkshire for sure, check out this specific post I wrote about the city for my list of the top things to do in Leeds.
#8 Combine Castles & Canals in Skipton
And just up the road from Leeds is the town of Skipton, which sits at the gateway to the Yorkshire Dales.
Not only a great access point for exploring more of this beautifully preserved area, Skipton boasts its own lovely canal setting and a castle to boot!
At almost 900 years old, this is a pretty impressive castle – in fact, it's one of the best-preserved Medieval fortifications in the country, ooooh!
#9 Spot Puffins at Flamborough Head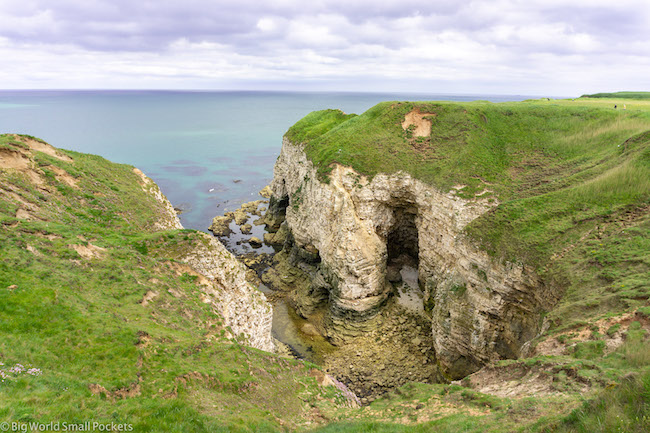 From castles to cliffs, one place in Yorkshire you can't miss are the amazing cliffs along Flamborough Head.
Situated out in East Yorkshire, this coastal spot is a paradise for bird watchers and top of most twitchers' lists are the puffins!
Yes, if you're yet to encounter these great birds with their colourful beaks and feet, then Flamborough is the place for you!
Plus you can enjoy long stretches of beautiful coastline, hidden sandy coves to swim at and a delightful lighthouse to boot!
Get more ideas for a trip to the Yorkshire coast with my list of the best 9 spots to visit there.
#10 Swim at Runswick Bay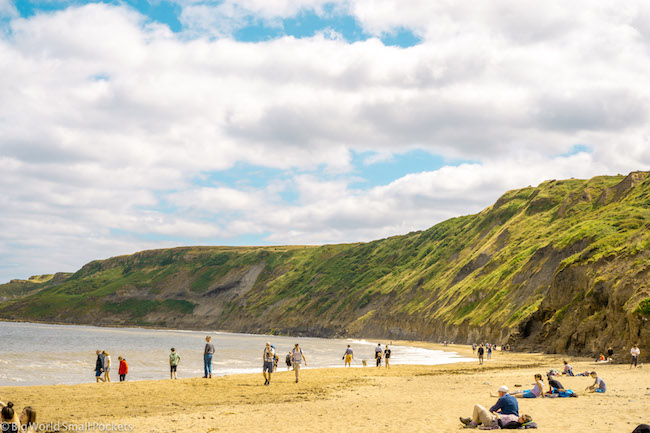 And another top coastal spot in Yorkshire has to the award-winning Runswick Bay.
Voted one of Britain's best beaches, this Yorkshire gem is a beautiful sandy stretch with safe swimming and some glorious clifftop walking opps around too.
#11 Take in the View from Otley Chevin
And if it's good walking you want, then Otley Chevin is an excellent thing to do in Yorkshire, especially if you're Leeds-based, as it's just a short drive from this city.
With elevated views over the lovely town of Otley, as well as the Dales beyond, this is a great family day out with plenty of fresh air and some woodland paths to compliment the open-air ones too.
#12 Discover Ilkley Moor
And similar to the Otley Chevin, just down the road, Ilkley Moor also offers elevated views over the beautiful market town that sits below it, as well as across to the Dales National Park.
I actually walked this giant on a freezing cold and very icy day in January (not advised by the way), but this wild and open moorland really is stunning almost any time of the year.
Just be careful that, if you pick a day when the weather is bad, you don't get lost, because mist and fog can quickly blanket this vast and wild moorland and make orientating yourself here almost impossible!
#13 Sink a Pint
And from the historic Whitelocks in Leeds (one of the oldest pubs in the county) to Ye Olde Starre Inne in York or the historic watering holes in just about any village in the Dales, sinking a pint of local beer or ale is a must when you visit Yorkshire.
If you're doing the tour, then Tan Hill Inn in the Dales is the highest pub in Britain and The Bingley Arms in (yes, you guessed it) Bingley is thought to be the oldest, so you really have got plenty of record-setters to sip at!
#14 Run Round a Reservoir
It's all about balance of course, which is why if you have enjoyed a few drinks in some of Yorkshire's quintessential boozers, it's time to do some exercise in the fresh air and burn it off.
I've been for a few runs with my sports-mad friends who live this way and top of the list are always some of the county's reservoirs, which provide peaceful, traffic-free spots for both strolls and jogs.
Eccup Reservoir is a great spot do just this, but my favourite has to be Fewston with its waterside paths and historic features.
Widdop near Hebden Bridge is another treat!
#15 Get Muddy on the Meanwood Trail
And if it's good car-free trails you're after, then the Meanwood Valley Trail is another top one near Leeds where you can enjoy a walk, cycle or run.
Stretching all the way from Woodhouse Moor to Golden Acre Park, this 7 mile one-way route is the perfect place to get those legs working!
Also Golden Acre Park is a nice place to finish with its cafe and cute model railway.
#16 Marvel at Fountains Abbey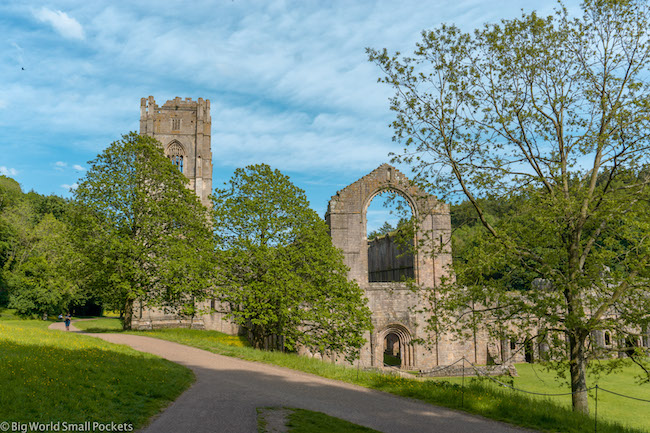 But now we move onto some more historical stuff and one of the best Yorkshire day trips, yes it's time to marvel at the beauty that is Fountains Abbey.
A UNESCO-listed gem, these huge Abbey ruins are absolutely incredible and very atmospheric.
However it's the vast grounds of this place, as well as the nearby Studley Royal Water Gardens and the amazing free talks, that really make this spot one of the top things to do in Yorkshire.
Run by the National Trust, if you're not a member (which you def should be if you plan to travel in the UK a lot by the way!), it will cost you around £15 enter Fountains Abbey for the day.
Otherwise, the nearby Deer Park and St Mary's Church can be visited for free.
Whatever you prefer, just make sure you get to this North Yorkshire gem… you won't regret it!
#17 Check out Whitby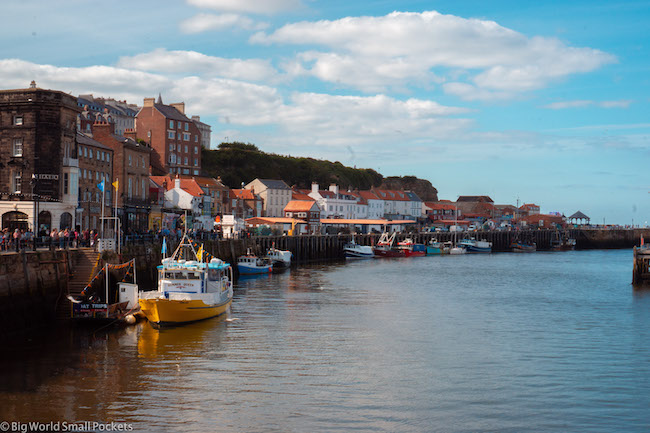 And another North Yorkshire gem, the city of Whitby is definitely one of the top places to visit in this county.
Right on the coast and boasting a famous Abbey (thought to inspired Bran Stoker's Dracula btw), this picturesque maritime enclave combines classic British seaside vibes, with a rather goth-inspired streak thanks to its gory literary links.
The Abbey is run by English Heritage – so free to enter if you are a member – otherwise, climbing up to the steps to take in the ruins from the gates provides amazing views over this whole town.
A must of this list of the top things to do in Yorkshire.
#18 Stroll Saltburn Pier
If you want to see the last remaining pier in Yorkshire, then Saltburn on the North Yorkshire coast is definitely the place to head for.
Built in 1867, this beautiful historic pier is now a Grade II listed building and the surrounding town is full of charm including an award-winning beach and vibrant arts scene.
#19 Walk to Malham Cove
And yet another charming historic town in Yorkshire, it's the fabulous destination of Malham.
Deep in the Yorkshire Dales, this tiny stonewall hamlet is a delight with plenty of beautiful walks, as well as rolling countryside and traditional hospitality to boot.
Malham Cove, Malham Tarn and the lovely waterfall of Janet's Foss are all must-sees in the area, and you can learn more about visiting all these spots in this post I wrote specifically about visiting Malham.
#20 Hit the Beach
We've already talked a little bit in this post about some of the best coastal spots to visit in Yorkshire, but I wanted to also give a shout-out to the great beaches more generally in the county too.
Because from Runswick to Robin Hood's Bay, Scarborough to Filey, there's a lot more golden sand to lie out on here than you might imagine!
Yes hitting the beach is definitely one of the top things to do in Yorkshire… you've just got to get the weather!
#21 Spend the Day at Bolton Abbey
And if you do get a fine weather day, then another top spot to head for in Yorkshire is the wonder of Bolton Abbey.
Set right on the edge of the Dales, these monastic ruins are again well worth an explore, but it's also the lovely grounds here, complete with a flowing river and waterfall, as well as wonderful woodland walks, that makes it a super day out for the whole family.
With parking just £10 per car, and free entry after that, this really is a must-see spot… it definitely has a kind of magic to it.
#22 Eat to Heart's Content in Malton
And another place that seems to have some magic to it is the gorgeous town of Malton in the North York Moors.
Top of the list here is the epic foodie scene (it's known as the food capital of Yorkshire!) and the numerous food festivals that take place throughout the year are definitely the best time to visit.
Awash with bespoke producers and places to wet your whistle, it's almost impossible to leave here not stuffed to the brim!
#23 Enjoy Afternoon Tea in Harrogate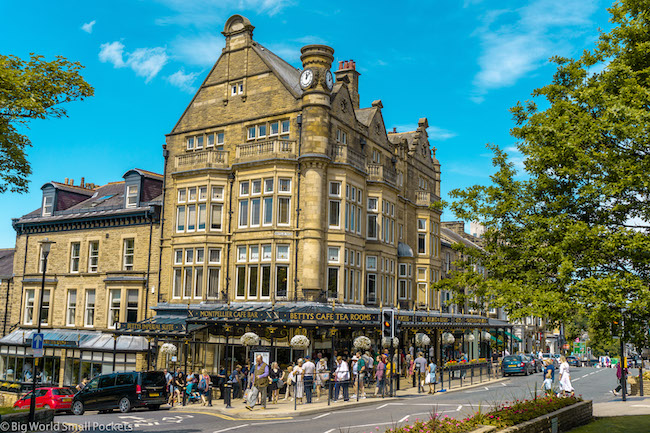 And another place where you can savour the best tastes in Yorkshire is Harrogate.
This famous historic town is super pretty and quaint, but it's not for the Royal Pump Room or Turkish Baths that most people come here anymore, instead it's for the afternoon tea!
The most popular place for this is the world-famous Betty's, but if you don't want to queue and STILL get amazing cakes and coffee, then nearby Baltzersen's gets my vote every time!
#24 Go Back in Time at Harewood House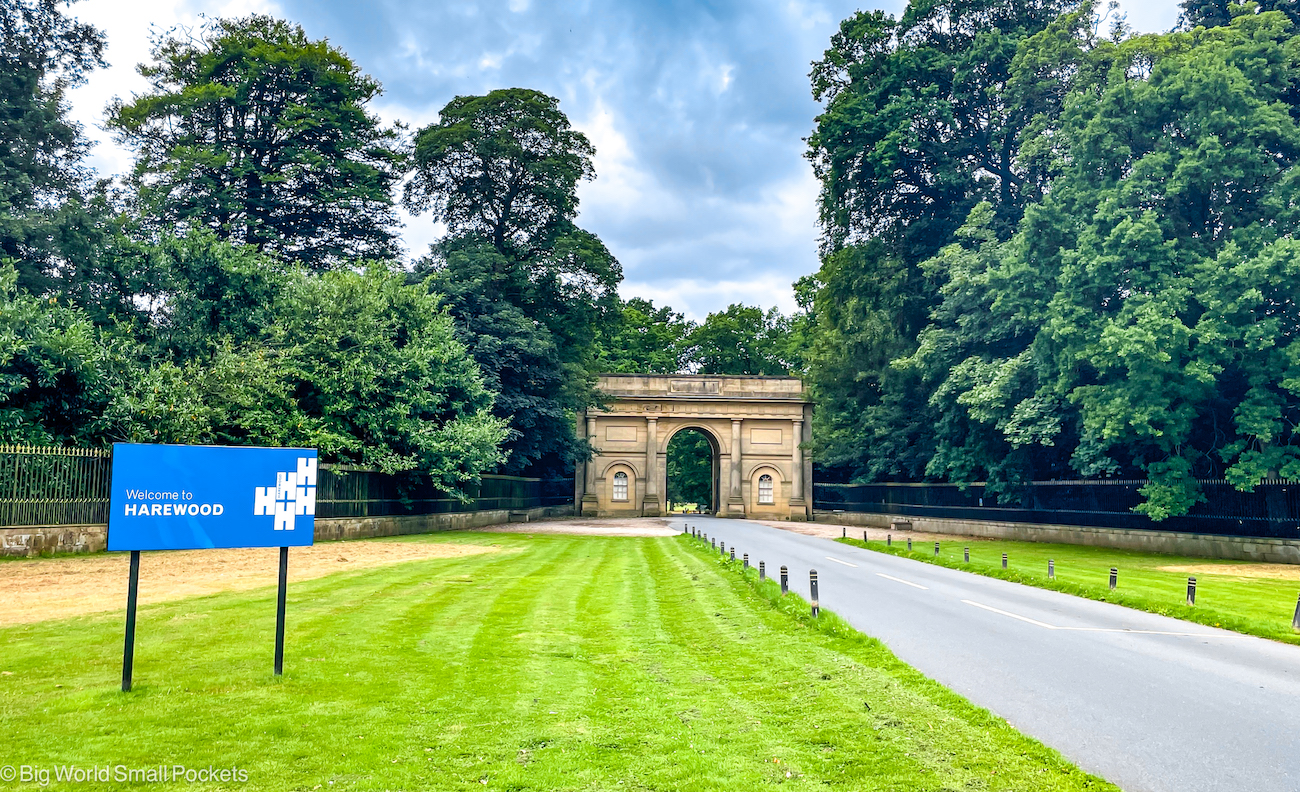 And continuing on the historic vibes, Harewood House is a stunning stately home that definitely makes it onto the top list of things to do in Yorkshire.
From tours of the house to walks around the amazing gardens, plus farmyards and playgrounds for kids, and café and tearooms for the big kids – this is a full day out!
This is especially true if you take into account all the events that run here, including cinema screenings, theatre performances and craft markets.
Check out their latest Whats On guide here.
#25 Relax in Roundhay Park
And another place that often has events running, especially gigs, is Leeds' amazing Roundhay Park.
Actually one of the largest urban parks in the world, this guy is huge and if you're in the city it's well worth a stroll around.
Complete with a gorgeous lake, tennis courts, cafes and historic structures, this park is the perfect place to get some time out from the city and to be as relaxed or active as you like.
#26 Don't Miss Aysgarth Falls
Deep in the Dales, the Aysgarth Falls are absolutely one of the top things to see in Yorkshire.
A series of cascading falls set in gorgeous parkland, this beautiful spot is perfectly situated along the River Ure.
Just go!
#27 Learn Something at the National Coal Mining Museum
I haven't covered many museums in this list, but this is an absolute classic!
Yes the National Coal Mining Museum really is a must, especially if you want to learn more about the industrial heritage that formed the backbone of life for many in this part of the country.
Led by former miners, this is an eye-opening tour that takes you down into a former mineshaft and should not be missed!
Just make sure you book ahead. The prices are very reasonable.
#28 See an Exhibition at the Yorkshire Sculpture Park
And not far from the National Mining Museum, the Yorkshire Sculpture Park can be combined to make the perfect day trip.
Set in glorious grounds with fabulous sculptures dotted around and often roaming exhibitions by famous artists too, this is a must-see.
When I visited, there was a Damien Hurst exhibition on.
Well you can't get better than that! Especially because entrance is free too!
#29 Catch a Show in Sheffield
And keeping up with the cultural feels, heading to the former mining city of Sheffield to get your theatrical fix is a great idea.
Here the Crucible Theatre hosts an array of world-renowned performances in an eclectic programme that offers something for everyone.
Alternatively, the Lyceum and Studio Theatres in Sheffield, the West Yorkshire Playhouse in Leeds and the Alhambra in Bradford are also great arts venues to check out.
#30 Feel the Wildness on the North York Moors
Coming towards the end of this mammoth list now, the North York Moors are the second national park in this huge county and their wildness and vastness shouldn't be underestimated.
The perfect place to imagine Heathcliff running across the bleak and desolate hills, this is a great spot to take in some fresh air and live out your literary melancholic fantasies!
#31 Shop in Independent Helmsley
And situated within the North York Moors, the lovely destination of Helmsley is a key town that acts as the perfect place to refuel after a good walk.
Full of independent cafes and shops, it's a delightful spot to wander at a leisurely pace and to refresh after your time out on the wild moors.
#32 Tick Saltaire off your UNESCO list
Back closer to Bradford now, Saltaire is another UNESCO-listed gem in Yorkshire thanks to its beautifully preserved mill complex – a remnant of the former textile industry here.
Still very much a living village, the Mill is free to enter and the beautiful streets and buildings of this town make for an educational wander too.
#33 Get Your Cheese on in Wensleydale
If you're into your cheeses, then you'll know it's a bit of a thing on this blog too – what with Cheddar Gorge down in Somerset and now Wensleydale up on Yorkshire.
Yes stopping by this famous valley in the Dales is a must to try your weight in the delicious crumbly stuff!
Made famous by the TV series Wallace and Gromit, there's more besides cheese tastings to do in this cute area though!
Nearby Hawes (also former home of the Brontes') is just the tip of the iceberg.
#34 Admire Beautiful Staithes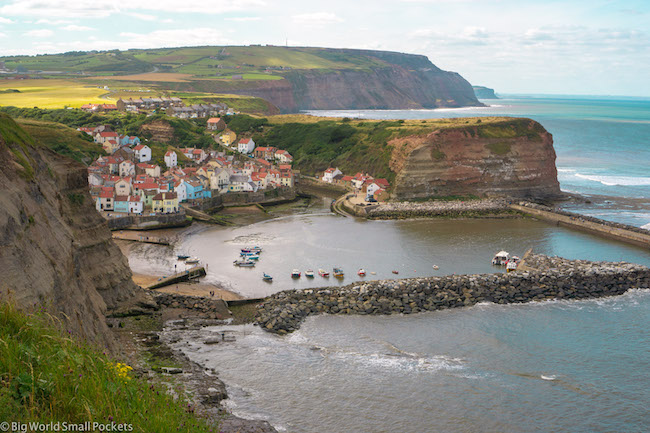 And talking of lovely spots, somewhere that always steals my heart when I visit Yorkshire is the amazing fishing village of Staithes.
Wandering the tiny cobbled and steep streets here is like stepping back in time and with the bobbing fishing boats and gorgeous fisherman cottages, if you're anything like me, you'll find it hard to take your camera away from your face!
#35 Go Deep in Hull
And last but not least on this list of the top things to do in Yorkshire, we come to Hull, down the coast from Staithes.
Top of my must-see list here is The Deep – an epic aquarium in a futuristic building that comes complete with an underwater viewing tunnel.
With over 3,500 fish, this is one of the UK's best aquariums and located in the fishing port of Hull it couldn't be better placed.
But my favourite has to be the penguins… of course!
Mini Travel Guide to Yorkshire

When to Visit?
There's no question in my mind, the best time to visit Yorkshire is during the summer season, when the UK's good weather allows you to get the nicest experience from your time there, especially if you want to enjoy some hiking and rolling countryside views.
The only problem with the summer and the weekend is that this is when many of the county's top attractions are busiest, so do be warned.
If you have the option to visit some of Yorkshire's most popular days out on a weekday, or outside of school holidays, then I'd advise this as parking and getting some good snaps without a ton of other people in-frame will be a lot easier at these times!
How to Travel to Yorkshire?
Driving to Yorkshire from across the UK is easy and straightforward with lots of good motorway connections.
Public transport is also easy if you're basing yourself in one of the major cities such as Leeds, York, Sheffield, Hull or Bradford.
Indeed from London, and many other UK cities, there are good connections both by train and coach to all these destinations, as well as to smaller cities like Halifax, Huddersfield, Wakefield and Harrogate.
Once you arrive into one of these destinations, you may have to hire a car or transfer to a more local bus service if you're heading somewhere more rural.
As always, I use Trainline to book my UK train and coach journeys, as they compare a huge range of transport options, as well as use split-fare features, to get you the best deal on tickets.
Their handy app also allows you to track your journey, as well as save all your tickets in one handy place!
How to Get Around?
Hiring a car is probably the best option if you want to explore all of the top things to do in the Yorkshire area, because public transport in the more rural and coastal parts of the county can be a bit thin on the ground.
This was the transport choice I opted for when I visited Yorkshire and I was really glad of the flexibility an electric hire car gave me.
If you're looking to hire a car in England, Discover Cars offer some very competitive rates.
It's worth noting that much of the parking across Yorkshire's cities and towns is paid, so don't forget to factor that, as well as fuel, into your costs too.
Alternatively, if you're a National Trust member like me, or an English Heritage member, you can park at some of the places I mention in this article for free.
Otherwise, if you want to take a tour to Yorkshire, that will show you some of the top highlights in the region without you having to fuss about hiring a car or finding a bus, check out these top options:
Where to Stay in Yorkshire?
If you want to be connected, then I would recommend staying either in Leeds or York for your time in this county.
As always, the Premier Inn in York and those in Leeds are hard to pass up when it comes to excellent value for money and location.
For something more independent, then check out Ashbourne House Bed & Breakfast in York or The Queens Hotel in Leeds.
If you want to get off the beaten track however and stay in the beautiful countryside in Yorkshire, then both the Dales and the coastline are my top picks.
In either of these locations, I highly suggest renting a cottage, as it will allow you to soak in the traditional village hospitality at its best.
My go-to website for rentals when travelling is always VRBO, so check out this gem in Malham or this beauty in the North York Moors close to the coast for some ideas about what they offer.
How Long to Visit Yorkshire For?
If you can manage a week in Yorkshire, then you'll certainly be able to tick a good few of these top places to visit off your list.
A great combination with 7 days up your sleeve would be to explore the Dales for 3 days, the coast for 3 days and enjoy a night in a city to round off your trip.
If you want to start including some big hikes or more remote spots in your itinerary too, then I'd allow 10 days to 2 weeks to see as much as possible!
Yorkshire Packing Essentials
#1 A Good Camera – No doubt you're going to be snapping like crazy in this amazing region and need to ensure you have a good camera to do the place justice.
I love my Sony A6000 and GoPro, which are both light, compact and great for travel.
#2 Decent Walking Shoes – No point coming this far and not being able to enjoy a walk in the wonderful countryside of Yorkshire.
Get prepared therefore and ensure you have a decent pair of walking shoes. These cross trainers from New Balance are ideal (and totally stylish) for the job.
#3 Light Waterproof Jacket – Whatever the time of year, you have to remember this is England – a country inwhich the heavens can open at any point!
Don't get caught out therefore and ensure you have a good lightweight and waterproof jacket with you. This North Face one is perfect.
#4 Compact Hiking Day Pack – I never go on any UK trip without a sturdy backpack to ensure I've got everything I need and that the weight is equally distributed across my back and shoulders.
This super featherweight Kompressor Backpack from Marmot is my go-to, because it folds down to nothing and is water-resistant – ideal for those sudden showers!
#5 Portable Charger – And finally, I would never head off anywhere without my trusty Anker Portable Charger, which keeps my phone and camera batteries full all day, every day!
This means that, no matter how many top things to do in Yorkshire I'm enjoying, I can take all the snaps and use all the maps I need during the day!
Travel Insurance for Yorkshire & the UK
World Nomads offers simple and flexible travel insurance. Buy at home or while travelling and claim online from anywhere in the world.
Alternatively, if you're a long-term traveller, digital nomad or frequent remote worker seeking travel health cover, check out Safetywing's Nomad Insurance policies.
Travel Money
The easy way to spend abroad with real exchange rates, no markups and no sneaky transaction fees, you can use your Wise card just like a debit card here… and it links easily with Google and Apple pay – sold! Grab yours here.
PIN IT TO PINTEREST!
So there you have it folks, my list of the top 35 things to do in Yorkshire, England.
A beautiful county in the glorious northeast of the country, there's no question this spot should be on everyone's staycation list!
Have you visited Yorkshire?
What was your favourite thing to do there?