If you're heading to the beautiful Yorkshire town of Hebden Bridge, there's no chance you can't not enjoy a stunning walk in the fantastic surrounds.
From reservoir strolls to riverside jaunts, full-blown Pennine Way hikes to climbs that boast amazing viewpoints, there's so many great walks to choose from in the Calder Valley region that I'm bringing you my top 8 highlights to try and make it easier for you to choose.
Let's get stuck in…
---
Related Posts
---
This page contains affiliate links meaning Big World Small Pockets may receive a small commission on any purchases at no extra cost to you.
---
#1 Hardcastle Crags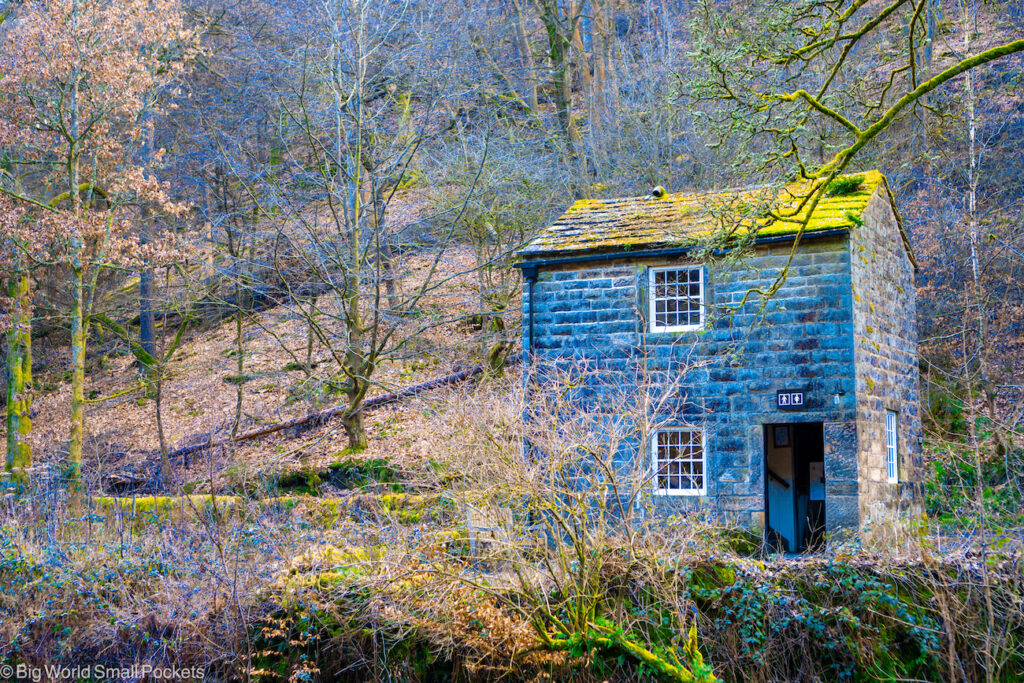 A real favourite with families, friends and dog walkers alike, the fantastic Hardcastle Crags is a National Trust trail which begins right from the edge of Hebden Bridge.
Follow the river out beyond town and stop at Gibson Mill for a lovely coffee and cake in this historic spot, before either looping back towards Mideghold car park and the Stepping Stones along the Upper Woodland Mill Walks.
Alternatively, you can continue on to Blake Head Reservoir – which adds another 3.5 miles onto this circular loop.
Up until Gibsons Mill, the trail is flat and fairly easy, although after this point it starts to climb towards to reservoir.
For those who prefer a short walk, parking is available at either Midgehole car park or Clough Hole car park, both of which are free to NT members.
For non-members, parking costs £5 and is payable via the Pay and Display machine.
#2 Stoodley Pike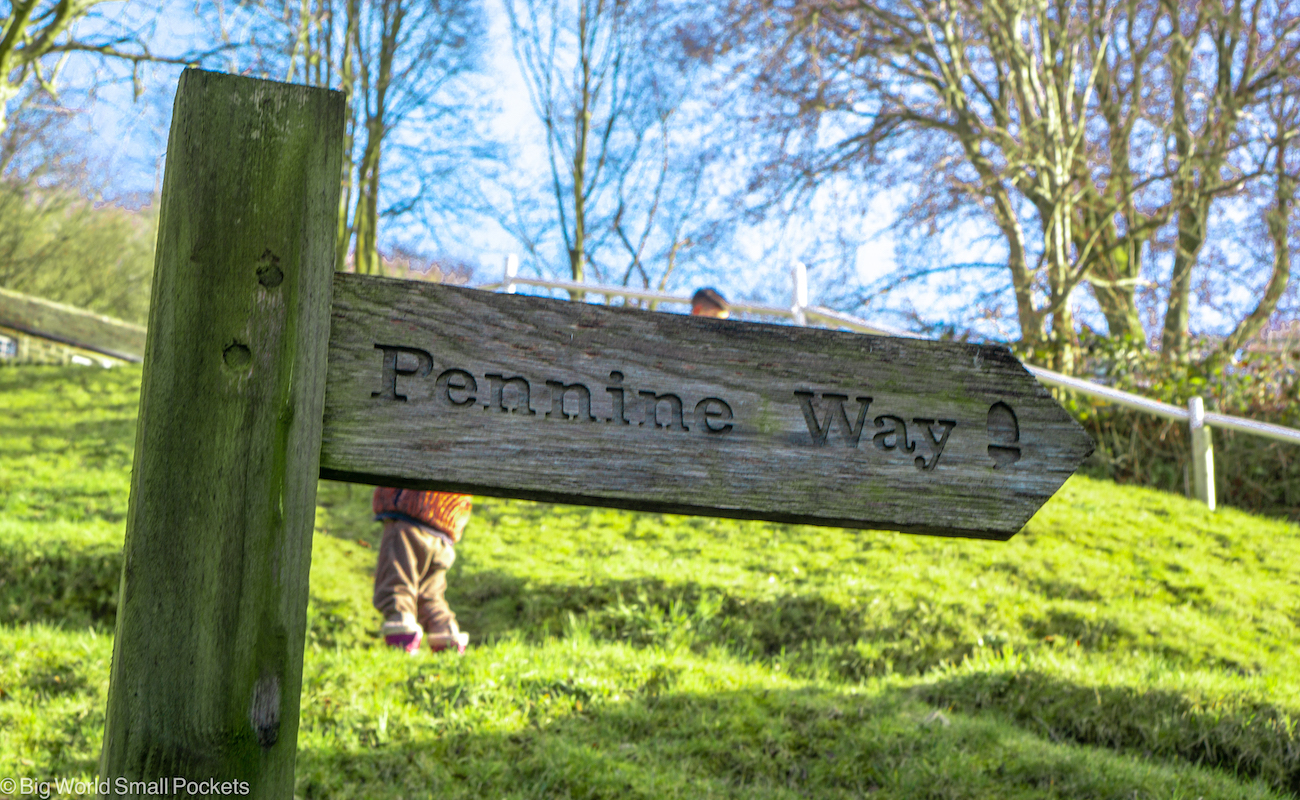 One of the toughest hikes from Hebden Bridge, Stoodley Pike is a good half day walk that is, however, well worth the exertion.
The best way to take it in, in my opinion, is to enjoy the 6.5 mile hike that links Hebden Bridge with the nearby town of Todmorden via Stoodley Pike.
Taking you along a section of the Pennine Way, this challenging climb will have you ascending behind the train station up onto the ridge.
From here, you continue to climb in the direction of the Withens Clough Reservoir, before heading east to Stoodley Pike and then down to Rochdale Canal and into Todmodern.
Designed in 1854 by local architect John Green, and completed in 1856, the Stoodely Pike monument is Grade II list and replaced an earlier structure, started in 1814, which was constructed to commemorate the defeat of Napoleon and the surrender of Paris.
Once at the monument, you can actually climb it too for even better views.
Take the spiral staircase of 39 steps, accessed from the north side, and enjoy the spread of the valley infront of you, before enjoying a refreshing drink or lunch at one of the great cafes / pubs in Todmodern.
#3 Widdop Reservoir
A circular route that's located just outside of Hebden Bridge, this top trail is also popular with cyclists.
A lovely 2.4 mile path spans out around the water's edge and, even though you're only a short drive from town, you'll feel miles away here.
A flat trail, which may be a bit muddy in parts, this is nevertheless an easy route great for families, birders and runners!
Afterwards, you can head on along the road a short distance to reach the 400+ year old Packhorse Inn – the perfect place for a spot of lunch!
#4 Wadsworth Moors & Old Town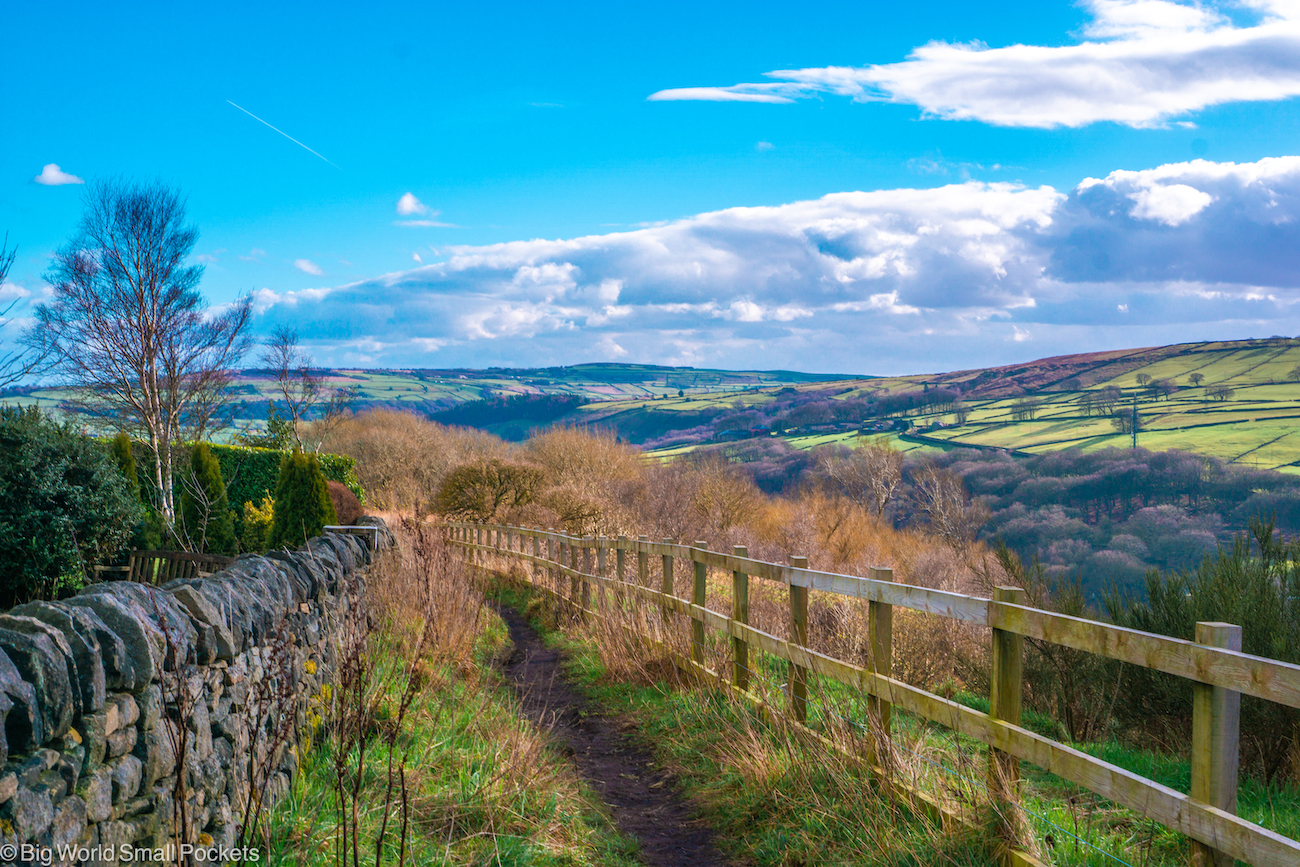 And another top walk that builds in a great food stop is Wadsworth Moors and Old Town – a small settlement that sits just above Hebden Bridge.
When I visited Hebden, I stayed in the fab Hebden Bridge Hostel and could actually walk pretty much through the woods behind the hostel, all the way up to the ridge and onto the moors.
Giving amazing views across the valley, and allowing you to walk for miles, this is a place to truly get away from the Hebden tourist crowds.
On the way back down, don't miss coming back to Hebden through the Old Town, and stopping in at the amazing Old Town Post Office – a great coffee spot in a still operational, yes you guessed, post office – CUTE!
#5 Gaddings Dam
This fab Hebden Bridge walk is a little out of town, but is such a unique trail that it certainly deserves to be on this list.
The best option is to either drive or get the train to the town of Todmorden from Hebden and then head towards The Shepherd's Rest Inn.
From there, you can take the walking trail up to the Dam – don't miss spying Stoodley Pike over the left!
Also don't miss bringing your swimwear, at least in the summer!
And that's because you can actually swim in the water here (if it's warm enough) and then stretch out on the sandy strip, close your eyes and pretend you're at the beach!
What a Yorkshire treat!
#6 Lumb Hole Falls
And in at number 6 on this list of top Hebden bridge walks, it's Lumb Hole Falls – a 10.6 mile circular that will take you up to High Brown Knoll.
You'll then pass the Falls of course, before looping back round and past Gibson Mill – the perfect place for a coffee and cake refresh.
Decent footwear is a must for this trail as there's some steep ascents and descents, as well as slippery patches especially nearer to the falls, but come prepared and you can even enjoy a dip in the water here during the summer.
Lush!
#7 Old Chamber Circular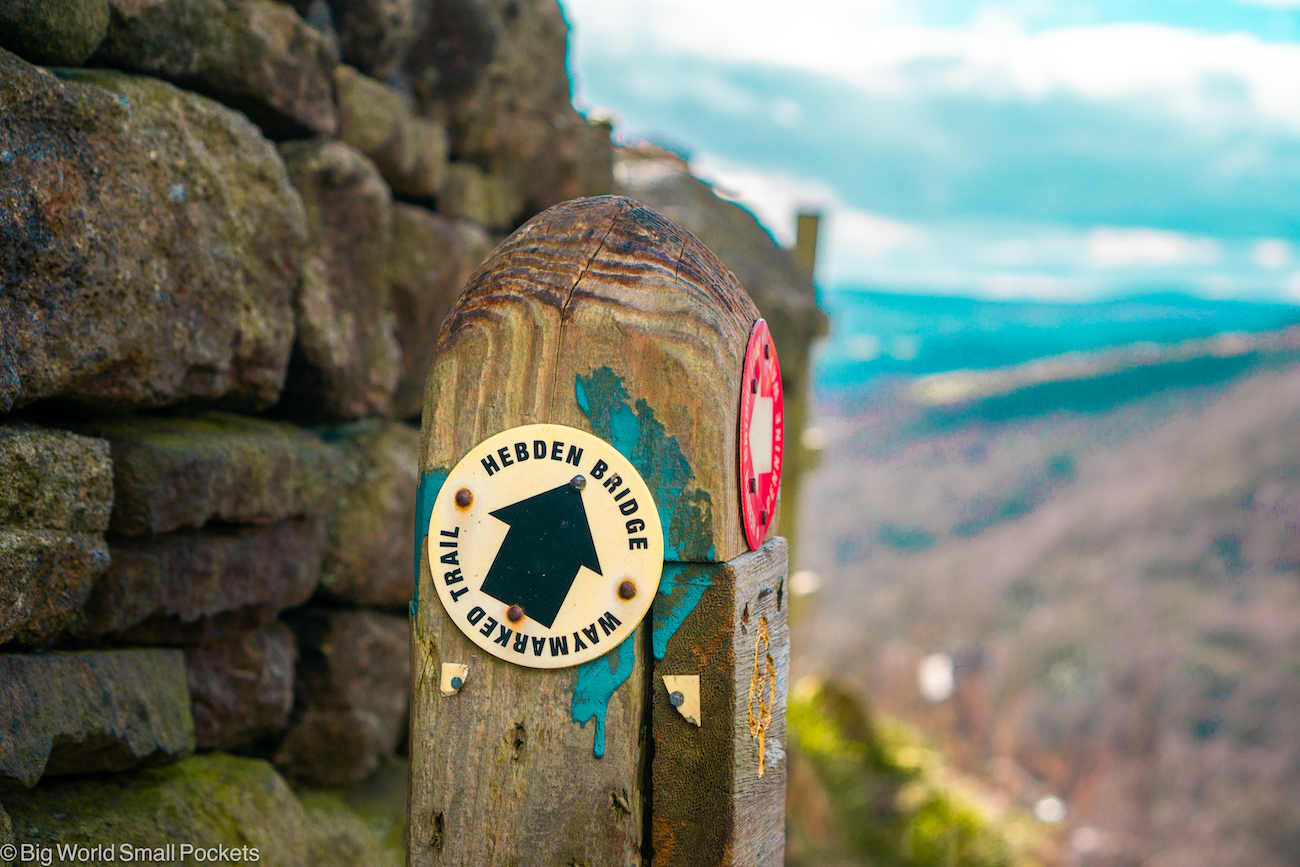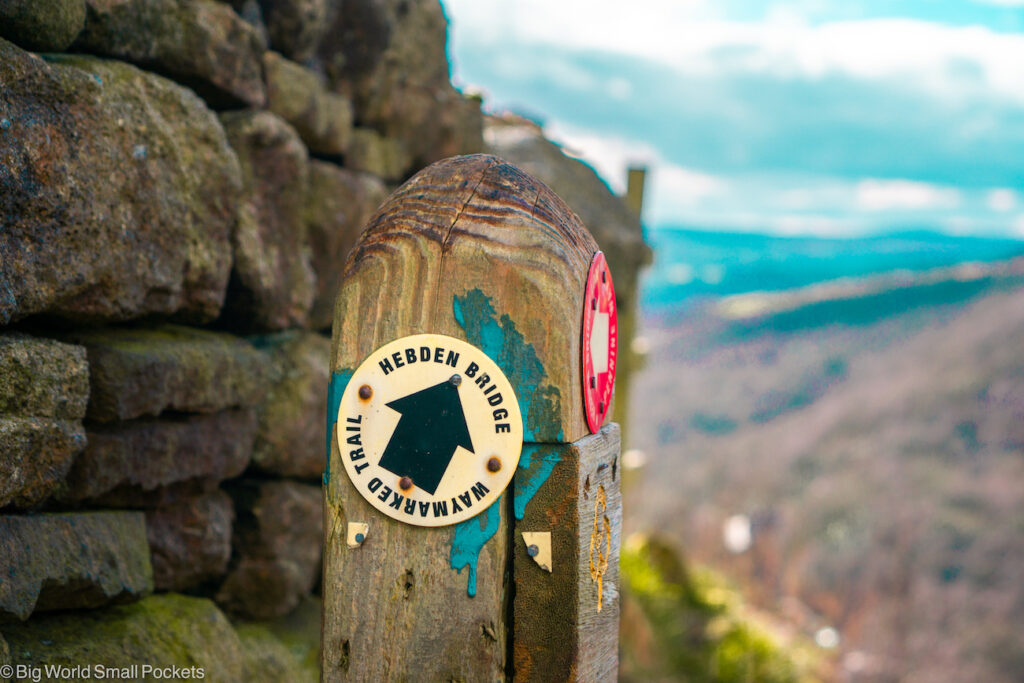 The walk I enjoyed after a friend's birthday the night before, let me tell you that this Old Chamber Circular, is the perfect Hebden walk if you're looking to shift a hangover!
A great option because it starts right from town, you then get a bit of a climb as you ascend the ridge and can then pretty much keep going as far as you like along the top, before looping back down in town.
The views from the ridge summit are amazing, especially on a clear day, and you'll pass through farms and cute hamlets as you go.
A peaceful spot, with expansive views and plenty of fresh air, this is definitely a great Hebden Bridge hike.
Mini Travel Guide to Hebden Bridge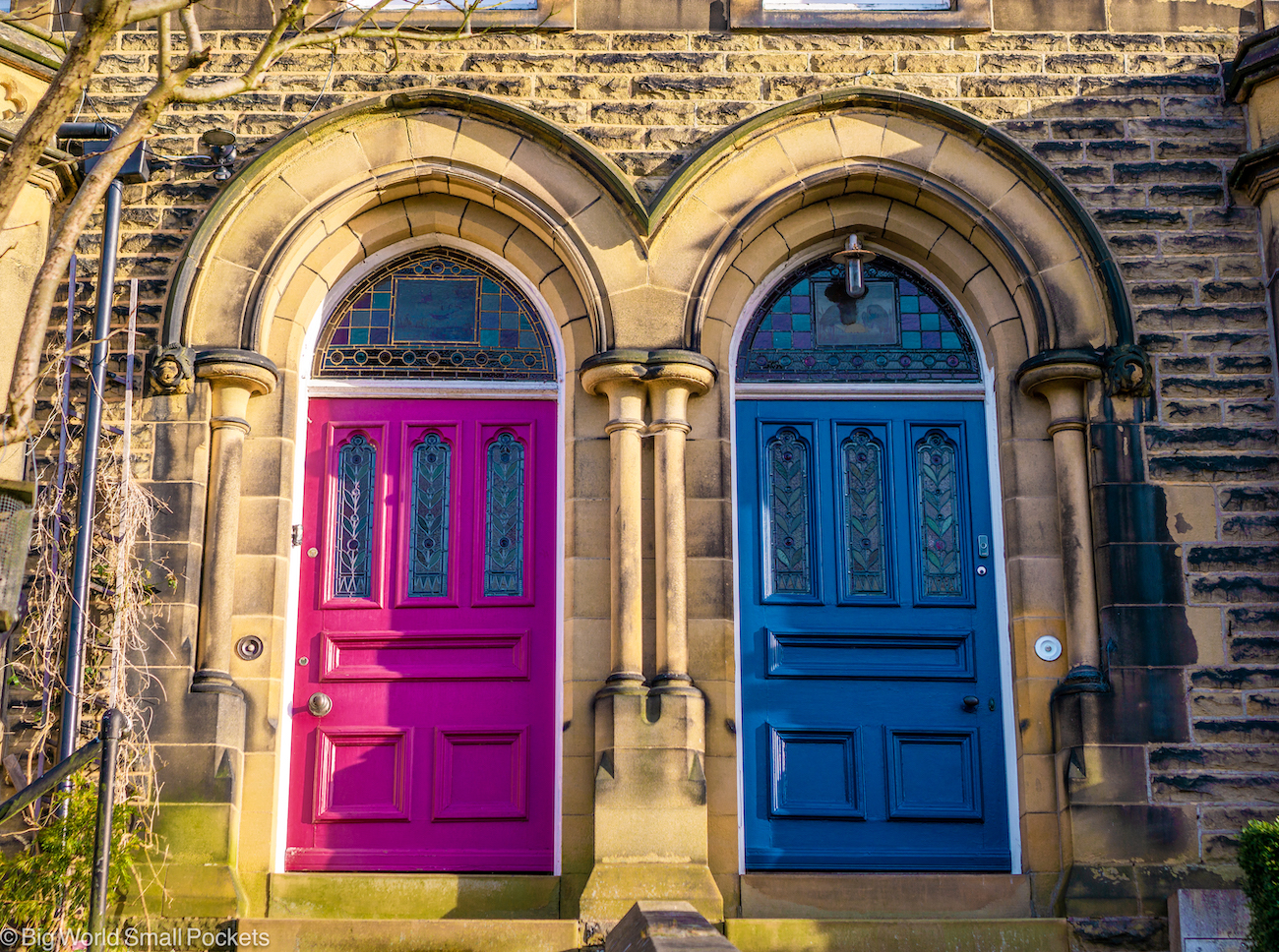 Where is Hebden Bridge?
Situated in the Calder Valley in Yorkshire, Hebden Bridge is in the north of England.
The nearest large town is Halifax. The nearest cities are Manchester and Leeds.
How to Get to Hebden Bridge?
One of the great things about Hebden Bridge is how easy it is to reach from both Leeds and Manchester.
With direct and fast trains from both of these major northern cities, Hebden Bridge is amazingly simple and affordable to get to.
Both Leeds and Manchester also boast international airports, which means getting to Hebden from even further afield is also pretty easy.
As always, I use Trainline to book my rail tickets in the UK and Skyscanner to find the best flight prices.
Where to Stay in Hebden Bridge?
I stayed in a lovely private ensuite room here and highly recommend it
Top-rated rooms in a great location with superb staff
Luxury apartments right in the historic town centre
Best Time to Visit Hebden Bridge?
The best time to visit Hebden Bridge is definitely during the summer months in my opinion.
The better weather from June to August will allow you to get out and explore the glorious walks and historic sights with ease.
That said, I visited Hebden Bridge in February and loved it!
Spring sunny days were perfect for taking in the highlights without the summer crowds!
How Long to Spend There?
I'd allow at least 3 days to explore Hebden Bridge and the surrounding area.
Travel Insurance for the UK
World Nomads offers simple and flexible travel insurance. Buy at home or while travelling and claim online from anywhere in the world.
Alternatively, if you're a long-term traveller, digital nomad or frequent remote worker seeking travel health cover, check out Safetywing's Nomad Insurance policies.
Travel Money in the UK
The easy way to spend abroad with real exchange rates, no markups and no sneaky transaction fees, you can use your Wise card just like a debit card in the UK, and it links easily with Google and Apple pay – sold! Grab yours here.
PIN IT TO PINTEREST!
And there you have it, my list of the top 8 Hebden Bridge walks.
Which is your favourite on the list?
Know of any I missed out?
Join the discussion and drop your top Hebden hike picks into the comments box below…