The gorgeous Yorkshire town of Hebden Bridge has a wealth of fantastically creative and quirky things to do.
From community-owned pubs to epic hikes, amazing arts venues and cute shops, historic surrounding villages to National Trust treasures, there's tons of great spots to explore in and around Hebden Bridge, making it the ideal destination for an extended weekend trip in the beautiful Yorkshire countryside.
So here's my list of the top 15 things to do in the wonderfully eclectic Hebden Bridge if you're heading there soon…
---
Related Posts
---
My stay in Hebden Bridge was gifted by Hebden Bridge Hostel but, as always, all views are my own.
This page contains affiliate links meaning Big World Small Pockets may receive a small commission on any purchases at no extra cost to you.
---
#1 Go to a Gig at the Iconic Trades Club
When starting this list of the best things to do in Hebden Bridge, I had to kick off with one of the town's most famous places!
After all, Trades Club is one of the leading venues on the northern UK circuit and the fact it's situated in a town of under 4500 people shows how iconic this spot is.
A socialist members cooperative bar and gig space, Trades was built in 1924 and reincarnated in 1982.
It's got an amazingly eclectic line-up, a fantastic spirit and an all-round brilliant ethos.
From comedy and theatre to amazing music, checking out what's on during your visit is a must.
#2 Hike the Hardcastle Crags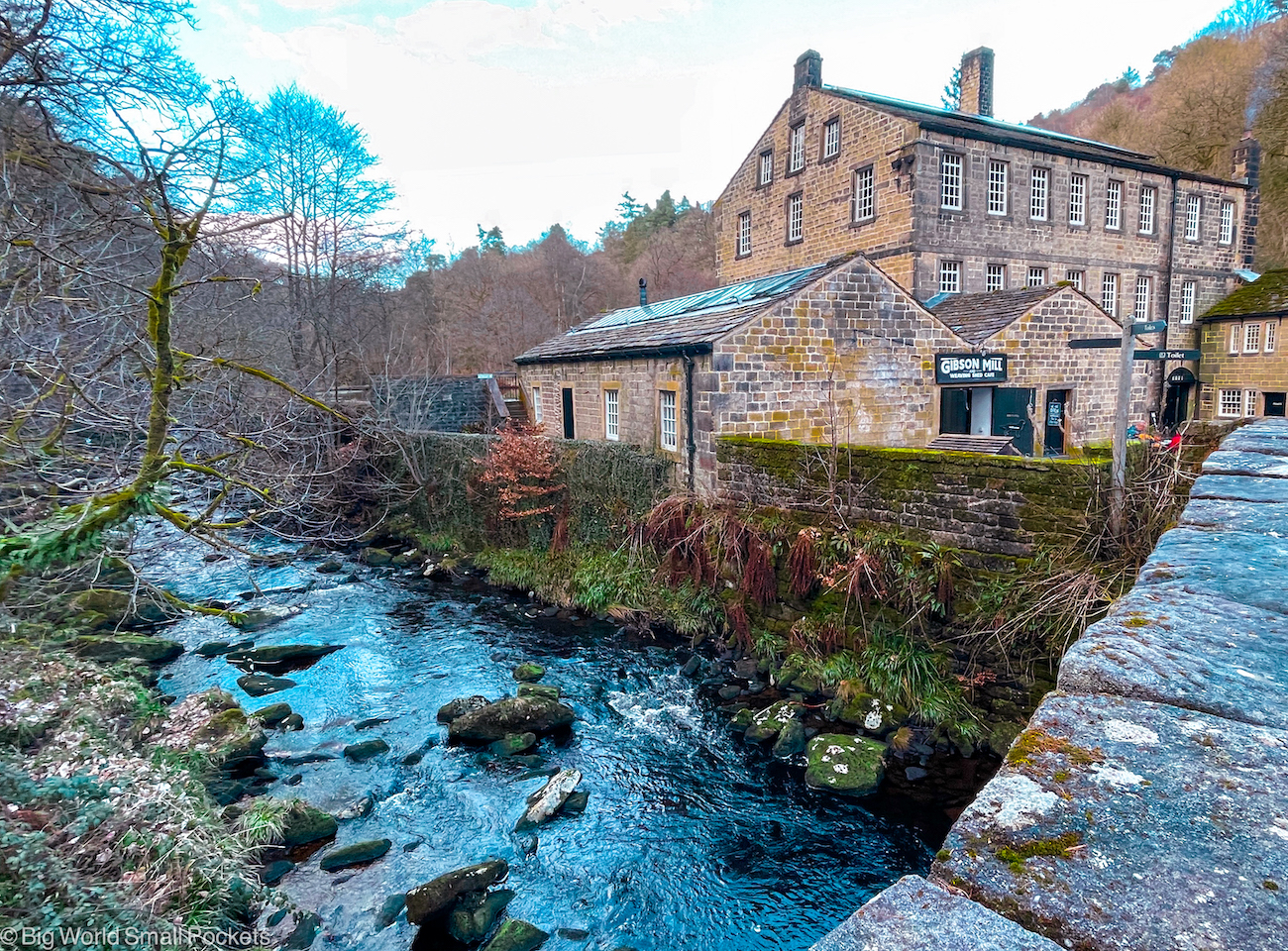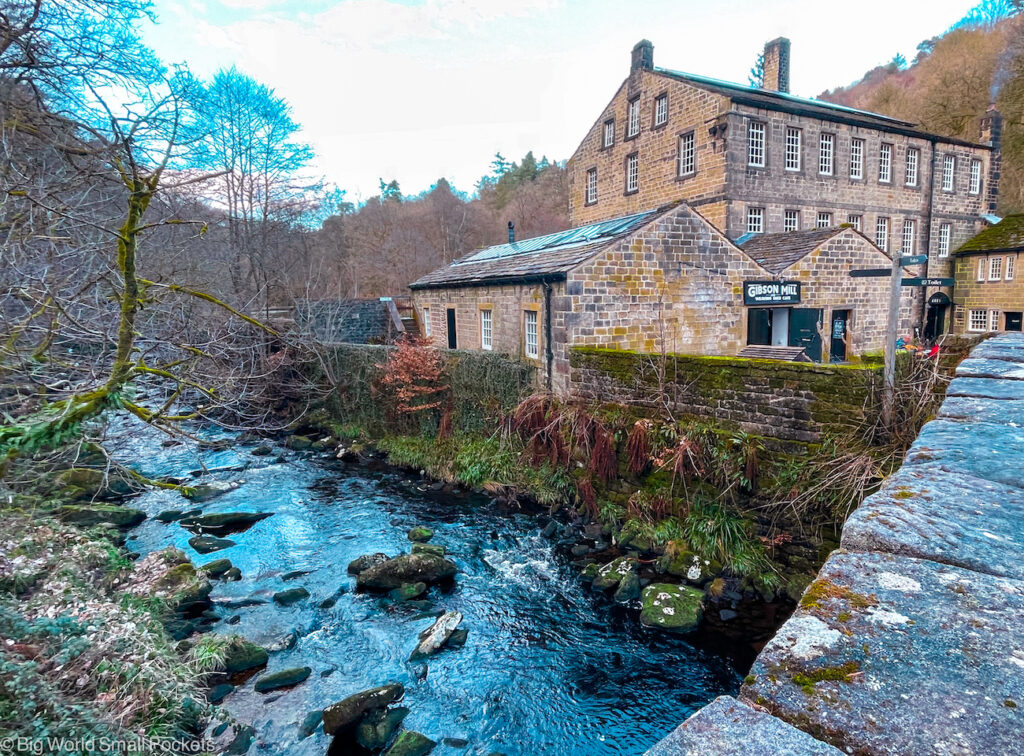 And after a fun night out at Trades, what better way to shake it off than with a good stomp in the countryside around Hebden Bridge?
And top of the easy strolls around the town is Hardcastle Crags.
A National Trust trail, with several different routes, you can leave right from the edge of Hebden Bridge and walk along the river to Gibson Mill – a historic spot where there's a lovely café.
From here you can cut back in a circular loop via Midgehole and head home, or continue on to Lumb Hole Waterfall or Walshaw Dean Reservoir.
A peaceful walk that takes in the beautiful countryside here, Hardcastle Crags is a great one for families and dog friends alike!
#3 Check out Sylvia Plath's Grave
Filled with famous faces over the years, Hebden Bridge is one heck of a happening spot that has inspired creatives for generations.
And perhaps one of the most famous historic residents has also been laid to rest here.
Located in the village of Heptonstall, just outside Hebden Bridge, wandering the ruins of the old church here is a lovely atmospheric place to explore.
After this, stroll out to the cemetery (which was one of the shooting locations in the BBC drama Happy Valley) and find Sylvia Plath's grave.
Admire the flowers and creative tools that still get left here and then take in the stunning views ofthe Calder Valley she still gets to enjoy.
#4 Visit the Local Markets
But back in the centre of Hebden Bridge we go now and it's time to hit up the local markets in this historic town.
Running most days – there's a rotating assortment of stalls on offer (think antiques, crafts, food and drinks) to enjoy here, especially on the weekend.
Keeping alive the traditions that have sustained this town for hundreds of years, the vibrant market keeps this thriving community alive.
#5 Head to Stoodley Pike
A 400m high peak in the South Pennines, the towering monument of Stoodley Pike keeps a watchful eye over the whole Calder Valley and can be seen from miles around.
Heading here from Hebden Bridge is a full day, challenging hike, but is well worth it if you're up for exerting some energy and enjoying the glorious countryside and rolling hill views.
Designed in 1854 by local architect John Green, and completed in 1856, the monument is Grade II list and replaced an earlier structure, started in 1814, which was constructed to commemorate the defeat of Napoleon and the surrender of Paris.
There's several different walking (or cycling) routes to take to Stoodley Pike from Hebden Bridge, which is 3km by road – checking out AllTrails is a great idea when it comes to picking yours.
The Pennine Way, which passes by through here is a favourite and a big bucket list tick too.
Once at the Stoodley Pike monument, you can actually climb it too for even better views.
Take the spiral staircase of 39 steps, accessed from the north side, before you relax with a well-deserved drink at nearby pubs The Shepherd's Rest or Top Brink.
#6 Sip a Drink at a Plant-Based Wine Bar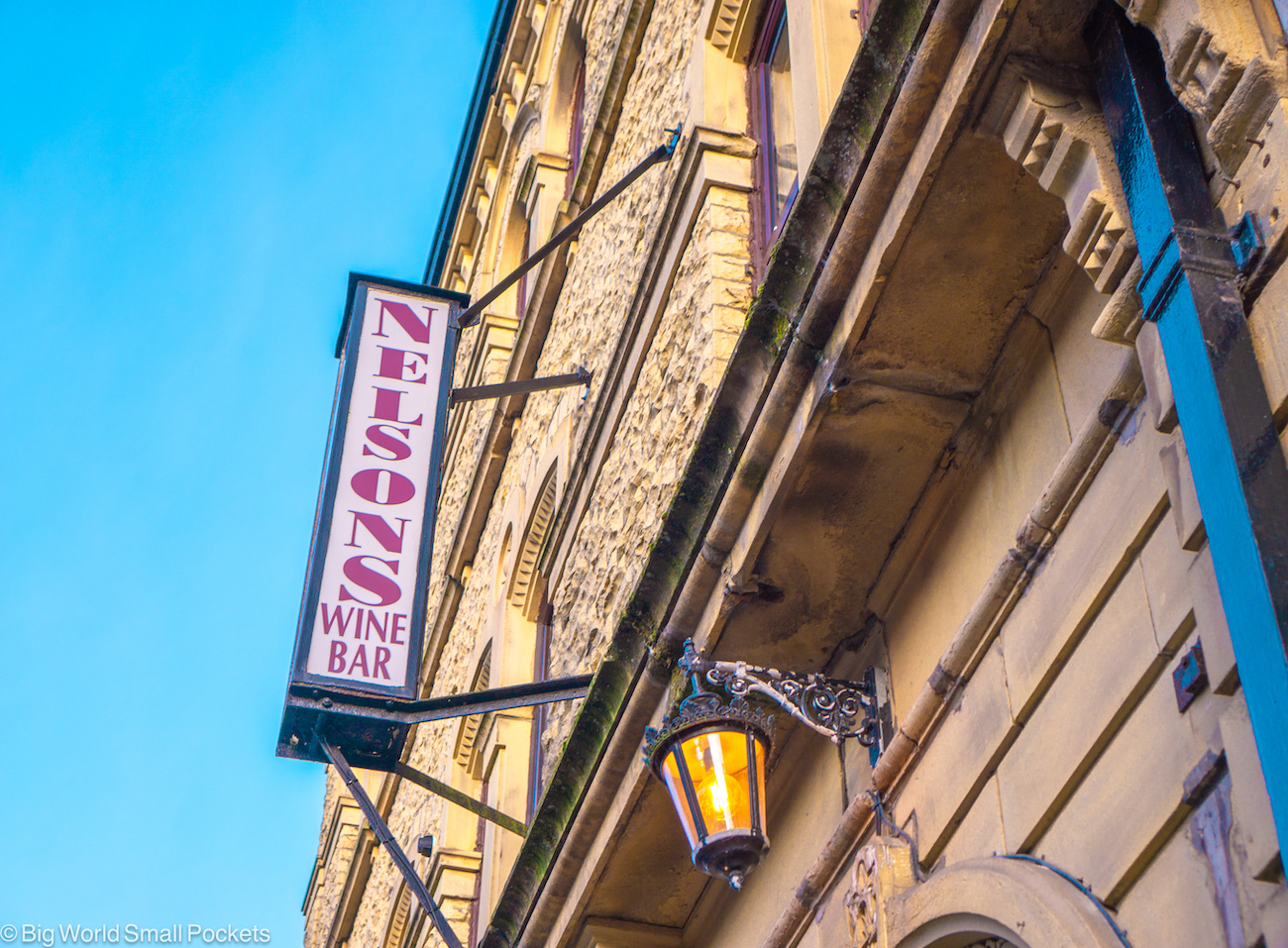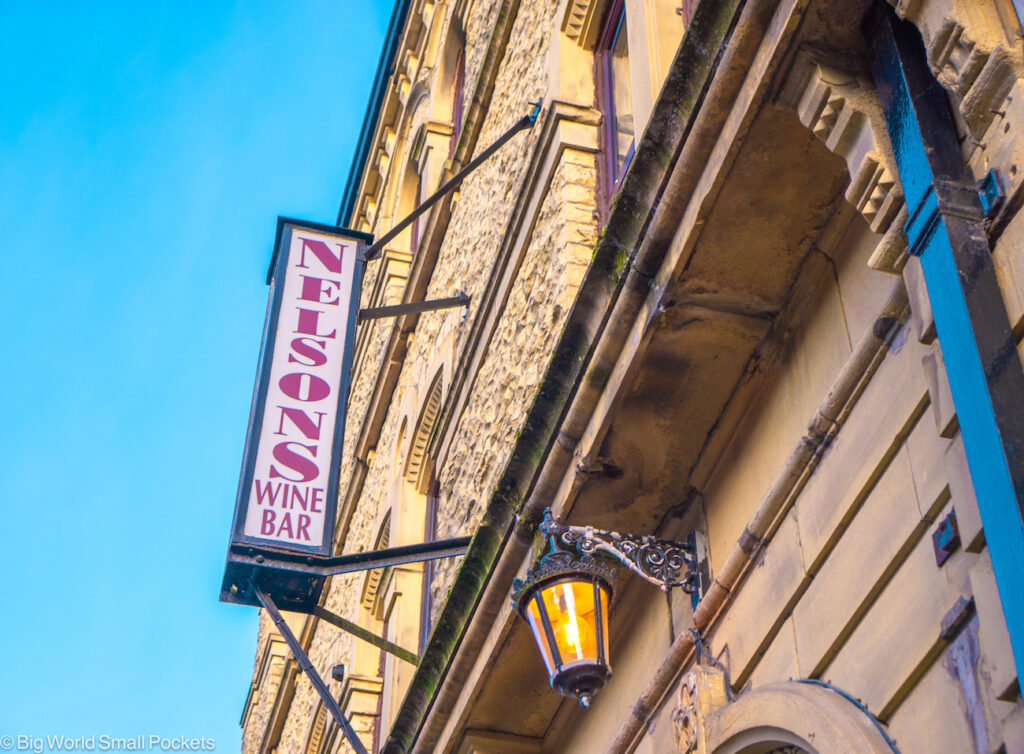 And talking of grabbing a drink, there's loads of great spots in Hebden Bridge to do this, but a top pick on this list of top things to do has to go to the totally plant-based wine bar, Nelsons.
Open from 5pm every evening, this lovely underground spot (housed in the old Coop building) boasts a delicious menu serving local fresh produce and some top vegan wines.
Dog-friendly and big on great vibes, this is a must for dinner and drinks when in Hebden.
#7 Hit the Independent Stores
As you may have noticed by now, Hebden Bridge has a strong independent vibe and that continues into the cute and alternative shops found here.
From beautiful bakeries and organic veg stores to gorgeous furnishings and quirky bookstores, spending some time ambling between them, coffee in hand, is a delightful thing to do in Hebden Bridge.
Top picks include Art Illuminated, Weighstead, Spirals, Hotcakes and the fabulously named Lucy and the Caterpillar!
#8 Head to Historic Heptonstall
And after that retail therapy, it's time to refresh with a great café stop.
There's several great picks in Hebden Bridge – including dog-friendly Kibbles – but if you're looking for my fav, it's the lovely Towngate Tearoom in Heptonstall.
Pull up a seat at a table outside with a slice of Sylvia Plath Lemon Meringue Pie and watch the cobbled street action go by… preferably in the sunshine!
The cute village post office nearby, is an adorable community shop it's worth stopping by too.
#9 Swim in Gaddings Dam
And from Heptonstall, it's time to head to another spot around Hebden Bridge – the neighbouring town of Todmorden.
There's some great bars and cafes here – including Nan Moors, a tiny bar housed in a former tattoo parlour – but the real pick for me is a natural spot behind the town, known as Gaddings Dam.
This lovely reservoir is a good hike up from Todmorden and even boasts a stretch of sand – the perfect place to get your beach experience in Yorkshire!
One of my top things to do in this county, Gaddings Dam is a superb hidden gem, really only known about by locals… and now you!
Pick a sunny day, enjoy a great hike up here and then spend your time swimming in the Dam and relaxing on the sand afterwards.
#10 Watch a Film at the Hebden Bridge Picturehouse
But back to Hebden we go now in time for another of this funky town's artistic offerings.
One of the last remaining council-owned cinemas in Britain, there's a great range of arthouse and independent movies showing here, along with some latest releases and foreign language movies too.
A thriving, independent and not-for-profit venue, built in the 1920s, this fantastic spot is also a host venue for the Hebden Bridge Film Festival and the Hebden Bridge Arts Festival.
And this beautiful Grade II listed picturehouse really is the perfect spot for a relaxing evening.
#11 Stay at the Cute Hebden Hostel
And talking of thriving independent businesses, the gorgeous Hebden Bridge Hostel is another fantastic one you should definitely get involved in!
The best place to stay in this town in my opinion, Hebden Hostel is brilliantly situated, just a short walk from the very centre of town and has wonderful dorms, as well as private rooms.
With an artist in residence, a comfy lounge with a wood burner, walks straight from the door, a guest kitchen and even a silent disco, this spot is ideal for single travellers, couples, friends and families.
Book your stay at Hebden Bridge Hostel for the best rates here.
#13 Explore Wadsworth Moors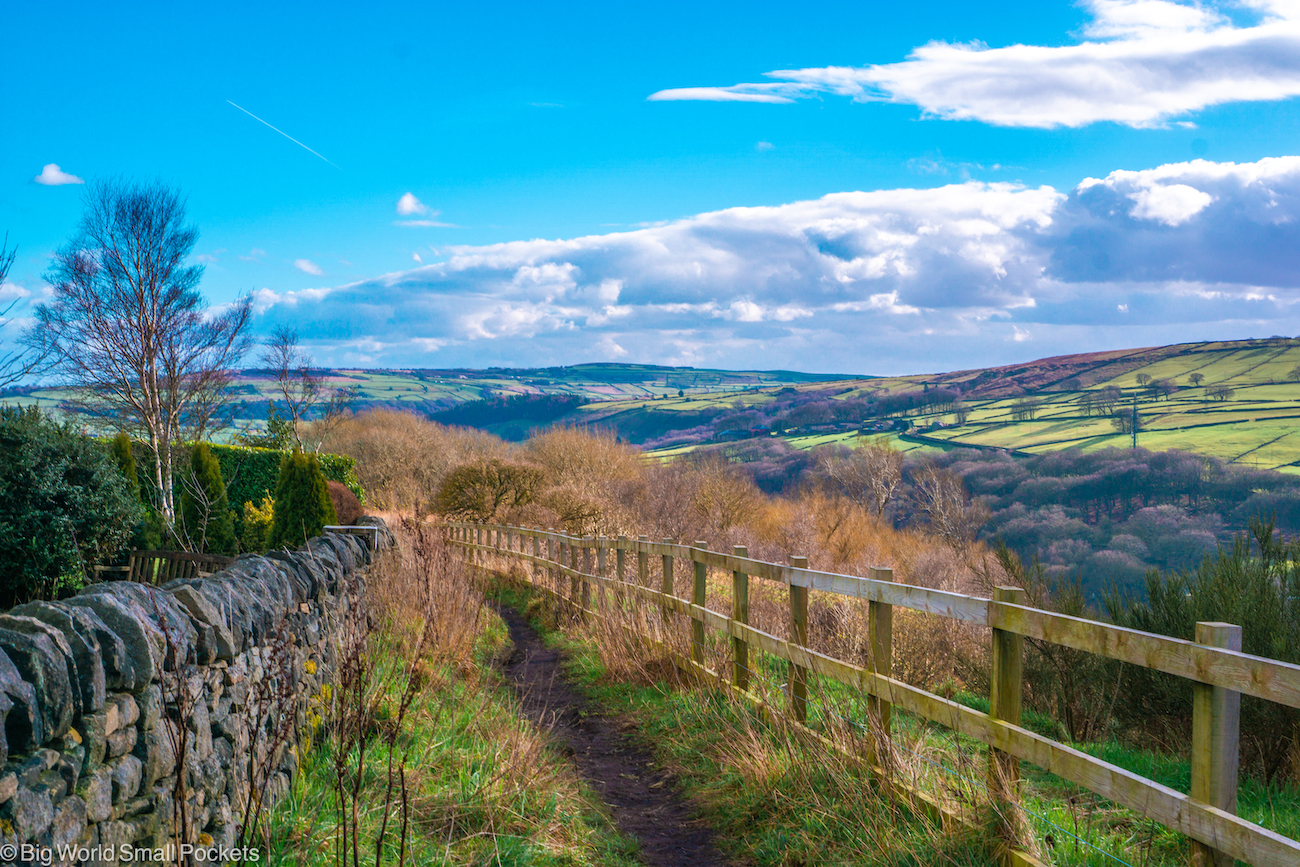 And one of the best walks that leads right from the door of Hebden Hostel is the trail up to Wadsworth Moors.
The hostel actually owns a stretch of woodland that leads up to the moors and heading through it to the ridge, and onto the Moors, will give glorious views over the whole town and valley.
On the way back, I highly recommend you pass through Old Town, which is situated above the hostel and Hebden Bridge.
Once here, don't miss stopping in at the amazing Old Town Post Office – a great coffee is guaranteed in this still operational post office – so cute!
#14 Drive to Widdop Reservoir
And another great place for a stroll or a cycle near Hebden Bridge is Widdops Reservoir.
Driving out here is the best option – it's just a short way from Hebden Bridge, but when you arrive you'll feel like you're in the middle of nowhere.
With stunning views and a trail that runs around the circumference, this is a fantastic spot to enjoy some fresh air and gorgeous views.
Afterwards, the historic Packhorse Inn, just a short distance away along the Pennine Way, makes a great place for lunch and a drink.
#15 Enjoy a Pint on a Unique Pub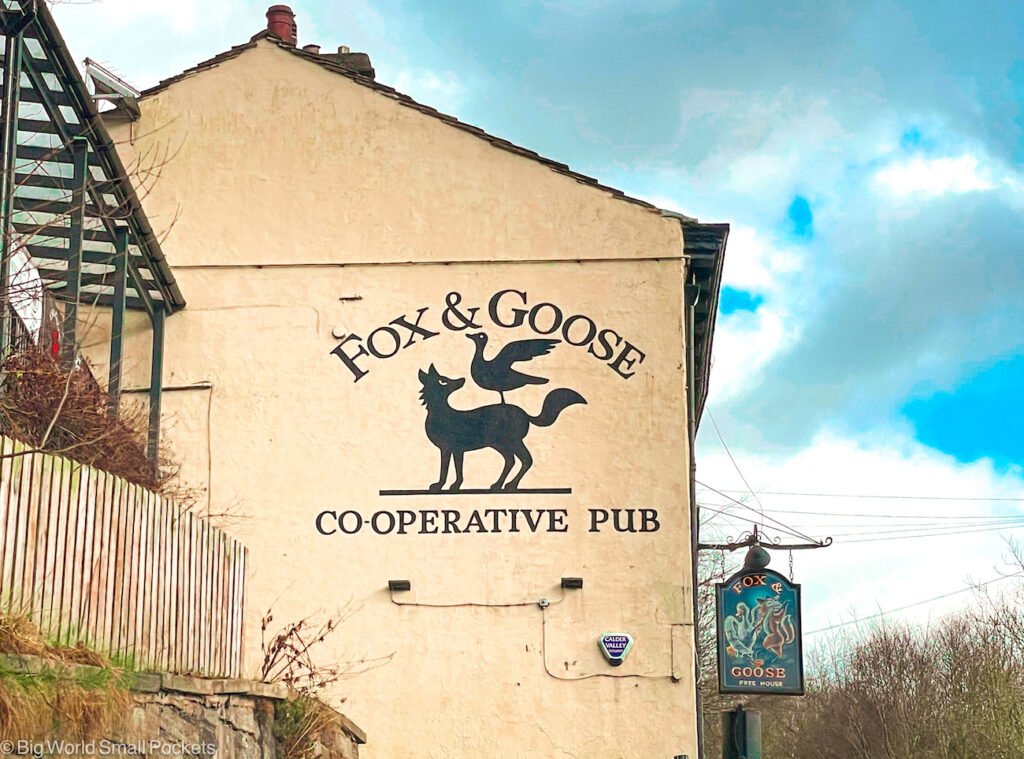 And talking of great Hebden Bridge pubs and bars, you can't miss a trip to the Fox and Goose when you're here.
Making the perfect spot to head after an active outdoors day, this cooperative public house is fully owned by the community and is a regular award-winner.
For ideas about some other great pubs and bars to visit in Hebden Bridge, check out my list of top picks in this article.
Mini Travel Guide to Hebden Bridge
Where is Hebden Bridge?
Situated in the Calder Valley in Yorkshire, Hebden Bridge is in the north of England.
The nearest large town is Halifax. The nearest cities are Manchester and Leeds.
How to Get to Hebden Bridge?
One of the great things about Hebden Bridge is how easy it is to reach from both Leeds ad Manchester.
With direct, fast trains from both of these major northern cities, Hebden Bridge is amazingly simple and affordable to get to.
Both Leeds and Manchester also boast international airports, which means getting to Hebden from even further afield is also pretty straightforward.
As always, I use Trainline to book my rail tickets in the UK and Skyscanner to find the best flight prices.
Best Time to Visit Hebden Bridge?
The best time to visit Hebden Bridge is definitely during the summer months in my opinion.
The better weather from May to September will definitely allow you to explore the glorious walks and historic sights around.
That said, I visited Hebden Bridge in February and loved it!
Spring sunny days were perfect for getting out and about to enjoy Hebden without the summer crowds!
How Long to Spend There?
I'd allow at least 3 days to explore Hebden and the surrounding area.
Travel Insurance for the UK
World Nomads offers simple and flexible travel insurance. Buy at home or while travelling and claim online from anywhere in the world.
Alternatively, if you're a long-term traveller, digital nomad or frequent remote worker seeking travel health cover, check out Safetywing's Nomad Insurance policies.
Travel Money in the UK
The easy way to spend abroad with real exchange rates, no markups and no sneaky transaction fees, you can use your Wise card just like a debit card anywhere in the world, and it links easily with Google and Apple pay. Grab yours here.
PIN IT TO PINTEREST!
And that's my list of the 15 best things to do in Hebden Bridge.
Have you visited this gorgeous Yorkshire town?
What did you enjoy doing there?
Let me know all the details in the comments box below…