Kenya's national parks are among some of the most famous and renowned safari destinations in East Africa, if not the whole of Africa!
And with Kenya becoming one of the most popular places to safari, the sheer number of incredible reserves to choose from makes it even more special.
Most safari tours in this country usually combine a number of national parks into one epic trip, but how to decide which to visit?
Here to help you out, I'm bringing you my top 7 national parks in Kenya, as well as easy ways to group several of these gems together into one epic safari.
After all, it's pretty unlikely you'll have time to see them all in one trip.
So if you're trying to plan an amazing Kenya adventure, keep reading to discover which might be the best national parks for your incredible safari experience…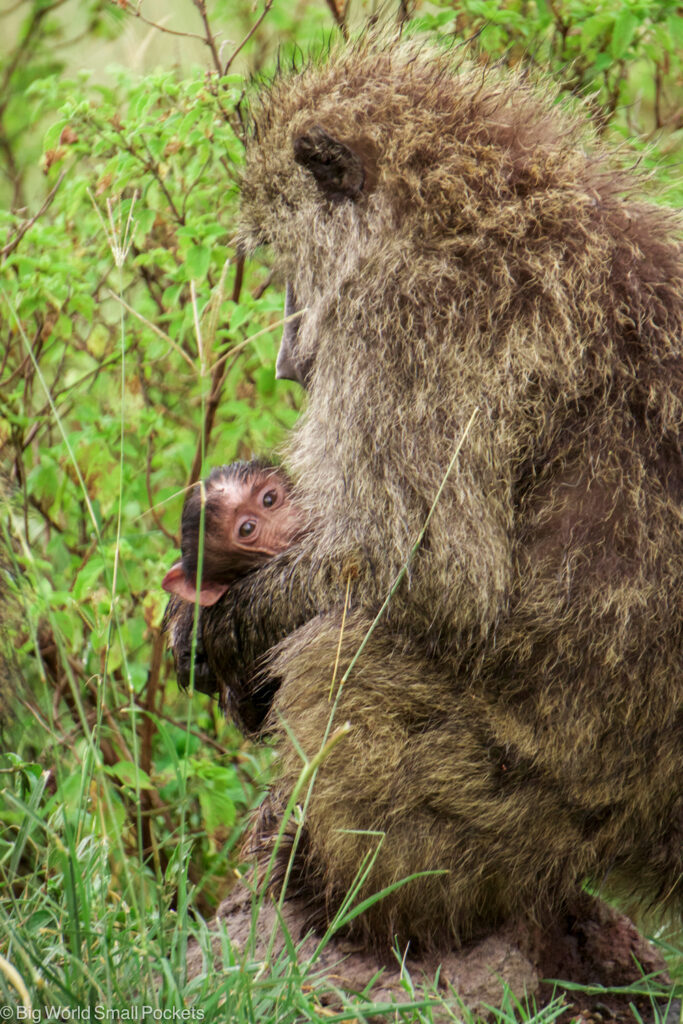 ---
Related Posts
---
This page contains affiliate links meaning Big World Small Pockets may receive a small commission on any purchases at no extra cost to you.
---
Which Kenya National Parks to Visit? Things to Consider…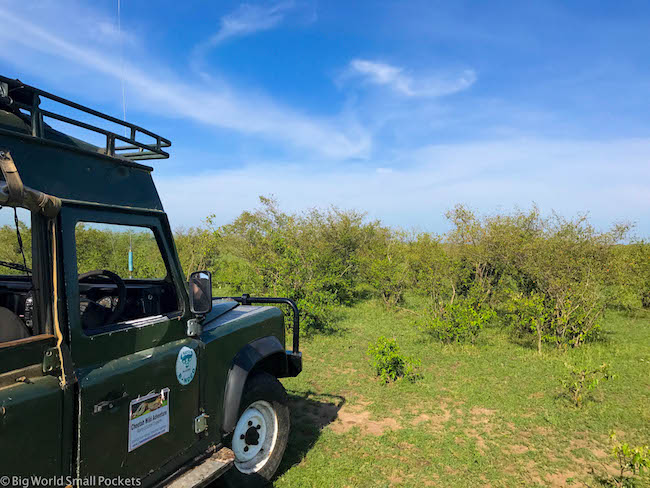 As I mentioned in the introduction, it's unlikely you'll be able to see all the national parks in Kenya in just one trip.
And to be honest, if you do, you're likely to get a bit safari-ed out!
But equally, you probably also want to see more than one national park, given the diversity of experiences on offer in Kenya.
As such, I thought that first I'd bring you some tips about choosing the best Kenya national park combinations!
The first factor to consider here is which parks are near to each other.
With a smaller geographical distance between them, parks that are close to each make the perfect combined safari trip.
This is especially true if you're short on time, because as Kenya is a huge country, not selecting safari spots that are near each other will mean spending a lot of your trip just driving between them. Far from ideal!
A good example of parks in Kenya that are close to each are Hell's Gate and Lake Naivasha.
The second factor to consider is the type of safari you're after.
If it's a Big 5 bucket list you're keen for, then the ever-popular Masai Mara is a great option and can easily be combined with Nairobi National Park and Lake Nakuru.
Otherwise, if you want walking, cycling or boat safaris, again Hells Gate and Lake Naivasha make good options.
Finally, if you're heading down to the Kenya coast, then Amboseli and Tsavo East National Park are 2 great options.
Located east of Nairobi, there offer some epic animal spotting, some amazing views and will take you closer to the coastal spots of Mombasa, Diani Beach and Kilifi too.
And now it's time to get on with the list of the top 7 Kenya national parks.
#1 Masai Mara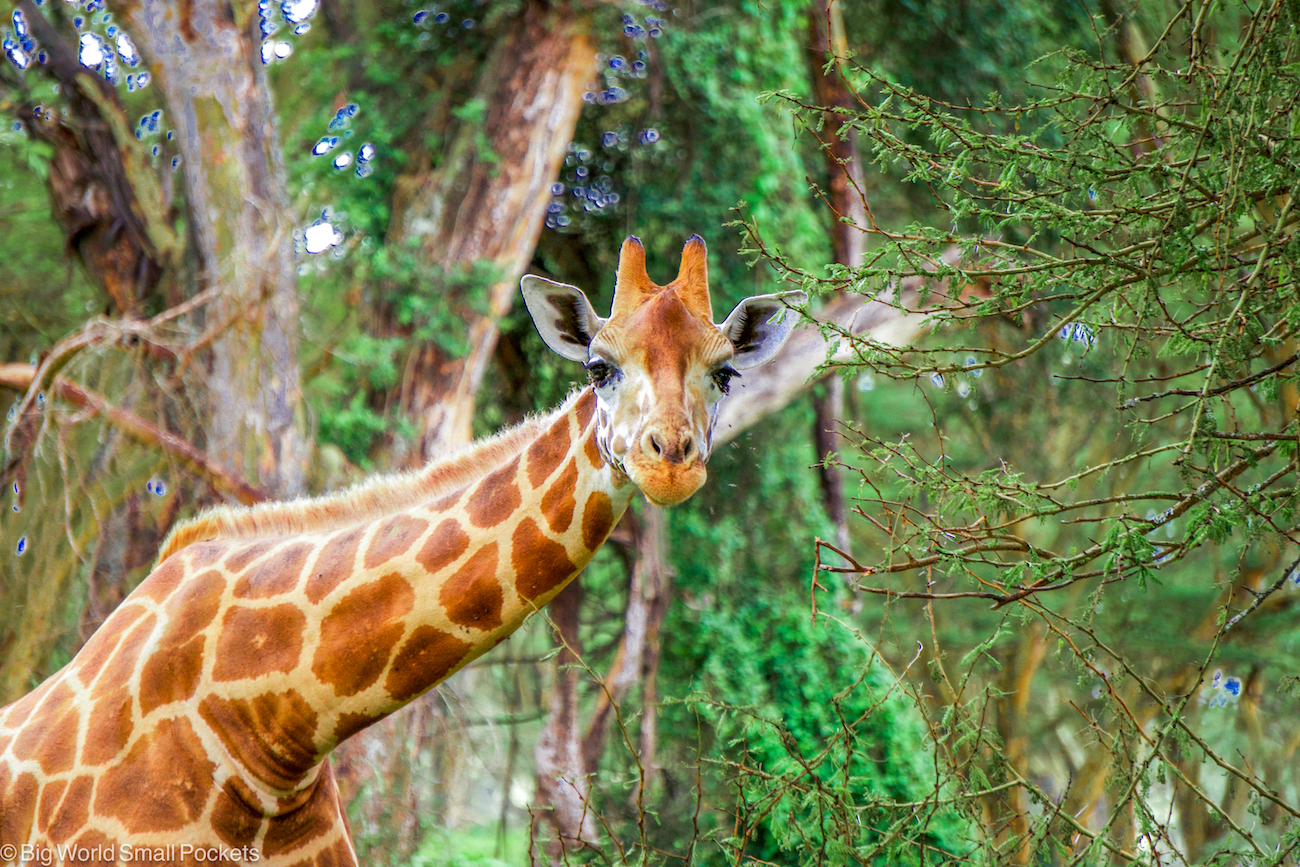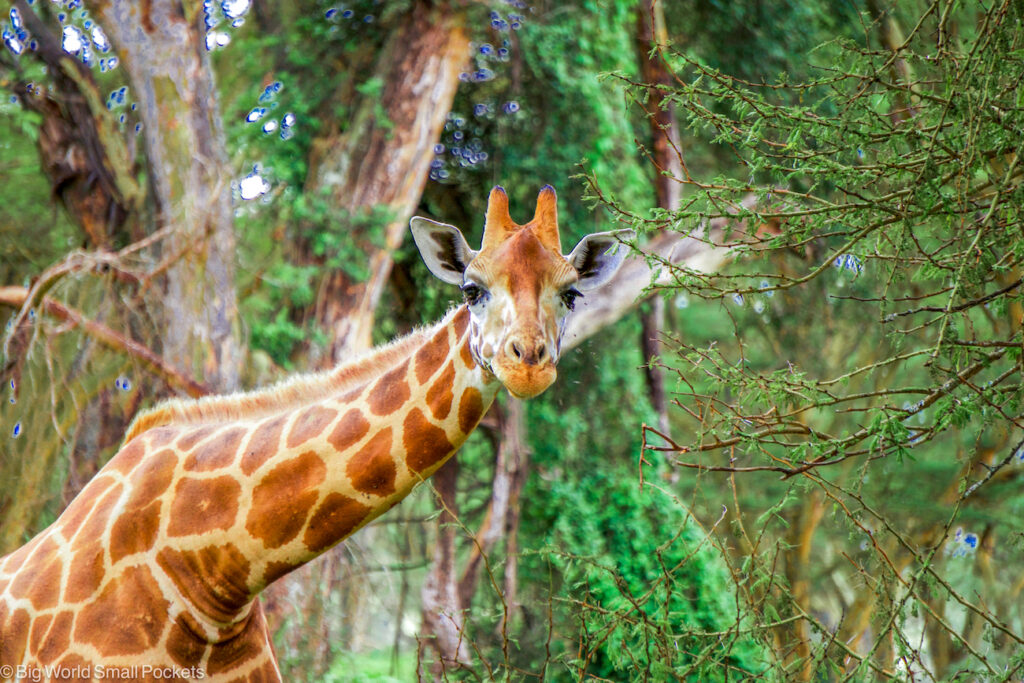 The big daddy of them all, the Masai Mara is undoubtedly one of the most famous of Kenya's national parks and one of the country's most popular with tourists too.
Around a 6 hour drive from Nairobi (and be warned, it's a bumpy ride at the end!), many safari tours offer 2-3 day trips to the Masai Mara from the capital that include transport, accommodation, some food and game drives.
Opt for a camping safari for the cheapest rates and skip the Masai Mara village tour if you simply want to focus on the wildlife.
Situated along the border with neighbouring Tanzania, this national park continues to sprawl beyond this national boundary, and is simply given another name on the Tanzanian side – the Serengeti!
Despite the national border, the animals are able to roam freely across these two protected areas and the wildebeest, zebras and gazelle populations, in particular, make some seriously epic annual migrations between the 2.
Probably the most dramatic of these spectacles is the wildebeest migration, when over 2 million of these large animals make their way from the Serengeti to the Masai Mara.
Usually travelling north during the months of July and August, in search of fresh grazing lands, these huge herds of wildebeest tend to arrive into the Masai Mara in September.
Heading here at this time of year therefore, is likely to give you the best show!
But it's not just wildebeest to spot here, because this incredible Kenyan national park is also one of the best reserves in Africa for seeing cheetahs – in fact, it's one of the parks where I've seen the most!
The grassy plains and regular rainfall here (hence why it's often so green) support a huge population of herbivores and, in turn, attract many predators too.
Even the very elusive leopard is a common sight here. And yes, I spotted them too!
Learn more about the Masai Mara here.
#2 Lake Nakuru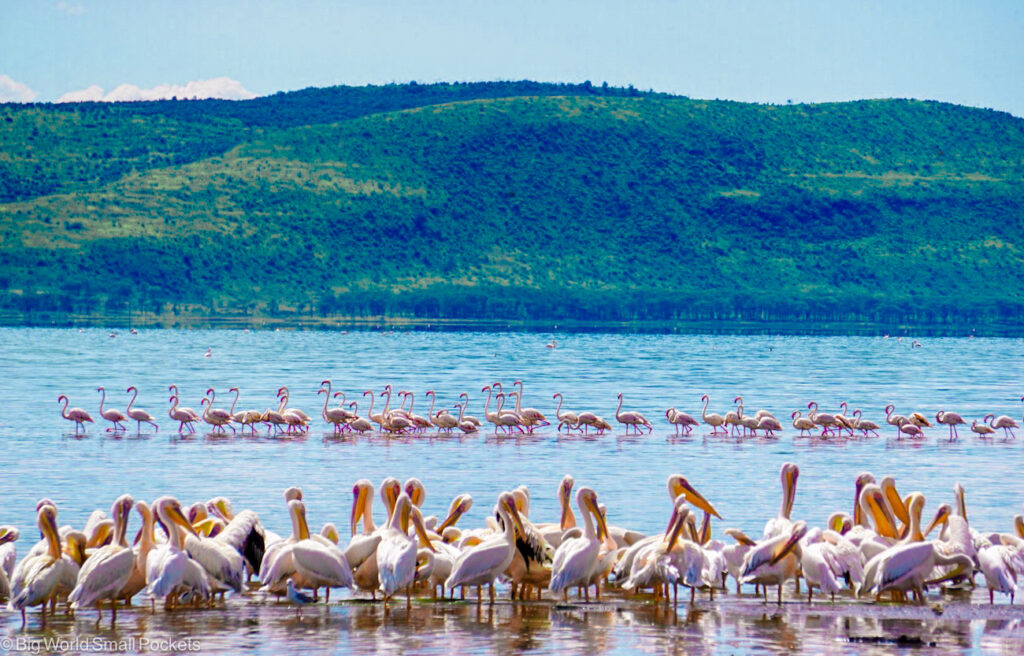 And as I mentioned early in this article, Lake Nakuru makes for a great safari pairing with the Masai Mara, especially if you're travelling to or from Nairobi.
Located in the Great Rift Valley, just a three-hour drive from the capital, Nakuru is a shallow, saltwater lake boasting an abundance of wildlife and spectacular landscapes.
It's dominated by the huge body of water that denotes its name, but don't be misled, because even away from the water's edge, there's also tons of great game drives and animal spots to be enjoyed.
Lake Nakuru, which sits 1754m above sea level, became a wetland site of international importance under the Ramsar Convention in 1990, and was awarded UNESCO World Heritage status in 2011 – a good indication that it's a pretty special place!
Most famous for its vast flamingo populations, which can sometimes be seen in such large numbers that the lake appears pink, it's very sad that, since 2012, heavy flooding has severely impacted the flamingos' breeding grounds, dramatically reducing the numbers that live here.
However, there have been some promising signs of numbers recovering recently, so hopefully this will continue.
But while the flamingos may not as abundant as they once were, there's so much other wildlife to see in this reserve that it remains a top Kenya national park in my eyes!
Indeed, Lake Nakuru is actually one of the best places in Kenya to see rhinos in the wild – a rare and special occurrence.
Both white and black rhinos live here and the park was declared a Rhino sanctuary in 1983.
Lions, cheetahs, hippos, buffalos, waterbucks, impala, giraffes and zebras are among the many other species you can also spot in this great Kenya national park, and Lake Nakuru also has a strong reputation for leopard sightings – creatures that are notoriously tricky to spot!
Finally, as you may not be surprised to learn, Lake Nakuru is also a birding hotspot, with hundreds of species drawn to the water and surrounding wetlands, so don't miss out on this Kenyan reserve if you're an avid twitcher!
#3 Nairobi National Park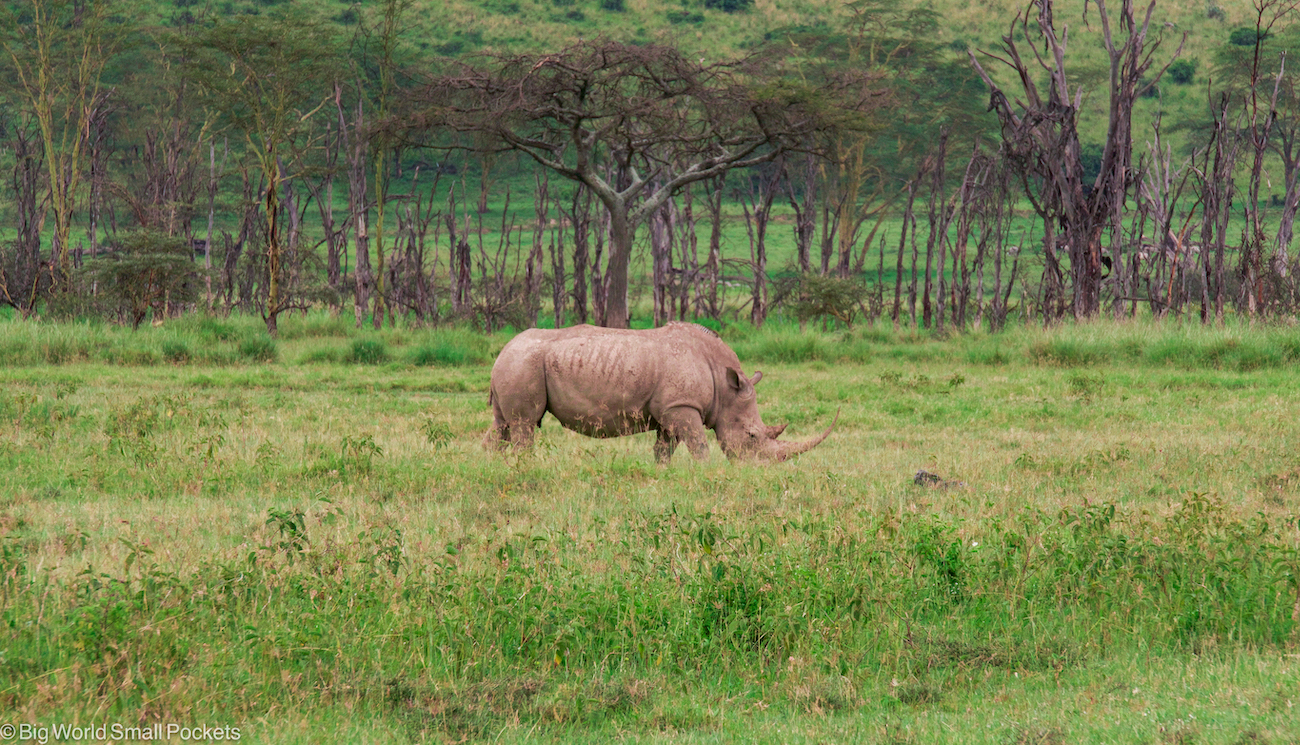 And if you are travelling to or from Nairobi, perhaps on your way into or out of the country, then don't miss Nairobi National Park either – undoubtedly one of Kenya's best!
Established in 1946, Nairobi National Park was actually the first of Kenya's national parks and makes for a great day trip from the capital, or an additional stopover on your way to the Masai Mara or Lake Nakuru.
Often overlooked for Kenya's bigger, more popular safari spots, this small gem is actually one of the most accessible wildlife destinations in the country, which is why it's a top Kenya national park for me.
Very easy to reach – located just 7km outside of Kenya's capital – Nairobi National Park hosts 4 of the Big 5, is home to 100 mammal species and is also a registered rhino sanctuary, used for breeding these endangered animals too.
This makes it a brilliant place for spotting the rare black rhino, as well as for capturing some unusual wildlife shots – with Africa's most iconic animals regularly being framed by the towering cityscape of Nairobi in the background.
#4 Hell's Gate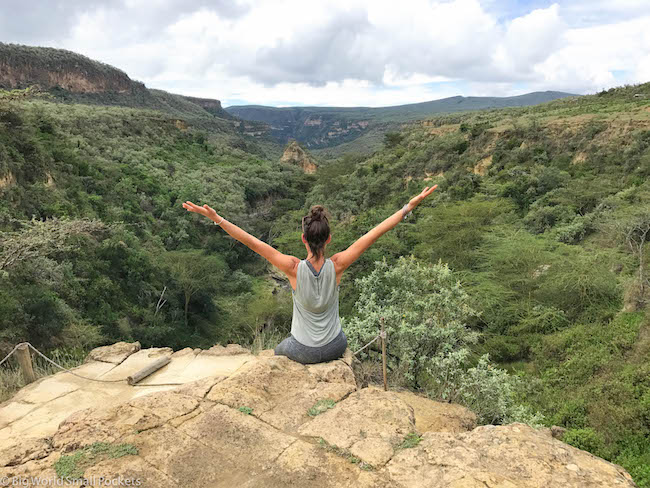 But now over to the west of the country we head for this top Kenya National Park – yes, it has to be the utterly unique and wonderful Hell's Gate.
The striking scenery here is one of the things that makes it so special, because with towering cliffs, dramatic gorges and rock towers, not to mention plumes of geothermal steam rising from the landscape, this place has to be seen to be believed!
But it's not just the scenery that makes Hell's Gate special.
No, another reason this epic reserve makes it onto this list is because you can actually enjoy a cycling safari here!
Hell's Gate isn't home to any dangerous predators, which means that it's totally possible to enjoy a safari on 2 wheels in this amazing place.
Bikes can be hired at the entrance of the park and then you can ride around either independently, or with a guide, and enjoy getting up close with some of Africa's most wonderful creatures.
Riding peacefully through the geothermal landscape as you pass grazing zebras, giraffes, impala, gazelle, antelope and buffalo just metres away is exactly why Hell's Gate is a must-visit in my opinion.
Just a 90-min drive from Nairobi, Hell's Gate is an ideal safari day trip from Kenya's capital.
Otherwise, stay overnight and explore the area more – including the increasingly popular climbing activities that the looming cliffs and rock towers of this landscape provide, as well as the chance to relax in a geothermal health spa.
Learn more about Hell's Gate National Park here.
#5 Lake Naivasha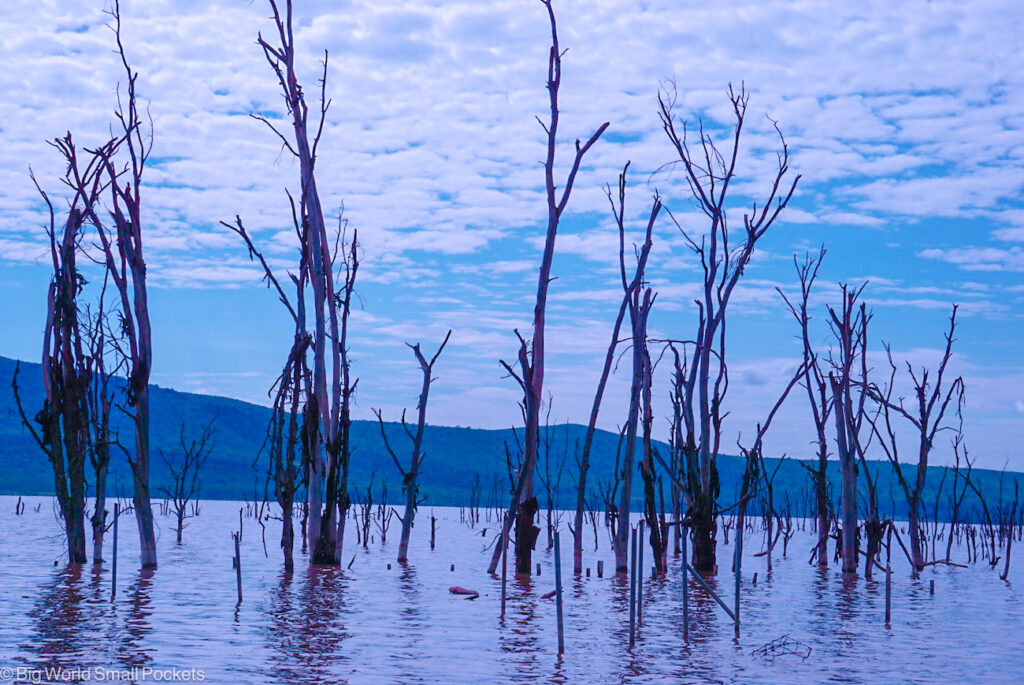 And very close to Hells' Gate National Park, in fact, pretty much right next door, is Lake Naivasha – another top national park in Kenya.
Usurpingly, enjoying the wildlife here is all about getting out on the water and a sunset boat ride on this body of water is just the way to do it.
A relaxed and smaller reserve, you don't need a huge amount time here, but if you've spent a day cycling or climbing your way through Hell's Gate, then a more relaxed follow-up day at Lake Naivasha might be just the ticket!
Common wildlife sightings include buffalo, hippo, zebra, impala, leopard and giraffe, plus the lake is home to a whooping 400+ bird species, including flamingos.
Situated 1884m above sea level, this freshwater lake is popular with city dwellers at the weekend, so head here between Monday and Thursday if you want to enjoy a quieter experience!
#6 Amboseli National Park
But now it's time to turn out attention to the Kenyan national parks that lie east of Nairobi and first in, it's the wonderful Amboseli National Park.
The second most popular Kenyan national park after the Masai Mara, Amboseli is most famous for its huge elephant population, so if you want to spot these magnificent, giant creatures (and let's be honest, who doesn't!) then this is the national park to head for.
But it's not just elephants you'll see at Amboseli, as all of the Big 5 are resident here too and the park's birdlife is also incredibly rich.
Pelicans, kingfishers, crakes, egrets and even the Madagascar heron can all be seen here.
Most of Amboseli's birdlife is unsurprisingly found in the park's wetlands, marshes and lakes, but this reserve also extends into savannah, woodland and even dry lakebed ecosystems too.
This broad range of topographies ensures great wildlife numbers, and the diversity of animals really does make Amboseli a photographer's paradise, especially given the park's backdrop.
Because yes, Amboseli lies infront of the mighty Mount Kilimanjaro, which can be found just across the border in Tanzania.
If you've ever seen photos of elephants gracefully framed by a giant snow-capped mountain, then they were probably taken here!
As the highest free-standing mountain in the world, and known as the roof of Africa, Mount Kilimanjaro towers over this beautiful park making for one heck of an awe-inspiring sight!
Definitely a top Kenya national park, Amboseli is roughly a 4 hour drive from Nairobi and is relatively close to the beaches of the Kenyan coast too.
This makes it a great safari choice if you're heading for some sand, sea, sun and snorkelling during your time in Kenya as well.
#7 Tsavo National Park
And last but not least on my list of the 7 best Kenya national parks, we come to Tsavo.
Also located in the east of the country, this spot makes a great pairing with Amboseli, or the perfect day trip if you're stationed at the coastal spots of Mombasa or Diani Beach.
In fact, the railway from Nairobi to Mombasa actually goes through Tsavo National Park, so this might be an easy one to enjoy from the window if you're choosing the train as your travel option from the capital to the coast.
Kenya's largest reserve (it actually makes up a whopping 40% of all Kenya's protected land), Tsavo National Park is actually split into 2 sections – east and west – which are delineated by a large highway. Usually, safari trips just hit up one of these sections.
Tsavo East is the quieter option, it's also larger, so is likely to provide a more peaceful experience,
That said, both sections of this giant reserve, boast a huge array of wildlife including the Big 5, plus the usual suspects of impala, giraffe and zebra!
It's thought that the best time to visit Tsavo National Park is during the short dry season from December to March, when the bush here dries back and the wealth of wildlife is truly revealed!
Learn how to plan your perfect Kenya safari holiday here.
Kenya Mini Travel Guide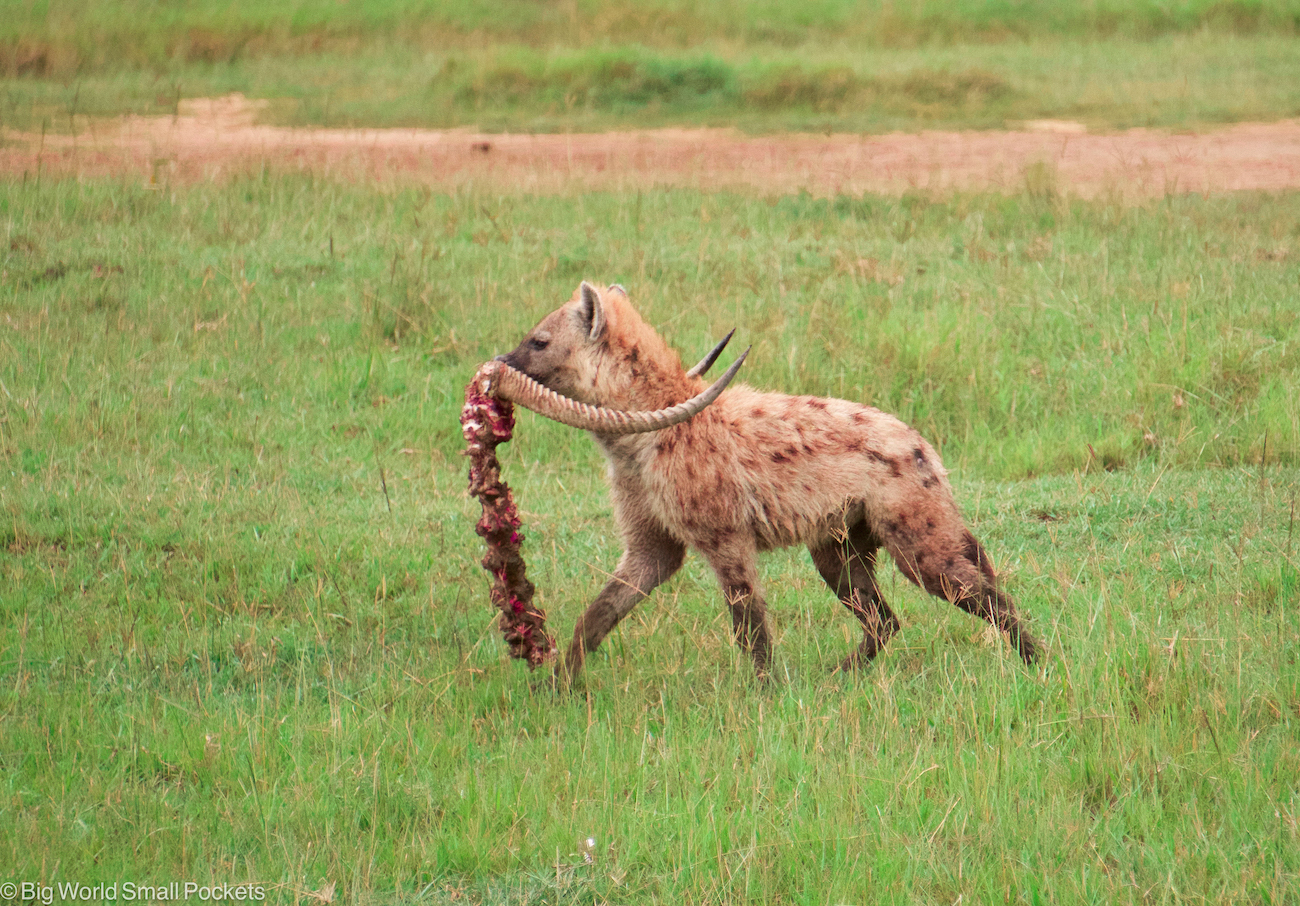 When to Visit?
The best time to visit Kenya is either during the long dry season from June through October or the short dry season from January to February.
Learn more in this post I wrote all about the best time to visit Kenya.
How Long to Spend There?
I'd suggest at least 2 weeks in Kenya to ensure you have the chance to tick most of the major sights off your list.
This country is huge, and travelling between places takes a lot of time, which you'll need to factor into your trip as well.
Best Safaris in Kenya
I travelled through Kenya as part of an amazing adventure with Absolute Africa, who I highly recommend for their excellent prices, great customer service, wonderful itineraries and amazing overall experience.
And you can now get an exclusive discount on your Absolute Africa safari when you email them at [email protected] and quote the code BWSP.
For other Kenya tour choices, including those with a more comfortable travel style, check out these fab options.
Travel Insurance
World Nomads offers simple and flexible travel insurance. Buy at home or while travelling and claim online from anywhere in the world.
Alternatively, if you're a long-term traveller, digital nomad or frequent remote worker seeking travel health cover, check out Safetywing's Nomad Insurance policies.
Travel Money in Kenya
When it comes to paying for things in Kenya, it's great to know that accommodation and tours can generally be paid for by card.
ATMs are also available in most major towns too.
But no matter whether you use ATMs or pay by card in Kenya, you'll want to ensure you're not being charged overseas transaction fees or getting poor exchange rates, which is why I always take my Wise card away with me wherever I travel.
The easy way to spend abroad with real exchange rates, no markups and no sneaky transaction fees, you can use your Wise card just like a debit card in Kenya… and it links easily with Google and Apple pay. Get yours here.
PIN IT TO PINTEREST!
So there you have it, the 7 best national parks in Kenya.
When it comes to exceptional safari opportunities across Africa, Kenya really is a gem and, hopefully, this post will help you plan an incredible adventure there.
Have any more questions about Kenya's national parks?
Then just drop them into the comments box below and I'll get back to you…