Knowing the best time to visit Kenya really is all about knowing what you want to get from your travels in this east African country.
With wonderful wildlife, tropical beaches, incredible culture and iconic landscapes, this stunning destination has so much to offer, that you're unlikely to be able to cram it all into one trip!
As such, there's going to be certain times of year that are better for visiting Kenya depending on what you plan to see and do there.
So read on to discover more about this country's climate, seasons and when best to visit, all depending on the main Kenya attractions you want to tick off your African bucket list…
---
Related Posts
---
This page contains affiliate links meaning Big World Small Pockets may receive a small commission on any purchases at no extra cost to you.
---
Best Overall Time to Visit Kenya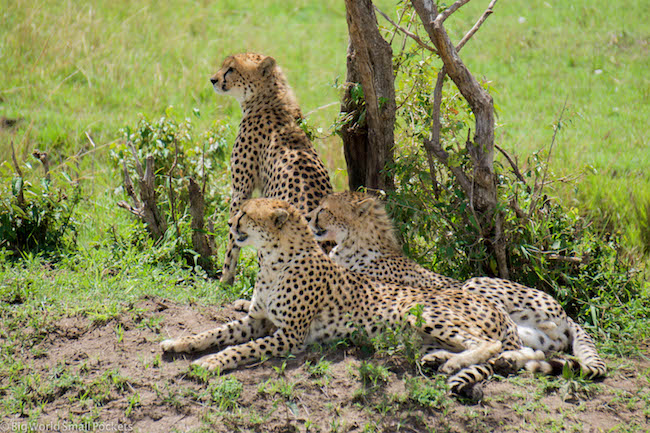 Kenya has a tropical climate that varies slightly by region and altitude.
By and large however, temperatures are fairly consistent throughout the year and most of the country follows a distinct dry and rainy season pattern.
Overall, the best time to visit Kenya is during the country's long dry season, which extends from June through to October.
These are considered the best months for seeing the famous Great Migration in the Masai Mara, for trekking Mount Kenya and for enjoying the tropical coastline in spots like Kilifi, Diani and Lamu.
However, these months are also Kenya's peak travel months, which means everywhere in the country will be busier during this time.
In particular, if you visit between July and August (when it's European and North American school holidays), you'll be sharing your trip with a greater number of tourists and you're likely to be paying higher rates too.
If you'd rather opt for a more quiet and peaceful Kenya experience therefore, I recommend visiting this country during the short rainy season, known locally as vuli, which runs from November to December, or during the short dry season in January and February.
I visited Kenya between October and November and, despite the short rainy season label given to these months, actually experienced very little precipitation. As such, I was able to enjoy safaris across the country, as well as some relaxing time soaking up the rays on the beach.
As you can tell therefore, Kenya is a great country to visit at almost any point in the year.
The only time I would suggest you avoid visiting Kenya is during the country's long wet season, which runs from March to May, and is known locally as masika.
That's because, at this time of year, the rains can be sudden and heavy, and really can affect your travel plans, activities and enjoyment!
But outside of March, April and May, Kenya is an ideal country to visit!
So no matter whether it's taking a safari through the amazing Amboseli National Park, seeing the world-famous wildebeest migration in the Masai Mara, or exploring the coastal delights of Kenya's Indian Ocean, I'm now going to dive into when best to travel to Kenya for each of these brilliant options…
Best Time for a Kenya Safari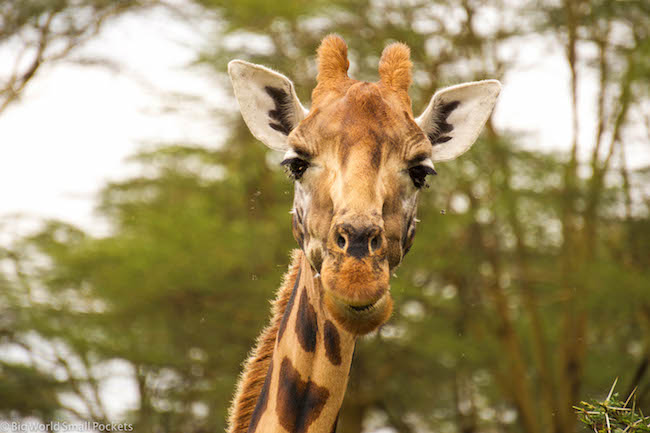 There's so many amazing safari destinations in Kenya, that it's always hard to pick a fav.
However, based on popularity, I'm going to go with both the Masai Mara and Amboseli – the 2 busiest safari destinations in Kenya that can be found in the south of the country, very near to the Tanzania border.
And the good news is that, despite being busy with tourists, the Masai Mara and Amboseli National Parks are actually year-round safari destinations.
This means that if you aren't fixated on seeing the great migration at its peak (learn more below), there are other times to visit these reserves that will be quieter and will allow you to experience different types of animal sightings too.
From January to March, for example, it's calving season – a great safari opportunity to see young wildebeest, zebras and antelopes, as well as lion cubs and even elephant calves when they're very young.
In fact, it's not uncommon to see calves being born!
Alternatively, Kenya's "green season" which runs from November to February, is a fantastic time for birdwatching, as many migratory species arrive in this country from the colder temperatures further north.
You may experience some rain during this time, but it's not the heaviest the country sees and really is the best time for twitchers.
As discussed earlier in this article, the "big rains" season (which then extends from March to May) is the least popular time to take a Kenya safari, as heavy downpours can easily disrupt wildlife viewing, if not access to some parks entirely.
However, if you're looking for the best safari deals in Kenya, this is the time of year to pick them up!
With the fewest numbers of visitors, prices are at their lowest during this time.
At the opposite end of the spectrum, June to October is the most popular season, when the park is dry and vegetation has dried back as a result.
This makes wildlife spotting a lot easier and also, mercifully, lowers the level of mosquitoes too!
That said, prices will of course be higher.
And if you want to enjoy a brilliant wildlife adventure, then check out this post I wrote all about how to plan your perfect Kenya safari holiday.
Best Time to See the Great Migration
Kenya's headline attraction is the great migration, which takes place across the Masai Mara in the south of the county.
Every year, almost 2 million animals – mostly wildebeest, zebra, gazelles and antelopes – cross this vast national park in search of water holes and food.
Their crossing of the Mara River is the climax of this journey and is filled with drama, as these animals try to escape the jaws of waiting crocodiles and other predators.
Cited by some as the greatest wildlife phenomenon on earth, this spectacle is not to be missed if you're considering when to go to Kenya.
Though the great migration is actually happening year-round (the animals never stop continually moving for new grazing lands), late June to August herald its peak, making these the best months to see this natural phenomenon.
However, this is also peak tourism season in Kenya and, it goes without saying, that this bucket list activity is pretty popular!
As such, it can get very crowded in the Masai Mara during these months and surrounding safari lodges definitely up their prices!
This means you'll need to plan ahead and get booking well in advance if you want to travel to Kenya in June, July or August.
Best Time to Visit Kenya's Coast
If you're heading to the Indian Ocean coastline in Kenya, you'll almost certainly want to relax on some of its picture-perfect white sand beaches, and likely won't want the rain dampening your parade!
That means the best time to visit this part of the country is during the long dry season, between June and October, when Kenya experiences its lowest rainfall.
The short, dry season in Kenya (Jan and Feb) is another great time to visit the top coastal destinations here, which include the beach spot of Diani Beach, the busy city of Mombasa, the gorgeous creek enclave of Kilifi and the magical island of Lamu.
Otherwise, you can also visit the Kenya coast during the "short rains" as I did, during the months of November and December.
I actually experienced very little rainfall at this time, but if you do happen to experience some showers, I wouldn't worry too much – they are usually quickly followed by blue skies.
And on top of this, you'll usually be rewarded for your patience with lower tourism numbers and better hotel rates!
It's only during the long rains, from March to May, that Kenya's coast can experience a lot of precipitation, so you might want to give this part of the country a miss if you visit during these months.
Discover more in this essential travel guide I wrote all about the Kenya coast.
Best Time to Tag on the Serengeti / Mount Kilimanjaro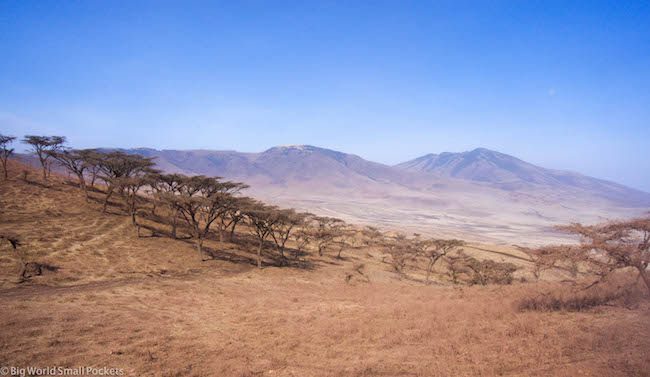 Many people like to combine their time in Kenya with a small hop across the border to neighbouring Tanzania.
Here, they often head for the city of Arusha, which is the perfect launching pad for 2 of Tanzania's top attractions – the Serengeti National Park and Mount Kilimanjaro – the tallest mountain on the African continent and the highest free-standing mountain in the world.
When it comes to the Serengeti, the best time to visit here is very similar to the Masai Mara – given they are actually part of the same protected area!
It's simply that, in the Kenyan part the park is called the Masai Mara, while across the Tanzanian border, it's known as the Serengeti!
If you're thinking about climbing Kilimanjaro however, then when to attempt this mammoth hike is a very important decision to make!
Bad weather on Kilimanjaro will make for a miserable trek, spoil the views and, most importantly, make this high-altitude ascent twice as hard!
Given this, I recommend you avoid the 2 rainy months (March to May and November to December), when there's a greater chance of you slogging through mud, as well as trekking through fog and drizzle as you get higher in altitude.
There's often freezing conditions and snow on the summit too at these months.
As such, the best time to climb Kilimanjaro is during the warmest and driest times of the year, from December to February and June to October.
The clear skies, great views and sunshine you can expect at this point in the year make for far more comfortable hiking conditions and incredible photo opportunities!
Not to mention, you are a lot more likely to reach the summit if the weather up on the mountain is good too!
However, do be warned – as always, the dry months are also the busiest months, so do book ahead!
Kenya Mini Travel Guide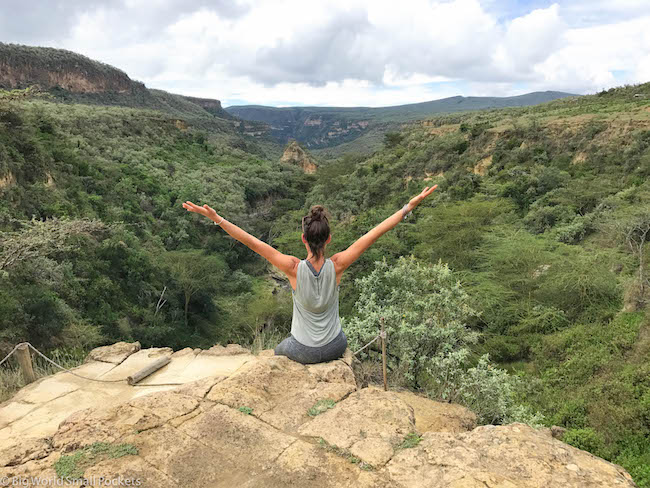 How Long to Spend in Kenya?
I'd suggest at least 2 weeks in Kenya to ensure you have the chance to tick most of the major sights off your list.
This country is huge and travelling between places takes a lot of time, which you'll need to factor in as well.
Best Safaris in Kenya
I travelled through Kenya as part of an amazing adventure with Absolute Africa who I highly recommend for their excellent prices, great customer service, wonderful itineraries and amazing overall experience.
And you can now get an exclusive discount on your Absolute Africa safari when you email them at [email protected] and quote the code BWSP.
For other Kenya tour choices, including those with a more comfortable travel style, check out these top options.
Travel Insurance for Kenya

World Nomads offers simple and flexible travel insurance. Buy at home or while travelling and claim online from anywhere in the world.
Alternatively, if you're a long-term traveller, digital nomad or frequent remote worker seeking travel health cover, check out Safetywing's Nomad Insurance policies.
Travel Money in Kenya
When it comes to paying for things in Kenya, it's great to know that accommodation and tours can generally be paid for by card.
ATMs are also available in most major towns.
Whether you use ATMs or pay by card however, you'll want to ensure you're not being charged overseas transaction fees or getting poor exchange rates, which is why I always take my Wise card away with me wherever I travel.
The easy way to spend abroad with real exchange rates, no markups and no sneaky transaction fees, you can use your Wise card just like a debit card in Kenya, and it links easily with Google and Apple pay. Get yours here.
PIN IT TO PINTEREST!
So there you have it, the full lowdown on the best time to visit Kenya.
No matter whether you're planning some epic safaris or heading to the coast, don't forget that planning the timing of your trip will be crucial to ensuring you have the best adventure possible.
I hope this article has helped, but if you still have any questions, don't hesitate to drop them into the comments box below…