People often don't associate travelling in Britain with being on a budget.
Instead, they tend to think of heading to the capitals of Eastern Europe or the alluring beaches of the Mediterranean for their cheap European excursions.
But I'm here to prove them wrong …
.. Ok, well maybe not wrong (because those places are definitely some of the best budget destinations in the world to explore) but I'm here to prove there's an alternative.
Yes good old Blighty is positively bursting with beautiful budget travel spots, a fact that was brought to my attention once again on my recent trip back to my home country.
And I kind of felt like this was worth shouting about actually, worth celebrating even, or at the very least worth writing a blog post about, so here they are, my list of the top 10 cheap places to visit in the UK.
PIN IT!
---
Related Posts:
---
This page contains affiliate links meaning Big World Small Pockets may receive a small commission on any purchases at no extra cost to you.
---
#1 London
My London Budget Accommodation Pick: St Christopher's Inn, Greenwich
Ok, so England's capital isn't known for its budget travel prices, but there are definitely some easy steps to takes if you want to save money when visiting London.
Following these can really help turn a trip to the capital from crazily pricey, to just about reasonable.
But then you add in all the free things to do in London and suddenly the myth surrounding this city as one of the best British budget travel destinations starts to grow some real truth rings!
Yes, when it comes to world cities, there's few that offer as much complimentary fun as this great metropolis.
From markets to parks, museums to palaces, there's such a huge range of things to enjoy in London for nothing, that you really needn't pay for any entertainment while you're here at all!
Even just sightseeing in this iconic city is a real treat and for that, all you need to do is either stroll along the Southbank or hop on the number 11 bus that will take you past St Pauls, Big Ben, Westminster Abbey, the Houses of Parliament, the Strand and the Bank of England for just a few quid!
Now budget travel in the UK doesn't get much better than that!
#2 Bristol & Somerset
My Bristol Budget Accommodation Pick: Kyle Blue
If London is the capital of complimentary attractions, then Bristol, in the UK's southwest, is a close second.
Yes on my first trip to this growing, vibrant city I was bowled away by the amount of free things to do in Bristol and spent the perfect weekend unearthing the very best of this city, its culture, heritage and great pubs!
Bristol really has got a stack to offer the budget traveller – from delightful boat journeys on the River Avon to great street art walking tours (this is the home of Banksy after all), beautiful views from the famous Suspension Bridge and some great little suburbs like Clifton and Stokes Croft to explore on foot too.
I can't recommend this city enough, so check out my top tips for seeing Bristol on a budget if you're heading that way soon.
And if you're looking to spend more time in this area, then Stonehenge, Bath, Salisbury, the Cotswolds, Glastonbury, Wells and Cheddar Gorge can all be reached fairly easily and cheaply as day trips from this city too.
All of these spots also boast a heap of free things to do too, which definitely makes Bristol one of the best spots in England for a cheap trip.
#3 Lake District, Cumbria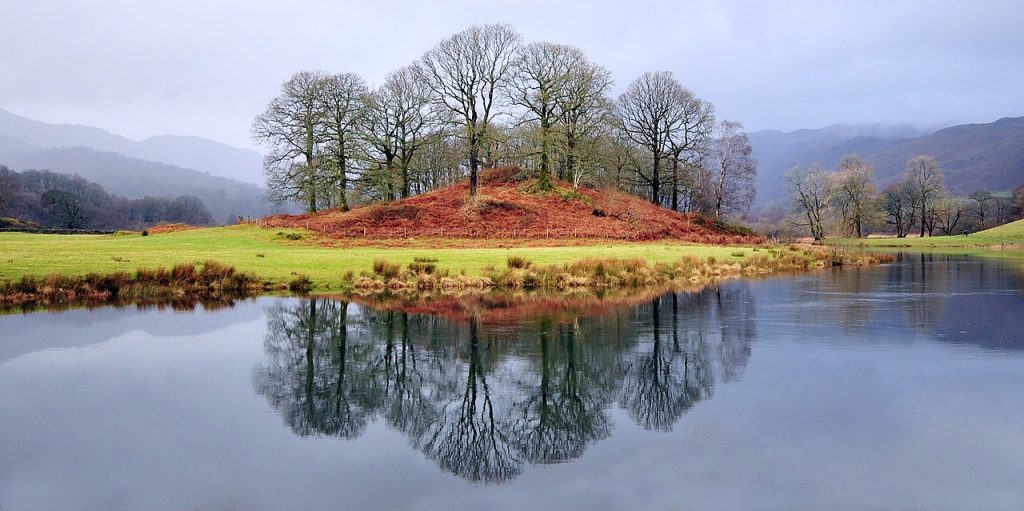 My Lake District Budget Accommodation Pick: YHA Grasmere Butharlyp Howe
Oh the beautiful Lake District, the jewel of Northern England, the most inspiring of British landscapes!
Yep, if the Lake District was good enough to get Wordsworth's and Beatrix Potter's creative juices flowing, then it's definitely good enough for me!
In fact, I voted it one of my top 50 places to visit in Western Europe.
But seriously, this huge area of natural beauty, now a UNESCO World Heritage Site, is definitely one of the best places to visit in Britain if you're on a budget.
For starters, its remote location and country setting mean most of the fun to be had here revolves around exploring the great outdoors … and that don't cost a thing!
Yes it doesn't get any cheaper, or more spectacular, than strapping on your hiking boots to tackle Scafell Pike or Friar's Crag.
In addition, the small villages of this area provide ample opportunity for you to fill your stomach and wet your whistle for half the price of some of the country's cities, and there's plenty of hostels around too for those looking to sleep on the cheap.
#4 Brecon Beacons, Wales
My Brecon Beacons Budget Accommodation Pick: Pen-Y-Bryn House
Definitely, one of the best national parks the UK has to offer, the Brecon Beacons is a shining jewel in the crown of South Wales and should not be missed!
Easy to access from southern cities like London, or northern cities like Liverpool, getting to Swansea or Cardiff from here is quick using trains, or even cheaper using National Express coaches.
Once you reach the cities of either Cardiff or Swansea, pick up a cheap car rental with a company like Thrifty and head off to enjoy some brilliant hiking and scenic views in this beautiful mountainous landscape of the Beacons.
Camping right in the National park can be enjoyed for as little as £10 per night, as many farmers in the area have converted areas of their property into rustic, but totally fit for purpose, campsites.
Learn more in this complete guide I wrote to camping in the Brecon Beacons.
And while you are exploring the Brecon Beacons, don't miss the mightly waterfalls or the views from the top of Pen y Fan – both are free and totally spectacular.
#5 Leeds & Yorkshire Dales
My Leeds Budget Accommodation Pick: Leeds Central Travelodge
The city where I went to University is fast becoming one of the UK's best!
Yes good old Leeds in the county of Yorkshire, is a great part of the UK to visit if you're looking for a cheap night out… having lived there for 3 years as an impoverished student I should know!
FYI: The HiFi Club was always my fav, but there's no plenty of newer kids on the block too!
Coupling a great Yorkshire character and a huge number of educational institutions, Leeds also boasts lots of cultural attractions with a distinctly down-to-earth feel, many of which are either free or very cheap to enter.
Learn more in my article about the 15 best things to do in Leeds on a budget.
And nearby to Leeds, the wonderful Yorkshire Dales also make for excellent and cheap day trips from the city.
Certainly one of the best UK holiday destinations, for just a few pounds on the bus, you can find yourself in delightful towns like Ilkley, Saltaire, Harrogate, Knaresborough or Hebden Bridge, where classic British tearooms rub shoulders with cobbled streets and stunning landscape views.
Or why not try a spot of hiking out here too?
Malham Cove is an eternal favourite thanks to its dramatic limestone cliff and nearby waterfalls and walks – all of which are free to enter and enjoy.
Learn more in my list of the 35 best things to do in Yorkshire.
#6 Liverpool, Merseyside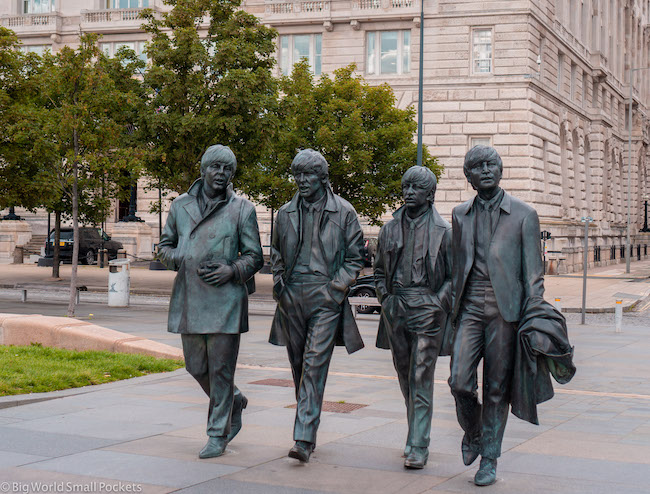 My Liverpool Budget Accommodation Pick: Liverpool One Premier Inn
Another Northern beauty, Liverpool is more well-known than Leeds, mostly due to its famous musical export – The Beatles.
Walking along the iconic Mersey waterfront, or listening to the city's plentiful live music, are all great things to enjoy here that won't cost you a penny.
Then there's the city's Cathedral, the many museums, galleries and the stadiums of several well-known football clubs too – all of which are free to enter.
Being on the coast, Liverpool also offers some excellent English fish and chips, which can be enjoyed with a view of the sea for next to nothing.
Plus getting to, staying in, and enjoying a night out in this city is cheap too (at least compared to many other cities in the country), which definitely makes it one of the cheapest places to visit in England if you want some urban fun!
For more ideas about things to do in Liverpool on a budget, check out this post I wrote following my time exploring this iconic UK location.
#7 Glasgow, Scotland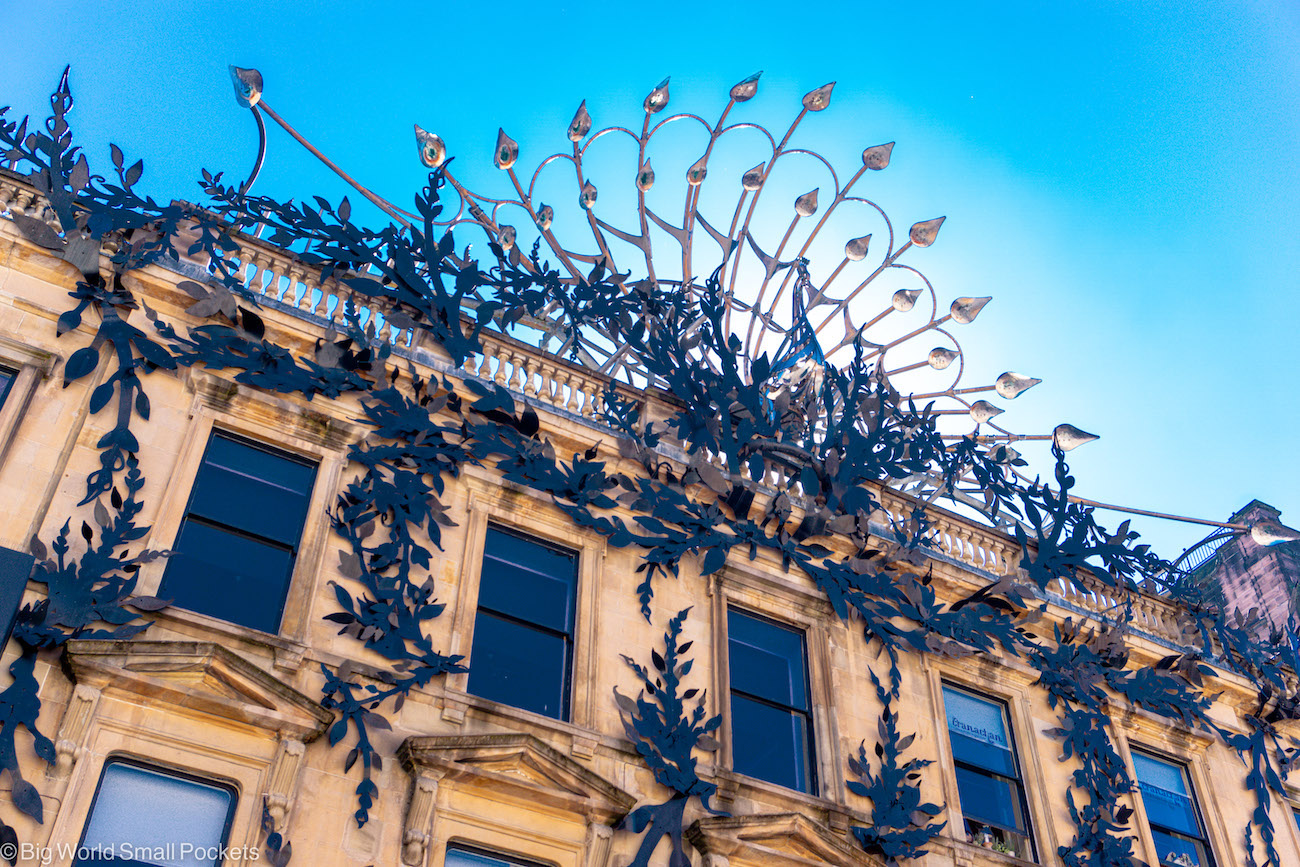 My Glasgow Budget Accommodation Pick: University of Glasgow – Cairncross House
Scotland's second city often lies in Edinburgh's shadow, but I'm here to pull it into the limelight and show you that this is one of the best travel spots for those wanting to travel the UK on a budget!
Originally a Medieval settlement, Glasgow is now famous for its Victorian architecture, which has a distinct style that can be easily enjoyed just by strolling the streets.
So too can the city's many parks and gardens, although I'd advise you to bring your waterproof jacket to ensure the good old Scottish weather doesn't put a stop to your plans.
If it does, despite the waterproof clothing, then Glasgow's Botanic Gardens are really spectacular and a great alternative with indoor sections and free entry!
There's also the very popular Gallery of Modern Art here, as well as a super collection of street art, which can be enjoyed as part of Glasgow's free walking trails – easy to follow and downloadable here.
And when it comes to cheap eats, who can forget the mother of all Scottish inventions – the deep-fried Mars Bar!
Get yours, for next to nothing, at chippys around the city!
#8 Dorset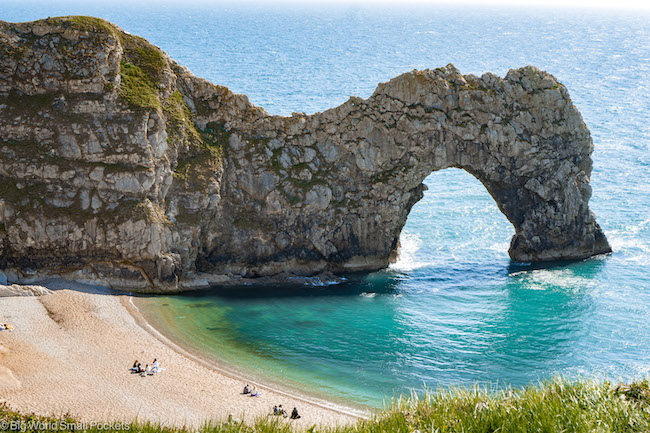 My Dorset Budget Accommodation Pick: YHA Swanage
Forget going all the way to Devon or Cornwall, beautiful Dorset which is generally closer to most places in the UK (and therefore will keep your transport costs down), has just as many beautiful beaches, walks, villages and historic sights to visit as anywhere else in the southwest.
Loads of these are, of course, free to view or enter, including the UNESCO gem of Durdle Door – pictured above.
From here you can enjoy stunning walks along the Southwest Coastal Path (that won't cost you a penny) stopping off at even more iconic sights, such as Lulworth Cove as well.
A photographer's paradise, cute villages such as Abbotsbury and Burton Bradstock are also a must and who can forget the walks and beaches of Studland, where the cliff lookout point at Old Harry Rocks is another must.
Historic ruins such as St Catherine's Chapel and Abbotsbury Abbey are also free to enter here and, over in the west of the county, Chesil Beach offers remote walking, while lively Bridport has an array of creative and artistic markets and shops that are a treasure trove for bargain hunters.
With loads of camping spots available, the great town of Swanage also offers lots of other budget accommodation options, as well as reasonably priced eateries.
Overall, Dorset is a part of the UK that really reminds me of my home island of Jersey in the Channel!
Visiting this gorgeous corner of southern England is a treat any time of the year, but perhaps doesn't get better for us budget travellers than during the months of either June or September, when the weather allows us to finally get our tents out, but still avoid the crowds and price tag of the peak summer holiday season!
Check out my list of the top 21 places to visit in Dorset here for more inspiration.
#9 Margate & Wider Kent
My Margate Budget Accommodation Pick: Margate Premier Inn
When I first heard that Margate was one of Britain's up-and-coming destinations, I could hardly believe my ears, but then I took a trip there myself and, lo and behold, it's true!
Made famous by Tracy Emin, one of the UK's leading contemporary artists, this seaside town is making a big splash on the British cultural scene.
The Turner Contemporary (free to enter) opened in 2011 really set the scene for this, and now the once downtrodden resort is filling up with lovely independent shops and cafes, which beautifully compliment the cobbled streets of its old historic centre.
If you feel like taking in the sea air, then the brilliant Viking Coastal Trail is an easy and enjoyable path that offers fantastic views of Botany Bay and leads you all the way to Whitstable (via the connecting Oyster Bay Trail) and other top locations along the Kent coast if you're up for a really big stomp!
No surprise therefore, that I rate Margate one of the cheapest places to visit in England and if you want to learn how to get here from London by bus, train or car, check out this post I wrote all about that.
While you're down this way, then why not check out some other area of Kent too – here's my list of the best 13, which are all great UK budget travel destinations.
#10 Brighton & East Sussex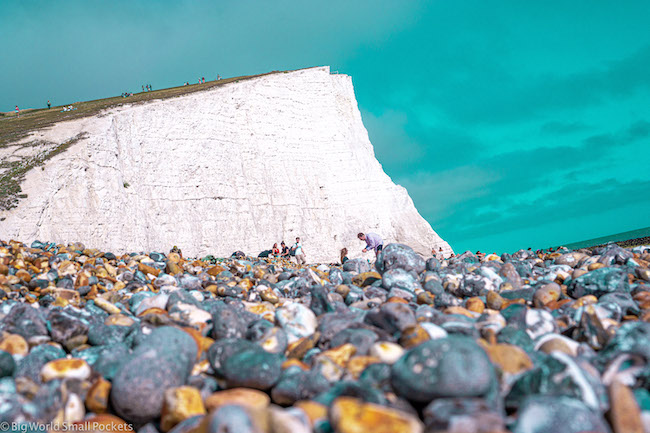 My Brighton Budget Accommodation Pick: Selina Hostel
Despite being a pretty wealthy part of the country – it's probably up there with Surrey and Berkshire – East Sussex has a lot to offer those who want to explore England on a budget.
From the mighty cliffs of the Seven Sisters with their wonderful hiking, through to the cosmopolitan city of Brighton, the seaside resort of Hastings, the historic location of Battle and the beautiful Medieval town of Rye – there's so much to see in this county that you can cram a lot into a short timeframe and a small budget too!
What also makes East Sussex one of the cheapest places to visit in the UK is that you can easily reach it from London, either by car if you're on a longer holiday, or cheap train rides if you want to day trip to some of its destinations.
East Sussex also combines strong historical elements with beautiful coastline experiences, and walking abounds in the wonderful South Downs National Park.
Much of the landscape, as well as the beautiful towns and villages in this part of the country, can be enjoyed for nothing; otherwise, a ton of great accommodation options and eating choices tend to keep prices constant, even during the busy summer UK staycation season.
LIKE IT? PIN IT!
I hope you've found my list of the top 10 UK destinations for shoestring travellers useful and fingers crossed they've shown you how affordable exploring this country can be.
Now it's over to you though …
What's your favourite UK destination and what are your top budget tips for seeing the best of it?