It was when I was planning my staycation trip to Dorset in the UK that I quickly realised how difficult it is to decide where to base yourself in this jam-packed destination.
Which is how I stumbled upon Swanage!
Spanning a large section of the south coast of England and filled with great beaches, top walks, amazing historic sights and stuffed full of charming villages, picking where to head first for in Dorset can be a mind field!
Which is why I wanted to bring you this article about one of my favourite towns in the county, one that makes for a great Dorset base, especially if you haven't visited before.
Over in the east of the region and near a shed load of Dorset's top attractions, Swanage is large enough to keep you occupied, but also small enough not to have lost its charm.
There's a large number of accommodation choices, a beautiful sandy beach, plenty of history and easy access to both Studland and Durdle Door.
Have I convinced you to head there yet?
If you need any more convincing, then here's my list of the top 10 things to do in Swanage to show you exactly why this is a great Dorset spot…
---
Related Posts
---
This page contains affiliate links meaning Big World Small Pockets may receive a small commission on any purchases at no extra cost to you.
---
#1 Hit the Beach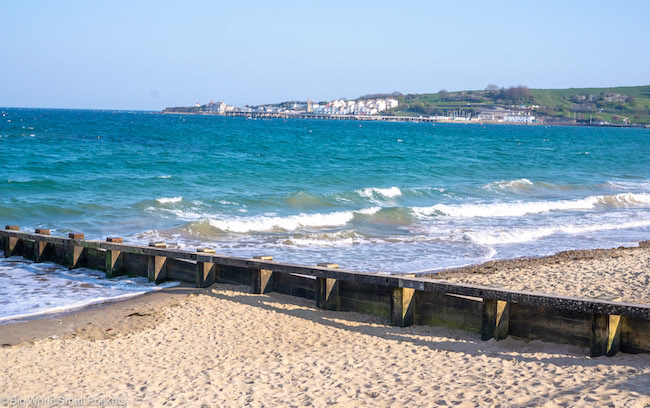 Ok, this might be an obvious first choice, but honestly, you can't talk about the top things to do in Swanage and not mention the beautiful beach that lies on the doorstep of this lovely centre.
Although it is a town beach, this seaside strip is absolutely gorgeous with beautiful coloured sand and some lovely clean water to match.
Swimming here is pretty safe thanks to a shallow shelf and lifeguards on duty in the summer and behind the promenade is usually a haven of activity.
The beach is also Blue Flag winner and has some cute beach huts you can hire too.
Quieter than some of the bigger town beach options in Dorset, such as Weymouth and Bournemouth, Swanage is a great choice for families who want easy access and lots of amenities to accompany their day on the sand.
Voted one of my top 13 beaches in Dorset, Swanage is certainly one you can't miss while you're here.
#2 Jump Aboard the Railway
And another great thing to do in Swanage for kids of all ages is to hop onboard the fantastic Swanage Railway.
A historic and award-winning steam locomotive, catching a ride for a beautiful trip through the Dorset countryside on this guy can't be missed.
Feeling like you've stepped into an Enid Blyton book – in fact you may have, as this train is said to have inspired some of her Famous Five adventures – this is a quintessential journey that allows you to enjoy both the natural and historical elements of the county.
Taking you across the Isle of Purbeck from a beautifully restored­ heritage station in Swanage, both return and single trips are possible on this fully operational train – get all the details via their website here.
#3 Visit the Museum & Heritage Centre
And sticking with the heritage theme, if you're visiting Swanage you also can't miss the opportunity to check out the wonderful Swanage Museum and Heritage Centre located here.
Celebrating all things Swanage, including the geological formation of this Jurassic Coast area with its amazing fossil findings, through to the Victorian buildings and WWII history of the town, this is the one-stop shop to learn about all things Swanage!
Free to enter and run by volunteers – leave a donation or buy something in the gift shop – visiting here is a great way to support a very local organisation that captures and commemorates the story of this wonderful town.
#4 Stroll the Historic Pier
And a key part of learning about all things Swanage, outside of the Museum and Heritage Centre, is to visit Swanage's historic pier.
Strolling this Victorian gem is almost a rite of passage when you visit Swanage, and it's all thanks to the trust that now runs the pier and has worked extremely hard to fundraise and restore it, that you can.
Extending from the southern end of the bay and giving stunning views, walking along the pier is free, but there's a wh0le heap of other activities you can get involved in, which also support the Trust and its work.
From boat rides to scuba dive trips, there's actually tons of offer here, including seasonal events that really do bring a whole new life to this heritage gem.
Learn more in the pier's website here.
#5 Enjoy a Walk
And if strolling the pier has wet your appetite for more, then there's no question one of the best things to do in Swanage is to enjoy a walk either through the town or in the gorgeous countryside around.
And luckily, there's a lot of options to choose from, so strap on your walking shoes and choose from any number of well-signed and accessible routes.
Within the town itself, the Swanage Seen Art Trail is a great place to start as it will guide you through the centre, passing pieces of local art that come together to paint a lovely picture of how Swanage's setting has inspired artists for generations.
Otherwise, outside of town, there's a ton of other options that take in Swanage's coastal location and stunning cliffs backed by green rolling countryside.
Try the fabulous Purbeck Way if you're looking for a challenge, otherwise the much shorter Smugglers Way is a delightful 5km circular route.
To take you along the coast, the Southwest Coastal Path runs right through Swanage, leading you over to Studland and Old Harry Rocks in one direction and Worth Matravers in the opposite direction.
#6 Hop into a Kayak
And if exercise on 2 feet isn't really your thing, then it's great to know you can also explore Swanage (or at least the waters around) via a kayak.
Yes being a coastal town, it's perhaps no surprise that water sports are big round here and the top pick for me has to be kayaking.
A wonderful way to explore the cliffs, coves and hidden bays of this lovely part of the county, grabbing a double kayak so you can share the fun with someone else is a must.
Just hit up any of the hire places in town to grab a rental kayak and take one of their tours if you feel like a guided experience.
The company H2O come highly recommended and their 2 hour kayak trips around Swanage offer great value for money.
Otherwise some other companies offer paddle-boarding, sightseeing cruises and pedalos too!
#7 Eat Delicious Seaside Food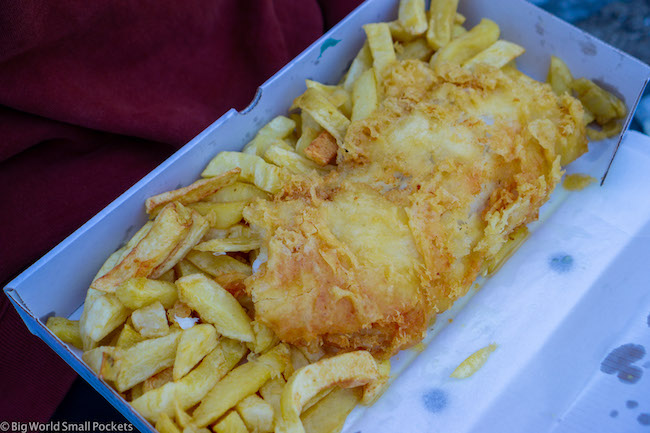 And now you've been out on the high seas, it's time to reward yourself and enjoy some excellent food during your time in Swanage.
Which is honestly no problem here!
Being located on the water, it's no surprise seafood is the main offering here and Swanage has everything from fine dining options through to classic fish and chips, which you can sit on the beach and enjoy.
Not being a fish eater myself, I'd just stick to the chips, but for those who want to push the boat out (sorry couldn't resist), why not hit up Gee Whites for the ultimate holiday treat.
Sea Breeze Restaurant and Chilled Red also come highly recommended.
#8 Don't Miss Dessert
And once you've polished off your main course, it's time for dessert!
Absolutely one of the best things to do in Swanage, or at any British seaside town for that matter, is to grab a delicious ice cream.
Fortes Gelateria is almost certainly the spot to head for here.
Alternatively, for something award-winning, you have to pay a visit to the incredible Swanage-based chocolatiers Chococo.
Husband and wife team Andy and Claire run the show here and stopping by at least once during your time in Swanage is a must!
The onsite café is the place to try their delicious hot chocolate on a cold winter's day or, if you're part of a group or family on a summer holiday and want to try one of their chocolate workshops, then don't miss booking in a brilliant session to make your own choco-delicious treats!
#9 Head to Durlston Country Park
For number 9 on this list of the best things to do in Swanage, we move just outside the town to start exploring a little bit of the beautiful Swanage surrounds.
Situated on the cliffs just above the town, Durlston Country Park is a gorgeous nature reserve and protected area that has stunning views of the bay.
Boasting some epic wildlife spots – including dolphins (woo hoo!) – there's trails galore here you can use to both walk and explore the area.
Just don't miss out the Durlston Castle or the Great Globe while you're at it – they're def 2 of the top attractions in this delightfully uncrowded green space.
#10 Scale Corfe Castle
And last but not least on this list of the 10 best things to do in Swanage, it's time to head even further out of town to the National Trust treasure that is Corfe Castle.
Not only one of the best things to do in Swanage, but definitely one of the best things to do in Dorset as a whole, you absolutely totally and utterly cannot miss this historic gem!
Now a set of ruins, but built at an elevated location with epic views that make the climb well worthwhile, this fortification played a key role in English history, which you can learn all about when you visit here too.
The model village at the base of the castle – where people actually live by the way – completes the picture and make this a winner of a day trip.
Top Swanage Travel Tips
When to Visit Swanage?
There's no question the best time to visit Dorset in my opinion is between the months of June and September when the weather is at its driest, sunniest and warmest.
Not only does this make for a more pleasant travel experience, but the better weather at this time of year will also allow you to enjoy more of the region's beautiful landscapes too – whether that's walking, cycling or hitting up the coast.
Within the summer months, do remember that the school holidays and sunny weekends will be by far the busiest months down here, so if you want to get the best prices or the thinnest crowds, it's probably best to avoid these times!
As an FYI, I visited Dorset in mid-April and experienced idyllic weather that saw me hiking, beaching and sightseeing under brilliant blue skies every day, but this isn't a given!
How to Get to Swanage?
Swanage has a train station and my top tip is to use Trainline to find the cheapest deals on rail tickets across the UK, as these guys use split-fare technology to get you the best prices.
Booking in advance with Trainline can throw up some surprisingly cheap fares, especially as this site also allows you to easily compare routes and journey times.
Alternatively, you can drive to Swanage – this will grant you the most flexibility when you are down in this rural county, especially if you are planning to hike and sightsee off the beaten track.
If you don't have a car, you may consider renting one and I highly recommend Discover Cars for the job, as they offer some super deals on short-term hires and are very reputable.
Learn more about how to score a great deal when renting a car in the UK using these handy top 12 tips I swear by!
How to Get Around Dorset?
There's no doubt that the easiest way to explore Dorset is via 4 wheels, however there are several good bus services (especially in the summer) that can help you get around if you don't have a vehicle.
The Jurassic Coaster and Purbeck Breezer buses are probably the most useful for beach go-ers, especially those who want to enjoy parts of the Southwest Coastal Path.
These tourist-friendly routes are also ideal for those who just plan to sightsee, and sitting on their top deck sure does give some epic views!
Learn more about the Purbeck Breezer here.
If you don't want to catch public transport, then cycling is also an option for getting around Dorset.
Although there are some designated trails, as well as calm and quiet country roads to enjoy, do bear in mind there's plenty of hills too!
Where to Stay in Swanage?
When it comes to accommodation in Swanage, you'll be hard-pressed to find a better deal than the YHA Swanage, which has both private rooms and dorms.
For something more suited to groups looking for some self-catering accommodation, this Shepherd's House, also in Swanage, is a top-rated 2 bedroom house that gets regular rave reviews thanks to its excellent comfort, cleanliness and location.
Just down the road, The Bear Hotel, in Wareham offers lovely double and family rooms with an onsite bar, restaurant and a charming boutique feel.
5 Packing Essentials for Swanage
#1 Walking Shoes
You can't come to enjoy Dorset and not come equipped with walking shoes!
As such, I highly recommend these lightweight and comfortable ones from North Face, which are perfect for the job, with a great level of support for those clifftop ascents!
#2 Waterproof, Windproof Jacket
Look, as paradisical as I've made Dorset sound (and it is), it also is England!
And that green around isn't green for nothing!
Nope, it's green because it rains a lot.
A lot of the year!
So bringing a good waterproof and windproof jacket with you, no matter when you're coming, is just plain sensible!
#3 Swimwear & Towel
You can't go to all these amazing Dorset beaches and not enjoy some time in the sun while you're at it!
Which is why I thoroughly recommend taking swimwear and a travel towel with you, especially if you're coming in the summer!
#4 Camera
Having an excellent camera to snap Dorset in all her glory and preserve the memories is an absolute given.
I love my Sony A6000, which never leaves my side during my travel adventures.
I also enjoyed having a GoPro when I was in the Dorset to capture all the hiking and beachside action.
#5 Portable Charger
There's no denying, power can be an issue when in Dorset, especially if you're out snapping and hiking all day.
Even with power in your cabin, remembering to charge stuff up and constantly rotate electricals can be tiresome.
My solution: Come armed with 2 fully charged Anker portable chargers, so you can fire up your phone, camera or other devices whenever and wherever you need.
Where To Head After Dorset?
If Dorset has wet your appetite to explore more of the south of the UK (and who can blame you?!), then you'll be glad to know it's just a hop, skip and a jump to several other stunning areas around.
To the south, the wonderful Isle of Wight can easily be accessed by ferry and offers more great walking and glamping opportunities. Learn more in this list of the top things to do on the Isle of Wight.
Otherwise, to the west you have Devon and all the coastal hiking wonders this county provides.
Or, to the west, the magnificent New Forest provides loads of great walks and cycling opps, as well as some fab pubs too!
Alternatively, to the north, the county of Somerset with the magnificent Cheddar Gorge and historic icons of Glastonbury and Wells shouldn't be missed. Check out my list of the top 10 things to do in Somerset for more ideas.
Travel Insurance
World Nomads offers simple and flexible travel insurance. Buy at home or while travelling and claim online from anywhere in the world.
Alternatively, if you're a long-term traveller, digital nomad or frequent remote worker seeking travel health cover, check out Safetywing's Nomad Insurance policies.
Travel Money in the UK
The easy way to spend abroad with real exchange rates, no markups and no sneaky transaction fees, you can use your Wise card just like a debit card here… and it links easily with Google and Apple pay – sold! Grab yours here.
PIN IT TO PINTEREST!
And there you have it, my list of the top 10 things to do in Swanage, Dorset.
I hope you enjoyed my recommendations and that they help you make the most of your time in this delightful coastal town.
And tell me, have you visited Swanage?
What was your favourite thing to do there?
Please drop any more ideas into the comments box below…