Although the New Forest may be more famous for its cycling, there's no question that walking amongst the beautiful trees here is a delightful thing to do too.
As a National Park, complete with wild ponies and donkeys, the wonderful landscape and wildlife definitely make it a super place for a stroll!
And, as most of the area is quite flat, the walks in the New Forest are generally quite easy and accessible too – making them especially great for families.
With both coastline and forest trails to explore, along with historic villages, reservoirs and marshlands care of a number of circular and linear trails, strapping on your walking shoes to take in the best of this peaceful place is absolutely something you have to enjoy when you're here.
And I'm delighted to say that, thanks to the glorious weather (and it really was glorious), this was exactly what I managed to do during my trip to the New Forest!
So if you're heading to this part of England soon and want to learn about the best places to stride out, then check out this list of the top 10 New Forest walks you can't miss.
---
Related Posts
---
This page contains affiliate links meaning Big World Small Pockets may receive a small commission on any purchases at no extra cost to you.
---
#1 Tall Tree Trail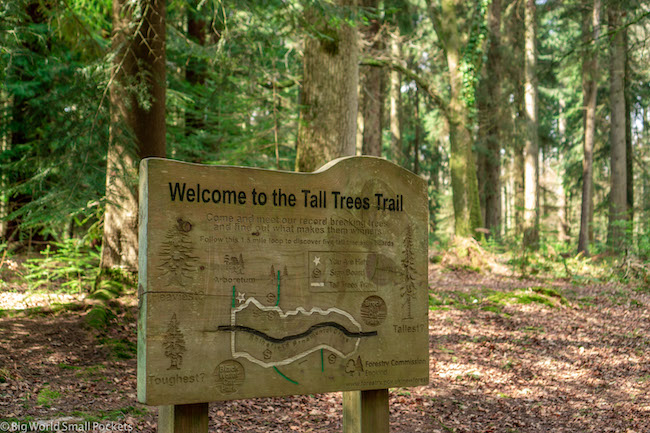 Probably the most famous of the walks in the New Forest, the Tall Tree Trail is a delightful stroll and certainly one of my favourites.
Around 2.5 km long, this is a very easy and accessible trail that is great for families due to the lovely information boards that tastefully dot the route.
Easy parking and public toilet access in the car park add to the family-friendly nature of this trail, which will take you past majestic conifers, some of the oldest Douglas fir trees in the UK and some huge redwoods to boot.
If you only have time for one short walk in the New Forest, this is the one to go for!
#2 Solent Way
This is the big guy and definitely the best large hike in the New Forest.
At 60 miles long, the Solent Way actually passes through the New Forest and then extends beyond it too.
Nevertheless, I'm still adding it in here as one of the best New Forest walks because it really is a beauty.
Extending from Milford-on-Sea to Emsworth Harbour, the route is split into several easy stages, with the first 3 being located within the New Forest.
The path tends to be marked with a picture of a sea bird on a green background, so look out for this symbol if you're following the trail without a map.
#3 Keyhaven Marshes Walk
The Keyhaven Marshes Walk is actually a section of the Solent Way but, as it's pretty unique, I thought it deserved its own mention in this list of my top New Forest strolls.
Keyhaven itself is a small village in the New Forest and the marshes here are famous for their birdlife.
If you're into twitching therefore, this is a great spot to head for!
With the opportunity to get some amazing views over the Solent to the famous Needles on the Isle of Wight, the path then cuts inland to follow an ancient highway behind the reserve before returning to the village of Keyhaven as part of a 7km loop.
#4 Fritham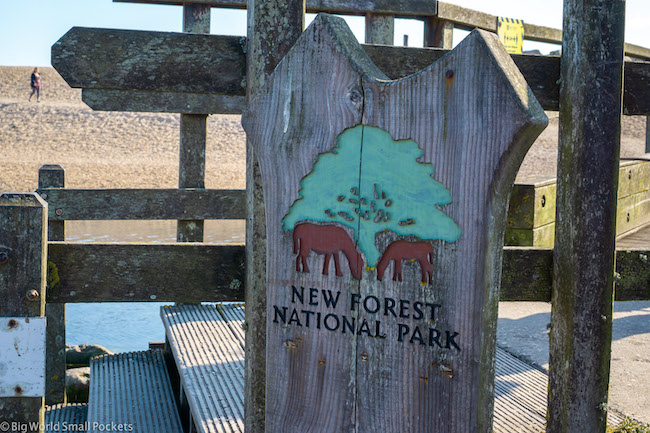 Another of the most popular walks in the New Forest, Fritham is a 9km loop, which takes around 2.5 hours to complete.
One of the key elements of this walk are the deer spottings you can often enjoy along the way and the Royal Oak pub also gets good ratings!
The walk takes you through a number of tree inclosures, as well as past Eyeworth Pond and the open heath of Fritham Plain.
You can also enjoy the village of Fritham as part of this route and the trail here is good for running and horse riding too.
#5 Brockenhurst to Lyndhurst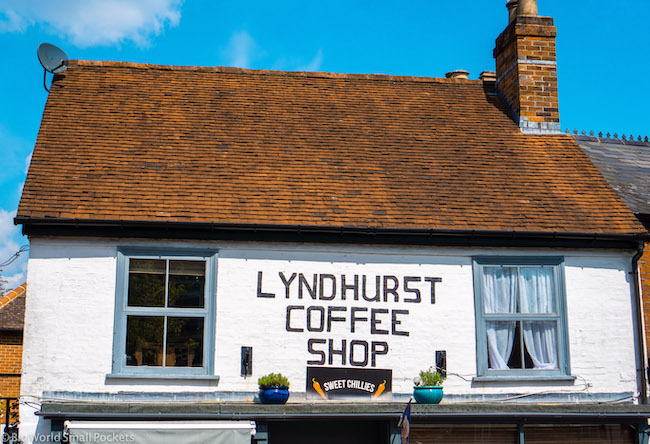 A popular walking and cycling trail, this great New Forest walk can be followed one way or made into a 17.5 km loop between these 2 iconic New Forest towns.
Taking you through ancient woodland and along quiet gravel tracks this walk is mainly flat, but that doesn't stop it from being exciting and the towns either end means there's plenty of pubs or cafes to reward yourself at!
Passing through beautiful meadows, under forest canopies and along babbling brooks, you'll hopefully spot a wild pony or 2 on this trail as well!
#6 Wilverley Inclosure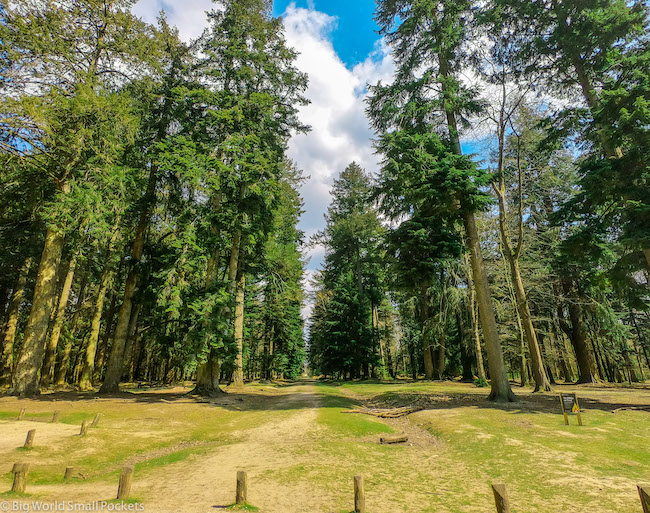 An easy 4 km route taking just over an hour, this is a short but delightful stroll you can easily squeeze in amongst other New Forest activities – which is perfect if you're only down in this national park for a short time and looking to cram a lot into your itinerary!
A forest trail that passes through a lot of enclosed woodlands, it's actually thanks to the Inclosure Act of 1845 that so many trees now stand, and are protected, here.
A car park can be found at the trailhead and cyclists can enjoy this path too.
#7 Carters Lane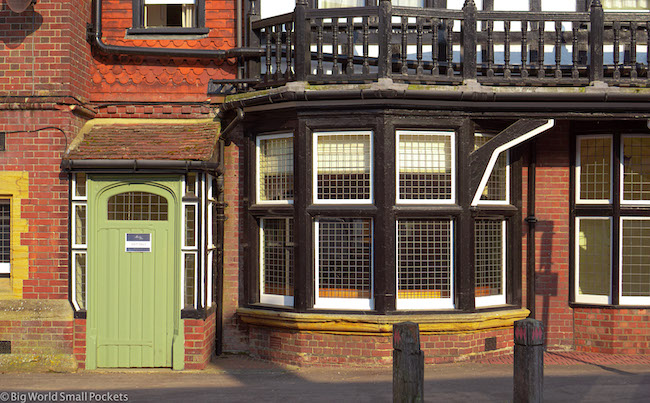 A wonderful historic New Forest trail, Carter's Lane takes in the heritage sights of the village of Marchwood.
Taking in track and road walking, as well as lovely dedicated footpaths, there are old farmhouses, churches and schools to explore along the way.
Short but rewarding, this is one of the national park's newest, dedicated trails, so it's a good idea to try this one if you've already ticked most of the other suggestions here off your list.
#8 Denny Wood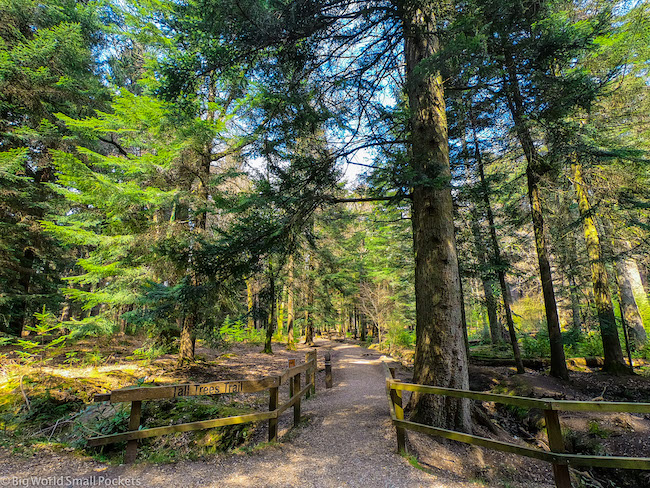 A super easy 5km loop that takes an hour, this flat path nevertheless delivers a delightful slice of New Forest scenery.
Starting and ending near my favourite New Forest towns – Beaulieu and Lyndhurst – this makes a great late afternoon stroll, when the colour of the leaves glisten in the golden hour light… even more so in autumn!
Autumn is also the time ponies are "gathered" in these parts, and this traditional, annual ritual can often be seen around here.
Join the trailhead just near Denny Wood campsite along the B0356.
#9 Acres Down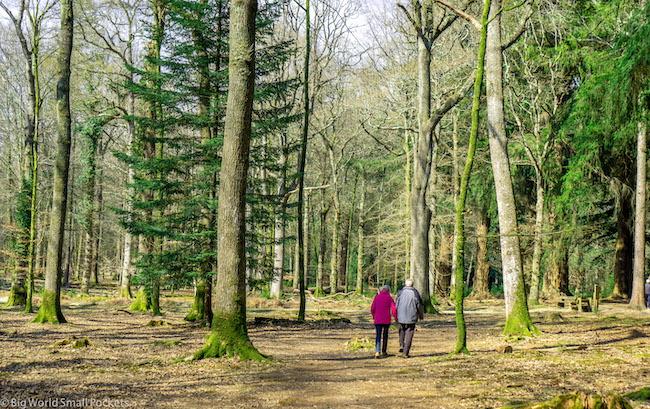 And coming in at number 9 on this list of the best New Forest walks, it's Acres Down.
A 4.5km loop set near the village of Minstead, close to Lyndhurst, this is again a flat walk with very little elevation, but some lovely forest feels!
A good dog-walking trail, it will take just over an hour to complete this one.
Don't miss Acres Down farm, with its beautiful teashop and farm shop, along the way!
#10 Bolderwood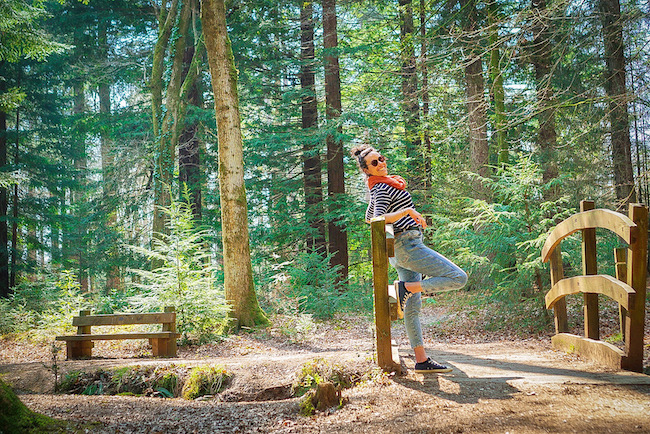 Encompassing a deer sanctuary and a river, along with biking trails and a path flat enough for pushchairs, this is another family favourite.
A 3km loop, which dogs can also enjoy if kept on a leash, there's a free car park at the trailhead along some facilities like toilets and a cafe.
From the car park, there are then 3 circular signposted walks for you to choose from.
Essentials for Walking in the New Forest
#1 Walking Shoes
You can't come to enjoy some New Forest walks and not come equipped with walking shoes!
I highly recommend these lightweight and comfortable ones from North Face, which are perfect for the job, as you don't really need hiking boots in this area.
#2 Waterproof, Windproof Jacket
Look, as paradisical as I've made the New Forest sound (and it is), it also is England.
And those green-leafed trees aren't green for nothing!
Nope, it's because it rains a lot.
A lot of the year.
So bring a good waterproof and windproof jacket no matter what time of year you're coming ok?!
#3 Swimwear & Towel
You can't go on all these amazing New Forest walks and fail to enjoy a slice of the coast here too!
As such, I thoroughly recommend bringing swimwear and a travel towel with you to the New Forest too, especially if you're coming in the summer!
#4 Camera
Having an excellent camera to snap the New Forest in all her glory and preserve the memories is an absolute given.
I love my Sony A6000, which never leaves my side.
I also enjoyed having a GoPro when I was in the New Forest to capture all the hiking and cycling action.
#5 Portable Charger
There's no denying, power can be an issue down in the New Forest, especially if you're camping.
Even if you have a powered site, remembering to charge stuff up, leaving it out overnight and constantly rotating electricals, can be tiresome.
My solution: Come armed with 2 fully charged Anker portable chargers, so you can fire up your phone, camera or other devices whenever and wherever you need.
When to Visit the New Forest?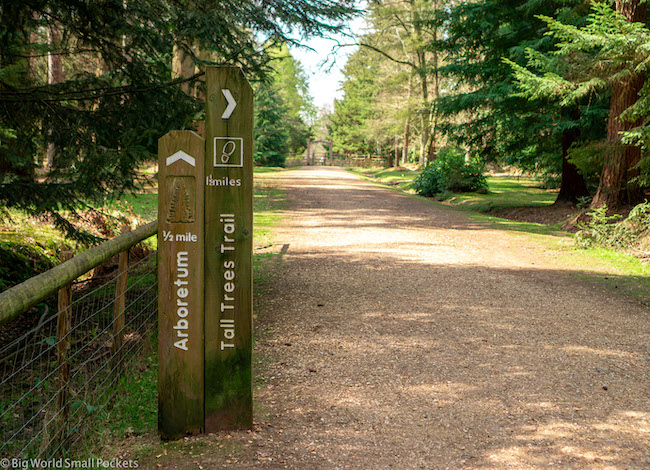 No question in my mind that the best time to go camping in the New Forest is between the months of June and September when the weather is at its direst, sunniest and warmest.
Not only does this make for a more pleasant camping experience, but the better weather at this time of year will also allow you to enjoy more of the park's beautiful landscapes too – whether that's walking, cycling, hitting up the coast or just staring out your tent door!
I visited the New Forest in mid-April and experienced idyllic weather that saw me hiking and cycling under brilliant blue skies every day, but this isn't a given!
Don't forget that this being England it can rain at any time of the year, even in the height of summer, so it pays to come prepared!
Within the summer months, do remember that the school holidays and sunny weekends will be by far the busiest months, so if you want to get the cheapest prices or the thinnest crowds, it's probably best to avoid these times!
How to Get to the New Forest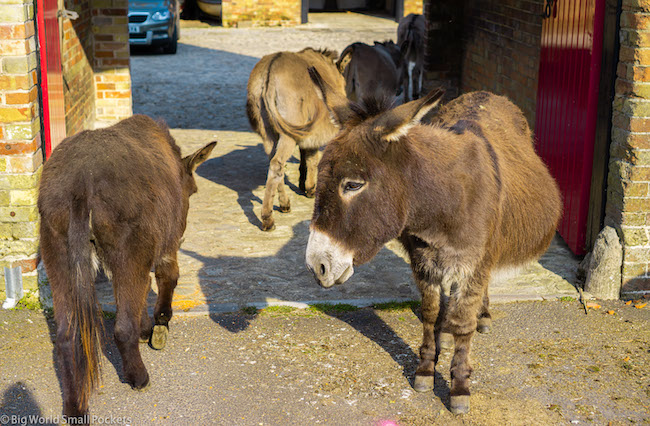 Situated in the south of England, in the county of Hampshire, the New Forest is very near the coast and the port cities of Southampton, Bournemouth and Portsmouth.
It's just a few hours' drive from London too and if you're heading down to the Isle of Wight or even across to Dorset, the New Forest can be a great stopping point on the way.
Driving is the best way to get to the New Forest and if you don't have a car, you may consider renting one.
As always, I recommend Thrifty Car Hire as they offer some great deals on car rental and are very reputable.
Learn more in these top 12 tips I wrote about hiring a car in the UK on a budget.
Attentively, if you'd rather use public transport, you can get to the New Forest easily from London Waterloo via 8 train stations that sit within the area.
They are:
Ashurst
Beaulieu Road
Brockenhurst
Hinton Admiral
Lymington
New Milton
Sway
Totton
My top tip is to use Trainline to find the best deals on rail tickets across the UK, as they use split-fare technology to get you the cheapest prices.
How to Get Around
Once in the New Forest, there is a pretty good bus service.
More information including timetables and fares can be found here.
In the summer months, additional New Forest bus tour routes also run.
If you don't want to catch public transport however, then cycling is an ideal to get around the New Forest. With many great, designated trails, as well as calm and quiet country roads to enjoy, it's the perfect option!
Otherwise, you may opt to drive a car around instead.
There are many roads through the forest, making it easy to explore large sections of it over a fairly quick amount of time in a vehicle.
How Long to Spend There
From a weekend to a week, both shorter and longer trips to the New Forest are well worth it.
Just remember not to overpack your itinerary and try to cover the whole of the New Forest in a couple of days!
You won't be able to take it all in or enjoy it this way.
Where to Stay in the New Forest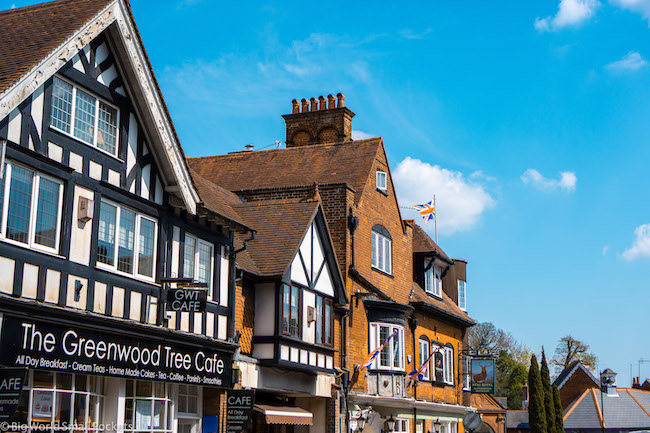 Accommodation in the New Forest isn't the cheapest, so for those of you on a tight budget, camping really is the best option.
Discover more in my ultimate guide to camping in the New Forest, which includes a list of the top 7 campsites in the area.
For those who want something a bit comfier however, the Highfield Bed & Breakfast in Lymington gets rave reviews thanks to its great location, facilities and service.
Otherwise, these Brockenhurst Apartments are excellent for those who prefer self-catering accommodation with a full kitchen in the heart of the New Forest.
For something a bit more quirky, this brilliantly rated Shepherd's Hut near Ringwood is the glamping option to go for!
PIN IT TO PINTEREST!
So there you have it, my list of the top 10 New Forest walks.
Have you hiked any of these before?
Which was your favourite?
Or have I missed any out?
Please join the conversation in the comments box below…