One of my top 50 things to do in the UK is to visit the New Forest!
Why? Well honestly, there's just s much to enjoy here!
From spotting wild ponies to hiking amongst the trees, visiting traditional tearooms and pubs to cycling, kayaking, camping or even taking a museum or too, this is a delightful area that packs a lot in.
One of England's few national parks (and one of only a handful that encompasses countryside and coastline) taking a trip to the New Forest is a UK travel must in my book, especially as it's very accessible from London and most of the south of the country.
So if you're considering a trip to this wonderful part of the UK, then read on to discover my list of the top 21 things to do in the New Forest National Park…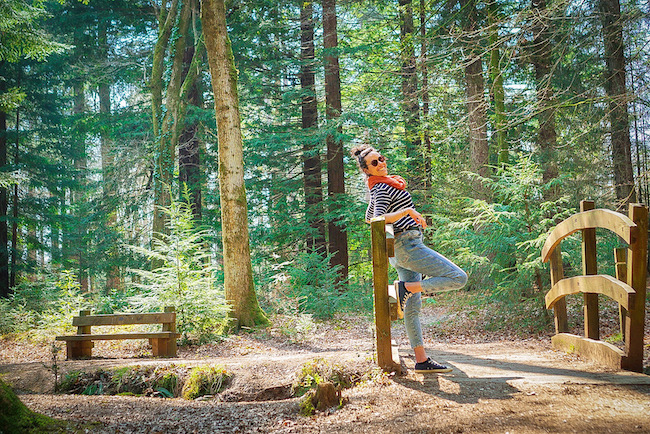 ---
Related Posts
---
This page contains affiliate links meaning Big World Small Pockets may receive a small commission on any purchases at no extra cost to you.
---
#1 Soak in Brockenhurst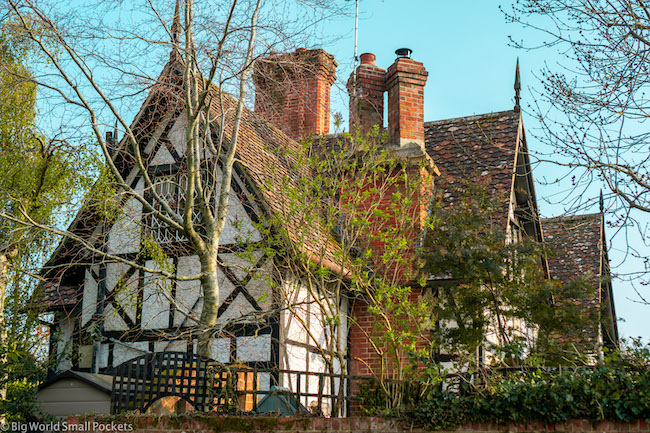 Coming in at number one on this list of the top things to do in the New Forest, it's a tried and tested classic that never fails to disappoint!
Yes soaking in the quaint atmosphere of Brockenhurst is something you can't miss in this area, as it's one of the flagship towns in the New Forest.
Filled with cute pubs and cafes, historic thatched homes and of course, some lovely wild pony friends, Brockenhurst is a delightful spot to either start your trip or base yourself while you're here.
Frequently named one of the best places to live in the UK, it's easy to see why this charming town makes it into my top list.
#2 Take a Trip to Lyndhurst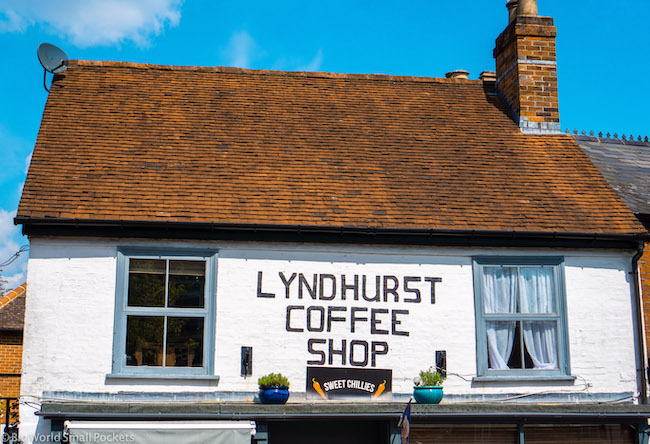 I'm going to actually kick off this list with all the main towns in the New Forest as I think spending a bit of time in each of them is a great way to orientate yourself in the area.
So, next up, it's Lyndhurst.
Often thought of as the central point in the forest, it's home to the main visitor centre and has some good bike hire places too.
And that's not to mention vintage-esque shops, tearooms and pubs as well of course, so heading here to snap the cute high street is absolutely a must at least once during your trip.
#3 Stroll Lymington
And the third main town on this list of the top things to do in the New Forest is Lymington.
Down by the coast, this cute spot with its cobbled streets and sea views is a great place to stroll and enjoy an ice cream.
Getting out on the water too (via a SUP, kayak, sailboat or cruise) is a must here and there's swimming baths as well for the brave cold-water lovers among you!
Full of vintage seaside charm, this is a great place to take in the diversity of the New Forest area and a break from all the shady trees if you want to get some sun in!
This is also the spot to catch the Isle of Wight ferry if you're continuing your UK travels in that direction.
#4 Visit Hurst Castle
And from Lymington, it's just a short drive to either Milford on Sea or Keyhaven, where you can then enjoy a lovely coastal stroll out to Hurst Castle.
Built originally by Henry VII and located at the end of a coastal spit, enjoy a seaside stroll to get here complete with views of the Isle of Wight's famous Needles.
Once you arrive you can enter Hurst Castle, which is currently looked after by English Heritage – meaning members get in free.
It's an amazing historic place you can spend a couple of hours exploring before taking the cute ferry back across the estuary, which seems much more fun than retracing your walking steps.
#5 Hike the Solent Way
And while we're on the coastal theme, no list of the best things to do in the New Forest would be complete without including the mighty Solent Way.
A 60 mile long track that starts at Milford on Sea and continues through the coastal region of the New Forest and beyond, this is a delightful multi-day hike you can easily complete in sections if you're not up for the whole thing.
When following the trail look for the emblematic white bird on a green background, which can be found on markers to help you navigate your way.
#6 Amble The Pig Manor House Gardens
Now back inland, if you like a stroll, then this one is also for you!
The Pig Manor House is part of the famous chain of lovely British boutique countryside stays and the one located in the New Forest won't disappoint.
Not one for budget travellers, you needed despair if the restaurant price tag make you baulk however, because it's good to know that ambling through the beautiful gardens of this historic place are totally free and totally worth it too!
Maybe push the boat out with a drink at the end?!
#7 Sink a Pint in a Trad Pub
And talking of drinks, you can't miss checking out some of the lovely New Forest pubs while you're here.
With many historic gems, including some thatched roof beauties with roaring fires in the winter and super sunny beer gardens in the winter, whether you want to drink alcohol or not, a New Forest pub is a lovely place to unwind and enjoy some great food at the end of a fun-filled day.
Check out my list of the top 15 New Forest pubs for some inspiration.
#8 Taste a Tour Ringwood Brewery
And the beer theme continues with number 8 on this list, which is to enjoy a tour at the Ringwood Brewery.
Founded in 1978, the brewery sits in the cute market town of Ringwood.
A great activity for those with a taste for craft ales, this lovely spot also comes with a great bar and eatery where you can enjoy some superb beers at the end of it all.
Costing £12 per person, tours explore the brewery, including the history of beer making in this area which stretches right back thanks to the crystal waters of the River Avon and the farmed barley of the rural Hampshire countryside.
#9 Cycle it Off!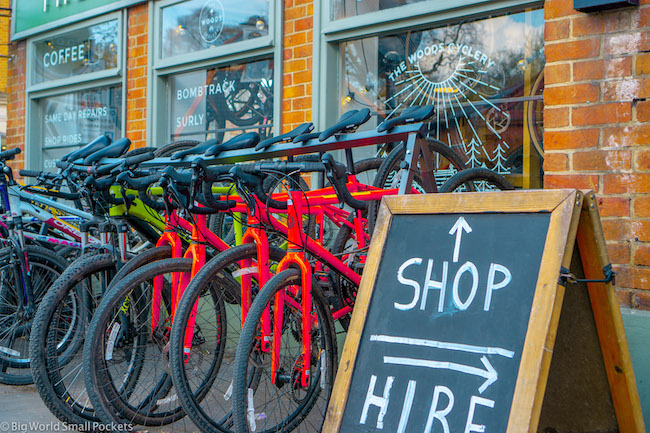 And now, after all that indulgence, it's time to get healthy again and thankfully you've come to the right place!
The New Forest is a cyclist haven with some wonderful road, as well as designated trails, cycling.
This means that, even for those who aren't super confident, there's plenty of safe and traffic-free options to choose from.
A great way to see the forest, not least for the peaceful and relaxed feels cycling provides, much of the landscape is quite flat here too, which many will find a relief!
And don't worry if you've forgotten your bike – there's plenty of hire outlets in towns and campsites around the national park.
#10 Kayak or SUP
But if it's active watersports you'd rather enjoy than cycling – or perhaps a bit of both – then you'll be pleased to learn that all of this is on offer in the New Forest too.
Yes providing a nice alternative, kayaking or SUP-ing is definitely one of the best things to do in New Forest with equipment easily rental from many of the top coastal and riverside spots around here.
You can also take tours if you don't feel that confident, or want to build up your skills, and the towns of Lymington, Fordingbridge and Beaulieu are key places where companies provide both lessons, tours and equipment hire.
#11 Get Charmed by Beaulieu
Which leads me seamlessly into talking about Beaulieu!
Apparently pronounced bu-ley (… or near enough, unless you're French and then it's bow-lee-ah), this cute village is an absolute must-see when you're in the New Forest.
In fact, I think it was my favourite village thanks to its historic homes, quaint shops and lovely wild ponies and donkeys!
Snap away to your heart's content in this chocolate box destination, or else hike or kayak your way along the river here.
A classic route is from Beaulieu to Bucklers Hard – the place where Lord Nelson's favourite ship Agamemnon was built in 1781.
Beaulieu itself means "beautiful place" and was established in 1204 by Cistercian monks who founded an abbey here.
Honestly, it's not hard to see why the spot appealed to them, and still appeals today!
#12 Snap The Ponies!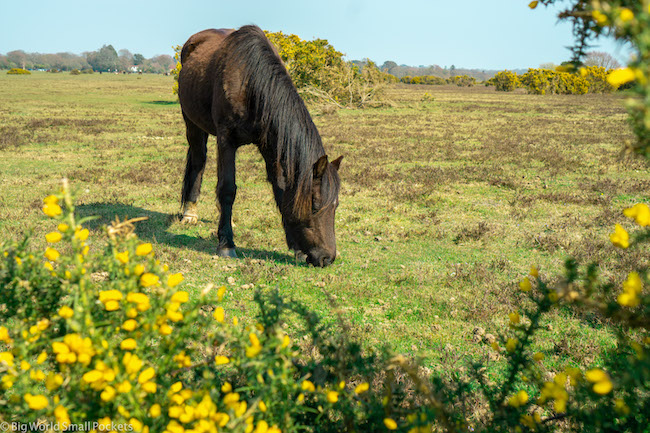 Not quite sure how it took me until number 12 of this list to mention the wild ponies that the New Forest is probably most famous for, but there it is!
So yes, in at number 12, it's stop and snap those wild ponies!
If you're yet to see any up until this point during your meanderings through the Forest (in which case, I'd also ask how?!), then heading to Beaulieu pretty much guarantees you a sighting!
Wild, but incredibly used to people, the ponies are the symbol of this National Park and actually have priority here – even over cyclists, walkers and traffic!
If you get stuck behind a big jam in the New Forest therefore, it's likely to be pony induced!
#13 Head to Bolderwood Deer Sanctuary
And if it's wildlife you're after, especially if you have a child, then you also can't miss a visit to the Bolderwood Deer Sanctuary in the New Forest.
With tons of, yes you guessed it, deer to be spotted here care of a handy viewing platform, these wild animals also add to the pony, donkey and cattle affair that is the New Forest wildlife scene!
With some lovely walks around it too (check out my list of the top 10 New Forest walks here), the Deer Sanctuary is a family-friendly must-visit!
#14 Road Trip Ornamental Drive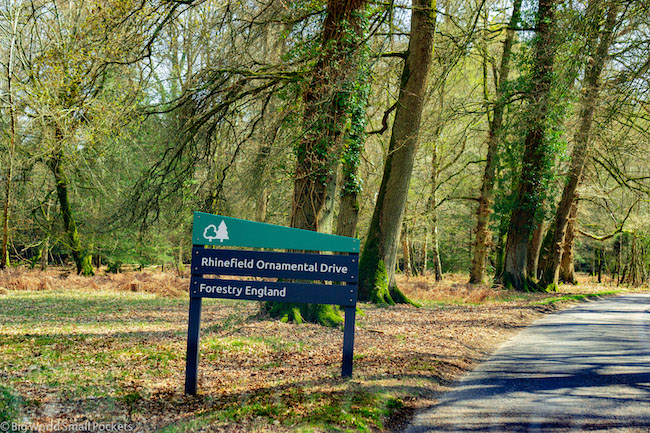 Bolderwood Deer Sanctuary is actually situated along one of the most famous stretches of the New Forest, so while you're here, there's no question you should take a leisurely cruise along Ornamental Drive too.
With magnificent forest views, as the trees tower above you on either side of the road, this is a delightful drive or cycle, which will really have you feeling like you've visited the New Forest.
#15 Walk the Tall Tree Trail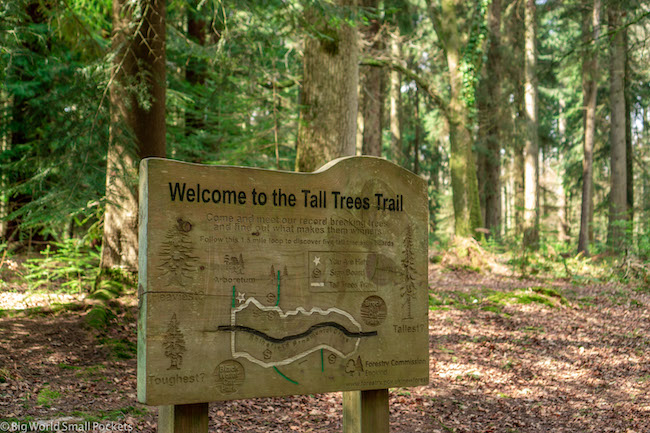 And also along the Ornamental Drive is the famous Tall Tree Trail.
A great 2.5km loop, the handy information boards here, as well as the range of historic and majestic trees you can spot along the way, make this a classic!
Flat and easy for kids too, there's plenty of opportunities to play in the leaves, run around and snap the beautiful forest at its best.
A handy car park near the trailhead, which features picnic tables and public toilets, also makes this an accessible one and is def one of my top 10 New Forest walks.
#16 Check out a Museum… or 2!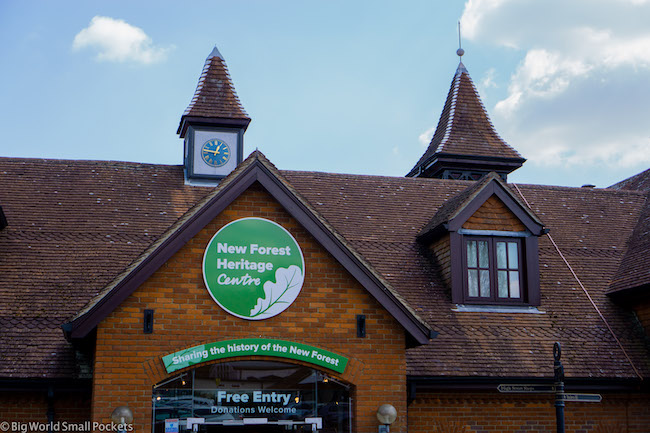 But what if you visit the New Forest and the weather doesn't play game, I hear you cry.
What? Rain in England? Never!
Alas, it's true, the weather can't always be guaranteed down here in Hampshire, but fear not, the New Forest has plenty of wet weather things to do too!
And top of the list is visiting one of the many museums here.
From the National Motor Museum to the St Barbe Museum and Art Gallery, there's plenty to choose from no matter your interests or inclinations.
#17 Camp!
Now back to an activity that hopefully you won't have to do in the rain, yes camping in the New Forest is certainly one of the best ways to experience this idyllic countryside area at its best.
From glamping to campervanning, old school tenting to caravan life, there's so many options to choose from here, and so many great independent and fun campsites, that this opportunity really should not be missed!
Learn all you need to know in my ultimate guide to camping in the New Forest.
#18 Hit the Beach
Another warm weather special – or it doesn't even have to be warm actually, just preferably not wet! – hitting up the beach when you visit the New Forest is a lovely day out.
Although it's more famous for its trees, it shouldn't be forgotten that this part of Hampshire also has some delightful coastal stretches and top of my sandy-toe list are the beaches at Lepe or Milford On Sea.
Don't miss them!
#19 Visit a Working Farm
Coming towards the end of our list now, but there's no way I could overlook this one.
Yes, rural Hampshire is farming heaven and those working farms in the New Forest are no exception!
Many can be visited and some of them even allow animal petting or "pick your own" activities!
Strawberries are a key produce item here, so head to the New Forest in May or June to grab bags full of these gems from a farm shop.
Or, why not visit in July when the lavender season is in full swing and the Instagram brigade are heavy on those beautiful purple field shots?
#20 Enjoy an Afternoon Tea
And talking of strawberries, whether it's in a lovely farm cafe, or a quaint village tea room, grabbing an afternoon tea complete with scone, cream and strawberry jam, along with a good-sized teapot full of a strong brew are a must in these parts.
As an area known for its quintessential feels, the New Forest afternoon tea session really does complete the picture!
#21 Jump Onboard the Steam Railway
And last but not least, number 21 on this list of the best things to do in the New Forest is to visit the great Exbury Steam Railway.
What did I say about the New Forest being a quintessential classic?
Well now here's the proof!
As part of a visit to the lovely Exbury Gardens, you can actually jump onboard a working steam engine here, which departs from a replica Victorian station before heading through a tunnel, over a bridge, round a Pond and finally through the gardens.
A great one for families and a super fun way to round off your time in the New Forest, the train departs roughly every hour!
Top Tips for Travel in the New Forest

When to Visit the New Forest?
No question in my mind that the best time to go to the New Forest is between the months of June and September when the weather is at its direst, sunniest and warmest.
Not only does this make for a more pleasant travel experience, but the better weather at this time of year will also allow you to enjoy more of the park's beautiful landscapes too – whether that's walking, cycling, hitting up the coast or just staring out your tent door!
I visited the New Forest in mid-April and experienced idyllic weather that saw me hiking and cycling under brilliant blue skies every day, but this isn't a given!
Don't forget that this being England it can rain at any time of the year, even in the height of summer, so it pays to come prepared!
Within the summer months, do remember that the school holidays and sunny weekends will be by far the busiest months here, so if you want to get the cheapest prices or the thinnest crowds, it's probably best to avoid these times!
How to Get to the New Forest?
Situated in the south of England, in the county of Hampshire, the New Forest is very near the coast and the port cities of Southampton, Bournemouth and Portsmouth.
It's just a few hours' drive from London too and if you're heading down to the Isle of Wight or even across to Dorset, the New Forest can be a great stopping point on the way.
Driving is the best way to get to the New Forest and if you don't have a car, you may consider renting one.
As always, I recommend Discover Cars as they offer some great deals on car rental and are very reputable.
Learn more in these top 12 tips I wrote about hiring a car in the UK on a budget.
Attentively, if you'd rather use public transport, you can get to the New Forest easily from London Waterloo via 8 train stations that sit within the area.
They are:
Ashurst
Beaulieu Road
Brockenhurst
Hinton Admiral
Lymington
New Milton
Sway
Totton
My top tip is to use Trainline to find the best deals on rail tickets across the UK, as they use split-fare technology to get you the cheapest prices.
How to Get Around?
Once in the New Forest, there is a pretty good bus service.
More information including timetables and fares can be found here.
In the summer months, additional New Forest bus tour routes also run.
If you don't want to catch public transport however, then cycling is an ideal to get around the New Forest.
With many great, designated trails, as well as calm and quiet country roads to enjoy, it's the perfect option!
Otherwise, you may opt to drive a car around instead.
There are many roads through the forest, making it easy to explore large sections of it over a fairly quick amount of time in a vehicle.
How Long to Spend There?
From a weekend to a week, both shorter and longer trips to the New Forest are well worth it.
Just remember not to overpack your itinerary and try to cover the whole of the New Forest in a couple of days!
You won't be able to take it all in or enjoy it this way.
Where to Stay in the New Forest?
Accommodation in the New Forest isn't the cheapest, so for those of you on a tight budget, camping really is the best option.
Discover more in my ultimate guide to camping in the New Forest, which includes a list of the top 7 campsites in the area.
For those who want something a bit comfier however, the Highfield Bed & Breakfast in Lymington gets rave reviews thanks to its great location, facilities and service.
Otherwise, these Brockenhurst Apartments are excellent for those who prefer self-catering accommodation with a full kitchen in the heart of the New Forest.
For something a bit more quirky, this brilliantly rated Shepherd's Hut near Ringwood is the glamping option to go for!
5 Packing Essentials for the New Forest
#1 Walking Shoes – I highly recommend these lightweight and comfortable ones from North Face, which are perfect for the job.
#2 Waterproof, Windproof Jacket – Bring a good waterproof and windproof jacket no matter what time of year you're coming ok?!
#3 Swimwear & Towel – I thoroughly recommend bringing swimwear and a travel towel with you to the New Forest, especially if you're coming in the summer!
#4 Camera – I love my Sony A6000, which never leaves my side. I also enjoyed having a GoPro when I was in the New Forest to capture all the hiking and cycling action.
#5 Portable Charger – Come armed with 2 fully charged Anker portable chargers, so you can fire up your phone, camera or other devices whenever and wherever you need.
PIN IT TO PINTEREST!
So there you have it, my list of the 21 things to do in the New Forest.
Have you visited this amazing part of the UK?
What did you enjoy doing there most?
Any tips you can leave to help other travellers in the comments would be greatly appreciated!