As you'll know if you've read my other articles about the Isle of Wight, I love this beautiful UK spot, which makes for a perfect staycation getaway thanks to its easy ferry access.
Born and brought up in Jersey, I'm always a fan of islands… and the Isle of Wight is no exception.
One of the sunniest places in Britain (although Jersey is the sunniest of course!), the Isle of Wight might only be a short ferry ride away from the mainland, but this small trip across the water really does make it feel like a huge holiday!
Which is exactly why it's such an awesome getaway spot, especially if you live in the south of the UK, because it really can be just a hop, skip and a jump away.
So if you're thinking about heading over to the Isle of Wight, but aren't quite sure how to do it, here's my full guide to catching the Isle of Wight ferry, which lets you know all the different options available and helps you decide which is best for you…
---
Related Posts
---
This page contains affiliate links meaning Big World Small Pockets may receive a small commission on any purchases at no extra cost to you.
---
Why Visit the Isle of Wight?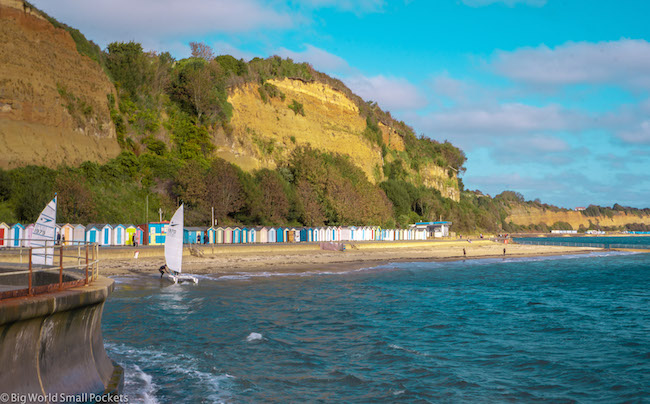 If I haven't already spelled it out enough in my introduction, the reason you should go to the Isle of Wight is because it's an awesome spot for a day trip, a weekend getaway or even a full-blown holiday!
Honestly, there's so much to see and do on this island (it's probably larger than you think), that you'll have no trouble finding amazing things to visit, eat, drink and enjoy there.
The Isle of Wight is also perfect for budget travellers – you can camp and take your car over to keep things cheap – and getting there is easy, quick and simple too, making it ideal for the whole family.
With a huge range of accommodation on offer, there's really no reason not to go to the Isle of Wight if you fancy a UK staycation… and I mean, who doesn't?
And if that's not enough to convince you yet, then you can learn more about the top things to do on the Isle of Wight here.
Where is the Isle of Wight?
Situated off the south coast of England, the Isle of Wight is closest to the cities of Portsmouth and Southampton in the county of Hampshire.
Portsmouth and Southampton are both easy to access via road or rail with excellent motorway and public transport connections from across the UK.
These cities are also intereting destinations in themselves, so why not stop for a day or 2 on your way to the Isle of Wight and enjoy them aswell?!
Otherwise, if you want to hop straight across to the island, it pays to know that the Isle of Wight is separated from the mainland UK by a small stretch of water called The Solent, which can be easily crossed care of a short ferry ride.
This article details exactly how to catch the Isle of Wight ferry but, if you're looking for a tour that will take you to the Isle of Wight, and organise all the logistical transport work for you instead, then check out this top-rated day trip from London!
The 6 Isle of Wight Ferries
With the intro out the way, it's now time to launch into the main information of this post, namely how to catch the Isle of Wight ferry or ferries.
Because yes, you guessed it, there is actually more than one.
Indeed several ferries run to the island from several different destinations on the UK mainland.
Depending where on the mainland you are looking to travel from, as well as whether you are bringing a vehicle or travelling as a foot passenger or cyclist only, will greatly affect the choice of ferry service you use.
In fact, there are 6 Isle of Wight ferry services in total, run by different operators, and here I'm going to give you the full rundown on each of them to help you decide which one will work best for you.
Let's jump in…
#1 Portsmouth to Fishbourne
First up, we're going to tackle one of the main Isle of Wight ferry routes, the Portsmouth to Fishbourne option.
This is a popular ferry route as it's both a car and passenger ferry and is easy to access from London – which is why it's the service I generally use too.
Operated by Wightlink and taking around 45 minutes, this is a smooth and seamless option, which brings you in on the northeast side of the island – perfect if you want to head straight to some of the top beaches here.
The main thing to be aware of if you're taking this option, is the traffic when heading to this service, so allow plenty of time to get to the terminal in advance.
Because what often happens is that cars looking to get on the ferry create huge lines of traffic outside the terminal which, inturn, snarls up whole parts of Portsmouth's road system, meaning it can take you an age to get to the terminal!
Trust me, I've actually missed a ferry because of this!
So yes, allow plenty of time if you are opting for this ferry service and book it in advance too, as vehicle spaces especially can sell out at peak times.
#2 Southampton to East Cowes
Next up on this list of Isle of Wight ferries we have the Southampton to East Cowes route.
Another car ferry option – which you'll need if you're taking a vehicle over to the island! – this service is run by Red Funnel and takes around 1 hour.
This makes it one of the slowest services so, if you're not a keen sailor, this might be one to avoid!
That said, this ferry service has space for over 200 cars and leaves hourly during peak times, which means you have a good chance of getting a last minute ticket.
Arriving into Cowes is also good if you want to stock-up on supplies or enjoy the island's main hub of action!
It pay to know that it's free to take your bicycle on this service too.
#3 Lymington to Yarmouth
Running from Lymington in the New Forest, this Isle of Wight ferry service is actually the fastest vehicle option, so ideal if you just can't wait to get there!
Taking just 30 minutes, because this ferry doesn't leave from a main city, it's often less packed and is therefore perfect for travellers who want to enjoy some stunning coastline views (and/or those who are combining a trip to the New Forest in their UK travels too!)
The service is operated by Wightlink and arriving in Yarmouth, it gives you easy access to the more remote and rural west part of the island.
You can also take your bicycle on this service as well.
#4 Southampton to West Cowes
Next up, we move onto the passenger ferry services, so if you want to take a vehicle I'm afraid these options are out for you.
Nevertheless the Southhampton to West Cowes is a good speedy option if you're a foot passenger, taking just 25 minutes.
Operated by Red Funnel, on arrival you'll reach their ferry terminal where a bus connection can then connect you to other island destinations.
An efficient service, these ferries run every half an hour during peak times, which means you have a lot of flexibility when it comes to choosing what time you want to catch your Isle of Wight ferry to the island or back.
#5 Portsmouth to Ryde
Operated by Wightlink, this catamaran service is the quickest Isle of Wight ferry at just 22 minutes a crossing and will bring you straight into Ryde Pierhead.
Over on the east of the island, this is another good option for those who want to make the most of the beach, care of the good rail and bus links here.
You can learn more about getting around the Isle of Wight using public transport later on in this article.
#6 Southsea (Portsmouth) to Ryde
Well hello hovercraft!
Yup, who doesn't think this super fun way to get to the Isle of Wight? Sounds like jokes to me!
Not the cheapest route, but definitely the most fun, this is certainly for foot passengers only and goes from the lovely enclave of Southsea, just outside the main city of Portsmouth.
Operated by Hovertravel, it takes just 10 minutes to reach the island this way, where you'll disembark in Ryde right by the train and bus stations here.
Top Tips for Catching the Isle of Wight Ferry
Book your ferry in advance, especially at peak times
Book direct with the company for the best rates – you can use the links I've put into the sections above
Do be prepared for inclement weather, even if it not forecast and prepare accordingly!
Arrive at the ferry terminal of your departure with plenty of time to spare – queues can sometimes mean you'll miss your departure!
Toilets and cafes can be found on the boat and seating is usually available in and outside when the weather is good
Packing List for Your Ferry Journey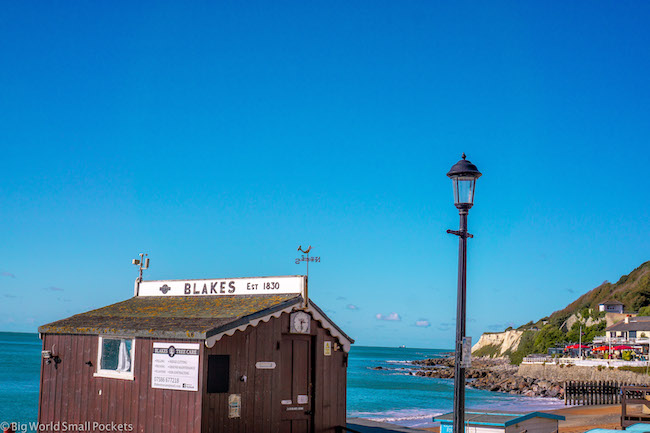 Sunglasses, Sun Hat and Sunscreen
Comfortable Clothes
Wet Wipes / Tissues
Trainers
Smartphone
Snacks
Top Isle of Wight Travel Tips
When to Visit the Island?
There's no question the best time to go camping on the Isle of Wight is between the months of June and September when the weather is at its direst, sunniest and warmest.
Not only does this make for a more enjoyable holiday experience, but the better weather at this time of year will also allow you to explore more of the island's beautiful landscapes too – whether that's by walking or hitting the beach.
That said, this being England it can rain at any time of the year, even in the height of summer, so it pays to come prepared!
Although it's worth mentioning, I visited the Isle of Wight at the end of September and experienced idyllic weather that saw me hiking under brilliant blue skies every day and sunbathing on the beach, so you just can't call it!
The only time I would avoid visiting the Isle of Wight is during the main festival weekend here, when the place will be overrun with visitors and the prices of ferries will skyrocket.
The main festival on the island runs annually during the summer months and usually takes place in September, so if you're not heading over for this specifically, then I would avoid this time!

How to Get Around the Isle of Wight?
Once on the island, there is a pretty good bus service, but given the rural nature of the place, it's probably likely that you'll opt to bring a car or bike with you to get around.
This will give you less flexibility about the ferry service you can catch, but more flexibility when you do get to the island.
If you don't have your own vehicle, then hiring a car from wherever you're departing in the UK is a good option.
Alternatively, you can get to Portsmouth or Southampton via coach or train from around the country and then hire a car from there.
As always, I use Trainline to find the best deal on trains and coaches in the UK and then highly recommend using Discover Cars as they offer some great deals on car rental and are very reputable.
Learn more in these top 12 tips I wrote about hiring a car in the UK on a budget.
If you do want to you use public transport when you are on the Isle of Wight, there are buses that service the island, which are run by a company called Southern Vectis. More information, including timetables and fares, can be found here.
There's also a rail service on the Isle of Wight you can use to get along the east coast. This is operated by Southwestern trains and more info can be found here.
Where to Stay?
The Isle of Wight has a huge range of accommodation from camping sites, holiday parks and glamping options, through to old-school guesthouses famous for their coach-party crowd, right up to modern and luxury hotels.
The best way to help narrow your selection is to think about where in the island you want to stay – the more connected north, the more remote west or the beachy east (my pick by the way) and then search for properties there within your budget range.
Check availability, prices and reviews on hundreds of Isle of Wight properties here.
Services and Supplies on the Isle of Wight
Despite being situated a ferry ride away from the mainland, the Isle of Wight is well-connected and although there aren't any major cities here, there are a number of good-sized towns – with the larger ones having lots of shops and amenities.
As such, services and supplies aren't that limited here and you can easily fuel up your vehicle, buy basic hardware or visit the supermarket!
In general however, I'd still advise buying everything you'll need for your trip in advance – it will just save time when you are here and allow you to enjoy your holiday more.
And that's only because the bigger towns on the Isle of Wight might be a significant drive away from where you are staying, but also because in this more rural part of the country, the choice of products may be more limited than you are used to and the price will be greater.
If you do forget anything however, the towns of Cowes, Ryde and Yarmouth are the main spots to head for if you need food, fuel or camping bits.
Your best option is to stop there as part of your itinerary to avoid going miles out of your way if you do realise you need something!
Travel Insurance
World Nomads offers simple and flexible travel insurance. Buy at home or while travelling and claim online from anywhere in the world.
Alternatively, if you're a long-term traveller, digital nomad or frequent remote worker seeking travel health cover, check out Safetywing's Nomad Insurance policies.
Travel Money in the UK
The easy way to spend abroad with real exchange rates, no markups and no sneaky transaction fees, you can use your Wise card just like a debit card here… and it links easily with Google and Apple pay – sold! Grab yours here.
PIN IT TO PINTEREST!
And there you have it, my complete guide to catching the Isle of Wight ferry.
Have you visited this wonderful part of the UK?
Have any tips or recommendations to share?
Please drop them into the comments box below and help spread the info among some UK travellers…