Like any good budget traveller, I'm a huge fan of camping and almost always carry a tent with me, no matter where in the world I'm off exploring.
Now however, it's time to turn my attention to my beautiful homeland of Great Britain!
With summer in full swing and festival season well under way, this is the perfect time to get out and explore the glorious landscapes this country has to offer. So here are my 6 favourite UK campsites to get you inspired.
So here are my 6 favourite UK campsites to get you inspired…
---
Related Posts
---
This page contains affiliate links meaning Big World Small Pockets may receive a small commission on any purchases at no extra cost to you.
This post was sponsored by Halfords, but as usual, all views, are strictly my own.
---
#1 Glastonbury, Somerset
Top of the list is probably one of my earliest UK camping experiences as a traveller.
Yes, at the tender age of 17, a group of friends and I set sail for the most famous UK festival of them all.
The big daddy, Glastonbury is a massive music and art festival that takes place in south-west England.
Full of 100,000 revellers, it's a non-stop hedonistic spectacle, which at the age of 17 was quite spellbinding to say the least!
Perhaps that's why this early experience is still making it onto my top list of UK campsites some 12 years later.
Armed with dome-style tents, we camped for 4 great days in the fields of the festival and enjoyed all this magical place had to offer.
Woefully unprepared, we still came out smiling at the end, but this early encounter with UK camping really taught me the advantage of a little preparation!
If you're a newbie camper looking for tips too, then I highly recommend checking out this awesome free and downloadable guide to camping recently compiled by Halfords.
There's loads of great tips in here that will certainly help you plan your first camping trip, including an all-important festival survival checklist.
My 17-year old self would have been well-advised to take a few notes!
Check out this great guide if you're interested in visiting any other top UK festivals.
#2 Skye Farm Camp, Lake District
The Lake District really takes the biscuit when it comes to hiking in the UK and, as such, there are some wonderful campsites here that cater for those who wish to enjoy the rural landscapes on foot.
Recommended by many, myself included, is the fabulous Skye Farm Campsite, which is certainly one of the best UK campsites there is.
It's hard to pin down exactly why this place is so special, but the stunning scenery and sense of peace here is hard to dislike by even the busiest, bustling city-head.
With a background of impressive mountains and babbling brooks, this is rural England at its best.
Situated in Buttermere Village, there are 2 nearby pubs you can walk to for a feed, otherwise there's very little else to distract you from the fine art of relaxation!
#3 Durrell Wildlife Camp, Jersey
Born and raised on a small island in the English Channel, Jersey still holds a special place in my heart.
And, just down the road from where I brought up, there's an awesome camping spot that really deserves to be on this list, not least because of the unique experience it offers.
Based within the grounds of the famous Durrell Conservation Park, which Gerald Durrell the world-famous zoologist established, the Durrell Wildlife Campground is like nowhere else.
Surrounded by some of the world's most exotic animals, Durrell Wildlife Camp is definitely one of my favourite UK campsites.
Included is unlimited, free access to the wildlife park which is committed to protecting endangered species.
You can even enjoy free BBQs late at night to the background sounds of lemurs and Andean bears.
It's also glamping like nowhere else, with each happy camp group getting their own eco-pod complete with queen bed, fully-stocked kitchen, free wifi and wood burning stove!
If you're looking for a luxurious and unique camping experience, this is definitely one to consider.
Better still, Jersey is renowned for being the sunniest place in Britain. So, should the English summer look like it might not materialise, head down to the Channel Islands to hedge your bets!
#4 North Morte Farm, Devon
Based in the beautiful countryside of North Devon, North Morte Farm continually gets rave reviews, and not just from me!
A friend and I visited this place during our university Easter holidays and were fortunately blessed with some of the best April weather I think the UK has probably ever experienced!
Perhaps this is why it remains of one my favourite UK campsites.
Wonderfully close to many of the best beaches in this glorious part of the country, North Morte Farm is a family-run affair with a warm and friendly feel.
Pitch a tent on what almost feels like the edge of a cliff and fall asleep to the sounds of crashing waves.
In the morning get up and explore local villages and wonderful walking tracks right from your tent door.
Or set your sights further afield with the chance to catch some waves in the surf-friendly town of Woolacombe.
My top tip? Head over to the Ship Aground Pub in Mortehoe for some real ale on the sunny deck!
#5 Gordale Scar Campsite, Pennine Way
When studying at Leeds University, I also walked some of the fabulous Pennine Way and enjoyed some lovely little campsites that perfectly embellished the experience of hiking in the northern countryside.
Top of my list was the wonderful Gordale Scar Campsite – one of the best due to its awe-inspiring setting near this huge geological crack in the landscape.
Enjoy craning your neck vertically trying to size the scar up; then strap on your walking boots to get to several other attractions in this area including Malham Cove and Janet's Foss.
The delightful village of Malham is also close and the oldy worldly feel of the whole place makes it the perfect destination to switch off and get back to basics.
The Gordale Scar really is one of the most dramatic natural features I've seen in the UK and the chance to pitch a tent so near this imposing icon is too good to pass up.
If you're camping as part of a hiking experience on the Pennine Way, or anywhere else in the UK for that matter, then I definitely recommend checking out the range of tents available at Halfords. They have a great selection and you can learn a lot about the different style of tents on the market and which are most suitable for carrying on your back!
#6 Housedean Farm Campsite, Brighton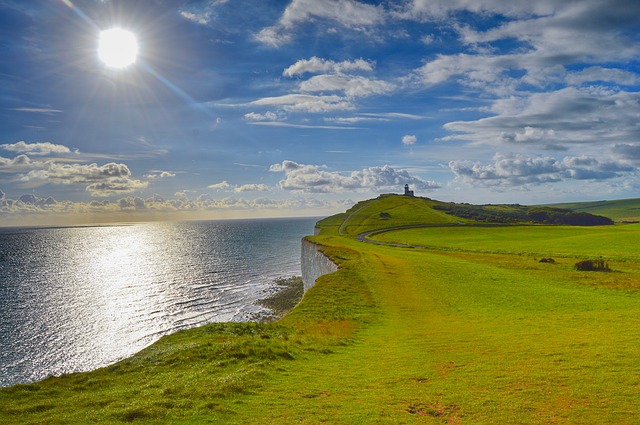 Combining the best of traditional camping fun with some modern amenities – such as wonderfully rustic and hot outdoor showers – Housedean Farm Campsite is a treat for all.
Set on a working farm, it's an easy bus ride from the wicked town of Brighton and also accessible from the superb village of Lewes, which means there is plenty around to explore.
Add into that the South Downs Walk, the Downs National Park and the views of the Seven Sisters and this is a real treat for those looking to explore the East Sussex area of England.
Some glamping options are available too if you're looking for a bit more comfort and reduced multi-day rates are possible.
So there you have it, my 6 favourite UK campsites.
Have you stayed at any of these beauties?
Do you have any other best picks we should all know about?
Tell the world in the comments box below …
Save