Like any good budget traveller, I'm a huge fan of camping and almost always carry a tent with me, no matter where in the world I'm off exploring.
Now however, it's time to turn my attention to my beautiful homeland of Great Britain!
With summer in full swing, this is the perfect time to get out and explore the glorious landscapes this country has to offer… on a budget and with minimal fuss.
From Cornwall to Cumbria, there's so many gorgeous coastal spots to explore in this amazing country, that now's the time to discover them.
So here are my 15 best beach campsites in the UK to get you inspired…
---
Related Posts
---
This page contains affiliate links meaning Big World Small Pockets may receive a small commission on any purchases at no extra cost to you.
---
#1 Lepe Beach Campsite, Hampshire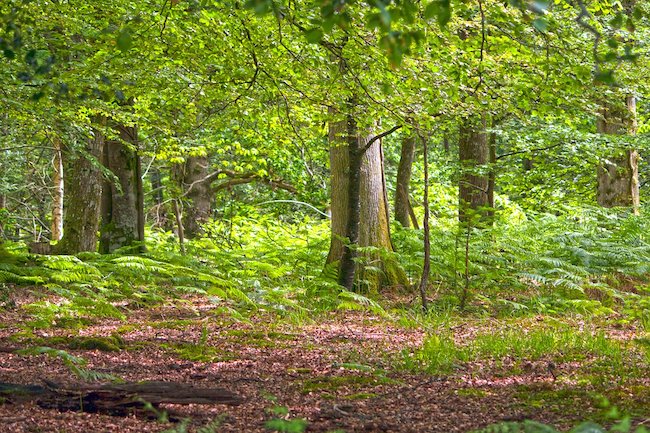 Set in the beautiful New Forest area, only 150 yards from the beach, this amazing campsite offers stunning views and tons of epic activities for those who want to get outdoors and enjoy nature at its best.
From hiking to horse riding, biking to getting out on the water, the ability to either enjoy pre-erected tents, or to bring your own, make this the best budget accommodation choice for those who want to soak up everything this beautiful part of the UK has to offer.
#2
Clachtoll Beach Campsite

, Scotland
Scotland really takes the biscuit when it comes to hiking in the UK and, as such, there are some wonderful coastal campsites here that cater for those who wish to enjoy the rural landscapes on foot.
Recommended by many, myself included, is the fabulous Clachtoll Beach Campsite which is certainly one of the best campsites by the sea there is.
It's hard to pin down exactly why this place is so special, but the stunning scenery and sense of peace here is hard to argue with.
Plus the fact it's in the super remote northeast of Scotland too of course!
Family-run, with safe, golden sandy bays on the doorstep, whale and dolphin-spotting opps and the geological wonder of Split Rock nearby, this is rural Scotland at its best.
Situated near Lochinver Village, the campsite is grassy and dog-friendly.
#3 Little Haven Campsite, Pembrokeshire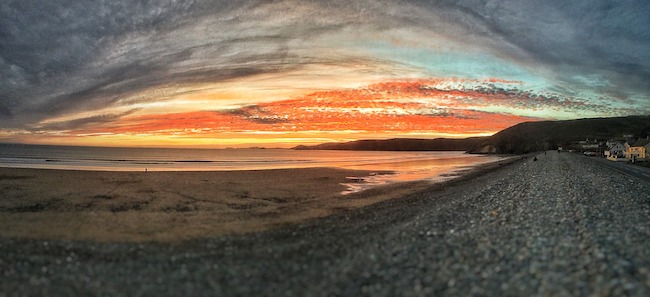 Also family-friendly with sand, sea and surf on tap, this campsite is absolutely one of the best beach tent-pitching spots in the UK.
With campfires welcome, this top spot in Wales is an absolute fav with those looking to venture to one of the country's most picturesque locations, without any fuss.
Boasting a scattering of local pubs close by, along with quaint fishing villages, this no-frills camping spot has plenty of wildlife to look out for and star-gazing to enjoy.
Yup, Little Haven Campsite sticks to what it knows best and does it with a wonderful charm and authentic simplicity that's utterly delightful.
#4 Durrell Wildlife Camp, Jersey
Born and raised on a small island in the English Channel, Jersey still holds a special place in my heart.
And, just down the road from where I brought up, there's an awesome camping spot that really deserves to be on this list, not least because of the unique experience it offers.
Based within the grounds of the famous Durrell Conservation Park, which Gerald Durrell the world-famous zoologist established, the Durrell Wildlife Campground is like nowhere else.
Surrounded by some of the world's most exotic animals, Durrell Wildlife Camp is definitely one of my favourite UK campsites.
Included is unlimited, free access to the wildlife park which is committed to protecting endangered species.
You can even enjoy free BBQs late at night to the background sounds of lemurs and Andean bears.
It's also glamping like nowhere else, with each happy camp group getting their own eco-pod complete with queen bed, fully-stocked kitchen, free wifi and wood-burning stove!
If you're looking for a luxurious and unique camping experience, this is definitely one to consider… and there's several secluded beaches just a short distance away including Rozel and Bouley Bay.
Better still, Jersey is renowned for being the sunniest place in Britain.
So, should the English summer look like it might not materialise, heading down to the Channel Islands to hedge your bets, is a great idea!
#5 La Valette Campsite, Sark
And keeping with the Channel Island vibes, I couldn't write this article about the best beach campsites in the UK and not mention the island of Sark!
Even though it's not technically in the UK (although it is part of Great Britain), visiting this amazing, car-free and tiny island is like stepping back in time.
As such, camping is the perfect way to soak in this blissful retreat, as the cares of the world dissolve and life beyond the rocky shores here almost ceases to exist.
And the perfect place to camp on Sark is La Valette.
With amazing views of the other Channel Islands, the coastal location of this gem only adds to its charming holiday feel.
Bring your own tent or enjoy one of their own Cocoon Pods – either way, this is the type of off-grid experience you never realised you could enjoy in the English Channel!
Learn more about visiting the wonderful island of Sark in this article I wrote.
#6 North Morte Farm, Devon
Based in the beautiful countryside of North Devon, North Morte Farm continually gets rave reviews, and not just from me!
A friend and I visited this place during our university Easter holidays and were fortunately blessed with some of the best April weather I think the UK has probably ever experienced!
Perhaps this is why it remains one of my favourite campsites in the UK.
Wonderfully close to many of the best beaches in this glorious part of the country, North Morte Farm is a family-run affair with a warm and friendly feel.
Pitch a tent on what almost feels like the edge of a cliff and fall asleep to the sounds of crashing waves.
In the morning, get up and explore local villages and wonderful walking tracks right from your tent door.
Or set your sights further afield with the chance to catch some waves in the surf-friendly town of Woolacombe.
My top tip?
Head over to the Ship Aground Pub in Mortehoe for some real ale on the sunny deck!
#7 Gibraltar Farm, Lancashire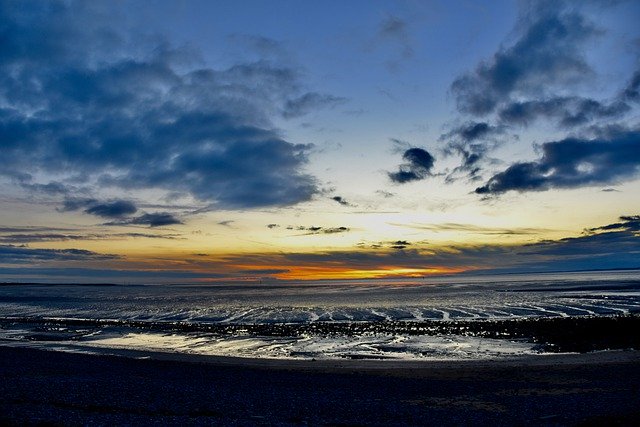 And now, as we move northwards, we came to the next entry on this list of the UK's best beach campsites, located near the wonderful Morecambe Bay.
A traditional campsite set on a family-owned, working farm, this adorable site is set in an area of outstanding natural beauty.
With stunning scenery and gorgeous views galore, this brilliant campsite in the northwest of England is situated with both epic woodlands and vast open grasslands right on its doorstep.
Plenty of National Trust hiking trails, as well as excellent fishing opportunities and bird-spotting delights, make this a real winner!
#8 Burnbake Campsite, Dorset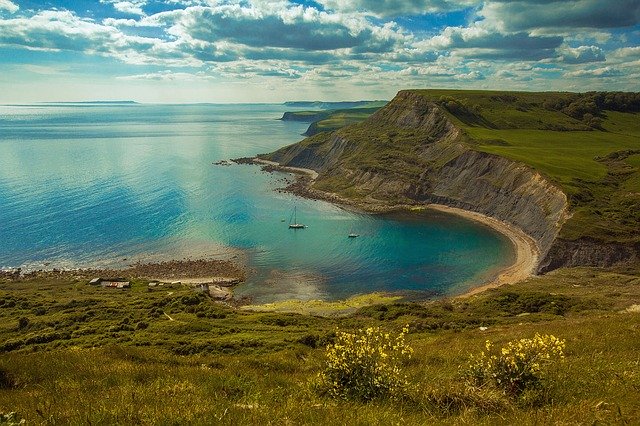 Camping adventures in the UK don't get much better than down in Dorset!
Home to the Jurassic Coast, some of southern England's most dramatic hiking, sandy beaches and incredible rock formations, no list of the best beach campsites in the UK could miss out a spot in this county.
And top of my Dorset camping list is Burnbake Campsite.
Surrounded by dramatic coastline and blue flag beaches, this woodland nestled spot is perfect for families and friends alike.
Choose from lodges or bring your own tent, then kick back and enjoy the wonderful natural surrounds… life doesn't get better!
#9 Housedean Farm Campsite, Brighton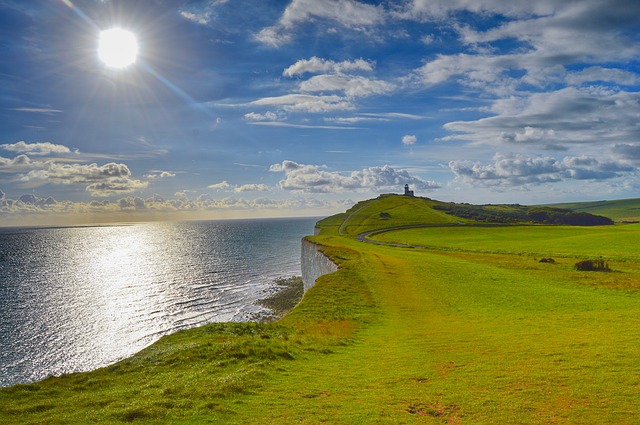 Combining the best of traditional camping fun with some modern amenities – such as wonderfully rustic yet hot outdoor showers – Housedean Farm Campsite is a treat for all looking to camp at the seaside in the UK.
Set on a working farm, it's an easy bus ride from the brilliant city of Brighton and also accessible from the superb village of Lewes, which means there is plenty around to explore.
Add into that the South Downs Walk, the Downs National Park and the views of the Seven Sisters, and this is a real treat for those looking to discover the East Sussex area of England.
Some glamping options are available too at this campsite if you're looking for a bit more comfort and reduced multi-day rates are possible.
#10 Shell Island, North Wales
Probably the most tranquil spot on this list of the best coastal tent-pitching spots in the UK, Shell Island camping in Wales truly is a remote retreat.
Set on the edge of Snowdonia National Park, this is absolutely the place to get away from it all and revel in the country's incredible natural beauty.
And it's one of the biggest campsites in the UK to boot, with almost 300 acres of land here allocated to camping.
Fall asleep to the sound of the waves and then wake early to enjoy walking, wildflower watching, birding and boating adventures aplenty.
What a dream!
#11 Hickling Campsite, Norfolk
In the heart of the Norfolk Broads, this secluded and delightful beach camping spot really is a patch of paradise.
A haven for wildlife, with stunning beaches just a short cycle ride away and local pubs scattered in the villages around, this independent and family-run winner can't be missed.
With amazingly low light pollution, star-gazing and marshmallow toasting are the name of the game in these parts, and the on-site shop sells delicious local products and freshly roasted coffee!
Glamping huts are also available at Hickling Campsite for those that want a bit more comfort and, for everyone, peace and quiet reigns!
#12 Ravenglass Camping, Lake District
The Lake District isn't often associated with coastal camping, but that's just where Ravenglass up in Cumbria proves us all wrong!
At the edge of this mighty UNESCO-listed area, near a Roman fishing village, this modern campsite has everything you could need for a magical adventure in the north of the UK – it's one of my top spots in Western Europe.
Just 500m from the ocean, and set in 6 acres of pristine woodland, this is a walkers' paradise.
You can easily visit the Lakes' most famous towns, landscapes and bodies of waters from Ravenglass, before scampering back here for some seaside peace and quiet.
Want the best of both worlds?
Doesn't get better… or easier!
#13 Troytown Farm, Scilly Isles
If you're looking to stay in the UK, but also get some tropical vibes, then it's time to return to the island feels (you know I love them!) and this time, to the islands off the coast of Cornwall, the magnificent Scilly Isles.
This is where beach camping within Britain really comes into its own, but my fav spot has to be the Troytown Farm Camping, which lies on the east coast of St Agnes.
An Area of Outstanding Natural Beauty, the clear waters here are perfect for snorkelling, kayaking, fishing and swimming; and the beaches have beautiful white sand making them ideal for both rock-pooling or just sitting and watching the ocean.
The island is car-free, so you need to either fly here or better (for the planet and the fun) take a 3 hour ferry.
Once you arrive, the wonderful Troytown Farm can provide cottage accommodation, or there's pre-erected bell tent options as well as camping pitches too – all ideal staycation material!
#14 Cosy Camping, Suffolk
A small, independent, family-run campsite situated on a working arable farm in the Suffolk countryside, Cosy Camping is a total gem of a find.
With luxury camping pods and tent pitches, this is the best place to enjoy an amazing Suffolk sunset with the seashore just a short distance away.
Having been in the family for generations, this place is big on the personal feels and has tons of cute homely touches.
I love it!
#15 Mousehole Camping, Cornwall
And finally, the beautiful and wonderful village of Mousehole is just a stone's throw from this delightful campsite, which nestles wonderfully amongst its surroundings on the Cornwall coast.
Absolutely one of the beach best campsites in the UK, this is a family and pet-friendly treat is actually built next to a local football pitch!
With miles of coastline to explore here, as well the nearby town of Penzance, the atmosphere is top-notch and it's incredibly affordable – a real winner for budget campers looking to head to the UK's best beachy area.
PIN IT TO PINTEREST!
So there you have it, my 15 best UK beach campsites.
Have you stayed at any of these beauties?
Do you have any other best picks we should all know about?
Please let us in on the secret but leaving your recommendations in the comments box below …