The island of Jersey is the most southerly part of the British Isles.
Known for its rural heritage, delightful beaches, beautiful walking and fascinating history, the island has a fascinating mix of English and French influences, which render it quite unique.
Jersey also happens to be my "home" … well the place where I grew up and lived until I was 18 and where my family still lives today.
It's a bit smaller than Australia, that's for sure, but there is no doubt the island energy runs strong in me!
It's been really wonderful to spend some great time at home these last 2 weeks and to celebrate, I've decided to compile my list of the top 10 free things to do in Jersey.
---
Related Posts
---
This page contains affiliate links meaning Big World Small Pockets may receive a small commission on any purchases at no extra cost to you.
---
#1 Bird Watch at Jersey Wetland Centre
A new and wonderful National National Trust project, the Jersey Wetland Centre is an amazing bird hide located near St Ouen's Pond Nature Reserve.
With some great educational material, bird identification charts and free binoculars, the centre sits within a dune mound and gives you the perfect place to observe the many local bird species.
With 16 viewing windows situated at a range of different heights, adults, children and visitors with disabilities alike, are able to enjoy a unique perspective of this incredible wetland area … for free!
#2 Hit the Beach
It's rumoured that Jersey has over 30 beaches and even as a local, I'm not sure that I've been to them all!
But whatever the exact number, it's true the island has a lot of sandy stretches and beautiful bays, which are perfect for relaxing on, walking along, swimming from or eating at. This definitely makes them one of the best free things to do in Jersey.
You can check out my list of the top 5 beaches in Jersey for the full lowdown or else just head off exploring yourself and you're sure to stumble upon at least one before too long!
While the north coast of Jersey has some pretty little harbour bays, it's the west side you want to head to for a surf. Otherwise St Brelade's Bay on the south coast is a perennial favourite with lots of watersports on offer, and the Royal Bay of Grouville in the east of the island is well known for its sandy stretches.
#3 Walk to a Castle
From grand 12th century structures to crumbling headland ruins, Jersey has a heap of historic castles that are waiting to be explored … and photographed.
While you have to pay to enter many of them, walking up to and around them is totally free and to be honest, this is when they are at their most impressive.
Top picks definitely include Elizabeth Castle and Rocco Tower, which both sit out at sea and can only be accessed at low tide on foot.
Otherwise, Mont Orgueil, also known as Gorey Castle, and Grosnez are 2 of my other favourites, which you can more easily walk around.
It really is hard not to be impressed by any of these 4 ancient structures and heading out to see at least one of them is definitely one of the top free things to do in Jersey.
#4 Explore the Historic Town Squares
Jersey has a fascinating history of battles, independence and occupation, 2 of the best places to discover much of this history for free are in Liberation Square and the Royal Square, both situated in St Helier.
The Royal Square boasts the local parliament building, courthouse and has been a central meeting point of Island life for centuries. It was also the scene of the dramatic Battle of Jersey fought in 1781. Bordered by some lovely restaurants and pubs, this is a great place to feed the pigeons or relax alfresco.
Liberation Square is much newer and was created in 1995 to commemorate the 50th anniversary of the island's liberation from occupying Nazi German forces during the second world war. It features a beautiful fountain and a super statue depicting the momentous occasion of freedom, which was officially marked by the flying of the British flag from the nearby Pomme D'Or Hotel.
#5 Sample the Local Produce
With a strong farming and fishing heritage (think Jersey Royal potatoes and Jersey cows), the island is a foodie paradise.
There are lots of great restaurants where you can sample locally foraged foods and delicious seafood, but if you're on a budget I recommend sticking to the farm shops.
These small local businesses are often great places just to wander around for free and view all the locally grown and produced treats – watch out for the Genuine Jersey logo! Holme Grown, Rondels and Lucas Brothers are all excellent.
Otherwise, the Central Market and the Fish Market in St Helier are also great for getting some goodies and don't forget the honesty boxes.
These quaint roadside stands sell produce direct from the field – often the one right behind the stall – and you simply pick up your veggies and drop your money in the box!
#6 Hike the Northern Cliff Paths
The island really does have some excellent walking trails, making hiking one of the best free things to do in Jersey.
You can actually circumnavigate the whole island via walking tracks, but if you're not feeling that energetic, I'd stick to the northern cliff paths that provide the best views and trails, in my opinion.
As the path undulates between quaint little bays, you'll get sweeping coastline views all the way over to nearby France and pass beautiful flora and fauna on the way.
The stretch between Bonne Nuit and Bouley Bay is probably my favourite, although if you can, walking to Rozel is also worth it for your chance to spot red squirrels in the nearby woods.
Jersey on a Budget
Getting Here: Flying from the UK can be done cheaply through the airline EasyJet. Check out Skyscanner for some great deals. Otherwise catch the Channel Islands Ferry – Condor – from France or Guernsey.
Getting Around: Walking is free or there is a good local bus service – Liberty Bus – which has a cost-effective set of Hop-On Hop-Off passes! Sadly Uber hasn't reached Jersey yet, so you'd be better to hire a car if you're looking for some independence when it comes to transport.
Eating: Supermarkets such as Waitrose and the Coop are found on the Island, but if you want to buy local for your picnic, then look out for roadside stalls and farm shops as a more ethical option. When it comes eating out, there is a great BYO Thai restaurant at Bonne Nuit Bay or Portlet Bay Café is another good one with great pizzas and beach views.
Staying: Campsites are the cheapest accommodation option on Jersey with Rozel Camping Park and Beuvelande Camp Site both getting good reviews. Otherwise there is a hostel available within the delightful grounds of Durrell Wildlife Trust (which gets you free entry too) or self-catering lodges at Les Ormes. Another great option, especially if you're travelling as a group, is to rent out a Jersey Heritage property, like I have done at Archirondel Tower.
#7 Enjoy a National Trust Open Day
Much of Jersey's heritage has been fantastically protected and restored by the local National Trust branch, who often run free open days that allow the public access to some of the island's oldest and most unique buildings.
Check out the Jersey National Trust website for more details, and if you can time your visit to coincide with one of these great, family-friendly, free days, it's definitely worth doing so.
#8 Picnic in Howard Davis Park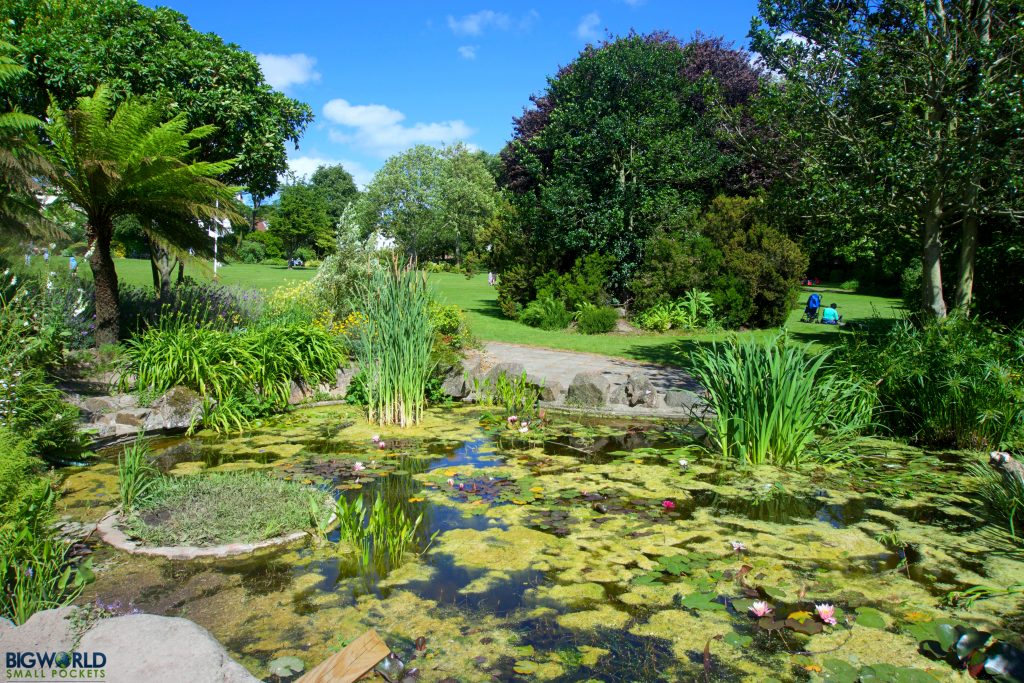 One of Jersey's most beautiful parks, Howard Davis, is situated in St Helier and is a delight to walk around or enjoy a picnic in.
With stunning rose gardens, a children's playground, a little cafe and a formal bandstand, you can also catch some free live music here during the summer months.
Definitely one of the best free things to do in Jersey, Howard Davis park is well worth a visit for that leisurely stroll or to sit on one of the many benches and take it all in.
#9 Follow a Cycle Trail
Jersey has a great network of local cycle trails that run all over the island and are easily followed via numbered routes and clear signage.
This is a great way to get off the Island's beaten track and explore some country views or peace and quiet in some rather narrow back lanes.
Many of the trails utilise the Island's Green Lane system, which are roads that give priority to cyclists and pedestrians with speed limits for vehicles of only 15 mph.
#10 Snap a Sunset at the Splash
The Splash aka The Watersplash is a best of a Jersey institution – a surf club, bar, restaurant and nightclub that sits on top of one of Jersey's best beaches.
Located in the west of the island, it's famous for its Sunday sessions, often accompanied by free music, and is the perfect place to watch a sensational Jersey sunset where a glowing sky sits above the vast and expansive views of the Atlantic Ocean.
Like It? Pin It!
Hope you've enjoyed my list of the top 10 free things to do in Jersey – a place that will always be my home!
Have you visited this tiny island?
What did you enjoy doing there?