Having been brought up in the Channel Island of Jersey, I almost know the French historic city of St Malo like the back of my hand!
Only an hour by ferry from Jersey, St Malo was the regular place for our school trips when we were young and day-drinking exploits as we got older!
However, it was only on my recent trip back home, when I got to revisit this ancient and impressive once again, that I finally saw its beauty as a stranger would.
Over one thousand years old, this amazing French outpost is steeped in history and heritage, making it both a truly unique and beautiful destination.
Lying extremely close to the UK, St Malo is the perfect gateway to France from the UK, not least because it is plied by a regular and cost-effective ferry service.
So if you're looking to head over to mainland Europe from Britain soon, let me welcome you to the city of St Malo.
---
Related Posts
---
This page contains affiliate links meaning Big World Small Pockets may receive a small commission on any purchases at no extra cost to you.
---
St Malo, France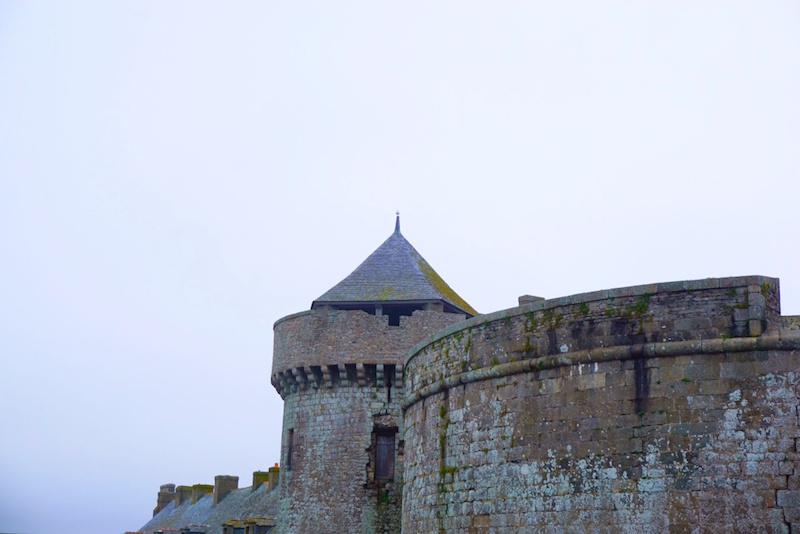 Situated in the gorgeous province of Brittany, St Malo is a port city located in the northwestern area of France.
Historically a walled city dating from the 1st Century BC, the old city of St Malo is famous for its beautiful ramparts, historic cobbled streets and excellent shellfish restaurants.
The old, walled city has now been joined by a more modern quarter, which most of the locals now live, shop and work.
It' most famous attraction, the St Malo Aquarium is also located in the new part of the city.
Because of its strategic nautical position, St Malo has a strong maritime focus even to this day.
Fishing and shipping are large industries here, along with tourism, which is complemented by the regular ferry service St Malo provides between France, the Channel Islands of Jersey and Guernsey, and England.
St Malo Ferry
It is more than likely you'll arrive by ferry if you are travelling to St Malo. In many ways, this makes the city a gateway to the UK to and from mainland Europe.
Brittany Ferries are the main company to travel with from England, namely from the city of Portsmouth. They provide both foot passenger and car services, which makes them an excellent choice if you are using St Malo as your landing point to travel deeper into France of Europe.
Bringing your car on the ferry and camping in France can be an excellent way to travel the country on a budget, giving you freedom, independence and flexibility too, so I highly recommend it.
The other St Malo Ferry company is Condor, who also provide foot passenger and car services between this part of France and the Channel Islands, as well as Poole and Weymouth in mainland UK.
St Malo to Paris
If you're travelling from St Malo to Paris or anywhere else in France via public transport, then the city has some good connections.
Ouibus are a great budget option with daily coach services from St Malo to Paris and other destinations. They generally operate from near the ferry terminal near the walled city, which makes them very convenient
Alternatively, the high-speed TGV has regular services to Paris via Rennes, which depart from the new town.
St Malo Weather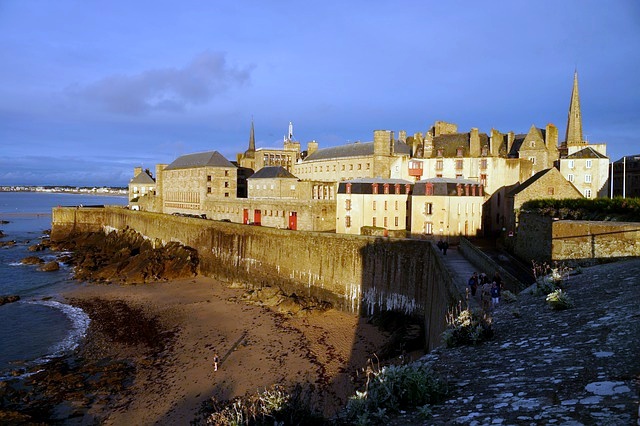 Located in the north of the country, the St Malo weather is a lot more similar to that of southern England, than southern France.
Temperatures are generally cool in the winter, but long sunny days fill the summer.
Being situated on the coast, St Malo also gets quite a lot of annual rainfall and can be windy.
The summer months of June, July and August boast the driest weather, again making this time of year the best to visit.
Sea conditions at this time are also likely to be the calmest, which is a blessing if you are travelling to St Malo by ferry!
Things to do in St Malo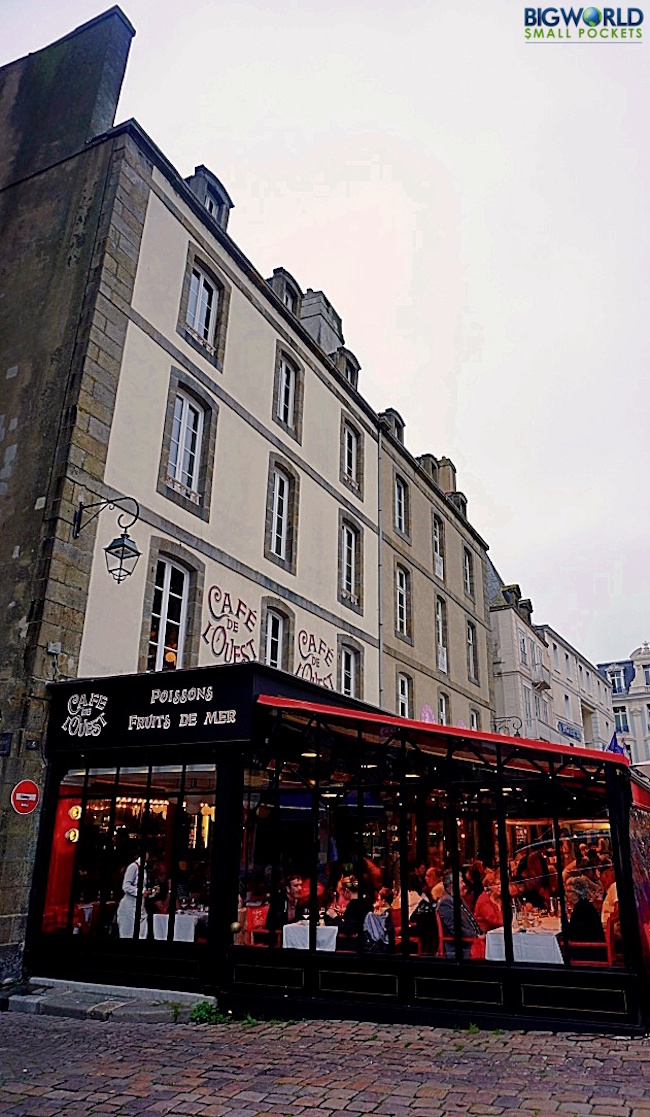 St Malo is perfect day trip material, with many people from the Channel Islands, in particular, making the short trip to France and back in a day.
Filled with lovely shops, cafes and restaurants, it's easy to sample, smell and see much of what many people love about France including croissants, coffee and crepes!
Moules frites is the lunch of choice here, and of course there's plenty of excellent wine and local cider available to wash it down with!
Otherwise strolling the ramparts and watch the huge tidal range here is a wonderful thing to do, as it walking the cobbled streets and enjoying some good petanque watching!
There's an excellent museum in St Malo too if you want to learn more about the city and its origins.
Otherwise the beautiful beaches nearby are ideal for a swim or a sunbathe on a good summer's day.
Camping St Malo
Understandably popular with many visitors arriving from the UK, St Malo has a lot of excellent campsites nearby that make the perfect accommodation choice for those travelling on a budget.
St Malo camping accommodation is specifically appealing to those that may have brought their vehicle over on the ferry too, as driving is certainly the only way to reach many of them.
That said, there are a number of hire car companies within St Malo, that you can easily use to get to your campsite if you've only travelled as a foot passenger.
http://www.saint-malo-tourisme.co.uk/stay/accommodation/campsites is an excellent resource for those looking to go camping near St Malo, so check it out for some super ideas.
Otherwise, Camping Municipal de la Cité d'Alet, Camping de la Fontaine and Domaine de la Ville Huchet are 3 of the closest campsites to St Malo, that all get good reviews.
PIN IT TO PINTEREST!
Have you visited the ancient walled city of St Malo?
If so, I'd love to hear what you get up to there in the comments box below…