Situated in the British Channel, Jersey is a tiny little island with a lot to offer.
Just 45 square miles big, the island is a haven of beautiful beaches, great country walks, fascinating history and fantastic wildlife.
Jersey's location, between the south coast of England and the north coast of France, gives it a unique character and identity, which although now largely anglicised, maintains a distinctly French flair.
Small and safe, Jersey's countryside of fields, meadows and hedgerowed lanes make it a great place to get lost, while its busy central hub of St Helier gives it a vibrancy people are often surprised to find.
As the most southerly and sunniest corner of Britain, the island makes a great place to getaway from it all, so here are my top 5 reasons to visit Jersey in the Channel Islands.
---
Related Posts
---
This page contains affiliate links meaning Big World Small Pockets may receive a small commission on any purchases at no extra cost to you.
---
#1 The Beaches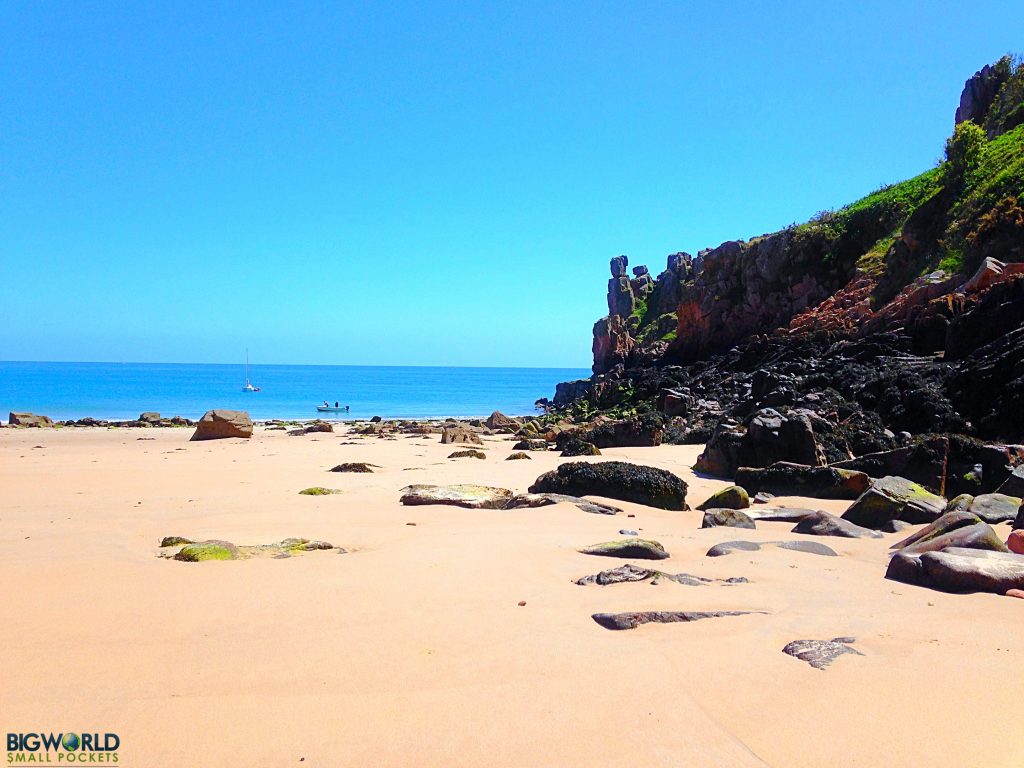 Jersey's beaches have won multiple awards and are some of the cleanest in Britain.
Swimming is safe and several of the popular spots even have lifeguards during the summer.
Water sports such as stand-up paddle boarding or surfing abound, or for the less energetic there are plenty of beachside cafes to test out!
In the summer, there's plenty of places to tan up as Jersey receives the most hours of sunshine anywhere in Britain.
My favourite thing about the beaches on Jersey is their variety (check out my list of the top 5 Jersey beaches).
Making up the large majority of the Island's coastline, there really is a beach for every occasion here as, due to the Island's topography, each one varies in size and appearance.
For long stretches of yellow sand try St Ouens or St Brelades Bay, which have sweeping views and a good range of activities that normally attract families.
For something a little quieter why not sample the small harbour beaches of Rozel or Bonne Nuit on the north coast, where you can watch the fisherman and the ebbing tide.
My favourite beaches are Beauport or Portelet Bays on the south coast, which only accessible by sets of steep steps yet blessed with wonderful views and turquoise waters.
One idea for finding the perfect beach for you is to research the wind direction and head to a beach on the opposite side of the island – this guarantees you'll be as sheltered as possible from any sea breezes!
All in all Jersey's beaches are beautiful and free, which is why it's one of my top reasons to visit Jersey.
#2 The Walks
The main walking event of the year in Jersey happens on the weekend nearest to midsummers day (21st June) where hundreds of people attempt to circumnavigate the island's 48 miles in one gruelling day.
If you're after something more sedate however, don't fear, as Jersey has all number of walks available for different ages and fitness levels.
From wood walks to heritage trails, tasting tracks and country lane ambles, there is a whole network of routes across and around the island.
And best of all?
There are plenty of clear signs and free maps available for them.
My personal favourite walks are along the north coast, where the undulating cliff paths are both a great workout for the thighs, as well as a treat for the eyes.
Glorious views of the Island's coastline await you, as well as those of France too. Heather, foxgloves and other wild flowers dot these paths and if you're lucky you might well spot dolphins and red squirrels as you make your way along.
The hardest, but most enjoyable stretch of the north coast is between Bonne Nuit and Rozel – allow a good few hours to make this trek, and then treat yourself to one of the cafes or pubs at either end.
Jersey on a Budget
Getting Here: Flying from the UK can be done cheaply through the airline EasyJet. Check out Skyscanner for some great deals. Otherwise catch the Channel Islands Ferry – Condor – from France or Guernsey.
Getting Around: Walking is free or there is a good local bus service – Liberty Bus – which has a cost-effective set of Hop-On Hop-Off passes! Sadly Uber hasn't reached Jersey yet, so you'd be better to hire a car if you're looking for some independence when it comes to transport.
Eating: Supermarkets such as Waitrose and the Coop are found on the Island, but if you want to buy local for your picnic, then look out for roadside stalls and farm shops as a more ethical option. When it comes eating out, there is a great BYO Thai restaurant at Bonne Nuit Bay or Portlet Bay Café is another good one with great pizzas and beach views.
Staying: Campsites are the cheapest accommodation option on Jersey with Rozel Camping Park and Beuvelande Camp Site both getting good reviews. Otherwise, there is a hostel available within the delightful grounds of Durrell Wildlife Trust (which gets you free entry too) or self-catering lodges at Les Ormes. Another great option, especially if you're travelling as a group, is to rent out a Jersey Heritage property.
#3 The Heritage
Awash with history, Jersey is a traditional place, proud of its unique heritage and ancestry.
Testimony to this, are 2 main island organisations that do a lot of work to preserve and maintain the Island's past.
Both the National Trust for Jersey and Jersey Heritage, work hard to make sure that historical attractions here remain accessible and attractive.
From lovingly maintaining old cottages to keeping areas of significance open to the public, from excavating sacred Neolithic stone monuments to restoring medieval castles, both organisations really do ensure there is something to interest everyone here.
Many of the attractions are set among lovely grounds and boast interactive features that children enjoy.
Or for those that like to dig a bit deeper, the Island's various museums provide a rich interpretative layer to this community's historical tapestry.
My favourite museum is the Jersey War Tunnels which, set within an underground hospital built forced labour during the Second World War, details the Nazi occupation of the Island between 1940-45. It's an era that my grandparents lived through on Jersey and is therefore an issue still very close to many Islanders' hearts.
Going further back in time, there are a number of older castles you can visit for the day, as well many free attractions including ruins and country cottages that can be explored in an afternoon.
For those looking for a bit more adventure, there are also a number of historical properties that you are able to rent as accommodation on the Island.
#4 The Food
With a rich farming and fishing industry in days gone by, Jersey is understandable fanatic about its food!
Local produce still abounds and can easily be bought from wonderful farm shops and roadside stalls that add character and colour to the Island experience.
The Genuine Jersey label denotes anything that has been locally produced and is a great way of ensuring you taste the best of what is available here, as well as support valuable local economies.
In addition, Jersey's world famous milk-producing cows still churn out a load of the white stuff that gets pasteurised in the Island dairy and drunk by the gallon in locals' tea! In its distinct tetrapak carton, you can't miss it!
A number of great restaurant's can also be found on Jersey including the Michelin starred Bohemia in St Helier, as well as Ocean Restaurant in St Brelade.
For something a bit more casual, there are plenty of beachside eateries turning out great local seafood and I really recommend Le Braye Cafe in St Brelade.
Both the fish market and the central market in Jersey's capital, St Helier, also make good foodie destinations.
And there's an increasing number of great cafes and vegan spots in the capital too.
#5 The Quaint Atmosphere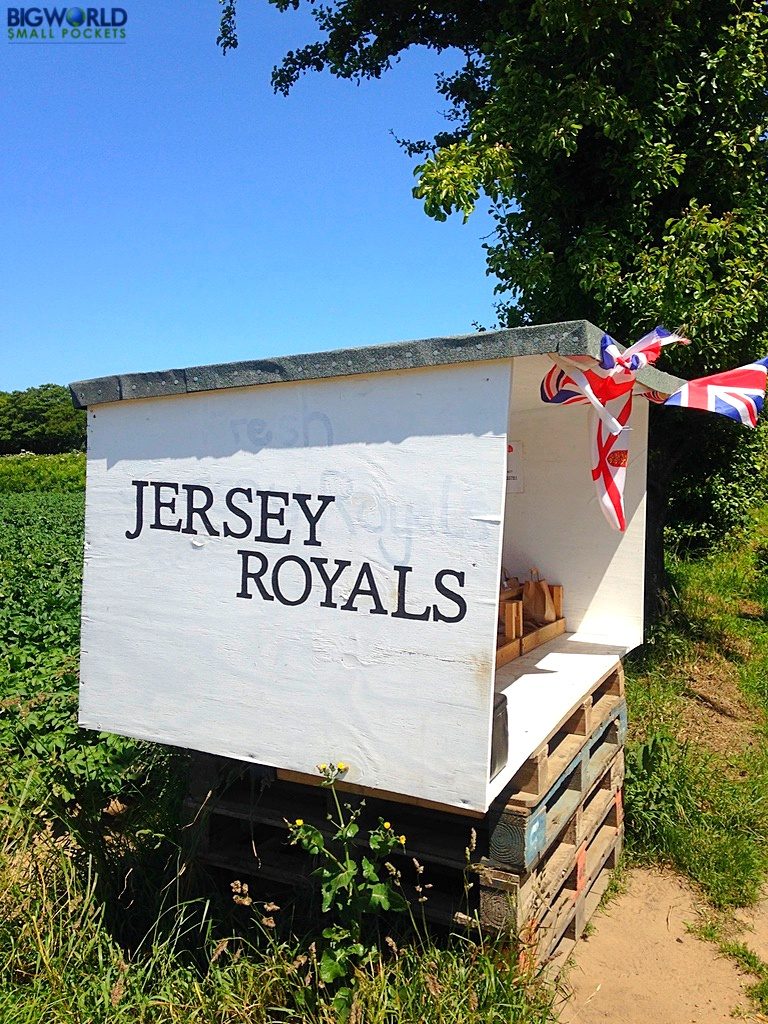 If you're looking for a British break, then I can't recommend Jersey enough.
Only an hour's flight from England (check out flight prices care of Skyscanner) you don't have to change any foreign currency to enjoy your time here, yet this small island feels like a world away.
In part this is due to its rural geography and clear French influences, but equally it's down to its safety, its size and its sense of sleepiness.
Cute cottages and oldie worldly features can be spotted across the island simply by driving some of its smaller lanes or cycling some of the country tracks.
Farming life continues in part and honesty box stands across the Island maintain a sense of a bygone era.
There are also plenty of tea cosy and doily cafes too if that's what you're looking for, but there are also organic food producers and niche coffee roasters.
Being small, Jersey is easy to navigate and with a well-mapped public bus system, as well as a number of hire car companies, you can easily explore the island at your leisure.
Saying that, down each lane or path it seems like there is something new to see and the Island certainly doesn't lack variety.
It's peaceful and relaxed here and that is certainly why it's one of my top reasons to visit Jersey.
PIN IT TO PINTEREST!
So those are my top 5 reasons to visit Jersey in the Channel Islands.
Have you been to this little place?
Let me know about your experiences!