The city of love, Paris is hard to surpass if you're wanting to visit one of the world's most iconic locations.
From the Eiffel Tower to the Arc de Triomphe, the Latin Quarter to Sacre Coeur, Paris throbs with a rich cultural and architectural heritage that remains unmatched, even by many of the other top European capitals.
What Paris isn't known for however, is its reasonable price tag!
Yes, I think it's definitely fair to say that all those world icons certainly come at a price, and that's not to mention the cost of food and accommodation too, which can quickly have your budget spinning out of control.
But fear not, on my recent trip to Paris, I was committed to discovering and seeing the best of this city on a budget and I'm delighted to report it is still possible.
So for those of us who want to marvel at this incredible world city, without it costing the earth, here's my list of the top 10 free things to do in Paris, which still show this place at its best.
---
Related Posts
---
This page contains affiliate links meaning Big World Small Pockets may receive a small commission on any purchases at no extra cost to you.
---
#1 Stroll the Jardin Luxembourg
Visiting Paris again, I was reminded just how green the city can be, with tons of beautiful gardens and parks to choose from.
My favourite however still has to be the dazzling Jardin Luxembourg, located near the Saint-Germain-Des-Pres area in the 6th arrondissement.
Strolling round here for an hour or so is the perfect way to escape the chaos of the city, or else why not relax on one of the many free wrought-iron chairs with a good book, like the locals.
We visited here on a sunny Saturday afternoon and the place was buzzing with picnicking locals and pony-riding children.
Stopping to watch some of the older generation play petanque and chess, as well as admiring the grand façade of the Palais du Luxembourg, were 2 definite highlights.
#2 Marvel at Notre-Dame
Surely one of Paris' most recognisable icons, the cathedral of Notre-Dame takes some beating when it comes exploring the city's historic side.
Snapping photos of this grand Gothic church from the square outside is a pleasure in itself, but if you've got the time, I'd certainly recommend queueing up to enter the Cathedral as well.
With some of the most intricate stained glass windows you're likely to see, its infamous peering gargoyles and a fascinating history, there's a reason the cathedral of Notre-Dame de Paris is France's most visited monument.
And when it won't cost you a cent, there's no question this fabulous building is still one the best free things to do in Paris, despite the fire that damaged it in 2019.
#3 Climb up to Sacre Coeur
Next on the list is another of Paris' great cathedrals, which is well checking out.
Situated in the Montmartre district of the city, the steps up to this towering religious edifice, which sits at the top of Paris' tallest hill, are almost as famous as the Cathedral itself.
Built in 1919 and free to enter, heading inside Sacre Coeur is a must, particularly to see the largest mosaic in France, which makes up part of the huge ceiling.
Admiring the view across Paris from outside the church's great doors is also a must, as is strolling the surrounding area including Place du Tertre and nearby South Pigalle (SoPi).
#4 Wander the Champs-Élysées
Back in the centre of Paris, wandering this city's most famous street, the Champs-Élysées, is definitely one of the best free things to do in Paris.
Even if you can't afford to buy anything, admiring the shop windows, the nearby gardens and tree-lined grandeur of the avenue, is so quintessentially Parisian, you can't miss it.
And of course, taking in the view of the Arc de Triomphe at the end, is one Paris photograph you can't miss!
#5 Crane Your Neck at the Arc de Triomphe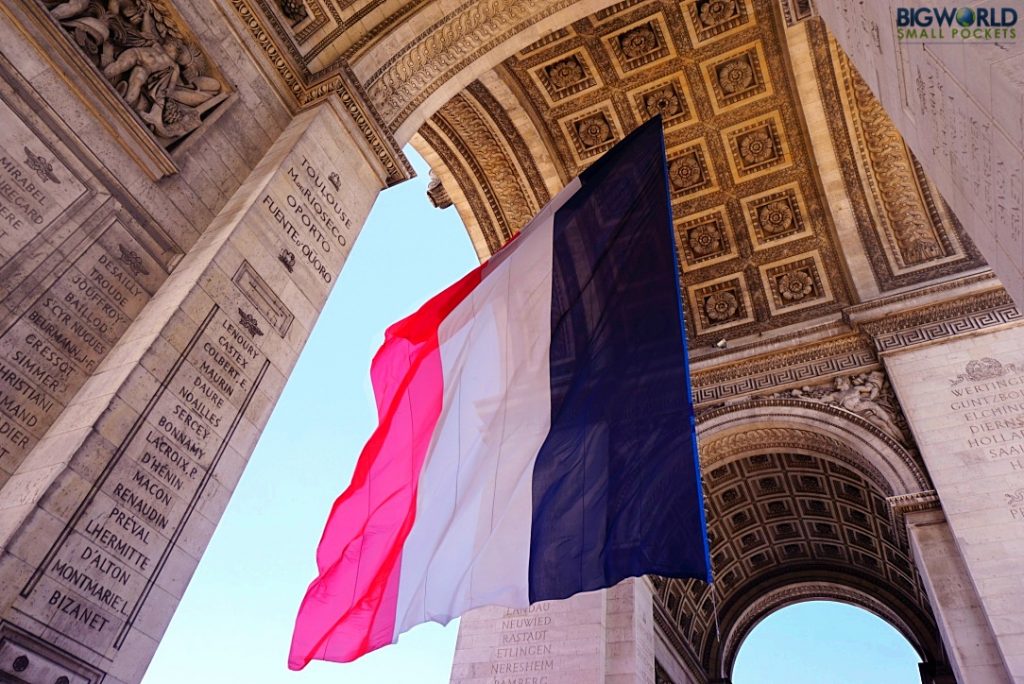 So once you've got your distance shot of the Arc de Triomphe, I highly suggest heading right up to this towering monument as one of the best free things to do in Paris.
While you do have to pay to get the view from the top of the world's tallest archway, strolling around the bottom is totally free and still allows you to appreciate the Tomb of the Unknown Soldier, as well as the intricacies of the structure and just how big it is!
Visiting at dusk or after dark is perhaps even more beautiful when the lights around the Arc de Triomphe make it feel even grander.
#6 View the Eiffel Tower at Night from the Trocadéro
And if it's things to do in Paris at night that you're after, then it's hard to look past the view of the Eiffel Tower lit up as well.
Awe-inspiring at any time of the day, it is perhaps after dark that this symbol of France really is at its most striking.
Again, going up the tower will cost you some Euros, so why not take in the best view for free by heading to the nearby Trocadéro.
Offering unparalleled views of the Eiffel Tower, this is the place to get your perfect nighttime shot, to enjoy a refreshing paddle with the locals in the Trocadéro pond or to watch ballroom dancers and acrobatic skaters practice their moves on the smooth sloped pathways of the Esplanade!
Otherwise, if you can splash a bit of cash, you can buy a ticket to ascend the Eiffel Tower.
Getting this online here, in advance, will also allow you to skip the queues.
#7 Enjoy the Free Street Entertainment
Talking of local performers, it's fair to say that no trip to Paris is complete without dedicating some time to just strolling the streets and enjoying the free entertainment.
From music on the metro to sketchers on the banks of the Seine and dancers in the Place de la Republique, almost everywhere you look in Paris, especially in the summer, locals are indulging in their favourite artistic pursuits on the street.
Overall this creates a wonderfully lively ambience and will definitely bring a certain je ne sais quoi to any budget trip to Paris.
#8 Get Lost in the Latin Quarter
And if it's strolling around Paris without a plan that you fancy doing the most, it's hard to go past the Left Bank's Latin Quarter as the best place to do it.
Famous for its University – La Sorbonne – these historic streets have long been filled with writers, philosophers, artists and students and were the stomping ground for many of France's most famous thinkers and influencers.
The cobbled streets here are ideal for getting lost and discovering hidden gems including quirky bars, tiny shops and delightful cafes.
We loved Rues Mouffetard and its tiny cobbled side streets, which felt like something out of a film set. The nearby area of Saint-Germain-Des-Pres is also delightful.
#9 Visit the Père-Lachaise Cemetery
Going to visit a cemetery might seem like a strange thing to do when you're on holiday, but the cimetière Père-Lachaise in the city's 20th arrondissement really is one of the best free things to do in Paris.
Stretching over 43 hectares, it's the city's largest resting ground, as well as its most popular and prestigious.
Green and leafy pathways rub shoulders with the tombs of some very famous people including Oscar Wilde, Marcel Proust, Jim Morrison and Edith Piaf, making for a delightful free afternoon.
#10 Picnic on the Seine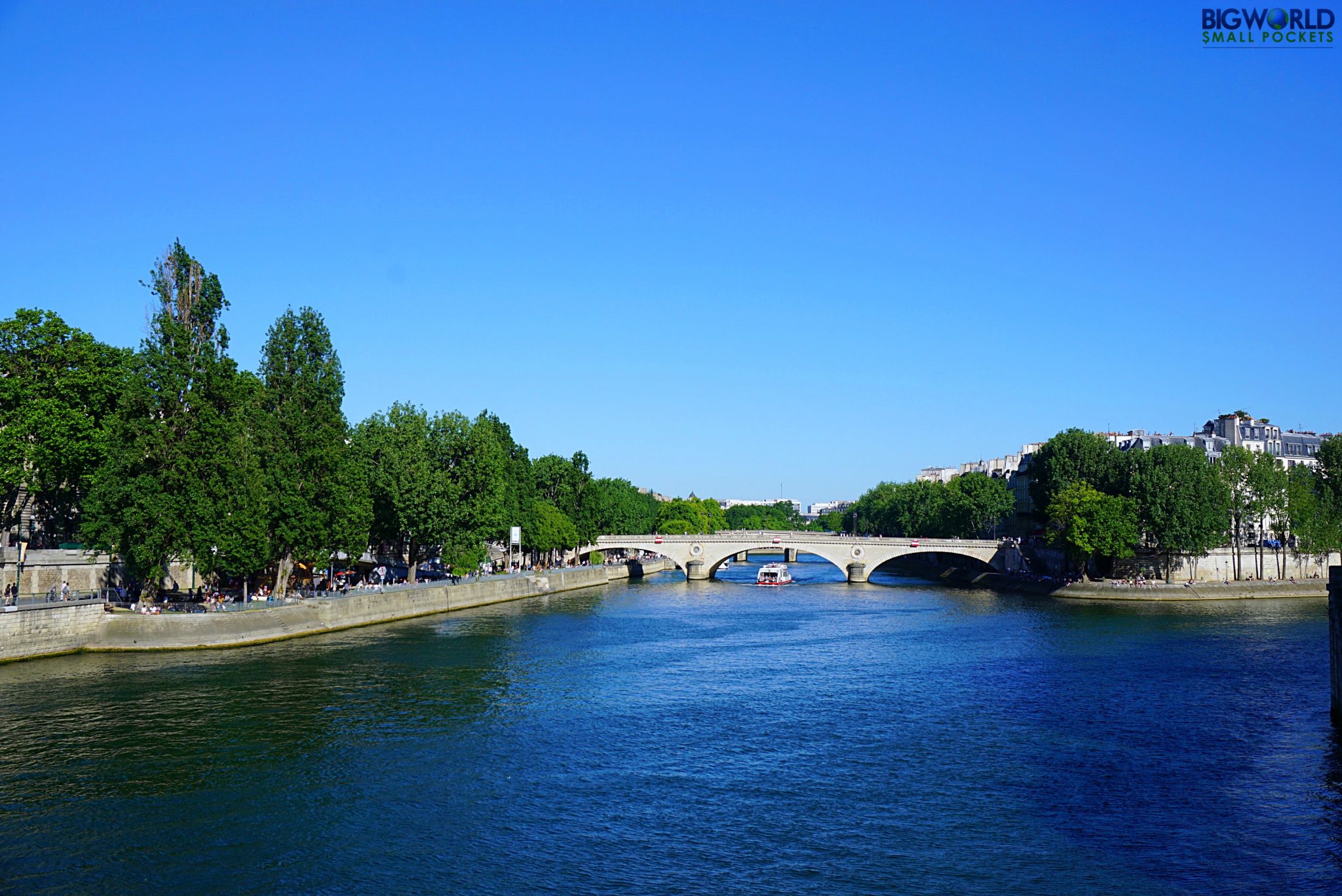 One of the best things about visiting Paris at the weekend, like we did, was the chance it gave us to see all the locals out enjoying their beautiful city in the sunshine.
And the best spot in the city?
Well it seemed to be right along the banks of the Seine at Square du Vert Galant.
Here you can sit on an island in the middle of the Seine, taking in the views of all the boats with a baguette, some cheese and a bottle of red … now it doesn't get more French than that!
To head to this brilliant free picnic place, go to the far western end of Ile de la Cite and then down the stairs from the Pont Neuf bridge.
After walking to the western tip you'll see what I mean!
Top Tips for Visiting Paris on a Budget
Getting Here: Flying to Paris can be done cheaply through budget airlines such EasyJet and Ryanair from other European destinations. Check out Skyscanner for the best deals. Alternatively, if you're coming from elsewhere in mainland Europe, look no further than Trainline. Offering the easiest way to compare journey routes and prices, their simple booking process, handy journey planning feature and live departure updates make this my one-stop shop when it comes to organising all my Europe rail adventures on a budget.
Getting Around: Walking is free in Paris of course, or there is a good local metro and bus service, which you can buy passes for.
Staying: Check out St Christopher's Inn: Gare du Nord, which is brilliantly located, with some clean, quiet rooms and free breakfast. I loved my stay there!
Travel Insurance: World Nomads offers simple and flexible travel insurance. Buy at home or while travelling and claim online from anywhere in the world.
Alternatively, if you're a long-term traveller, digital nomad or frequent remote worker seeking travel health cover, check out Safetywing's Nomad Insurance policies.
PIN IT TO PINTEREST!
So there you have it, my list of the top 10 free things to do in Paris.
Despite not costing you a cent, they still show this city at its best!
Have you enjoyed a budget trip to Paris?
What was your favourite thing to do there?