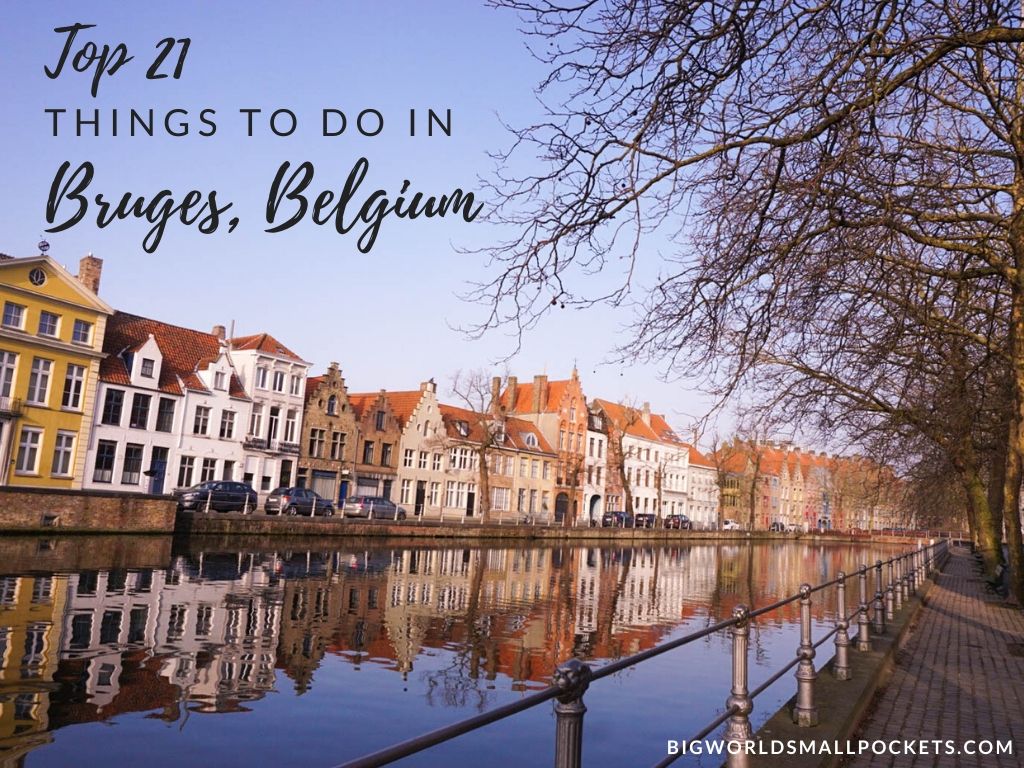 The Belgian city of Bruges is a feast of fairytale delight of twisting cobbled lanes, peaceful canals and old churches – in fact, it's one of the most classic places to visit in Western Europe.
Stone bridges cross the tiny waterways, as swans float past weeping Birch trees and the clip-clop of horse-drawn carriages pervade the vehicle-free streets.
An ancient walled Medieval town, and a UNESCO-listed site, about an hour from the capital Brussels, Bruges is perfect weekend getaway material with great European connections by ferry, plane, train and Eurostar (check out how to get there at the best rates here.)
Not known for its price-friendly status however, even a few days in this picturesque city can set you back a fair bit.
After my recent trip there however, I'm happy to report that exploring the quintessentially pretty place on a budget is more than possible and to get you started here's my list of the top 21 things to do in Bruges, including 10 that are free.
---
Related Posts
---
My canal cruise was kindly gifted by Bootex.Be, but as always, all views are my own.
This page contains affiliate links meaning Big World Small Pockets may receive a small commission on any purchases at no extra cost to you.
---
#1 Wander the Historic Streets – Free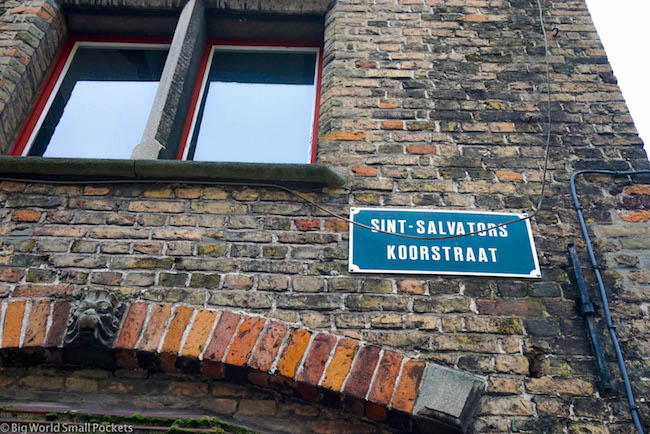 When it comes to what to do in Bruges, wandering the picturesque streets there is undoubtedly one best things to do.
Cobbled winding lanes lead you around the city and each is filled with a delightful array of independent shops, cafes and chocolate boutiques.
Backed by peaceful gliding canals, ancient stone churches and beautiful buildings, strolling the city is also easy given the tiny size of the city.
And without any vehicles speeding past, bumbling around and soaking up the city on foot is a very leisurely-paced and stress-free affair.
In fact, you really don't need to take any public transport in Bruges, with everything being in easy walking distance, wandering the beautiful streets will also help keep your travel costs down!
#2 Cycle the City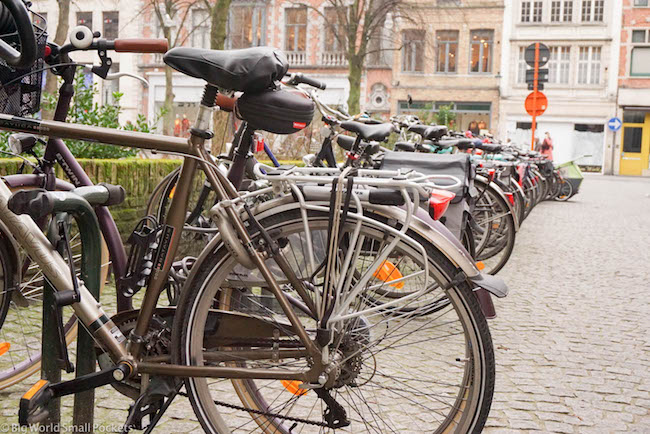 But if 2 wheels is more your thing than 2 feet, not to worry, Bruges has some wonderful cycling opportunities too thanks to its flat terrain and scenic country surrounds.
Well-paved cycle routes and clearly-numbered paths make lovely canal-side rides a joy, as well as day trips to destinations further afield such as quaint towns like Damme or the seaside.
There's several bike hire shops in Bruges itself and many offer accommodation drop-off services – perfect!
#3 Meander the Fish Market – Free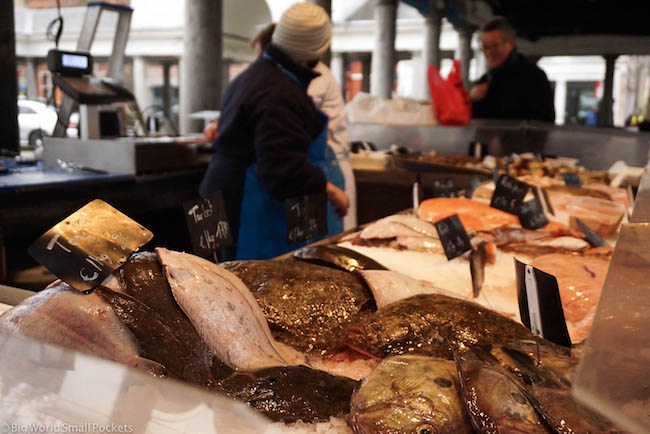 The area of Bruges known as Vismarkt is the traditional, outdoor fish market and a couple of stalls still maintain the trend.
Otherwise, local art and craft sellers make up the rest of stalls and meandering around them is definitely one of the best things to do in Bruges.
There's also some of the best canal views to be snapped from near this spot too, as watery vistas complete with gorgeous reflections expand in front of you.
#4 Eat Waffles and Chocolate
And if the sound of a foodie market has wet your appetite, then look no further than this item on the best things to do in Bruges list – eat!
Although Belgium might not be known for its haute cuisine, it does a couple of classics extremely well – most notably french fries, waffles and chocolate!
French fries with mayo are a culinary must-try in Bruges, as are hot waffles dripping with chocolate, so make sure you indulge in both at least once during your time here.
Moules aka mussels are also popular (accompanied with chips of course) and for dessert, it's got to be a bit of chocolate shopping care of the numerous shops handmaking the stuff all across town!
BEST BUDGET ACCOMMODATION IN BRUGES
A popular European destination, Bruges has a good range of hostel accommodation suitable for those of us travelling on a budget.
Top of the list is St Christopher's Hostel – Bauhaus Hostel, located in the gorgeous suburb of St-Anna.
A short walking distance from the city centre and with some better priced eating options around as a result, this is a great budget choice.
Otherwise, for something a bit more private, check out these very modern, new and central hotel rooms, which are incredibly well-priced for their boutique feel.
#5 Visit the Holy Blood Basilica – Free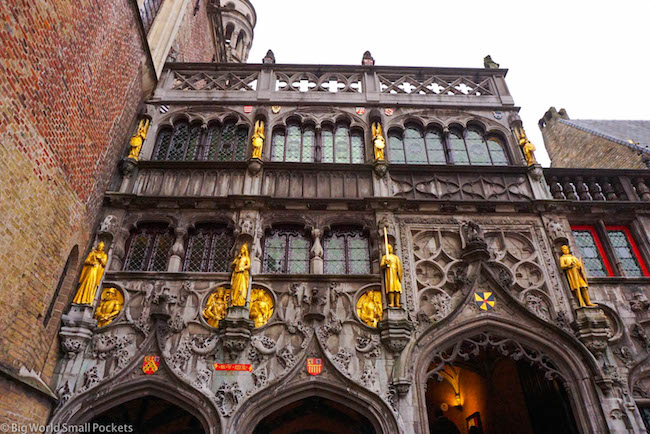 The Heilig-Bloedbasiliek is one of the most iconic Bruges religious buildings, not least because it contains a phial supposedly filled with some of Jesus' blood.
Brought out on display a couple of times a day, you can even head over to see the phial up close if you want.
Otherwise, you can just enjoy the spectacle from afar and wander around the very ornate interior cathedral for free.
This is defintiely one of the best places to visit in Bruges… and one of the most famous too, so don't miss it!
4 PACKING ESSENTIALS FOR BRUGES
#1 Bruges Lonely Planet Guidebook – Ideal for top eating recommendations, the maps in this pocket guide are definitely handy for finding your way around.
#2 Walking Footwear – No matter which way you look at it, Bruges involves a lot of walking, so be sure to take some comfortable footwear with you. I recommend these great Merrell Sirens for us ladies.
#3 Water Bottle Carrier – With all that strolling you need to keep hydrated and this device is perfect for hands-free water bottle carrying
#4 A Great Camera – Whichever way you look at it, Bruges is picturesque and you'll definitely want to capture all that glory at its best. For this, I highly recommend the Sony A6000 Mirrorless as a lightweight, compact and fantastic travel camera. Love mine!
#6 Buy Some Lace
And while we're on the subject of packing lists, it's also time to think about what you're going to take home from your Bruges trip too.
We've covered the chocolate souvenir option, but haven't yet discussed Bruges 2nd most famous export – lace!
Traditionally produced in this Belgian town using the Bobbin method, the dying art of handmaking lace can still be seen (and bought) in several places across the city and stopping to check out the mastery of this craft, mostly by amazing ageing women, is definitely one of the most authentic-feeling things to see in Bruges.
#7 Marvel at the Markt – Free
Bruges' premier square is definitely the central hub of the city and still buzzes with life, as tourists and locals alike mingle between the horse-drawn carriages, shops and street performers.
As well as a prime photo spot, with a plethora of old buildings around it, huge flags and a central statue, top of the must-see list is the Belfry – one of the top Bruges attractions.
Made famous by the movie In Bruges – which if you haven't seen, you definitely should – the view of this architectural beauty from the outside is pretty grand in itself.
Can you decide if it's leaning or not?
The answer is yes, 87 cm to the east!
#8 Climb the Bruges Belfry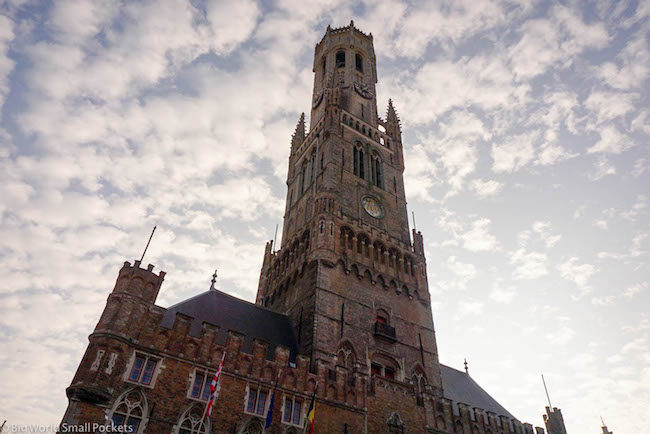 And while we're on the subject of the famous Belfry, there's no doubt one of the most iconic things to do in Bruges is to climb it!
A Medieval bell tower, last rebuilt in 1208, the Belfry is 83m tall, and houses 366 internal steps – so brace yourself if you plan to scale them!
Setting you back 12 euros, scaling them is, however, definitely worth the splurge, especially considering the grand the view from the top – a perfect overview of the city's UNESCO status.
#9 Stroll the Burg – Free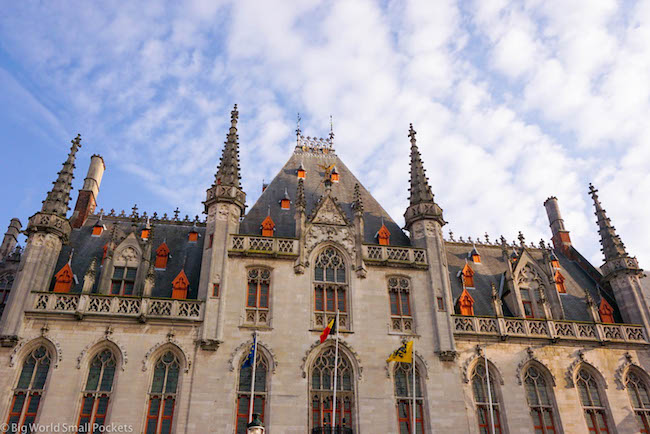 After the Markt, Bruges' second most important square is just a street away and is called the Burg.
Again take your camera here to snap the beautiful buildings that frame it, as well as the beret-ed locals relaxing on benches, walking their dogs or enjoying a waffle or 2!
When I visited the Burg there was also a free photo exhibition taking place in the Brugse Vrije, so check out this space too if you want to discover any more free things that might be happening in Bruges.
#10 Head to the Groeningemuseum
Bruges' premier museum, the Groeningemuseum, which features the city's best collection of artwork, is dominated by the creations of a group of artists known as the Flemish Primitives.
It's a small gallery but does well in showcasing Belgium's former artistic heyday.
Entrance costs 12 euros and the museum is open every day except Monday.
Learn more in the gallery's website here.
And if art is your thing, then why not consider a visit to the Arentshuis as well, entry is included in your Groeningemuseum ticket.
Largely showcasing the work of official war artist Frank Brangwyn, the collection sits in a traditional Bruges 18th century merchant house, which has been fascinatingly restored.
#11 Shop at the Wednesday Market – Free
And while we're talking about Bruges' central squares, it's worth pointing out that every Wednesday there's a central market that happens here too.
Situated in the Markt, wandering the plentiful food stalls that set up weekly in the middle of this hustle and bustle is definitely one of the best free things to do in Bruges.
A real local affair, shopping outdoors from regional producers adds to the sense that you're stepping back in time when in Bruges even more.
WHEN IS THE BEST TIME TO VISIT BRUGES?
Bruges is definitely a popular summer hotspot, when crowds of tourists flood the tiny streets and accommodation is at a premium.
As such, I'd highly recommend making Bruges a spring or autumn destination, especially if you're on a budget.
I actually visited Bruges in January and although freezing cold, the log fires and cosy indoor atmosphere really did add to the magic of the city.
Plus accommodation was much cheaper and the crowds much thinner!
#12 Hop on a Canal Boat
A city of canals, Bruges is the perfect place to enjoy a short sail on these waterways – indeed it gives a whole new perspective to the place.
When it comes to what to see in Bruges, enjoying a wonderful relaxing canal cruise to take in the stunning city views from the peaceful waterways, is definitely a top pick.
While there's a few companies who offer this service, highly recommended is Bootex.Be – a well-priced (8 euros) and very centrally located company who provide multi-lingual commentary.
#13 Peer into the Church of Our Lady – Free
Onze-Lieve-Vrouwekerk is one of the oldest churches in Bruges, can you believe its construction began in 1220!
Even though it took them 200 years to complete the job, it's still a pretty impressive affair and is delightfully free to wander around.
Although the museum inside will set you back a couple of euros to enter, seeing the impressive parapet and vaulted ceiling of this huge church won't cost you a penny and is certainly worth it.
#14 Ride a Horse-Drawn Carriage
And if you're waiting to complete the "back in time" feel when in Bruges, then it doesn't get more quintessential than enjoying a horse-drawn carriage ride here.
Similar to Krakow in Poland, horse-drawn carriages seem to be some tourists' favourite way to get around!
And it must be said, there is something charmingly quaint about the clip-clop of horse hooves over the cobbled streets.
Tours normally last around 30 minutes, include commentary, and the whole carriage costs 55 euros.
#15 Stoll Around the Love Lake – Free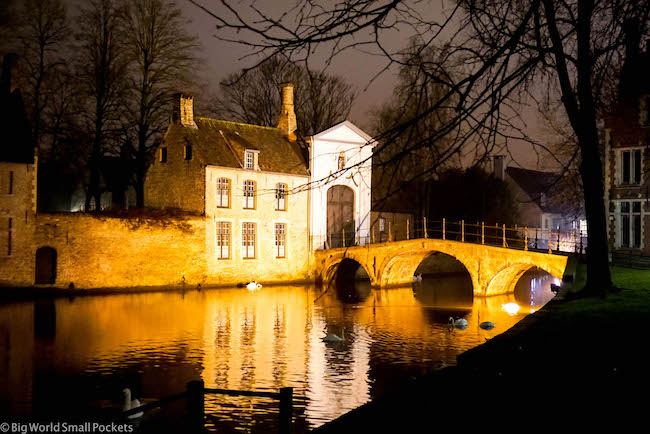 Minnewater, otherwise known as the Lake of Love, is one of the prettiest spots to see in Bruges and wandering along its banks and admiring the swans cruising along the canal is certainly magical!
This is also a great spot for photos, as weeping Birch trees sway into the water and the ancient stone bridges feel like you've stepped right into a fairytale.
At night, when this area is sensitively lit up, it's even more dazzling… and instaworthy!
HOW LONG TO SPEND IN BRUGES
Another great way to keep your costs down when visiting Bruges is to make your trip short!
Given the small size of the city, most of Bruges' sights can be seen in a day, this means 2 nights should give you plenty of time to fully explore the city.
Alternatively, make a day trip to Bruges from Brussels and get more accommodation bang for your buck there.
#16 Take a Day Trip
And talking of day trips, heading out from Bruges to one of the many surrounding attractions is certainly a great way to see more of Belgium than just one city.
History buffs, in particular, will enjoy the key World War I sites that can be found all around this area and this excellent day trip to Flanders Fields will allow you to see the iconic poppies as you ride through the picturesque countryside to discover battlefields, bunkers and the town of Ypres.
#17 Step into the Cathedral – Free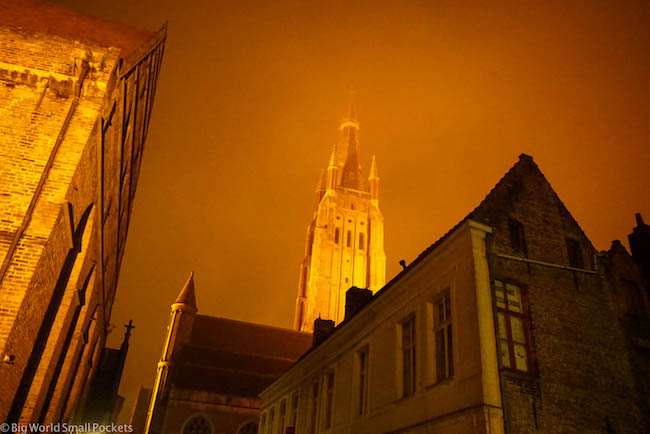 Situated along one of Bruges main shopping streets, the St-Salvators-Kathedraal costs nothing to step inside and, as such, is definitely one of the best Bruges things to do.
This huge place of worship is impressive to say the least and inside feels like a real place of repose in contrast to the busyness outside.
#18 Admire the Jeruzalemkerk Alterpiece
And if it's cathedrals you're after, then the imposing Jeruzalemkerk.
One of Bruges' oldest churches, it's only a few euros to get in here and admire (if that is the right word) the very unique altarpiece covered in skull motifs.
#19 Walk to the Windmills – Free
A little out of the centre of Bruges, in the lovely suburb of St-Anna, the city's 4 remaining windmills are a great reminder of just how close to the Dutch border you are here.
St-Anna is a very pretty suburb to explore in its own right, with gorgeous houses lining the cobbled streets as well as churches and statues on almost every corner.
Along the canal here, 2 of the windmills still operate and the café named after them, De Windmolen, is a great local place to enjoy a cheap drink!
Otherwise, just enjoy a stroll along the canal and a snap of the iconic wind-driven structures.
#20 Drink Beer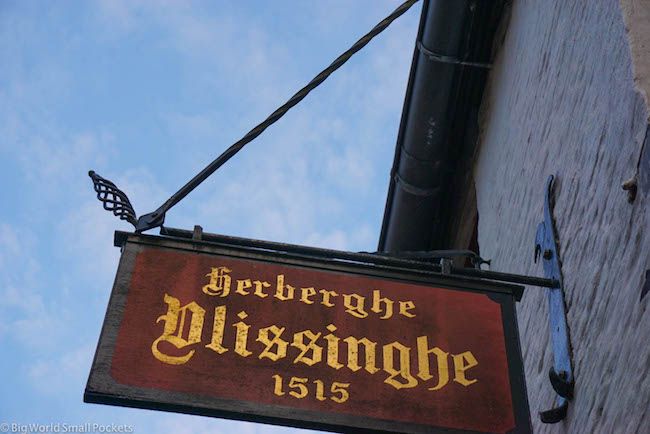 Then, as your time in Bruges comes to an end, it's off to enjoy some of Belgium's, if not the world's, top beers!
One of the most atmospheric places to sample them in Bruges is in the historic bar of Cambrinus, where the menu features hundreds of local varieties and some cheapish (for Bruges!) snacks
Alternatively, De Stoepa is another good venue, as is 't Poatersga, which boasts over 120 beers on tap!
This is one of the cheapest drinking holes around, jampacked full of students in a cellar-like bar below the street!
Or why not try a drink in Herberg Vlissingh?
Bruges' oldest pub, this place has been serving punters for over 500 years.
Alternatively, why not take a private beer tour in Bruges to learn more about the famous drink that seems to fuel this city and some top local places to enjoy it!
#21 Take a Brewery Tour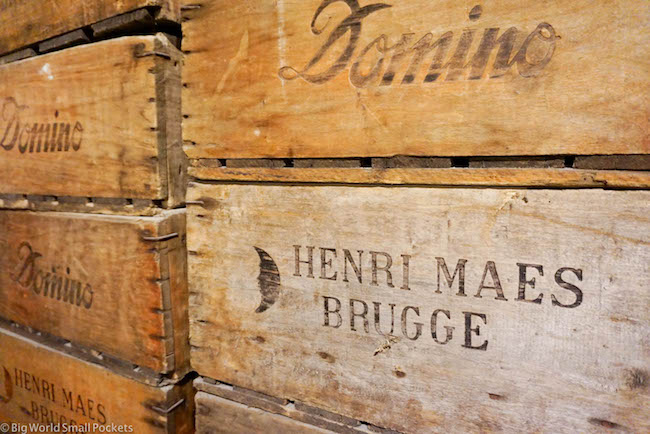 And if you want to learn even more about what you're drinking, then I highly recommend a brewery tour as one of the best things to do in Bruges.
Long-standing family brewery Halve Maan offer excellent 45-minute guided tours for just 8 euros, which includes a glass of their famous Bruges Zot beer at the end.
The tour also provides rooftop views over the city, so heading here at dusk will give you some stunning skyline snaps.
PIN IT TO PINTEREST!
So that's my list of the top 21 things to do in Bruges, including 10 that are free.
Have you visited this classic Medieval city?
What did you enjoying doing most there and do you have any great budget tips?
Please share the Bruges love in the comments box below….