The perfect UK staycation destination, the Isle of Wight might only be a short distance from the mainland UK, but it feels like a world away – making it the perfect camping getaway!
From lovely sandy stretches with classic beachside cafes, through to wild clifftop walks and miles of remote windswept nature, this island is the perfect place to kick back for a holiday if you don't want to travel too far from home.
With most of the island designated an Area of Outstanding Natural Beauty, camping is one of the best ways to experience the Isle of Wight, allowing you to soak in the magic of the outdoors and natural landscape here in the best way.
Keep reading to discover all you need to know in this handy guide.
Otherwise, if you're looking for a tour that will take you to the Isle of Wight, and organise all the logistical travel work for you, then check out this top-rated day trip from London…
---
Related Posts
---
This page contains affiliate links meaning Big World Small Pockets may receive a small commission on any purchases at no extra cost to you.
---
Why Go Camping on the Isle of Wight?
"Why not?" is probably the better question to ask at this point, because the Isle of Wight was kinda made for camping!
With tons of natural beauty – much of it protected – and only a ferry ride away from the mainland of the UK, this is the perfect holiday getaway you don't have to go too far for… or spend too much money for!
Ideal for budget travellers, camping is the cheapest way to experience a trip to the Isle of Wight and the best way to get amongst its beautiful coastal and cliff landscapes, as well as its woodlands and fields too.
With nature doing her thing in all her glory down in this sunny and southern part of the UK, there's no question taking as much advantage of it as possible is the way to go.
And, on a practical note, being able to take a car ferry to the island also means camping is easy here, as you can simply transport all the gear you need with you from home and then over on the ferry.
Where to Camp on the Island?
At 380 square km and with a population of almost 150,000 people, the Isle of Wight might not be as small as you think.
Indeed it takes around 30 minutes to drive from one side to the other, which means when it comes to camping on the island, you've really got to make a choice about where you want to be.
And with campsites all over the island, there's quite a lot of choice!
In general, the north of the island tends to be more developed with more amenities.
Situated close to the mainland, with the 3 ferry ports and larger towns here too, this might be a good option for those of you travelling as a family and who want to be closer to shops and services.
On the other hand, the southwest of the island tends to be the most remote section and is dominated by farmlands and walking trails.
If you want peace and quiet and a lot of nature, this is a good region to head for.
Otherwise, if it's beachside camping that you'd like on the Isle of Wight, it's hard to go past the southeast of the island, where the wonderful stretches of sand and cute beachy hamlets make the perfect mix between nature and the chance of getting a decent coffee!
Types of Isle of Wight Camping
The first thing to consider when camping on the Isle of Wight is what sort of camping you want to enjoy.
By this I mean you generally have the choice of the following camping options:
#1 Motorhome, Caravan or Campervan
#2 Use an onsite Tent, Cabin, Pod Shepherds Hut or Yurt
#3 Opt to Take Your Own Tent
#1 Motorhome, Caravan or Campervan
With the first option it's likely you'll be using your own motorhome or caravan, but of course the option of renting a campervan in the UK and driving it to the Isle of Wight is totally possible.
The pros of this option include the freedom to drive and explore where you like, as well as the potential to move quickly between campsites across the island if you want to get the full experience too!
You'll also save on pitching / packing up time, be assured of staying dry if it rains and have a greater level of luxury and home comfort.
The cons are the cost and the hassle of driving a large vehicle, which can be especially annoying on many of the smaller, twisting island lanes, along with the limited parking facilities here – especially for big vehicles.
#2 Onsite Tents, Cabins, Pods, Huts or Yurts
Using an onsite bell or safari tent, cabin, hut, pod or yurt is an option many campsites on the Isle of Wight provide.
I'll cover this more in the section on glamping later on in this article.
#3 Take Your Own Tent
Finally, you can opt to take your own tent to the Isle of Wight and then either use your own vehicle, bicycle or public transport to get around.
Bringing your own tent with you is certainly the cheapest way to camp here and having your own transport will give you a lot more options when it comes to where you can go and which campsites you can access.
In general (and although it's not great for the environment), I'd really recommend having your own vehicle when you explore the Isle of Wight, as the public transport can be limited, and it will make camping (and bringing everything you need) a lot easier!
When choosing your own tent, you can have a huge range of options from massive family models you can stand up in and that have multiple rooms, to tiny 1 man tents that pack down to almost nothing and are both light and easy to transport.
Choose your tent according to the number of people camping with you, how long you're planning to camp, the level of luxury you need and how your planning to transport all your gear to the island – by this I mean, will you have to carry everything, or can you sling it in the car?
The cons to taking your own tent are, of course, the level of organisation required and the hassle of transporting everything and the potential you might get wet if there's some heavy rain.
You're also likely to pick just one campsite and stay put if you have to pitch your own tent – the hassle of packing up takes up a lot of time if you plan to move around!
That is, unless you're travelling with a bike and seeing the island that way of course.
In this case, I'd advise travelling with an ultra-light featherweight tent you can easily transport along with food and water etc, to give you the ultimate freedom of really exploring this beautiful part of the UK.
Powered or Unpowered Campsites?
When it comes to either motorhome / caravan / campervan or tent camping, most campsites on the Isle of Wight will offer either powered or unpowered sites.
Certainly, if you have a campervan, caravan or motorhome that has a fridge, lights and other items that need electricity, you'll likely want to get a powered site.
Ensure you specify this at the time of booking.
Otherwise, when you have your own tent, you can choose, but an unpowered site will be cheaper and allow for a more off-grid experience!
If you need to charge your camera or phone while you are Isle of Wight camping, then bringing a portable power bank (see my packing list further down in this article) or 2 with you, will definitely prove a cheaper and easier option than a powered camping spot!
If you do go for a powered site, make sure you come armed with a mains hook up adaptor lead plug that will allow you to charge regular household devices from the 16A plug commonly found at British campsites, to the 13A sockets need to charge your household devices.
Glamping on the Isle of Wight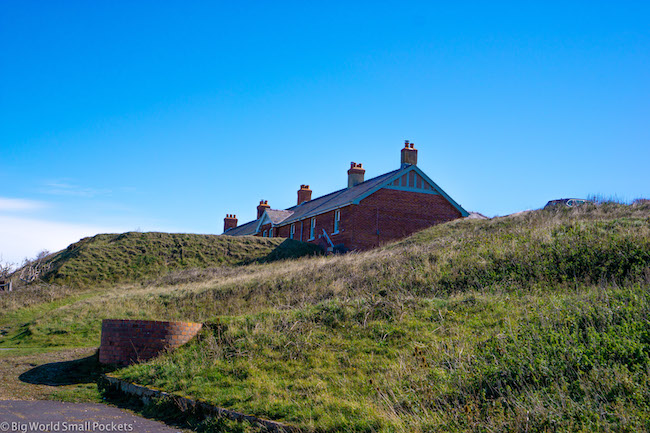 If packing everything up in the car, buying a tent and generally pitching and unpacking sounds like too much hassle, but you still want to try your hand at some Isle of Wight camping, you may consider glamping instead!
Glamping is essentially "glamorous camping" – a more boutique version of the old school outdoor accommodation option!
Normally recreating the experience in slightly more sturdy and permanent structures, such as yurts, huts, cabins or pods (as I mentioned above), this is a great way to get a feel for the outdoors and nature without sacrificing too much on comfort.
Glamping on the Isle of Wight usually involves staying on farmhouse campsites, where outbuildings or sheds have been converted into boutique and unique dwellings that retain their authentic character.
In addition, many traditional caravan parks have recently added glamping structures to their range of options as they grow in popularity.
Levels of luxury and prices vary wildly when glamping and can encompass everything from staying in large canvas safari tents to fully self-contained huts with baths and kitchen features.
Glamping stays can be booked in the same way you would normally reserve a camping place to stay.
Then all you have to do is turn up and enjoy the facilities without having to worry about getting all your camping gear organised!
If it rains or the weather isn't great, glamping can be a great option too as it is both affordable and offers some more permanent rain cover!
Many of the top camping spots I recommend on the Isle of Wight below have glamping options, so you can pick the best choices based on your budget.
Things to Consider When Planning Your IOW Camping Trip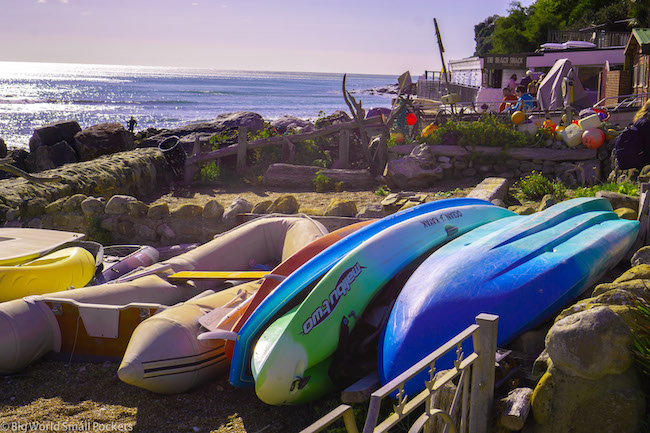 When making any decision about your camping experience in the Isle of Wight, you need to consider budget and the type of holiday you're after when it comes to choosing your location and style of camping.
Other factors you might want to consider include your campsite location, including closeness to the ferry terminals, amenities and walking trails.
And, I've already talked about factors to consider when it comes to the style of camping you want to enjoy i.e. weather issues, how "back to nature" you want the experience to be and how much gear you are prepared to bring with you.
Other factors to think about include whether you are travelling as a family, a group or a couple.
How romantic do you want the setting to be? How rural or how commercialised?
Do you want to be able to walk to the beach or do you want to drive there?
Are you happy to camp on grass with toilets far away, or do you want a swimming pool and activities close at hand?
And then, of course, there's budget – a key component to choosing any holiday!
These are all factors to consider when picking your campsite and to help you on your way, is my list of the 5 best Isle of Wight campsites.
Top 5 Isle of Wight Campsites
#1 Carpenters Farm Caravan Park and Camping
Located over in the east of the Isle of Wight, Carpenters Farm Caravan Park and Camping is perfectly located near to Ryde – especially handy if you are catching the ferry into Fishbourne.
Carpenters Farm is also a good spot if you want to enjoy the beaches of the Isle of Wight, with the coastal spots of Bembridge and Shanklin nearby too.
Perfect for birders, as it's near to St Helens Marsh – a site of special interest and RSPB reserve, this is a good campsite for those who want to combine access to services with coastal and countryside camping.
Offering sites for caravans, campervans and tents at powered and unpowered sites, there's excellent modern amenities blocks here, along with a laundry room and washing up area.
Disabled facilities, along with numerous drinking water points, also make this site a well-equipped all-rounder.
#2 Heathfield Farm Camping
Located in the more remote western side of the island, Heathfield Farm Camping is a family run spot in a gorgeous rural setting.
The campground is flat and there's spots with power, as well as premium views available to those who reserve first.
Ample shady spots are complemented by modern amenities blocks and a disability access facility, as well as a wildflower meadow and playing field for ball games.
Yarmouth ferry terminal is just a couple of miles away and this 9 acre site, with 75 pitches, is a haven for wildlife and people who really want to relax and unwind in nature with many walking trails nearby.
A laundry room, access to a bus service and the ability to bring dogs, complete the picture of this top Isle of Wight camping spot.
#3 Windmill Campersite
Set in the centre of the island, Windmill Campersite is a small and family-run campground with a unique and intimate feel for those who want a quieter experience.
Predominantly a glamping site with an incredible range of quirky spaces including shepherd's huts, cabins and even an old helicopter hanger, you are also welcome to bring your own tent or campervan and pitch up and enjoy this space too.
With picturesque views and walks aplenty here, aswell as some local shops and a pub, this is one the best Isle of Wight campsites if you want to enjoy a slice of local and off-beat island life!
#4 Appuldurcombe Gardens Holiday Park
Situated down in the south of the island, Appuldurcombe is a more commercialised and extensive holiday park that boasts some amazing facilities for those who want a bit more action at their fingertips.
From lodges to caravan sites, as well as static home spots and pitch-your-own tents, this holiday park comes complete with a heated pool, licensed café, exercise classes, mini-golf course and children's play area.
A great spot if you're travelling as a family, all the beautiful beaches of the island are nearby too, including those at Shanklin and Ventnor.
Public transport links are good to this spot as well and bathroom facilities and laundry rooms are top-notch.
#5 Compton Farm
And finally, number 5 on this list of the top Isle of Wight campsites goes to Compton Farm.
Again over in the west of the island, but with the southern sights of The Needles and the beaches within easy access, this is a working farm that hosts an array of camping options, including pitches for motorhomes, caravans and campervans, along with tents.
Grass pitches and National Trust land mean this campsite offers a lovely rural feel and the unspoilt, sandy shores of Compton Bay are just a short walking distance away.
Walks and wildflowers are present in abundance around this site and the family nature of the business adds a really personal feel.
Great for families, walkers and surfers, the farm animals onsite here add a colourful and unique feel!

Wild Camping on IOW
The other type of camping I haven't yet discussed is wild camping.
This is essentially when you just chuck your tent anywhere for the night without paying for a designated spot or site.
It pays to start off by noting that wild camping is not legal on the Isle of Wight and many farmers (whose land you may be sleeping on) might not take kindly to you trespassing on their land!
That said, if you are discreet, tidy, quiet and clean, it's likely some people may turn a blind eye or not notice.
Wild camping is not common on the island, but it is practiced so, if you do choose to take the risk, remember to pick your spot carefully and be very sensitive to animals, landowners and the countryside code.
Closing gates, if they are closed when you find them, picking up litter and keeping the noise to a minimal level are just some of the more obvious pointers!
Top Tips for Isle of Wight Camping
#1 Don't pitch your tent on a slope or near animals, especially if you want to have a good night's sleep!
#2 Do be prepared for inclement weather, even if it's not forecast… and pack accordingly!
#3 Remember to stay hydrated by drinking enough water, especially if you're hiking
#4 It goes without saying that sunscreen and a hat or cap that can protect you from the sun are crucial during the summer months here
#5 If you need to use the toilet in the wild, you should do so at least 30 meters from water sources, such as rivers and lakes and bury it well
#6 Don't climb fences or trespass onto private property
#7 Always pick up any litter and carry bags you can use for trash
#8 Most campsites offer hot water, but bringing some wet wipes in case you can't handle a cold shower is probably a good idea!
Complete Isle of Wight Camping Checklist
Tent
Ground Sheet
Camping Chairs
Camping Stove
Pans / Plates / Cutlery / Cups
Flask / Coffee Maker
Food Supplies
Washing Up Liquid / Bowl / Sponges
Activewear Clothes
Waterproof Jacket / Trousers
Cap for Sun Protection
Warm Clothes inc warm hat and socks
Clothes to Sleep In
Toiletries / First Aid
Wet Wipes / Tissues
Sunscreen & Insect Repellent
Smartphone
Camera & Spare Batteries
Top Isle of Wight Travel Tips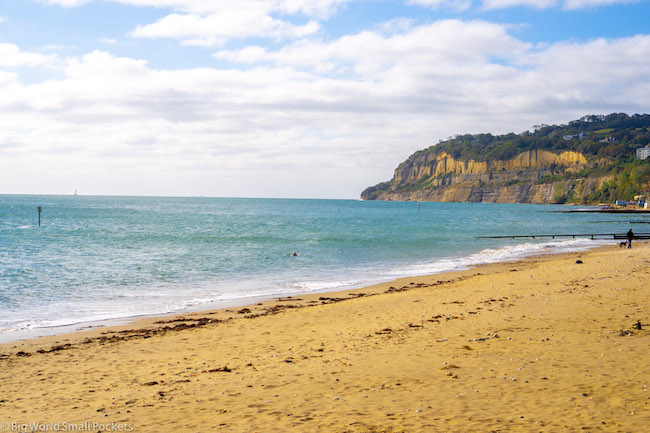 How to Get to the Isle of Wight?
Situated off the south coast of England, the Isle of Wight is accessed from the mainland UK via a short ferry ride.
There are several ferries options to choose from depending where on the mainland you are looking to travel from and whether you are bringing a vehicle with you or travelling as a foot passenger or cyclist only.
Learn more in this full guide I wrote to catching the Isle of Wight ferry.
Once on the island, there is a pretty good bus service, but given the rural nature of the island and the fact you may be bringing a lot of camping gear with you, it's probably likely that you'll opt to bring a car over to the island.
This will give you less flexibility about the ferry service you can catch, but more flexibility to explore the island.
If you don't have your own vehicle, then hiring a car from wherever you're departing in the UK is a good option, or you can get to Portsmouth via coach or train from around the country and then hire a car from there.
As always, I use Trainline to find best deal on trains and coaches and then highly recommend using Discover Cars as they offer some great deals on car rental and are very reputable.
Learn more in these top 12 tips I wrote about hiring a car in the UK on a budget.
Having a car to explore the beaches and more remote areas of the Isle of Wight is really key, especially if you're camping, because public transport here is limited, especially in the evening.
If you do want to you use public transport there are buses that service the island, which are run by a company called Southern Vectis. More information including timetables and fares can be found here.
When to Go?
There's no question the best time to go camping on the Isle of Wight is between the months of June and September when the weather is at its direst, sunniest and warmest.
Not only does this make for a more pleasant camping experience, but the better weather at this time of year will also allow you to enjoy more of the island's beautiful landscapes too – whether that's walking, hitting the beach or just staring out your tent door!
That said, this being England it can rain at any time of the year, even in the height of summer, so it pays to come prepared!
Although it's worth mentioning, I visited the Isle of Wight at the end of September and experienced idyllic weather that saw me hiking under brilliant blue skies every day and sunbathing on the beach, so you just can't call it!
The only time I would avoid visiting the Isle of Wight is during the main festival weekends here, when the place will be overrun with visitors and the prices of ferries and campsites will skyrocket.
The main festival on the island runs annually during the summer months and usually takes place in September, so if you're not heading over for this, then I would avoid that time!
Isle of Wight Services and Supplies
Despite being situated a ferry ride away from the mainland, the Isle of Wight is well-connected and although there aren't any major cities here, there are a number of good-sized towns – with the larger ones having many of the supplies you'll need.
As such, services and supplies aren't that limited and you can easily fuel up your vehicle, buy basic hardware or visit the supermarket!
In general however, I'd still advise buying everything you'll need for your trip in advance – it will just save time when you are here and allow you to enjoy your holiday more.
And that's also because the bigger towns on the Isle of Wight might be a significant drive away from where you are camping, but also because in this more rural part of the country, the choice of products may be more limited than you are used to and the price will be greater.
If you do forget anything, the towns of Cowes, Ryde and Yarmouth are the main spots to head for if you need food, fuel or camping bits.
Your best option is to stop there as part of your itinerary to avoid driving miles out of your way if you do realise you need something!
Travel Insurance
World Nomads offers simple and flexible travel insurance. Buy at home or while travelling and claim online from anywhere in the world.
Alternatively, if you're a long-term traveller, digital nomad or frequent remote worker seeking travel health cover, check out Safetywing's Nomad Insurance policies.
PIN IT TO PINTEREST!
And there you have it, my complete guide to camping on the wonderful Isle of Wight, along with my list of the top 5 campsites there.
Have you visited this wonderful part of the UK?
Have any tips or recommendations to share?
Please drop them into the comments box below and help spread the news among some fellow travellers…