Two of central Vietnam's most worthy destinations, Hoi An and Hue are absolute musts on your travel itinerary in this country… and the great thing is that they are super close together!
This means that even with a short timeframe you should be able to visit not only the charming old city of Hoi An, but also the former Imperial capital of Hue during your time here.
Both spots are UNESCO-listed World Heritage sites too, so here's the full lowdown on how to travel from Hoi An to Hue.. or visa versa!
Having independently travelled in Vietnam myself, I've made this exact journey and can bring you not only the facts about how to navigate this adventure, but also my personal opinion and experience too.
So let's dive in…
---
Related Posts
---
This page contains affiliate links meaning Big World Small Pockets may receive a small commission on any purchases at no extra cost to you.
---
Distance between Hoi An and Hue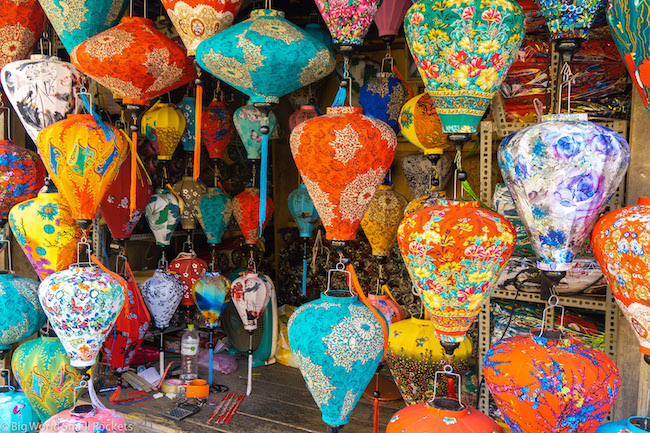 Located just 126km apart – which in a massive country like Vietnam is nothing! – it's easy to get between Hoi and Hue in a couple of hours or a day… depending on which option you take!
This makes it easy to combine both destinations into a short itinerary, maximising the amount you are able to see in this wonderful country.
Personally, I spent 2 nights in Hoi An (I wished it could have been longer, but my visa for the whole country was only 15 days!) and then just 1 night in Hue (because it's pretty small and again, I was short on time).
However, if you do have the time, I definitely recommend spending longer in both spots, as they certainly are top Vietnamese destinations to visit.
And to help you do just this, here's my full guide on how to travel between Hoi An and Hue.
The main factors that separate the different transport options on this route are time, cost and whether you want to see some attractions along the way or just go direct.
Whichever of the options you do take however, you're guaranteed to see some gorgeous landscape as you travel through central Vietnam's wonderful coastal area, so sit back and enjoy!
#1 By Bus
So the first way to travel between Hoi An and Hue is by bus.
Buses in Vietnam are private services that many locals and tourists use.
I personally travelled a lot by bus in Vietnam and always found it very safe.
Most buses in Vietnam travel long distances, so are designed as sleeper services. Even if you're not going that far with them, they'll still have sleeper seats and are usually double-levelled.
Buses travel from Hoi An to Hue as part of larger journeys through central Vietnam, but you can easily book just this short section using the great website 12Go.
This website makes booking travel across Southeast Asia really easy, with clear times and options in English plus secure payment opportunities.
The main bus companies that travel from Hoi An to Hue are The Sinh Tourist, Camel Travel and Futa bus – all their times and ticket prices can all be viewed on 12Go.
Buses in Vietnam are incredibly cheap and this route is no exception.
Buses are also a quick option on this route and will shuffle you between Hoi An and Hue in just a couple of hours.
#2 By Train
The other public transport option for getting from Hoi An to Hue is via train.
There's actually no direct train between Hoi An and Hue, but you can get from Da'Nang to Hue using rail travel and then it's just a short distance from Hoi An to Da'Nang by taxi or bus.
So, if you want to get the train from Hoi An to Hue you'll first need to catch a bus / taxi to Da'Nang from Hoi An and then from Da'Nang catch the train to Hue.
This sounds like a bit of hassle, but actually it's very straightforward.
Taxis are very easy to catch in Hoi An either using a rideshare app or booking through your hotel; and then trains and buses can be booked easily online using 12Go.
The train from Da'Nang to Hue takes around 2 and a half hours and a taxi from Hoi An to Da'Nang will obviously be quicker than the bus if you're short on time.
If it's cost you're more worried about, then the bus from Da'Nang to Hoi An is cheaper than a taxi and takes around 1 hour. Buses on this route depart from the main Hoi An bus station every 30 minutes up until the early evening.
Overall, the train is a very budget-friendly method of getting from Hoi An to Hue, but it does involve 2 different travel components, unlike the bus, which is just one travel element, so do consider this when planning your journey.
#3 By Motorbike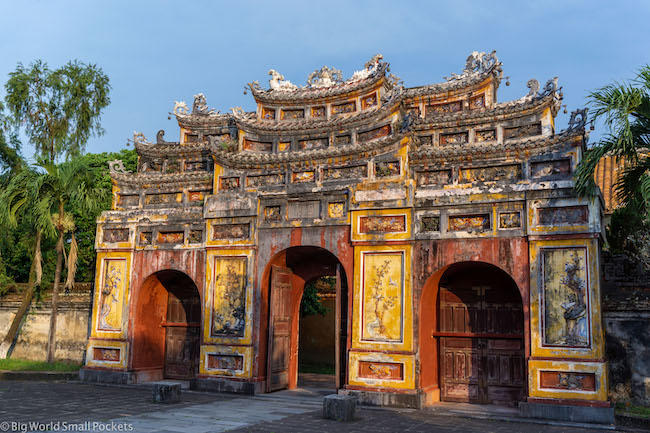 The third option for travelling from Hoi An to Hue is by motorbike.
And there's 2 options here.
Either you can rent a motorbike and drive yourself, or you can join a motorbike tour.
Motorbike tours are perfect for solo travellers who don't want to make this journey alone, or for those who are less experienced in riding motorbikes too.
In the case of the latter, you can even join tours that involve you riding the back seat of a Harley Davidson, which means you don't have to worry about driving either and can just get on with enjoying the views!
Because the best thing about choosing a motorbike option, or any of the other following options, as opposed to the public transport options above, is that you can take in some of the sights between Hoi An and Hue at the same time.
You can learn about these sights in the following transport / tour options I list in this article, as they all visit similar places, but it's worth knowing that if you want to see some of the landscape and attractions in central Vietnam, visiting them as you journey between the cities of Hoi an and Hue is a key opportunity.
The other main things to consider when thinking about travelling by motorbike from Hue to Hoi An are comfort, heat and the amount of luggage.
Motorbikes will not be the best for comfort or the heat or a lot of luggage, but they will be big on fun!
#4 By Day Tour in a Minivan
So yes, if you want to see the main sights in this area of Vietnam, then you can either take a motorbike tour (as described above) or a regular day tour (where you are transported in a minivan) – both will shuffle you from Hoi An to Hue, taking in same main sites between these 2 cities.
These sites include the beautiful Marble Mountains, which sit behind the city of Da'Nang, the famous Hai Van pass, which is a gorgeous winding road through the mountains with scenic views over the coast below, and the beautiful sandy Lang Co Beach.
Finally you'll be dropped in Hue at your accommodation.
Indeed one of the best things about a day tour between Hoi An and Hue is the door-door shuttle service you receive – bring picked up and dropped off at your respective accommodation choices.
As such, a day tour is also a great option if you have heavy bags!
A day tour in a minivan is also a good idea if you're travelling on a budget, because it's a cheaper way than both the motorbike tours and any private car options.
You will however need time, because this tour does take all day.
#5 By Car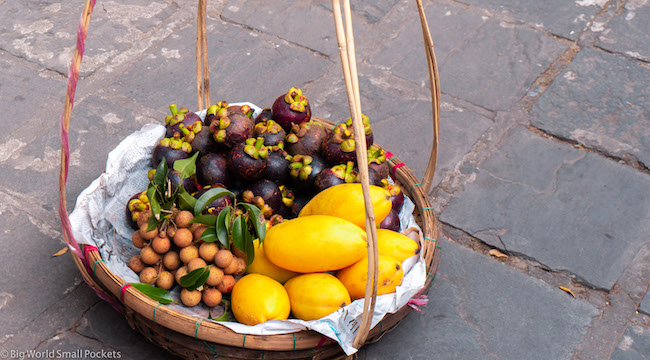 Talking of which, next up on this list of how to get from Hoi An to Hue, it's the private car option.
Again there are 2 options here – 1 rent a vehicle (although if you've seen how people drive in Vietnam, you may be a bit more hesitant of this option!), or 2, hire a private driver to shuffle you between these 2 cities.
This latter option is obviously the most expensive on this list, because it's essentially a private tour, but it does offer you a large amount of flexibility.
As well as seeing the Marble Mountains, Hai Van Pass and Lang Co Beach, if you have a private driver, you also get the chance to see the amazing My Son ruins, which are just out of Hoi An.
If you didn't visit these as part of a sunrise tour when you were in staying in Hoi An, then you shouldn't miss the chance to visit them on your way to Hue.
If you're tagging on the My Son ruins, you'll need to leave Hoi An really early to make it to Hue in a day – however you can make up the time elsewhere on the journey, because you won't have to wait for a group to finish their sightseeing and can go when you are ready.
Private tours can be arranged through your accommodation and these are a good option for those wanting privacy and extra safety.
#6 With a Multi-Day Tour
And finally, the last option on this list, you can also take a multi-day tour in Vietnam that includes destinations in central Vietnam, as well as other parts of the country.
Travel Guide to Hoi An and Hue
When to Visit?
The best time to visit Hoi An and Hue is during the cooler drier season, which in this central part of Vietnam lasts from March to August.
March through May are perhaps the optimum months.
At this time the humidity is not too bad and the water conditions are good if you want to explore the islands aswell as the coastline here.
Outside of these months, Hoi An can experience monsoons and stifling humidity… you have been warned!
What to Do There?
For more ideas about what to do in Hue and Hoi An, check out these 2 posts I wrote:
Where to Stay?
If you're a budget traveller like me, then the best place to stay in Hoi An is definitely the Love.ly Hostel.
I totally loved this homely backpackers, where the communal dinners will have you feeling like part of the family in no time.
My private room even had a little balcony, which was lovely and the prices and location of this great spot were top notch.
Book your stay at Love.ly Hostel in Hoi An here.
When it comes to Hue, the Bon Ami Guesthouse is the best place for budget travellers with its central location and lovely friendly owners.
I really enjoyed my time there.
How Long to Stay?
Hoi An is a small city you can easily explore in a day.
If you want to include some day trips in the area however – which you should! – I would allow for a stay of 3-5 nights in Hoi An.
Although trust me, you'll fall in love with this city and want to spend longer!
Hue is much smaller than Hoi An – I recommend a day here as a good amount of time to explore the city and its UNESCO attractions.
Continuing on Your Journey
From Hue you can head north to either Ninh Binh, the Phong Nha Caves, Halong Bay or Hanoi.
From Hoi An, you can head south to Dalat, Ho Chi Minh, or to Da'Nang on the coast.
5 Essential Hoi An & Hue Packing Items
#1 Lonely Planet Guidebook – The Vietnam Lonely Planet is excellent and very helpful for any trip to this country with lots of top tips and recommended places to eat.
#2 Walking Shoes – There's likely to be a lot of walking in Vietnam especially around those temples and cities! As such, I advise packing a pair of good runners, like these New Balance trainers, which were perfect for my time here.
#3 European & British Power Adapters – Vietnam has a mix of power outlets, but generally opts for a mix of the European and British ones, so make sure you come prepared with a Skross world adapter.
#4 Camera and Lens – I love my Sony A6000 mirrorless, which was ideal for capturing the colour, chaos and cuisine and charm of Vietnam.
#5 Travel Scarf – A great multi-purpose travel item that can be used to safely store valuables as well as cover your shoulders while you explore many of Vietnam's top sights, a travel scarf is a must for me!
For more information about what to wear in Vietnam and pack for this country, check out this full post I wrote about it.
Travel Insurance for Vietnam
World Nomads offers simple and flexible travel insurance. Buy at home or while travelling and claim online from anywhere in the world.
Alternatively, if you're a long-term traveller, digital nomad or frequent remote worker seeking travel health cover, check out Safetywing's Nomad Insurance policies.
PIN IT TO PINTEREST!
So that's my guide about how to travel from Hoi An to Hue.
Hopefully you've found this information useful, but any other advice you have to add, that could help a fellow traveller out, please drop it into the comments box below…