OMG, it's time to enter the fascinating country of Vietnam and its even more fascinating capital of Hanoi!
In a country that I always say is like a marmite land – you either love it or hate it (probs this will only make sense if you're British, but take my word for it!) – Hanoi is perhaps the icing on the divided cake.
Some people think it's one of the best cities going, others can't wait to get out. Yes, it's really that cut and dry!
I'm not going to tell you which side of the fence I sit on just yet – you'll have to read through this article and get to the end to see what I say about the matter! – but I will say that, no matter how you feel about Hanoi in the end, you never know before you go!
Which is why go you must!
To experience the madness and the chaos and the noise and the colours and take it all in for yourself and see how you pull up the otherside!
So here, to give you a small taster, is my list of the best 15 things to do in Hanoi.
Aiming to show you the bet of this beguiling city, they'll certainly give you plenty to get your teeth stuck into!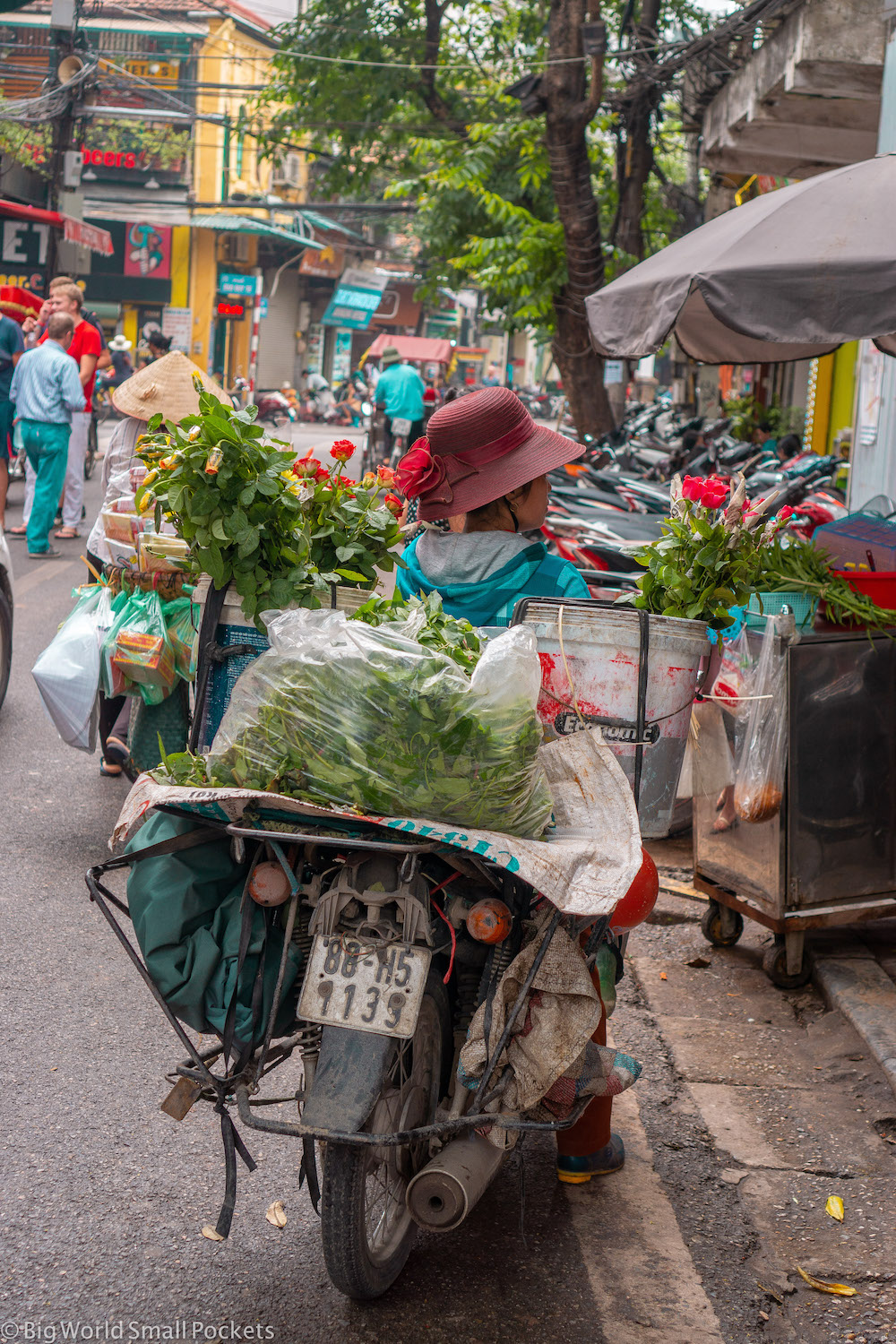 ---
Related Posts
---
This page contains affiliate links meaning Big World Small Pockets may receive a small commission on any purchases at no extra cost to you.
---
#1 Wander the Old Quarter
So first up on this list of the best things to do in Hanoi, it's wander the charming Old Quarter of the capital.
Both the commercial and tourist hub of this city and also the oldest part (clue is in the name guys!), it's great to find the centre of this city is both filled with heritage and genuine daily life.
Just wandering the streets here, getting lost amongst all the stalls, nearly run over by hundreds of scooters and trying all the food in sight is, par of the course!
When it comes to what to do in Hanoi, there's no question this should be number one on your list as, dating back over a thousand years and featuring over 76 streets, it's a great way to spend your first morning and get acquainted with the capital.
#2 Snap St Joseph's Cathedral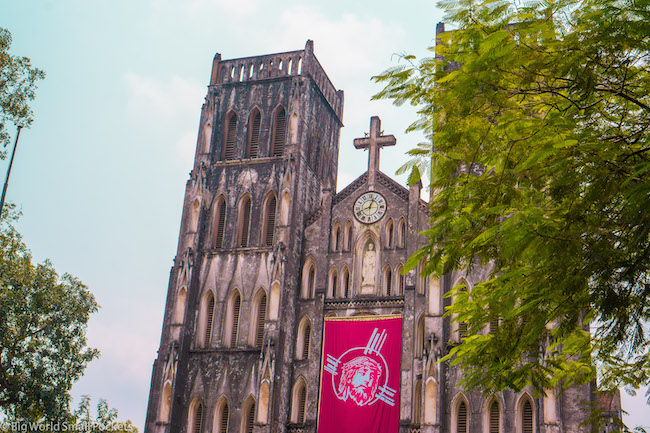 One of the flagship buildings in Hanoi (a city inwhich many residents are Christians), St Joseph's Cathedral is definitely worth wandering by to snap from the outside and then dive inside and explore more.
With a lovely little square out the front, the Cathedral is a great place for people-watching, and there's also a ton of delicious local cheap eating spots around here and the nearby hospital too – lunch anyone?!
Dating back to 1886, the Cathedral is the oldest in Hanoi was built in the Gothic Revival style.
Once of the first religious building built by French colonisers, the best time to visit this spot is probably Sunday evening, when the 6pm mass attracts large crowds that spill out onto the street.
#3 Stroll Hoan Kiem Lake & Ngoc Son Temple
If you're after a bit of a nature fix (which can definitely be an urge you get in the bustling and heavily urbanised landscape of Hanoi), then it's good to know this city is home to a couple of good lakes.
And coming in at number 3 on this list of what to do in Hanoi, is strolling your way around Hoan Kiem Lake and then across to the Ngoc Son Temple that sits on an island in the middle.
Very close to the Old Quarter, it's easy to walk here if you're staying somewhere central and then its's time to enjoy more of the street food and people watching opps Hanoi is so fmaous for!
#4 Head to the Dong Xuan Market
And just at the other edge of the Old Quarter in Hanoi is the Dong Xuan Market – a sprawling indoor array of shops and stalls of every kind imaginable.
If you've been to a southeast Asian market before, you'll know what I'm talking about and safe to say, this one lives up to the hype!
As such, this is a great place to come shopping if that's on your list of things to do in Hanoi, as many products here are offered at great wholesale rates!
Otherwise, the streets of the Old Quarter also bustles with sellers, offering just about anything you could want too, including souvenirs, street snacks and some great Vietnamese hats!
#5 Pay Homage at the Ho Chi Minh Mausoleum
And heading west from the Dong Xuan market, you'll then come to the Ho Chi Minh Mausoleum, which was integrated in 1975.
Also outside of the Old Quarter, this is nevertheless definitely a place you should make the journey to.
Absolutely one of the best things to do in Hanoi, there's few travellers that come to this city and don't wish to see the resting place of Vietnam's most famous leader.
A huge historic site, inspired by Lenin's Mausoleum in Russia, there's an onsite museum here too you can visit to learn more about Ho Chi Minh and his legacy.
Near to the Mausoleum, the iconic One Pillar Pagoda, the Presidential Palace and the Quan Thanh Temple are all situated, which means this makes for a great half-day excursion.
#6 Visit the West Lake and Tran Quoc Pagoda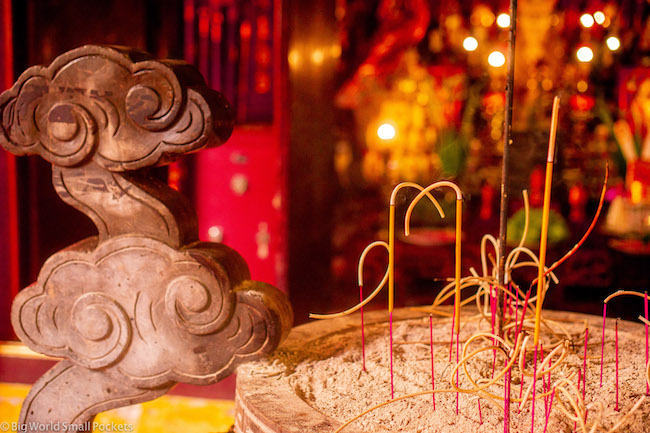 And all these attractions I just mentioned, actually sit at the edge of the huge West Lake, which is a freshwater body that sits just north of Hanoi centre.
And in the middle of this lake, sits the 6th century Tran Quoc Pagoda and ancient Buddhist Temple that you shouldn't miss either!
Definitely a must-do in Hanoi, this whole place is very peaceful and a great spot to get away from the more hectic city vibes.
#7 Enjoy a Water Puppet Show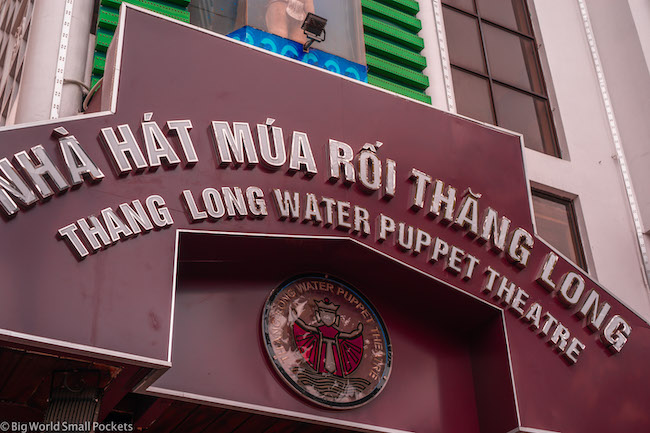 Next up, it's back to the centre of Hanoi we go, this time for one of this city's quintessential experiences – a water puppet show.
Famously performed at the Thang Long Theatre, this is a great spectacle combines a traditional form of Northern Vietnamese theatre with accompanying music and is an excellent activity for family travellers.
Most performances recount local fairytales, myths and legends, which would have been historically performed by farmers standing waist-deep in flood water with large rods to operate the puppets.
The flooding has gone, but this iconic cultural art form lives on and seeing at least one is a rite of passage when you travel anywhere in Vietnam!
#8 Try Egg Coffee
It's a Vietnamese classic and perhaps most famous in Hanoi, which makes sampling one here an absolute must do!
Yes the infamous egg coffee comes to be loved by many a Vietnamese tourist thanks to its sweet flavour, almost gooey texture and quirky concept.
Although I loved the Vietnamese coffee in general – it's helluva strong and the café culture is on point – I have to admit I was not a fan of the egg coffee… way too sweet for me!
If you do want to try it however, I can highly recommend Hidden Gem Café, which is an absolutely fabulous place to get your caffeine fix in whatever form.
The Old Town Garden Café is also a nice option, as are E-Paso Café, Loading T Café and Cong Café.
Go, order, sit and enjoy!
#9 Marvel at the Opera House
And now we move to another side of this city – that of its colonial past and what to do in Hanoi that will give you a window into this historic period.
First up is the majestic Hanoi Opera House building.
A grand structure that dates from 1911, catch a performance here if you can, otherwise just marvel at its stunning façade from the outside.
#10 Check out Some of the Museums
Another one of the top things to do in Hanoi if you're looking for a culture fix is head to one or several of this city's excellent museums… and there's quite a lot to choose from.
From the Museum of Ethnology to the Vietnamese Women's Museum, the Fine Arts Museum to the Military History Museum, take your pick from these favourites, or several others, depending on your interests.
#11 Eat at a Rooftop Restaurant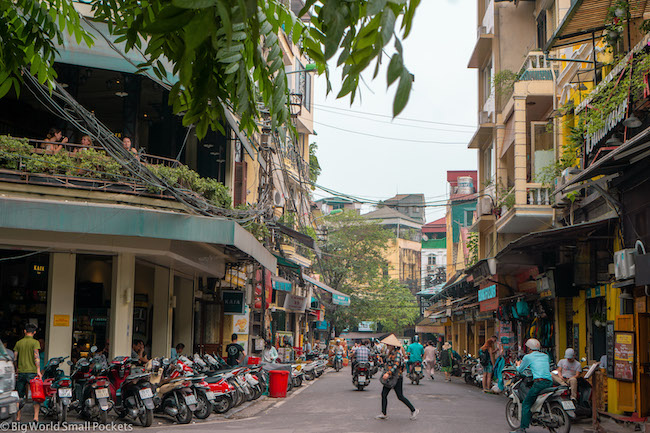 Even though we've already got through 10 of the best things to do in Hanoi, we now come to really important one – something you literally cannot come to Vietnam and not do…
…And that is eat!
And I'll let you in on a little secret, Hanoi is probably one of the best places in Vietnam to enjoy just that!
There's absolutely tons of street food options here, which we'll get on to, but honestly one of the quintessential things to do in this city is head out to a great restaurant and enjoy the rooftop views many of them have.
As a vegetarian, I am always keen to find some good veggie / vegan options when I travel and I'm delighted to say Hanoi did not disappoint!
Jalus Vegan Restaurant, Minh Chay Nha, Lantern Lounge and Hanoi Social Club were all favourites of mine.
They all vary in their authenticity and ambience, but all deliver some seriously great food!
#12 Enjoy a Food Tour
Otherwise, if you really want to keep it local on the street food vibes and, let's be honest you probably should, taking a food tour in Hanoi is an absolute must.
Whether walking, cycling or biking, there's some great options around and here's my pick of the bunch…
#1 Half-Day Hanoi Foodie Tour by Motorbike
#2 Ho Chi Minh City Food by Night: Private Motorbike Tour
#3 Hanoi Walking Street Food Tour & Cyclo
#4 Hanoi Street Food: Small-Group Walking Tour
#5 Hanoi: Guided Street Food Tour
#6 Hanoi Food on Foot: Walking Tour of Hanoi Old Quarter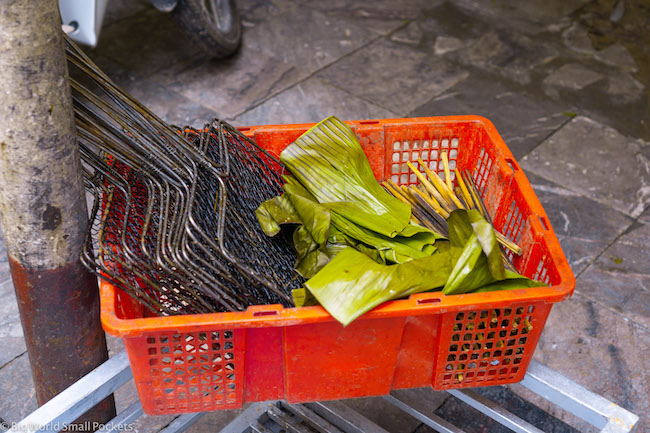 #13 Get to the Famous Train Street
It's a tourist trap, but you can't miss it.
Yes the famous train street in Hanoi, where a train literally hurtles down a narrow street inches from people's front doors, is an absolute Hanoi must do and you should certainly see this spectacle at least once.
Similar to the Maeklong Railway, just outside Bangkok in Thailand, timing your visit right (so arrive before the spectacle begins) is key to appreciating this feat of engineering!
The train passes through at the following times (see below), but I highly recommend getting here about 30 minutes before to snap some pics and stake your claim on a good viewing spot!
Mon – Fri: 7pm, 7.45pm, 8.30pm, 10pm
Sat – Sun: 6am, 9am, 11.20am, 3.20pm, 5.30pm, 6pm, 7pm, 7.45pm, 8.30pm, 9pm, 11pm
#14 Day Trip to Ninh Binh
And finally, as we near the end of this list, I couldn't help but mention a couple of excellent day trips on this list of the best things to do in Hanoi.
And kicking us off in this regard is a great day trip that will take you out of the city to one of Vietnam's most picturesque areas.
Yes, heading out on a highly-rated organised day trip to see the temples, caves and lakes of the Ninh Binh area is a Hanoi must – not least because this place is definitely one of the top places to visit in Vietnam.
#15 Day Trip to Halong Bay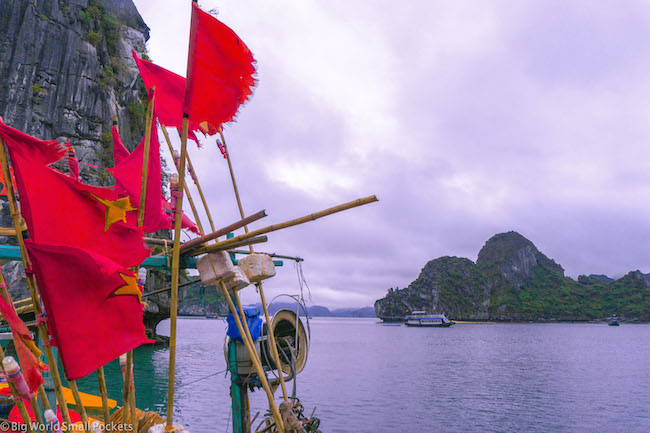 And then last but not least, if you come all the way to Hanoi, then you can't miss the opportunity to visit one of the 7 wonders of the world – Halong Bay.
A gorgeous UNESCO-listed coastal area, awash with limestone islands that juts up from the emerald waters, this spot is real bucket list entry for many people.
If you're pushed for time, then a great option is to enjoy a day trip out to see this spot from Hanoi – of course it won't give you the full experience of staying overnight and cruising, but it's better than nothing and it's certainly better for your budget!
This top rated day tour comes highly recommended, otherwise if you want to do it yourself on a budget, check out this article I wrote which gives you the full lowdown on how to experience this landscape for less!
How to Get to Hanoi?
Hanoi has one of Vietnam's main international airports, so if you're coming from overseas, flying straight into Hanoi is totally possible.
As always, I use Skyscanner to find the best flight deals.
If you're coming from elsewhere in Southeast Asia, especially a neighbouring country such as Laos, you can also use buses to get to Hanoi – which run regularly from Luang Prabang, although they do take a long time!
When I'm trying to compare and book buses across Southeast Asia, I always use 12Go, who offer secure and easy booking in English.
If you're arriving into Hanoi from Vietnam, you can also use 12Go to book your bus here too.
When to Visit Hanoi?
As I've spoken about in many of my posts about Vietnam, including this one on the 15 things to know before you travel Vietnam, this country has a vast range of temperatures and climates due to its long, narrow shape.
The change between the south of the country and the north, in particular, is quite substantial and when it's the best time to visit one end, doesn't necessarily mean it's a great time to visit the other.
In general, however, the shoulder seasons of Spring and Autumn are the best time to visit Hanoi and the north of Vietnam. These generally include the months of March and April as well as September and November.
How Long to Spend in Hanoi?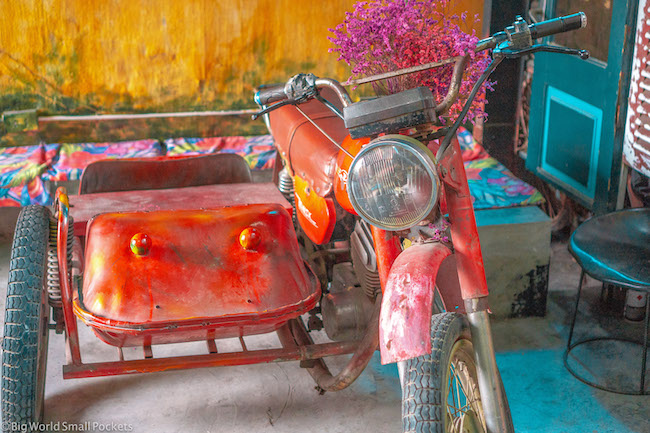 It might sound strange, but I honestly think 2 days is more than enough to see Hanoi.
This isn't really a city with huge amounts of sights, so the main thing to do here is to really absorb the ambience, wander its streets and take in the sights, sounds, smells and tastes.
As such, I really think 2 nights in this city is another to get a good flavour and, as there are so many places to explore beyond Hanoi Vietnam (and you're probably short on time), keeping it short and sweet in Hanoi makes sense!
Where to Stay in Hanoi?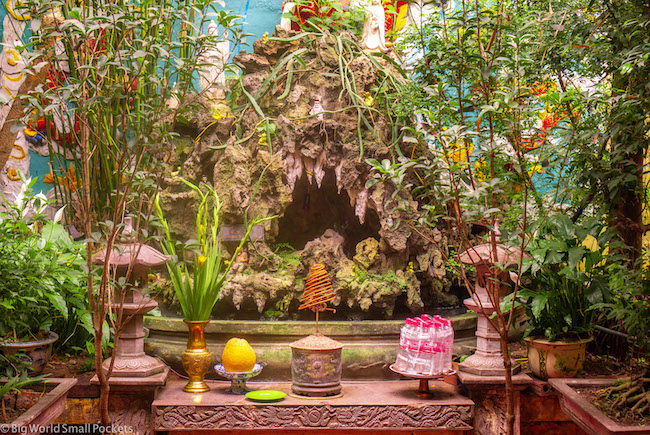 There's no question in my mind, that you really should stay in the Old Quarter in Hanoi.
This is the epicentre of the city and although it's where most tourists base themselves, it's still incredibly genuine and authentic – the best place to get amongst Hanoi in all her glory.
When it comes to budget travel accommodation, I really recommend Hanoi Culture Hostel, which has a superb location in the Old Quarter, is a lovely modern and clean hostel, which even boasts an indoor pool!
If you're looking for something more private, but still reasonably priced, then I highly suggest checking out rental properties in Hanoi.
VRBO are my go-to website for booking apartments, houses around the world, and this 3 bedroom modern property in Hanoi is perfect for families and groups who want a relaxed and comfortable stay.
Top 5 Packing Items for Vietnam
#1 Lonely Planet Guidebook – The Vietnam Lonely Planet is excellent and very helpful for any trip to this country with lots of top tips and recommended places to eat.
#2 Walking Shoes – There's likely to be a lot of walking in Vietnam, especially around those temples and cities! As such, I advise packing a pair of good runners, like these New Balance trainers, which were perfect for my time here.
#3 European & British Power Adapters – Vietnam has a mix of power outlets, but generally opts for a mix of the European and British ones, so make sure you come prepared with a Skross world adapter.
#4 Camera and Lens – I love my Sony A6000 mirrorless camera, which was ideal for capturing the colour, chaos, cuisine and charm of Vietnam.
#5 Travel Scarf – A great multi-purpose travel item that can be used to safely store valuables, as well as cover your shoulders while you explore many of Vietnam's top sights, a travel scarf is a must for me!
Travel Insurance for Vietnam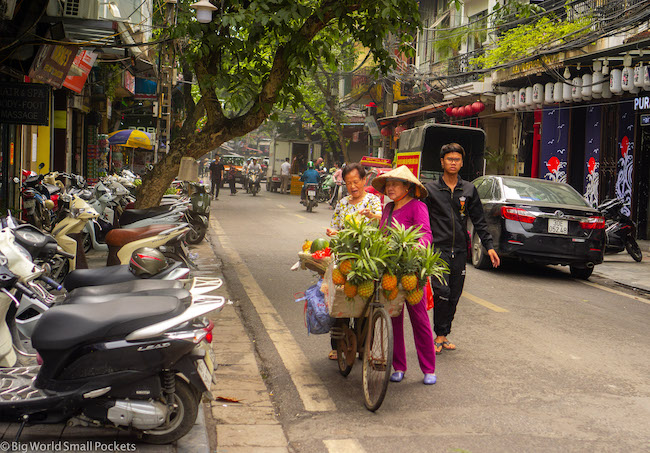 World Nomads offers simple and flexible travel insurance. Buy at home or while travelling and claim online from anywhere in the world.
Alternatively, if you're a long-term traveller, digital nomad or frequent remote worker seeking travel health cover, check out Safetywing's Nomad Insurance policies.
PIN IT TO PINTEREST!
So there you have it, my list of the 15 top things to do in Hanoi, as well as some useful travel tips for this city as well.
Are you planning to visit Hanoi, or perhaps you've already been?
If so, tell me, did you love or hate this city?
I have to say… I think I much preferred Ho Chi Minh City myself!!