One of Vietnam's most charming destinations, there's no question that Hoi An is a feast for the senses in every way.
From the iconic and UNESCO-listed Old Town with its beautiful cobbled streets and lanterns hanging in the air, through to the city's amazing culinary scene and riverside setting, not to mention the many easy day trips you can head out on from here, Hoi An is a spot I absolutely recommend getting on your Vietnam itinerary.
So, if you are thinking of heading here (and once again, you absolutely should!), here's my list of the top 13 things to do in Hoi An, as well as some travel tips to help you make the best of your time there too…
---
Related Posts
---
This page contains affiliate links meaning Big World Small Pockets may receive a small commission on any purchases at no extra cost to you.
---
#1 Wander the Old Town
Without a doubt, the best thing to do in Hoi An is to wander its marvellous Old Town.
One of the most picturesque and charming places in Vietnam, this old city feels trapped in time, but is beautifully clean and quaint, which means just wandering its wonderful historical streets is a real pleasure.
Filled with shops, cafes, markets and restaurants, the streets here are always alive with action as the many lanterns that run above the cobbles sway gently in the breeze.
If you're into photography, Hoi An is a dream come true, so ensure you take your camera with you as you get lost and soak in the magic of this historic city.
#2 Relax on a River Cruise
And once you've wandered the streets of Hoi An – which is a great afternoon activity – it's time to enjoy a river cruise.
Located on the banks of a river, Hoi An also has magical water setting and every evening, around dusk, lots of local boats line-up adorned with lanterns to take tourists out on night-time river cruises.
With the calm waterways providing a relaxing experience and a backdrop of an amazing sunset and Hoi An lighting up at night, this is a magical experience that certainly shouldn't be missed while you are here.
#3 Try Your Hand at Lantern Making
And with all this talk of wonderful mood lighting, you may have guessed by now that yes, Hoi An is the lantern capital of Vietnam!
Ok, I don't know that for sure, but I'm pretty sure it is!
As soon as you get to Hoi An you'll see what I mean, because literally hundreds and hundreds of paper lanterns light up this city.
Hanging on wires across streets, strung up in doorways, lighting restaurants and even riverside boats, the lanterns of Hoi An only add to its magical and romantic atmosphere and it's no surprise that there are many lantern shops where you can buy these beauties too.
But perhaps more fun is the fact that you can also learn to make these lanterns as well from a Hoi An local.
The perfect daytime activity, check out this top lantern-making activity to give you some inspiration.
#4 Take a Cooking Class
But if lantern making isn't your thing (and maybe eating is more!), then don't despair… there's plenty of amazing cooking classes you can take in Hoi An too.
Now we all know that Vietnamese food is some of the best in the world, so why not take your turn at learning how to make it?
The perfect setting to learn all the top culinary tips from a local, Hoi An is the perfect place to try your hand at rustling up some delicious Vietnamese fare care of a great cooking class.
Check out this top-rated option, which includes a market tour and basket boat ride!
#5 Visit An Bang Beach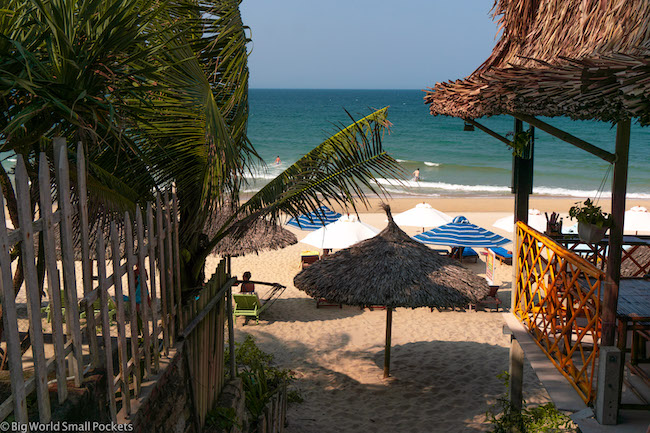 And once you've done either your crafting or your cooking class, or both if you're really keen, who can deny that it's time to kick back?!
Yes like all good holiday destination, Hoi An is also super near the coast, which is why this top Vietnamese destination really has it all.
A short bike, scooter or taxi ride away, it's easy to reach the coast in under half an hour from central Hoi An, where you can then relax on the white shores or swim in the lovely ocean.
Cafes and bars line the place too and there's always a good atmosphere.
The best beach in my opinion is An Bang – a long sandy strip you should definitely head to at least once during your time in this part of Vietnam.
Relaxing here is absolutely one of the top things to do in Hoi An!
#6 Rent a Bike
And a key way to get to An Bang beach (as I've mentioned) or around Hoi An in general, is by bike.
If you've been to Vietnam before, you'll know they love a bicycle here… and Hoi An is no exception!
Either rent one yourself and use maps.me to find your way or around, or enjoy a cycling tour – a wonderful day activity that is certainly one of the best things to experience in Hoi An.
There's bike tours that take you on food excursions, as well as to the neighbouring countryside to see more authentic Vietnamese life – either one of these will provide a top local experience in a quiet and relaxed way.
Plus, you'll get the chance to burn off some of that amazing food too!
Check out these cycling tour options in Hoi An to discover more…
#7 Eat and Drink!
Once you've enjoyed some cycling though, it's probably time to refuel… and you're in luck!
Hoi An is one of the top foodie spots in Vietnam – a country that's already a foodie heaven, so what could be better?!
The centre of Hoi An has so many amazing restaurants, cafes and bars that it's impossible to list them all here, but whether you want market street food or top-notch restaurants, this city delivers it all, with a stunning backdrop to boot!
Ask around for top recommendations, or just wander the streets and dive into any spot that looks busy and delicious!
Oh and don't forget to check out the local markets in Hoi An too – there's plenty around!
#8 Shop Till You Drop
And if it's not eating, it's shopping.
Yes it seems just about every storefront in Hoi An is either an eating joint or a shopping place, so don't hold back!
This city is actually famous for its tailors, so even if you're not into souvenirs usually, getting an incredibly made and very cost-efffective suit or dress is absolutely one of the most unique things to do in Hoi An.
#9 Watch a Water Puppet Show
But it's not just when it comes to the shopping, the eating and the drinking that Hoi An reveals itself to be a quintessential Vietnamese destination, nope, this city also showcases traditional elements of Vietnamese culture too, such as water puppet shows.
A customary performance derived from when people used to spend long hours, deep in water, farming the rice paddies, you have to catch at least one of these shows when are in Vietnam.
Hanoi is another top place to do this if you happen not to be able to fit it into your Hoi An itinerary.
#10 See Sunrise at the My Son Ruins
Ok so now this one is an absolute favourite of mine – in fact, it was one of my favourite activities in the whole of Vietnam!
Visiting the My Son ruins at sunrise is an absolute must, even if you hate getting up early!
Honestly, this trip is definitely worth the early rise as you get picked up from your accommodation and driven to these incredible ruins deep in the jungle foliage.
Entering the UNESCO-listed site, to wander the ruins in the beautiful sunrise light, as that golden glow bounces off the red brick exteriors amid a wild and wonderful setting, is like nothing else.
Plus, it gets so hot and humid out here, you'll be delighted you chose to sightsee early in the morning!
Normally a half-day trip from Hoi An, I recommend choosing the river cruise option back – it costs a fraction more, but it's a great way to get a full experience and arrive back in Hoi An at lunchtime in style!
#11 Day Trip to Da'Nang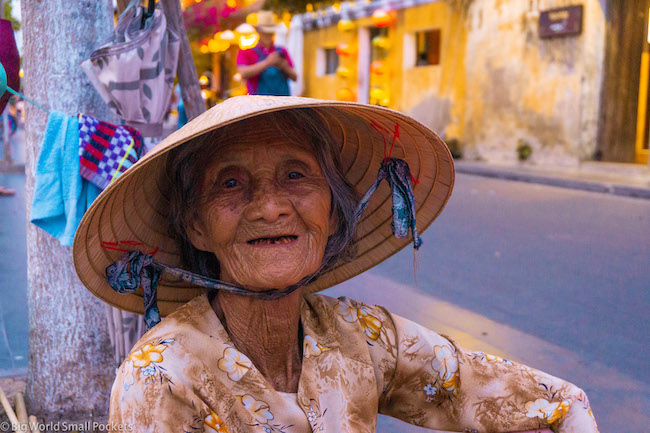 And if you're into your day trips, then another one you can't miss when you visit Hoi An is to head to the nearby and much larger city of Da'Nang.
Situated on the coast nearby, this is a much busier city, but the beach here is gorgeous and is a really popular holiday spot for locals and tourists alike.
Day trip here to relax in the sand and swim in the ocean and try to stay until dark so you can see the light, water and fire spectacle at the Dragon Bridge (the longest bridge in Vietnam) in the evening.
Just ask anyone, you can't miss it!
To find out how to travel from Hoi An to Da'Nang, click here.
#12 Visit the Beautiful Cham Islands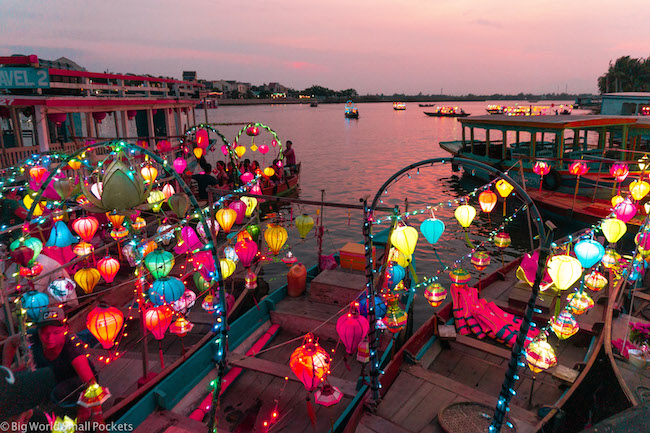 And another top day trip, and certainly one of the best things to do while you're in Hoi An, is to head to the Cham Islands.
There's actually 8 islands in this gorgeous enclave, which is part of a UNESCO-listed World Biosphere Reserve.
Here you can enjoy scuba diving and snorkelling or just explore local fishing villages and beautiful beaches.
Either way, it's pretty dreamy!
#13 Head to Hue
And last but not least on this list of the top 13 things to do in Hoi An, it's time to take yet another trip out of town, this time to the UNESCO-listed ancient imperial city of Hue.
I won't go into this destination too much now, as I've written a whole post about it here but, needless to say, this is another Vietnamese spot you can't miss on your travels here thanks mostly to its incredible Imperial City, which is the former capital of the country.
Top Hoi An Travel Tips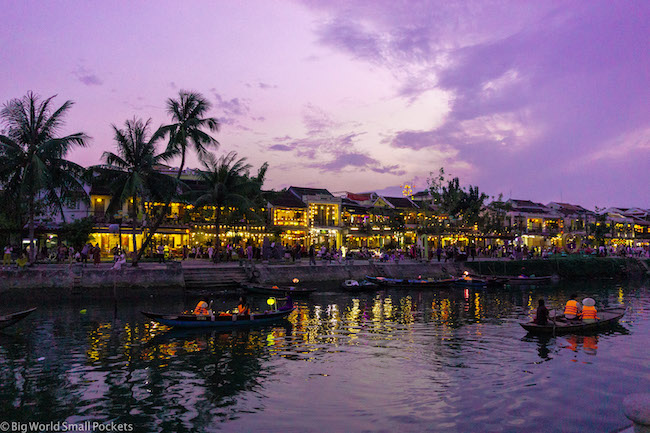 And to round up, here are my top Hoi An travel tips to help you enjoy your visit here to the max…
When to Visit Hoi An?
The best time to visit Hoi An is during the cooler drier season, which in this central part of Vietnam lasts roughly from March to August.
March through May are perhaps the optimum months because, at this time, the humidity is not too bad and the water conditions are good if you want to explore the coast and islands.
Outside of these months, Hoi An can experience monsoons and stifling humidity… you have been warned!
How Long to Visit For?
Hoi An is a small city you can easily explore in a day.
If you want to include some day trips – which you should – I would allow a time period of 3-5 nights to stay in Hoi An.
Although trust me, you'll fall in love with it and want to spend longer!
How to Get There?
The best way to travel to Hoi An from across Vietnam is by bus.
Otherwise Da'Nang has the nearest airport and train station where you can catch domestic flights and rail services too.
As always, I use Skyscanner to find the best deals on flights in Vietnam and 12Go to compare and buy my Vietnamese bus and train tickets easily in English.
For more information about getting to Hoi An from popular destinations around Vietnam, check out these other posts:
Where to Stay in Hoi An?
If you're a budget traveller like me, then the best place to stay in Hoi An is definitely the Love.ly Hostel in the heart of the historic centre.
I totally loved this homely backpackers, where the communal dinners will have you feeling like part of the family in no time.
My private room even had a little balcony, which was lovely, and the prices and location of this great spot were top notch.
Book your stay at Love.ly Hostel in Hoi An here.
5 Essential Vietnam Packing Items
#1 Lonely Planet Guidebook – The Vietnam Lonely Planet is excellent and very helpful for any trip to this country with lots of top tips and recommended places to eat.
#2 Walking Shoes – There's likely to be a lot of walking in Hoi An especially around those temples and cities! As such, I advise packing a pair of good runners, like these New Balance trainers, which were perfect for my time here.
#3 European & British Power Adapters – Vietnam uses a combination of power outlets, but generally opts for a mix of the European and British ones, so make sure you come prepared with a Skross world adapter to cover all bases.
#4 Camera and Lens – I love my Sony A6000 mirrorless, which was ideal for capturing the colour, chaos and cuisine and charm of Vietnam. I also loved having my GoPro with me to capture all the action!
#5 Travel Scarf – A great multi-purpose travel item that can be used to safely store valuables, as well as cover your shoulders while you explore many of Vietnam's temples, a travel scarf is a must for me!
For more information about what to wear in Vietnam and pack for your trip to this country, check out this full post I wrote about just that!
Travel Insurance for Vietnam
World Nomads offers simple and flexible travel insurance. Buy at home or while travelling and claim online from anywhere in the world.
Alternatively, if you're a long-term traveller, digital nomad or frequent remote worker seeking travel health cover, check out Safetywing's Nomad Insurance policies.
Recommended Vietnam Tours
If you're not totally comfortable with travelling this country independently, then a small group or guided tour is a great option that will have you seeing the best of Vietnam safely, securely and easily.
Check out these top picks for some super ideas and prices.
PIN IT TO PINTEREST!
And there you have it my Vietnamese travellers to be… the 13 best things to do in Hoi An!
Hope you found this post useful and that you fall in love with this city just as much as I did.
Do you have any more questions about Hoi An?
Or any tips about travelling there you can share with others?
Then please drop them into the comments box below…