In my humble option, you simply can't go wrong with a good slice of Dorset, in particular these fantastic days out.
Down in the south of the UK, with some of the most beautiful beaches going and some of the most wonderful walking along dramatic clifftops, if you're looking for some quintessential English charm, Dorset is hard to top.
It's also much closer to London (and easier to access from many cities in the north of the country too) compared to Devon and Cornwall, which means if you're looking for a straightforward seaside sojourn, Dorset is a real winner.
And to celebrate the best of this beautiful county – especially if you're already down here and looking for some holiday inspiration – here's my list of the 7 best Dorset days out.
Aiming to bring together many of the region's highlights in handy day trip formats, this list also aims to take in the diversity of the county – from history and heritage through to hiking, fossil hunting, beachy spots and cute-as-can-be villages.
Have a read and let me know which is your favourite…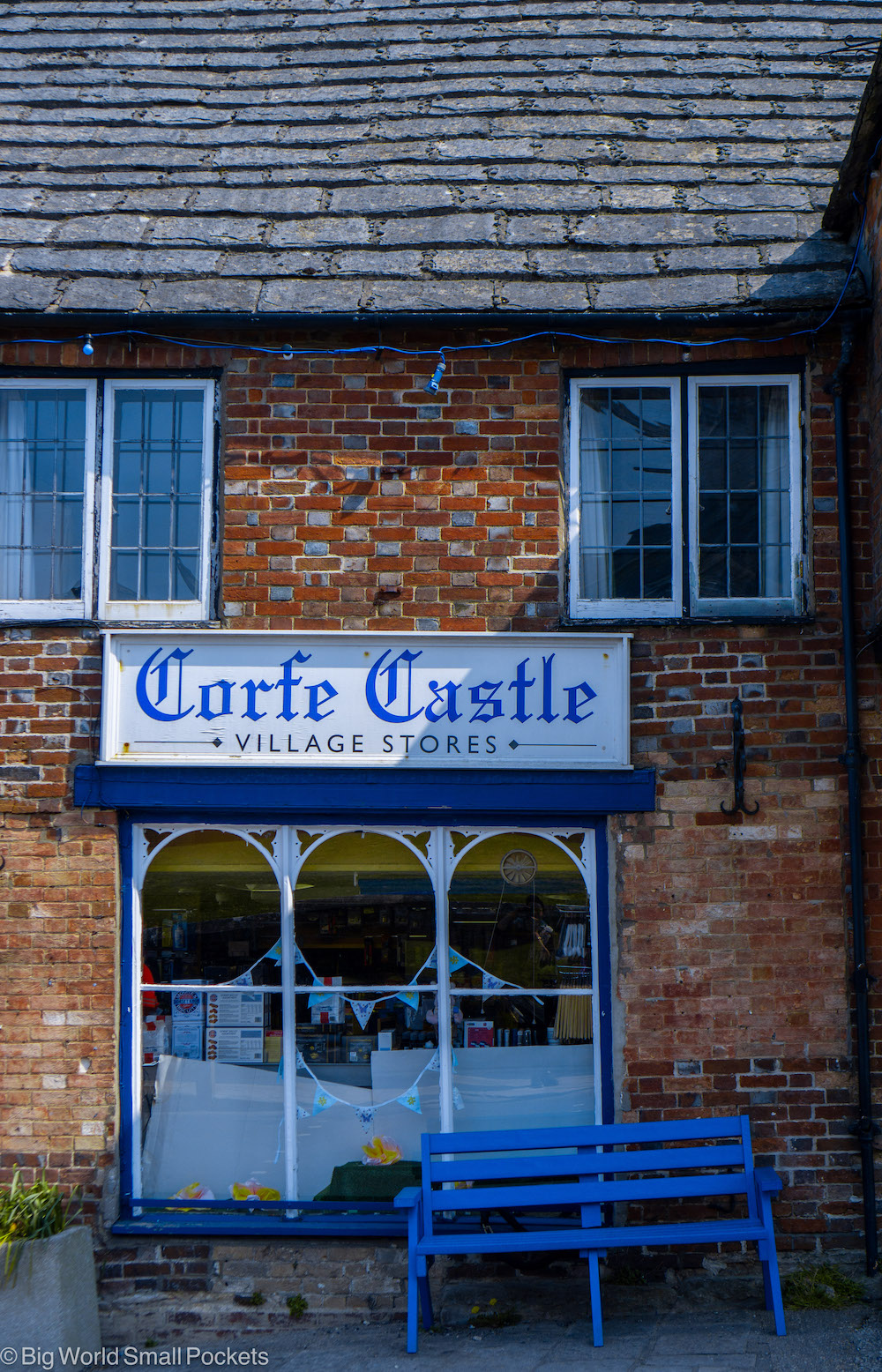 ---
Related Posts
---
This page contains affiliate links meaning Big World Small Pockets may receive a small commission on any purchases at no extra cost to you.
---
#1 Heritage & Hiking at Corfe Castle & Swanage
When it comes to top combinations for days out in Dorset, it really is hard to top this gem, which brings together 2 of the county's best spots, as well as some stunning scenery, excellent hiking, a sandy coastline and a model village to boot… what's not to love?!
Yes, there's no question Corfe Castle and Swanage are 2 of the jewels in the Dorset crown that should not be missed while you're down here!
Start your day by parking at Corfe Castle.
This is a National Trust property, so members can park here for free, as well as enter the castle for nothing.
If you're not yet an NT member, you may consider becoming one at Corfe Castle (which is exactly what I did!), because even if you only visit this spot, as well as a few others in the year, you're already saving yourself some serios cashola… just an idea!
Anyway, budget tips aside, park at the bottom of the castle's hill and then follow the trail up to the model village, which is about as picture-postcard perfect as you can get!
Snap the cute cottages, church spire, iconic red phone box and trad pubs to your heart's content, before moving on to explore the castle.
The hike up to the top of the Corfe ruins is quite steep, but well worth it for the views when you get there.
Wave as the historic steam engine passes by and take time to learn about the important role in English history this fortification played, before descending for a refreshment in the lovely onsite café.
Once you've revived yourself, it's time to head to Swanage, which can actually be done on 2 feet, care of the Purbeck Ridgeway – a well-marked trail that will take you straight to this lovely seaside town in just a few hours.
This is a tough 15-20km hike, but well worth it if you can muster the stamina – just make sure you plan accordingly with maps, water, sun protection / rain gear and snacks!
Once at Swanage, enjoy all the sights this town has to offer (you can find my top picks here), before hitting up the sand to spend the rest of the afternoon enjoying the wonderful clean beach with an ice cream, or a salty serving of fish and chips.
For those brave enough, a paddle or even a swim would be the perfect addition to this top Dorset day trip, before you head back to your vehicle at Corfe Castle care of Swanag'e historic steam railway!
#2 Stepping Back in Time at Lyme Regis
And next up on my list of the 7 best Dorset days out, it's time to head to the other end of the county and explore the stunning Victorian charm of Lyme Regis.
Over in the far west of Dorset, Lyme Regis is a lovely coastal spot that sets along the aptly named Jurassic Coast.
Yes, you guessed it, this is fossil hunting heaven and if you're travelling as a family, or even as a large group of friends, walking along the coastline here in search of your own ancient artifacts is a really fun day out.
The Lyme Regis Museum is a good place to start as you can learn exactly why there are so many fossils here, as well as see some of the most impressive ones ever found.
You can also learn about the life and work of Mary Anning – the building is actually on the site of her former family home – who was a famous paleontologist that really put Lyme Regis on the fossil map!
It's also useful to know that the museum actually run their own fossil guided walks, which are led by experts and will take you along the nearby beaches to find your own prehistoric remnants.
While you can of course head out to do this unaccompanied too, it really is a much more enjoyable experience if you have some experts in tow.
They will also be well-briefed in keeping you safe because rockfalls from cliffs, changeable tide levels and weather all need to be considered on this Dorset day out.
Book your fossil walking tour through the Lyme Regis Museum website – it's definitely one of the most unique Dorset days out going!
#3 Visiting Churches & Abbeys in Abbotsbury
And sticking with the history theme, although moving slightly further along the timeline to a more recent era, there's no question one of the best Dorset days out, especially if you're a history buff, is to check out some of the wonderful heritage villages and monuments in this county.
And, to be honest, it doesn't get better in my opinion than the fabulous village of Abbotsbury over in West Dorset.
About as pretty as things get, this cute-as-a-button village is still very much inhabited and you can admire the stunning thatched cottages here, complete with rose-studded facades, as well as some gorgeous independent local shops.
It feels like stepping back in time – in all the good ways!
After you've snapped, ooh-ed and ahh-ed to your heart's content, it's then time to walk just slightly out of the village for your next historic fix – Abbotsbury Abbey.
Run by English Heritage and free to enter for everyone, this Abbey originally dates back to 1044 and there's still some impressive ruins you can wander here, which have been traced back to the 13th and 14th centuries.
But the fun doesn't end there, because just a short (if not steep) stroll away is the magnificent St Catherine's Chapel.
Set on a hilltop with incredible views over Chesil Beach, all the way down to the Isle of Portland, this 14th century gem was actually built by the monks of the Abbotsbury Abbey as a place of retreat.
Still harnessing a wonderful sense of isolation, with its incredible views and elevated position, there's certainly a very magical atmosphere here that you shouldn't miss experiencing.
Especially as entry to the chapel is free for all!
#4 Bucket List Ticking at Durdle Door & Lulworth Cove
And from one gem to another, the next top-rated day out in Dorset you shouldn't miss is an absolute classic!
Yes this suggestion is all about ticking some of Dorset's top bucket list icons off your list, and if this is your first time to the country, then it's a day out you can't miss!
The iconic arch of Durdle Door is the first natural structure in the UK to have been awarded UNESCO status and it's really not hard to see why.
This giant rock formation looms out of the turquoise water and is backed by a dramatic curved bay and soaring white cliffs that really make it look like something out of a film set.
And then, just down the road – or a short hike away – is the stunning fisherman spot of Lulworth Cove.
Seemingly perfectly formed, the rounded sweep of this bay and collection of fishing boats, cottages and pebbly charm, make it a firm favourite with the photographers.
For the best shots however, I actually recommend snapping the bay from above via the Southwest Coastal Path.
Yes if you park at the top of Durdle Door, you can then enjoy a lovely jaunt along the clifftops to get down to Lulworth Cove, which gives stunning elevated views before the descent.
At Lulworth Cove, grab a delicious vegan sorbet and enjoy a paddle, before making the big uphill journey back to Durdle Door.
Once here, descend steeply to this stunning sandy beach (or the adjoining Man O' War Beach) for an idyllic afternoon swimming, sunbathing and relaxing with one of England's most recognisable backdrops setting the scene perfectly!
#5 Walking and Beaching in Studland
And if hiking and hitting the beach sounds like the ideal combination to you, then this next Dorset day out is likely to be a winner as well!
Just slightly further east from Durdle Door and Lulworth Cove is the gorgeous peninsula of Studland, which has plenty to offer those looking for a coastal Dorset day trip.
Choose from one of the 3 beaches to park at here (they are all National trust, so members can park for free!) and then set off along the Southwest Coastal Path to reach the wonderful Old Harry Rocks.
Again showcasing some of the county's most dramatic scenery (you can't get better than the bright, white limestone cliffs set against a backdrop of green fields and sparkling turquoise sea), this is another top spot for some snaps.
The drama is also pretty on point here, with a real sense of having reached the end of the earth as you gaze out across Old Harry Rocks and the ocean, with the wildness of the wind and the water all around.
After taking it all in, it's time to retrace your steps slightly and then turn off to the village of Studland, where you can enjoy a lovely drink either in a traditional pub or the rather more bouji Pig on the Beach – reservations a good idea here!
Finally it's time to head back to your car, but not before enjoying a lovely sea swim, sunbathe or stroll on some of Studland's stunning beaches – Knoll Beach is probably my pick of the bunch.
#6 Combine City & Country with Weymouth & Portland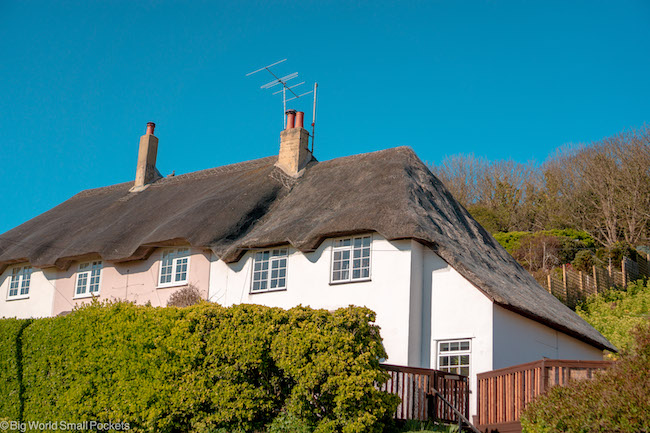 From remote Dorset, we now come back to one of its biggest towns for this day out, which I think takes in the best of the more built-up, as well as the more natural elements of the county.
So get your fix of "city" (although it's not a city, you know what I mean) and country with this Dorset day out combo of Weymouth and the Isle of Portland.
A great one for families, Weymouth sits on the coast and provides lots of attractions and entertainment for all ages, including water sports, safe swimming, good restaurants, swing boats, ice creams and the quintessential donkey rides.
There's even a harbour, Punch and Judy shows (hmmmm?!) and some yummy fish and chips to be had too of course!
Yes, this is English seaside kitsch charm at its best!
Once you've had your fill of all that, you then have the opportunity to escape by heading to the Isle of Portland.
Easily accessible from Weymouth, but feeling a lot more like a natural reserve, this quiet spot is filled with birdlife, beautiful wildflowers and some gorgeous coastal views.
Wild and rugged, you can't miss checking out the small villages here along with the centuries-old tales of pirates and smugglers, for a real sense of getting away from it all.
#7 Get Arty & Inspired at Bridport & West Bay
And last but not least on this list of the best days out in Dorset we come to an arty favourite as we head to the charming historic market town of Bridport.
With a delightful thriving community, this warm and lively town is filled with a sense of community, and from antique shops to vintage markets, galleries, quirky cafes and bustling lanes, it's a treat if you want to pick up a sense of the "real" Dorset – a part that's definitely populated more by locals than tourists!
Almost every weekend there's a market or a fayre happening in Bridport, with a real focus on the cultural and artisanal.
This makes for a lovely morning excursion, especially if you can enjoy breakfast outside in the sunshine while you're at it!
Then, because this is Dorset, it's only fair that you should do as the locals do and head down to the beach in the afternoon!
West Bay is the nearest location and you can actually walk here from Bridport along a easy trail that will take around an hour.
Famous as the filming location of the great UK TV drama Broadstairs, even the beach near Bridport has a creative connection!
If you're then looking for another great spot in the area, why not try Hive Beach with its amazing café or the cute village of Burton Bradstock for more dreamy Dorset-ness.
Top Travel Tips for Dorset
When to Visit Dorset?
There's no question the best time to visit Dorset in my opinion is between the months of June and September when the weather is at its driest, sunniest and warmest.
Not only does this make for a more pleasant travel experience, but the better weather at this time of year will also allow you to enjoy more of the region's beautiful landscapes too – whether that's walking, cycling or hitting up the coast.
Within the summer months, do remember that the school holidays and sunny weekends will be by far the busiest months down here, so if you want to get the best prices or the thinnest crowds, it's probably best to avoid these times!
As an FYI, I visited Dorset in mid-April and experienced idyllic weather that saw me hiking, beaching and sightseeing under brilliant blue skies every day, but this isn't a given!
How to Get to Dorset?
Situated in the south of England, Dorset's main town is Bournemouth and this place has the most regular train connections from London, along with frequent services from the nearby coastal cities of Southampton and Portsmouth.
Otherwise, the larger Dorset towns of Dorchester, Lyme Regis, Poole, Weymouth and Swanage also boast train stations and you can choose between them depending on where you are coming from and where you are basing yourself when you're down here.
Regardless of which station you choose to arrive at, my top tip is to use Trainline to find the cheapest deals on rail tickets across the UK, as these guys use split-fare technology to get you the best prices.
Booking in advance with Trainline can throw up some surprisingly cheap fares, especially as this site also allows you to easily compare routes and journey times.
Alternatively, you can drive to Dorset – this will grant you the most flexibility when you are down in this rural county, especially if you are planning to hike and sightsee off the beaten track.
If you don't have a car, you may consider renting one and I highly recommend Discover Cars for the job, as they offer some super deals on short-term hires and are very reputable.
Learn more about how to score a great deal when renting a car in the UK using these handy top 12 tips!
How to Get Around Dorset?
There's no doubt that the easiest way to explore Dorset is via 4 wheels, however there are several good bus services (especially in the summer) that can help you get around if you don't have a vehicle.
The Jurassic Coaster and Purbeck Breezer buses are probably the most useful for beach go-ers, especially those who want to enjoy parts of the Southwest Coastal Path.
These tourist-friendly routes are also ideal for those who just plan to sightsee, as sitting on their top deck sure does give some epic views!
Learn more about the Purbeck Breezer here.
If you don't want to catch public transport, then cycling is also an option for getting around Dorset.
Although there are some designated trails, as well as calm and quiet country roads to enjoy, do beware there's A LOT of hills here too!
Where to Stay in Dorset?
Bournemouth, Weymouth and Lyme Regis all have a heap of accommodation options.
However, Swanage would be my pick when it comes to a quieter coastal place to base yourself.
It's just so beautiful there, and so near to many of Dorset's best beaches and attractions, that it's hard to pass up!
When it comes to accommodation in Swanage, you'll be hard-pressed to find a better deal than the YHA Swanage, which has both private rooms and dorms.
For something more suited to groups looking for some self-catering accommodation, this Shepherd's House, also in Swanage, is a top-rated 2 bedroom house that gets regular rave reviews thanks to its excellent comfort, cleanliness and location.
Just down the road, The Bear Hotel, in Wareham offers lovely double and family rooms with an onsite bar, restaurant and a charming boutique feel.
Otherwise, over in West Dorset, the wonderful Pumpkin View Cottage is the perfect Airbnb spot for 1-2 travellers near Dorcester. The owners are delightful and the property is beautifully peaceful and clean.
5 Packing Essentials for Dorset
#1 Walking Shoes
You can't come to enjoy Dorset and not come equipped with walking shoes!
As such, I highly recommend these lightweight and comfortable ones from North Face, which are perfect for the job, with a great level of support for those clifftop ascents!
#2 Waterproof, Windproof Jacket
Look, as paradisical as I've made Dorset sound (and it is), this is also England!
And that green around isn't green for nothing!
Nope, it's green because it rains a lot.
A lot of the year!
So bringing a good waterproof and windproof jacket with you, no matter what time of year you're coming, is just plain sensible!
#3 Swimwear & Towel
You can't go to all the amazing Dorset beaches and not enjoy some time in the sun while you're at it!
Which is why I thoroughly recommend taking swimwear and a travel towel with you, especially if you're coming in the summer!
#4 Camera
Having an excellent camera to snap Dorset in all her glory and preserve the memories is an absolute given.
I love my Sony A6000, which never leaves my side during my travel adventures.
I also enjoyed having a GoPro when I was in the Dorset to capture all the hiking and beachside action.
#5 Portable Charger
There's no denying power can be an issue when in Dorset if you're out snapping and hiking all day.
Even with power in your accommodation, remembering to charge stuff up and constantly rotate electricals can be tiresome.
My solution: Come armed with 2 fully charged Anker portable chargers, so you can fire up your phone, camera or other devices whenever and wherever you need.
Travel Insurance
World Nomads offers simple and flexible travel insurance. Buy at home or while travelling and claim online from anywhere in the world.
Alternatively, if you're a long-term traveller, digital nomad or frequent remote worker seeking travel health cover, check out Safetywing's Nomad Insurance policies.
Travel Money in the UK
The easy way to spend abroad with real exchange rates, no markups and no sneaky transaction fees, you can use your Wise card just like a debit card here… and it links easily with Google and Apple pay – sold! Grab yours here.
Where To Head After Dorset…
If Dorset has wet your appetite to explore more of the south of the UK (and who can blame you?!), then you'll be glad to know it's just a hop, skip and a jump to several other stunning areas around.
To the south, the wonderful Isle of Wight can easily be accessed by ferry and offers more great walking and glamping opportunities. Learn more in this list of the top things to do on the Isle of Wight.
Otherwise, to the west, you have Devon and all the coastal hiking wonders this county provides.
Alternatively, to the east, the magnificent New Forest provides loads of great walks and cycling opps, as well as some fab pubs too!
Or finally, to the north, the county of Somerset with the magnificent Cheddar Gorge and historic icons of Glastonbury and Wells shouldn't be missed. Check out my list of the top 10 things to do in Somerset for more ideas.
PIN IT TO PINTEREST!
And there you have it, my list of the top 7 days out in Dorset.
I hope you enjoyed my recommendations and that they help you make the most of your time in this stunning part of the UK.
Tell me, have you tried any of these Dorset day trips?
Which was your favourite?
Have any more to add?
Then please drop them into the comments box below and let me know about them!