When I headed to Leeds this year to spend a weekend exploring this northern English city and its famous pastoral surrounds, it was my first visit back in over 10 years!
Which is a long time when you used to live in a city!
And live in Leeds I did, for 3 epic, wild years as an undergraduate student.
And so Leeds has always had a soft spot in my heart, a warm and nostalgic spot in my memory.
Which made returning to it slightly daunting to be honest.
But I'm happy to say that after a long time away, this city did not disappoint, and in the 10 years since I last set foot here, it's come a long way.
So, in honour of this great city, and its continued greatness for the next decade (!), here's my list of the best 15 things to do in Leeds on a budget.
---
Related Posts
---
This page contains affiliate links meaning Big World Small Pockets may receive a small commission on any purchases at no extra cost to you.
---
#1 Visit the Royal Armouries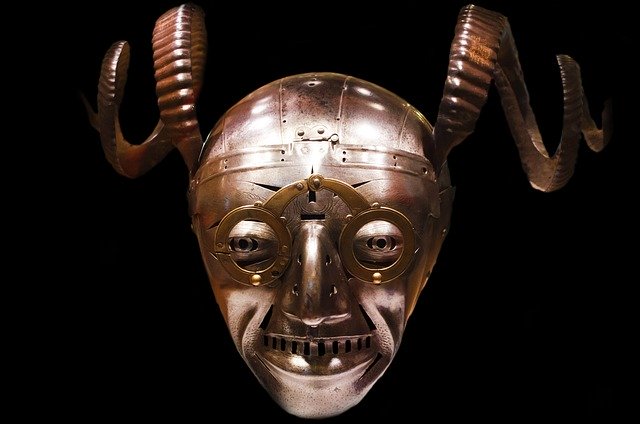 I'm going to kick off this list of the best things to do in Leeds by starting in the city centre and working my way out from there, so that arguably the entries just keep getting better and better.
But, for now, let's start at the bottom of the city near the train station, because first up is a visit to the Royal Armouries Museum in Leeds.
Essentially a collection of old suits of armour and weapons, for someone whose not into this sort of thing at all, I can tell you I was pleasantly surprised.
The exhibition is quite large and way better than you expect, which means you can easily spend a few hours exploring both the rooms and outside spaces of this great Leeds museum.
And if museums are your thing, then don't miss the Leeds City Museum either. Sadly I didn't get time to visit it on this trip, but it's definitely on my hit list for next time I return.
#2 Stroll the Leeds-Liverpool Canal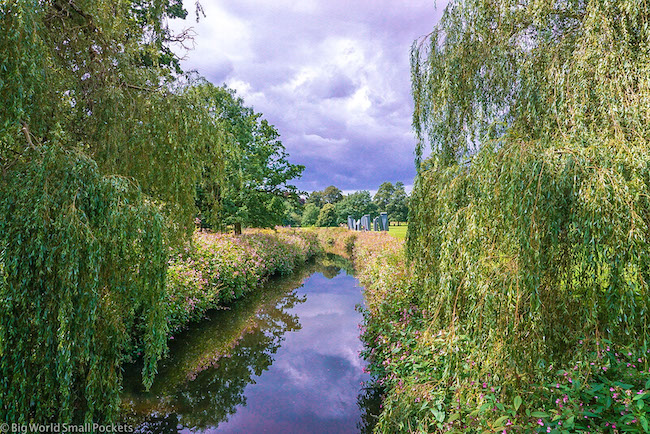 I have to admit that when I was first researching things to do in Leeds, the Royal Armouries didn't jump out at me, but there's no doubt that the Leeds-Liverpool Canal did.
A fairly recent construction, this wonderful public byway now allows car-free access all the way to another of Northern England's great UK cities and what a delight it is to stroll or cycle.
Again starting in the south of the city centre, essentially behind the train station, this lovely trail reminded me a lot of the Bristol-Bath Canal and what a wonderful idea to create something similar up north too.
If you are heading all the way to Liverpool, then check out my list of the best things to do in this wonderful city to ensure you make the best of your time there.
#3 Catch a Performance at the West Yorkshire Playhouse
I didn't have to head to the West Yorkshire Playhouse on my recent trip to Leeds because, having gone there a lot as a student (yes I studied Theatre and English Literature so we were there most weeks), I know that catching a performance at the West Yorkshire Playhouse is definitely one of the best things to do in Leeds.
Considered one of the best performances spaces in the north of the country, many shows transfer from the National Theatre in London to the West Yorkshire Playhouse, and just about any company on tour makes a stop here.
As such, the quality of theatre, dance, comedy and music you can see at the West Yorkshire Playhouse is very high and going mid-week, flashing a student card or checking out their website for deals, is a great way to grab a ticket for less.
#4 Hit the Markets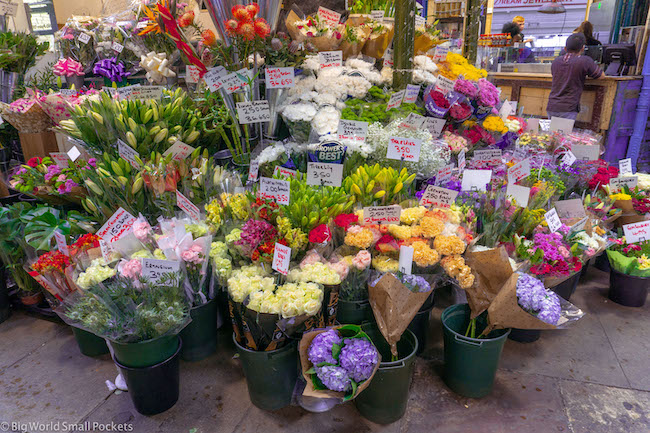 And situated very near the West Yorkshire Playhouse are the Leeds Markets… again another place I spent a lot of time as a student, but also revisited on my recent trip to this city.
I love the great deals you can get in this historic commercial centre, which is just as buzzing today as it no doubt was when it first opened in 1981.
From fruit and veg, flowers and food, to clothes and electronics, there's almost everything you could need here and plenty of colourful local characters add to the experience!
BEST BUDGET ACCOMMODATION IN LEEDS
Without a doubt, the best budget accommodation in Leeds can be found care of the Premier Inn. Offering a great night's sleep at incredible rates across a range of locations in Leeds, check out their latest deals here.
Otherwise, check out this series of incredible apartments you can rent in the city centre – ideal for couples, group and families, there's a whole range of properties here to suit everyone's need.
Or for something a bit cheaper in price, the top-rated Aparthotel Roomzzz, again in Leeds City Centre, offers incredible value for money, as well as super service and comfort.
#5 Shop at the Corn Exchange
And while the Leeds Central Market might seem like a piece of history cast into the 21st Century, even this doesn't seem historic compared to Leeds' famous Corn Exchange.
Traditionally a place where yes, you guessed it, corn was exchanged, the beautiful original building that still stands proudly over the city is gorgeous.
But step inside and you'll discover a whole other world because, lovingly restored, this building has been wonderfully refurbished and is now full of stunning boutique stores and independent shops.
One of the loveliest places to wander in the city, shopping in the Corn Exchange, or at least perusing what's on offer, is definitely one of the best things to do in Leeds.
#7 Have Fun on a Night Out
And now we start moving up through the city, to another restored building and centre of fun, Headrow House.
A former textile mill, this building (set just off the main street of The Headrow) is now a multi-level multi-use venue comprised of a beer hall, roof terrace and event space.
Definitely one of the best things to do in Leeds, heading for an evening here is a lot of fun.
And another great evening venue to head for in Leeds is the Holbeck Underground Ballroom.
New on the scene (well new as in it wasn't here when I was a student 10 plus years ago!), Holbeck Underground Ballroom is now a firm favourite with locals as loads of great music nights and events are staged here.
#8 Get Your History Fix
An old city, with plenty of great stories and tales from the past encapsulated in its buildings, just wandering the streets of Leeds is a great way to take it all.
From the swanky Victoria shopping arcade with its beautiful, grand architecture, through to the city Cathedral and the hundreds of plaques that adorn the walls of historically important buildings and streets, there really is so much to discover here.
In particular, don't miss a drink in Leeds oldest pub, Whitelocks, which was established in 1715.
Just make sure you duck as you enter as this place isn't known for its high ceilings!
#9 Catch a Movie at the Hyde Park Picture House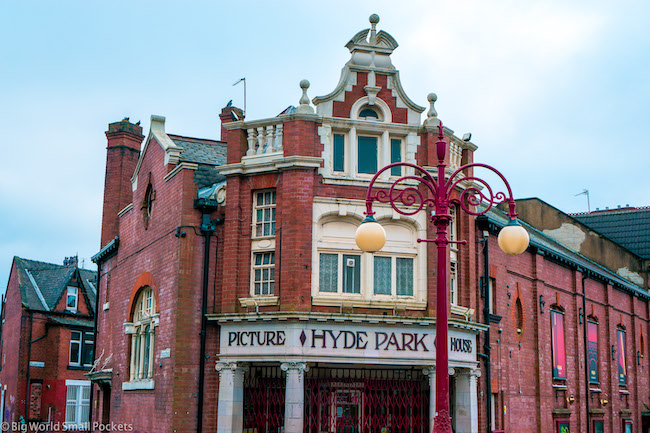 And last on my list of fun things to do during a Leeds evening, is to catch a movie at the wonderful Hyde Park Picture House.
Now this definitely used to be my student stomping ground, as I actually lived just 3 minutes down the road from this wonderful independent cinema.
A real experience, and a historic treasure, Hyde Park Picture House is in a very studenty area, but people come from all round to check out the top arthouse films that show here.
Tuesday is cheap night here, so head down on this evening if you're looking for one of the best things to do in Leeds on a budget.
#10 Eat and Drink!
Yup, who knew, but Leeds is now making a mark as a top foodie destination in the UK and while I'm not a huge fan of fancy over-priced restaurants (and likely you're not either if you're reading this list of budget things to do in Leeds), there are some great cheap and veggie-friendly places in this city, full of character that you should check out.
Top of my list are:
Northstar: Delicious Mexican-inspired treats
Reliance: Don't Miss their Cheeseboards
Northern Monk: A wonderful craft brewery located in Holbeck
Le Chalet Tea Rooms: Great option for breakfast & lunch
BEST WAY TO GET TO LEEDS ON A BUDGET
My go-to service for booking transport across the UK is always Trainline, which covers bus and train bookings across the UK and which I love for its easy-to-use app, price comparison feature and live departure boards.
If you're catching the train up to Leeds, then the earlier you book the better, because prices aren't cheap!
Otherwise, grab a spot on the National Express coach for a better bargain, or, if you're really watching those purse strings, there's the Megabus which comes from London too.
#11 Chill in Roundhay Park
And now we start venturing out of the city on this list of the best things to do in Leeds to discover some of the wonderful countryside and green spaces around.
A top contender very near the city is the huge Roundhay Park – the largest city park in Europe!
There's plenty of space for games, cycling, chilling or duck spotting in this massive green area, which quite often hosts concerts too.
When I was there, Ed Sheeran was playing, so don't try to tell me going to Roundhay Park isn't one of the best things to do in Leeds on a budget!
Ha!
#12 Marvel at the Yorkshire Sculpture Park
And further still from the city centre, but absolutely amazing is the wonderfully free, beautifully designed, huge, family-friendly (need I go on with the superlatives?!) Yorkshire Sculpture Park.
Set in some former Manor grounds, this giant public green space, which boasts a lake too, isn't just a massive and wonderfully dog-friendly, kid-friendly, adult-friendly place to run about… it's also a huge outdoor sculpture exhibition.
When I visited, there was a free and extensive Damien Hurst exhibition going on.
Yep just shows you how prestigious and great this place is!
And if you're into sculpture, then don't miss the Henry Moore Gallery in Leeds itself.
While there are some of his pieces in the YPS, this dedicated space in the city centre holds a much larger collection of his work.
#13 Head Underground at the National Coal Mining Museum
Look, if you're heading to the Yorkshire Sculpture Park you're almost there, so you should definitely pay the Underground Coal Mining Museum a visit.
My friend, who I was visiting in Leeds, said she had heard good things and so we bit the bullet and booked a tour there!
Given, we were the only adults on the tour without kids, but we absolutely loved it!
Taking you underground into a former working coal mine, accompanied by a charismatic and hilarious ex-miner (thick Yorkshire accent and all), this was an experience I'll never forget!
I actually learnt a ton (no pun intended) about this industry, so crucial to the development of this part of the UK, and had a right laugh while doing so!
Costing only £5 per adult and coming highly recommended, this is definitely one of the best things to do in Leeds.
#14 Kirkstall Abbey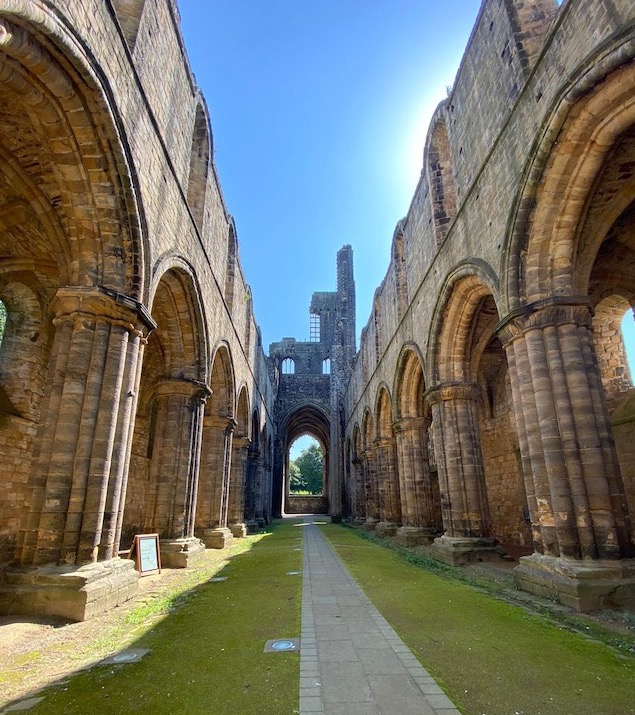 Again out from the centre, but pretty close by, taking a drive (or the bus) to Kirkstall Abbey and its grounds is certainly one of the best things to do in Leeds.
Not as pretty as the mystical Bolton Abbey, but much closer to town, Kirkstall Abbey makes the perfect weekend excursion – it's free to enter and set in lovely grounds.
In the summer you can enjoy the sun in the park around and in autumn you can relish kicking up some leaves and jumping through some puddles.
Photographers will enjoy this place too, as will the history buffs of course!
The morning light bouncing off the ruins is very atmospheric.
#15 Stay Longer, Explore More
Yup, no question that one of the best things to do in Leeds to stay longer and explore more!
Sadly I only had a weekend up in the city recently, just barely enough to scratch the surface, but do know from my time of living here, that there are some more amazing destinations to discover around.
In particular day trips to:
Ilkley Moor
UNESCO-listed Saltaire
The quaint town of Harrogate
The Dales gateways of Skipton & Otley
The wonder of Bolton Abbey and Fountains Abbey
Dales villages and hikes such as Malham Cove
Manchester
Sheffield
North York Moors National Park
all come highly recommended!
PIN IT TO PINTEREST!
So there you have it, my list of the very best 15 things to do in Leeds on a budget.
I'd definitely recommend getting this city on your British city-break list soon… I know I won't be leaving it another 10 years until I visit again!
Have you been to Leeds?
Let me know your favourite thing to do there in the comments box below…