Heading to the north of Bolivia? Then here's the top things to do in Copacabana, including details about visiting the magical Isla Del Sol!
Located on the edge of the highest navigable lake in the world, Lake Titicaca, for most people crossing the border from Peru into Bolivia (as I was), the town of Copacabana is a perfect first stop.
And for those not shuttling to or from Peru, but perhaps just visiting Bolivia, or at least, ending their journey here, let me point out that Copacabana is definitely still worth a visit.
Ok, well maybe the town isn't all that, but the stunning natural surrounds, including the high altitude views and that oh so magical lake, definitely make it worth a few days on your travel itinerary.
And to give you some more ideas about why this place should be on your Bolivia list, here's my list of the 5 best things to do in Copacabana, Bolivia…
---
Related Posts:
---
My transport through Peru and Bolivia was, in part, sponsored by Bolivia Hop, but as always all views are my own.
This page contains affiliate links meaning Big World Small Pockets may receive a small commission on any purchases at no extra cost to you.
---
#1 Visit the Church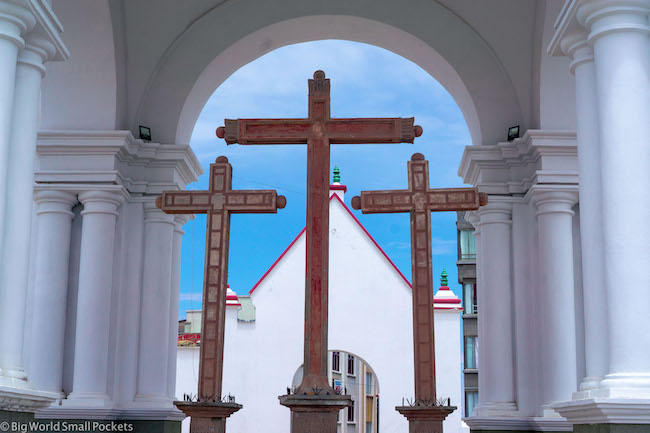 I'm going to start with the in-town attractions on this list of the best things to do in Copacabana, Bolivia and top of the pile is to visit the fascinating church of this small town, as well as its many side rooms.
I didn't realise before I came to Copacabana, that this town is actually an important pilgrimage site for many Bolivian Catholics, as a miracle is said to have happened here back in the 1500's with the creation of the black virgin or La Morena.
To reflect its religious importance, the Church in Copacabana is particularly grand, with some very unique architectural Moorish-influences and stepping inside, you'll discover its beautiful interior decor too.
Explore the side rooms if you can, including the one that houses the famous Black Virgin de Candelaria, and then hop across the road to check out the weird candle / memorial room come graffitied bunker!
It's quite the combination!
#2 See the Cars Being Blessed
And sticking with the religious theme, absolutely one of the best things to do in Copacabana, Bolivia is see the blessing of the cars aka the Bendiciones de Movilidades!
Yup, given this is a place of pilgrimage, you can't miss this spectacle which, twice a day, sees people bringing their new cars to the church to be blessed by the priest here.
Happening at 11am and 2pm daily (with more vehicles on Sundays) this is quite the sight, with the spraying of the holy Coca Cola and / or beer depending on the spirit of the occasion!
In fact, it reminded me quite a lot of some religious ceremonies I saw in Mexico and Guatemala, where many indigenous spiritual beliefs have been incorporated into the colonial Christian faith, prompting strong church-based traditions that look utterly bizarre to a western outsider.
#3 Eat!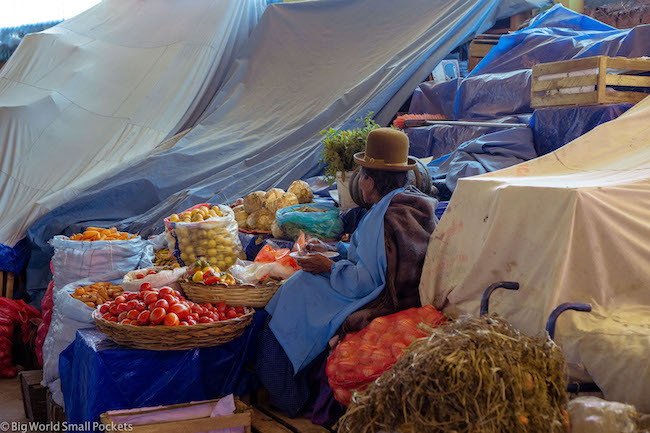 And third on my list of the best things to do in Copacabana, Bolivia is… eat!
This might sound like a bit of a weird one, as Bolivia, and certainly Copacabana, are not known as a foodie destination. But honestly, this town has some of the best grub I found throughout my whole time in this country.
Mainly I reckon this because other destinations I visited in Bolivia were certainly not up to much food-wise (namely La Paz and Uyuni) and also because I'm a veggie – there were some good travel plant-friendly places to eat in Copacabana.
Joshua's Vegetarian Cafe, which was linked to the hostel where I stayed, was definitely a highlight, as was the superbly named Baguette About It!
The local market provided plenty of fresh produce, there were tons of pizza restaurants lining the main streets and the cute little roadside joint, Pitstop, did some of the best vegan and vegetarian empanadas I've tried.
Safe to say, I definitely didn't go hungry in Copacabana!
#4 Take a Hike
And after all that food, you'll be delighted to know that there's plenty of hiking in and around Copacabana you can enjoy to burn it all off too.
First up, just wandering around the town and up a few of the hilly streets is a good workout in this lofty setting which, situated at over 3,800m is pretty damn high!
The town is also safe and pleasant to walk around, with the near-constant view of the lake making it easy to navigate too!
For something a bit more challenging, why not choose a hike out of town to the village of Yampupata, which is around 20km away. Walking there and then hitching a ride back can be a great option!
And my last option for a hike is probably the best yet, thanks to the amazing views.
Yes, puffing your way up to the top of the hill, Cerro Calvario, that overlooks the town is definitely one of the best things to do in Copacabana, Bolivia, for the amazing vista of Lake Titicaca it affords.
Sparkling before you, as far as the eye can see, this stroll is most impressive around sunset, when golden hour really puts on quite the lightshow and the sun is not quite as fierce for the hike up!
#5 Explore the Islands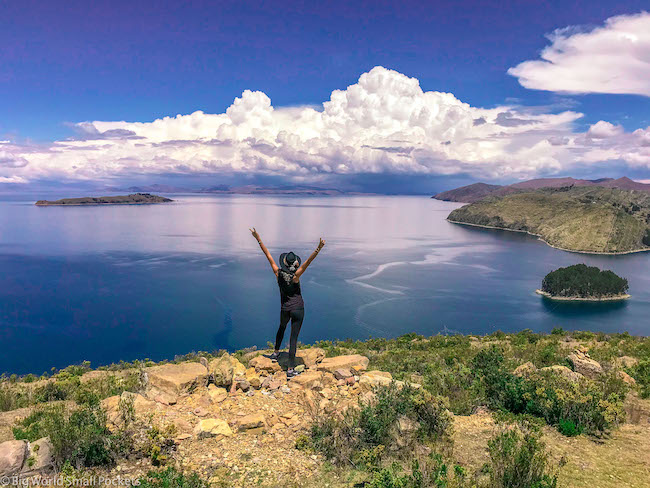 And now we come to the best of them all, yes last on this list, but certainly, the first reason you should head to Copacabana in Bolivia is for La Isla Del Sol and Isla De La Luna.
2 of Lake Titicaca's prettiest, quaintest and most authentic islands, spending a day (or a day and a night) over on one of them is absolutely worth it.
These islands are central to Incan theology and seen as highly sacred places by indigenous people.
If, like me, you didn't realise you can stay on the islands, then do think carefully before booking your accommodation in Copacabana – I honestly wish I'd given myself enough time to spend 1 night amongst the idyllic island scenery, as well as on the mainland.
Otherwise, if it's not possible for you to spend a night on the islands, a day trip to see them is still certainly one of the best things to do in Copacabana, Bolivia.
Day Trip to the Islands
Day trips to both Isla Del Sol and Isla De La Luna run every day from Copacabana (unless there's some real choppy waves on the lake) and are operated by local boat companies.
Basically all the travel agents in town sell boat tickets for one of the 2 companies, so it doesn't matter which agent you go with, they are all selling the same package at the same price.
Boats leave at 8:30am for the full day tour and arrive back in Copacabana at roughly 5:30pm (meaning you can still travel onto La Paz with Bolivia Hop that same evening).
Same day return tickets to the islands cost 30 Bolivianos and should be purchased the night before.
When you take the full day trip, you get the chance to visit both islands.
First the boat will go to Isla Del Sol (do not get off here!)
Stay on the boat and you will be taken to Isla De La Luna, where you'll be given an hour to wander around, before returning to Isla De Sol, where you're then given a few hours to explore too.
If you're not staying the night, this is ample time.
Isla De La Luna is tiny and 1 hour is enough time for you to head up and see the ruins, then complete a quick half circuit of the island which takes you up to a lookout and then around and back down to the harbour.
Isla Del Sol is much larger but is split in half, and currently, only the south side of the island is open to visitors due to a dispute between the island communities.
With the north of Isla Del Sol closed off to visitors, again a few hours is plenty of time to explore the southern half of this island with its walks, lookouts, views, and cafes.
You should also try to check out the Sun Temple if you have time (although this will likely involve you either a) spending a night here or b) not going to Isla De La Luna and instead getting off at Isla Del Sol when the boat first docks here so you've got more time.
Both islands cost 10 Bolivianos to visit and the crystal-clear waters and high altitude lake vibes are really worth it!
Overnight Trip to the Islands
If you can stay the night, then I suggest you base yourself on Isla Del Sol.
Leave your main pack in Copacabana and just come with a small overnight bag… after you've made the hike up from the boat jetty to the town where the hostels etc are, you'll thank me!
Top recommended hostel is Jacha Inti, so check this place out here if you are looking to stay somewhere.
Either you can come over from Copacabana on the 8:30am boat too, otherwise the 1pm afternoon departure from Copacabana might suit you better.
This would give you the late afternoon and one evening on Isla De Sol, you could hop over to Isla De La Luna for an hour with the boat the next lunchtime and then spend a few more hours on Isla Del Sol before sailing back to Copacabana.
It's worth noting however that the boats are slow (so you always have less time on the islands than you forecast) and that a single boat trip is 20 Bolivianos.
Supplies are pricier on the island, so take some food and water over with you from the mainland if you're really watching those pennies and take all waste out back with you – there's no proper way to dispose of rubbish on either island.
Mini Travel Guide to Copacabana
How to Get to Copacabana?
The easiest way to get to Copacabana, and to experience the simplest Peru / Bolivia border crossing of all time, is to use the great company Bolivia Hop.
I used these guys to travel down from Cusco to Puno (which is on the Peruvian side of Lake Titicaca) and then across to Copacabana and the whole experience couldn't have been simpler (especially when you consider this involved a night bus too!)
Safe and secure, with great English-speaking guides to help you navigate the border and arriving in a new country, I honestly couldn't recommend Bolivia Hop enough, especially for first time South America visitors (because they make everything so easy) and solo travellers (because being in the bus is a great way to meet others).
A Word About Altitude
There is something so important you need to know about Copacabana and that is altitude!
Being in the Andes and situated at over 3,800m above sea level, Copacabana is high and altitude sickness is a real and serious thing here.
This is even more true given that some of the hikes in this area go up to 4,000m above sea level.
As such, you must, ABSOLUTELY MUST, take altitude issues seriously when you come to Copacabana and spend at least 1 day here (better 2) acclimatising before attempting any hiking.
I've had altitude sickness myself in Ecuador and can definitely attest it is not nice.
In fact, it can be very serious and sometimes lead to hospitalisation and even death.
Do not take this issue lightly when travelling to Copacabana and if you start to suffer any symptoms then take the necessary precautions.
You can learn more about altitude sickness, what causes it, what the symptoms are and how to avoid or treat it in this useful article.
Best Hostel in Copacabana?
The highly rated La Cupola Hostel in Copacabana has great views, lovely design features and a peaceful feel to it. Although it's a little pricey, if you ride with Bolivia Hop you get a good discount on a stay here, which I was certainly keen to take up.
However sadly they were full when I arrived, so making sure you book in advance is the moral of the tale here people!
Failing that, I'd stay at the peaceful Joshua's Eco Hostal. This is where I found myself after the sad-La-Cupola-fully-booked discovery, but I actually ended up loving the great garden, hammock and day beds vibes of this place. The water was always hot, the place was clean and the veggie food in the cafe was delicious!
Check La Cupola availability here or book your stay at the cheaper Joshua's Eco Hostal here
Travel Insurance for Bolivia
World Nomads offers simple and flexible travel insurance. Buy at home or while travelling and claim online from anywhere in the world.
Alternatively, if you're a long-term traveller, digital nomad or frequent remote worker seeking travel health cover, check out Safetywing's Nomad Insurance policies.
Recommended Bolivia Tours
If you're not totally comfortable with travelling this country independently, then a small group or guided tour is a great option that will have you seeing the best of Bolivia safely, securely and easily.
Check out these top picks for some super ideas and prices.
Want to Volunteer in Bolivia?
If you want to combine your time travelling in this South American country with giving something back, then why not consider volunteering in Bolivia?
It could even help you save money and travel for longer!
You can access loads of great volunteer opportunities in this country when you sign up to Worldpackers. Learn more here.
Travel Money in Bolivia
The easy way to spend abroad with real exchange rates, no markups and no sneaky transaction fees, you can use your Wise card just like a debit card here… and it links easily with Google and Apple pay – sold! Grab yours here.
PIN IT TO PINTEREST!
And there you have it, my guide of the best things to do in Copacabana, Bolivia, including this mini-guide at the end to visiting both Isla Del Sol and Isla De La Luna.
I hope I've convinced you to make a trip here too!
Have any questions?
Shoot them into the comments box below and I'll do my best to answer them…