So you're travelling independently in Bolivia and want to journey from the bustling city of La Paz in the north of the country to the amazing salts flats at Uyuni in the south?
Yeah, I've got your number… and that's because I was in this exact situation myself not so long ago.
I must say, that being caught in the middle of widespread civil unrest, a president resigning and large scale road blocks across this country, did make travelling from La Paz to Uyuni slightly more interesting during my time in Bolivia, but the good news for you is that it's not normally this hard as there's lots of options and most of them are either cheap, easy or both!
So read on to learn about the best way you can travel from La Paz to Uyuni and enjoy 2 of Bolivia's best highlights one after the other…
---
Related Posts
---
This page contains affiliate links meaning Big World Small Pockets may receive a small commission on any purchases at no extra cost to you.
---
La Paz to Uyuni by Air
The first way to travel between La Paz and Uyuni (or visa versa) is the quickest and simplest, but also the most expensive and, of course, the least eco-friendly too.
Flying between the 2 destinations takes less than an hour and tickets can be picked for around $50 USD one way if you book far enough in advance.
There's 2 companies that fly this route – Amaszonas and Boliviana de Aviacion – with around 6 flights daily between them.
As always, I use Skyscanner to find the best deals and, if you are on short on time, consider a flight that gets in during the early morning, so you can hop straight onto your Uyuni tour which will likely depart around 10am.
Pros: Quick
Cons: Pricey, Carbon Heavy
La Paz to Uyuni by Train
The second option for travelling between the salt flats at Uyuni and the high altitude city of La Paz is via train.
The advantages of this method are that it's pretty, different, exciting and a novel way to travel in Bolivia and it's fairly affordable too.
The downsides are that the trains don't operate every day and also that the journey only starts from Oruro, so from La Paz to Oruro you need to take a 3-4 hour bus.
There are many regular services however, so finding a bus shouldn't be a problem, but do remember you'll need to catch a taxi or minivan between the bus and train station. The combined price of a bus and a taxi should be about $10 USD.
The best place to find out all about trains in Bolivia is at the Tickets Bolivia website. These guys also sell bus tickets from La Paz to Oruro to connect you with the train.
Here I found that…
Expreso del Sur leaves Oruro on Tuesday and Friday at 14:30 arriving at Uyuni around 9:30pm. A 1st class seat costs around $9 USD
Wara Wara del Sur leaves on Wednesday and Sunday at 19:00, arriving at Uyuni around 2:30am. A 1st class seat costs around $15 USD
Not only is price, comfort and speed something to bear in mind when considering the train option, but also the time you will arrive into Uyuni.
Uyuni is something of a one-horse town and after around 9pm, there's very little happening in its windy, dusty, desert streets.
It can feel a bit sketchy to be honest, and I was advised not to wander outside the most central streets of town by myself at night.
Arriving at 2:30am in the morning is certainly not a winning option therefore!
Pros: Fun, Cheap, Possibly Save on a Night's Accommodation
Cons: Have to Connect with a Bus, Services Don't Run Daily, Possible Nighttime Arrival
Taking a Tour from La Paz to Uyuni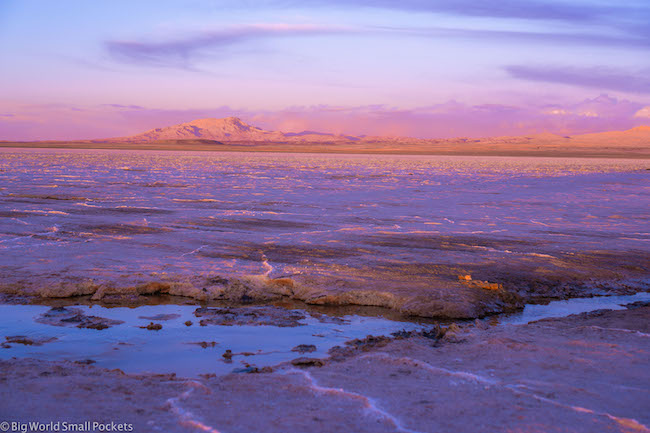 The third way to travel between La Paz and Uyuni is to hop on a tour of the Salt Flats that actually starts from the La Paz, so that it includes the journey down to Uyuni.
If you're nervous about travelling in Bolivia, this could be a great option for you.
Check out these top tour options for more ideas and choose from luxury, midrange or budget ones that include a La Paz pick up.
Otherwise, if you're feeling brave and are happy to make your own way to Uyuni, you can certainly pick up your tour there instead.
Pros: Easy
Cons: More expensive than travelling independently and joining a tour from Uyuni
Taking a Tour in Uyuni
It pays to knows most Salt Flat tours – both the 1 Day and 3 Day options – start around 10:30 am and that there really isn't a lot to do in Uyuni.
This means either arriving early morning and hopping straight onto your tour, or arriving the night before, booking your tour in Uyuni, spending the night then and then taking your tour straight in the morning, are both good options.
If you do plan to stay a night or 2 in Uyuni, then I highly recommend Piedra Blanca Hostel, which was one of the best places I stayed in the whole of Bolivia.
And due to the road blocks, I actually ended up spending quite a bit of time there!
Warm, clean, with hot water, free breakfast, amazing wifi and a roof terrace, there are both dorms and private rooms available at this top Uyuni budget option, which is the ideal place to spend a night before or after your Salt Flats tour.
For more information about Salt Flat Tours in Uyuni, check out this post I wrote, which is a full guide to planning, prepping, choosing and booking the best trip for you.
La Paz to Uyuni by Bus
And finally, if you are then taking a tour which begins in Uyuni itself, probably the best way to get down to this town from La Paz cheaply and efficiently is to take a bus.
This is what I did because it is one of the most cost-effective and time-sensible ways to do it.
With a range of bus companies travelling overnight from La Paz to Uyuni, this is a great way to a) see La Paz during the day b) save on a night's accommodation as you sleep on the bus and c) arrive in Uyuni in time to hop straight onto your tour in the morning.
Because you'll not be paying for a night's accommodation if you take the bus, and because, ideally, you want to get some sleep on the bus before your tour in the morning, I recommend spending those few extra Bolivianos and using one of the luxury bus services that ply this route, of which there are 2.
The first, Todo Turismo is the option recommended by Bolivia Hop and it certainly is a good company with clean, comfy buses and a high level of safety.
There's a hot dinner and breakfast included in your ticket price, as well as wifi, an onboard toilet and bedding provided.
However I found it insanely expensive at 250 Bolivianos for a one-way ticket from la Paz to Uyuni.
Compare this to the services of Cruz Del Norte, who also travel from La Paz to Uyuni daily overnight for a total cost of 110 Bolivianos – less than half the price!
Cruz Del Norte buses have several daily night buses from La Paz to Uyuni.
The best one to catch in my opinion, is the one that departs at 10:30pm, because it gets into Uyuni around 7am, when it's light and things are open.
Tickets include full reclining seats, a snack pack, toilet onboard, aircon and occasionally, wifi.
The seat was so comfy, reclining to almost 180 degrees that I slept for almost 7 hours straight – winning!
The story about the road blocks I encountered and the fact that this journey actually turned into a 24hr ordeal is for another time, but had there not been a near-military coup going on at the time, I would have reached Uyuni smoothly with Cruz Del Norte in time for my salt flat tour that morning.
For price, comfort and ease of travel therefore, I certainly recommend getting the Cruz Del Norte Bus from la Paz to Uyuni, which leaves from La Paz's central bus station.
Otherwise, there are other well-priced bus companies you can book here.
Pros: Efficient, Overnight, Cheap
Cons: Overnight, Potential for Road Blocks
Things to Know When Getting the Bus
As the bus I recommend catching leaves at 10:30 pm from La Paz's main bus station, it's certainly advisable to get a taxi to the station and arrive there 30 mins, at least, before departure time if you've already got your ticket.
I'd rock up a lot earlier if you're yet to buy a ticket.
Despite it being warm on the bus, layers are always advisable for night travel in South America and leggings, thick socks and a snuggly jumper are a great way to go.
Also, I never attempt such a journey without a blanket, eye mask and ear plugs.
A travel pillow would also be highly advisable to ensure you get the most sleep possible and are refreshed and ready for your tour in the morning.
Take lots of water on the bus and some snacks too, in case of any delays.
Hand luggage can be taken onto the bus and your big bag / main luggage will be stored underneath.
On arrival in Uyuni, in the morning, I'd walk to the office of your tour company and request to leave your big bag there, which they normally let you do.
Then head off for breakfast, to see the town's clock tower and to buy any supplies you may require for your Salt Flat tour.
And finally, I'd never recommend travelling to Bolivia without decent coverage and always recommend travel insurance from World Nomads, which I've used throughout my time in this country, this continent and beyond.
World Nomads' policies are one of the few that cover you for activities over 3000m and with both La Paz and Uyuni being situated at this height (or near enough), they make for a good choice.
Mini Travel Guide to La Paz and Uyuni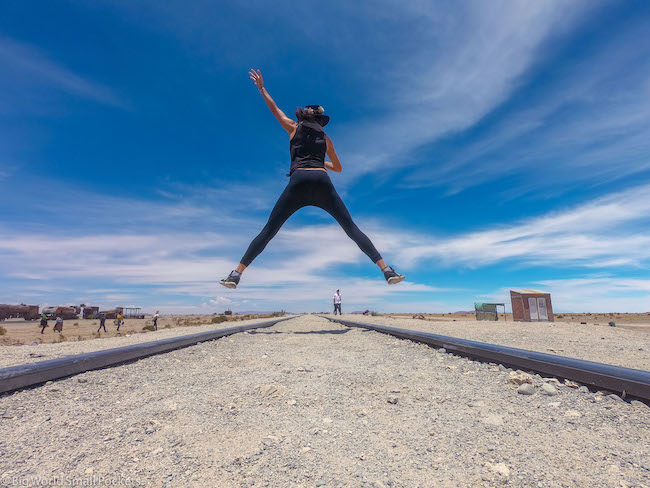 Best Time to Visit?
The best time to visit La Paz and Uyuni, in my opinion, is during the dry season in the Andes aka winter in this country – a season which runs largely from the months of June through to October.
It is colder at this time of year, especially at altitude, but you can't beat those blue skies if you want to enjoy the stunning mountain views to the max!
At this time of year, it's also drier and slightly less humid in the Amazon, which is great to know if you're heading to the jungle during your time in Bolivia too.
How Long to Spend There?
I'd allow at least 2 days for La Paz and another 2 for Uynui.
Don't forget to factor in travel time.
Travel Insurance for Bolivia
World Nomads offers simple and flexible travel insurance. Buy at home or while travelling and claim online from anywhere in the world.
Alternatively, if you're a long-term traveller, digital nomad or frequent remote worker seeking travel health cover, check out Safetywing's Nomad Insurance policies.
Recommended Bolivia Tours
If you're not totally comfortable with travelling this country independently, then a small group or guided tour is a great option that will have you seeing the best of Bolivia safely, securely and easily.
Check out these top picks for some super ideas and prices.
Want to Volunteer in Bolivia?
If you want to combine your time travelling in this South American country with giving something back, then why not consider volunteering in Bolivia?
It could even help you save money and travel for longer!
You can access loads of great volunteer opportunities in this country when you sign up to Worldpackers. Learn more here.
Travel Money in Bolivia
The easy way to spend abroad with real exchange rates, no markups and no sneaky transaction fees, you can use your Wise card just like a debit card here… and it links easily with Google and Apple pay – sold! Grab yours here.
SAVE THIS ARTICLE TO PINTEREST!
So there you have it, my complete guide on how to travel from la Paz to Uyuni in Bolivia.
Have you made this journey recently?
Have any updated information or extra tips?
Then don't forget to leave them in the comments box below so you can help another traveller out!
And if you want to travel on from Uyuni to Salta in Argentina, as I did, then check out the post I wrote all about my experience of this border crossing by clicking the link.
Thanks guys 🙂