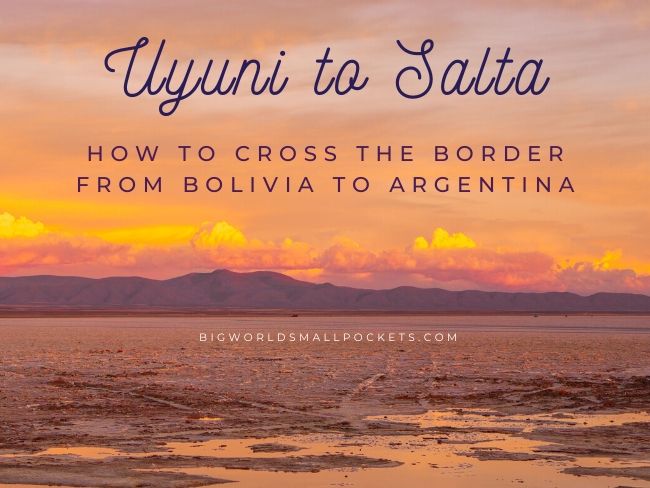 If you're backpacking on an amazing trip through South America, then it's likely crossing land borders between different countries is going to feature in your adventure.
And it doesn't get more adventurous than having to flee Bolivia, as the President resigns and chaos reigns on the streets, into nearby Argentina… as I did!
And before you ask, I couldn't cross into Chile instead because there were big protests, violence on the streets and a curfew in place there too.
And so it was I went from Uyuni to Salta in a rather whirlwind and unplanned way, with little time to research how I might do it.
But luckily, this border crossing from Bolivia to Argentina was pretty straightforward, so if you want to travel from Uyuni to Salta too (albeit under hopefully better circumstances) here's the full lowdown on how to do it swiftly, easily and safely.
---
Related Posts
---
This page contains affiliate links meaning Big World Small Pockets may receive a small commission on any purchases at no extra cost to you.
All prices given in this article are correct at the time of publication.
The information given in this article relates to my personal experience, I cannot be held responsible for any actions taken in relation to it.
Please always consult your foreign office regarding country entry requirements and regulations before attempting to cross any borders.
---
Getting to Uyuni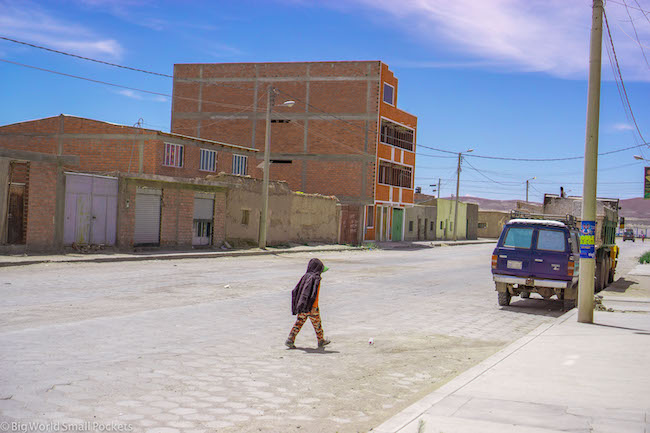 So the first part of this journey obviously involves you getting to Uyuni.
It's likely you'll be heading here from La Paz, the capital of Bolivia, so read this post to learn all about the different ways to make this journey, including by bus, plane and train.
Once in Uyuni, I highly advise staying in the great hostel Piedra Blanca if you're on a budget.
This super place is Bolivian-owned, spacious, clean and cosy – definitely needed in the cold nighttime temperatures of the altiplano here!
There's also a guest kitchen, free breakfast, great wifi and a roof terrace – winning!
After relaxing at Piedra Blanca, it's then time to take a tour on the amazing Uyuni salt flats.
You can choose from either a 1 or 3 day tour, depending on your budget and timeframe.
All tours depart around 10am and usually include an accommodation pick-up, which makes things very easy.
Check out this post I wrote about everything you need to know for your Uyuni tour of the salt flats, including all the different types of tours you can pick from and how to choose between them, as well as money-saving and packing tips.
Uyuni to Salta by Plane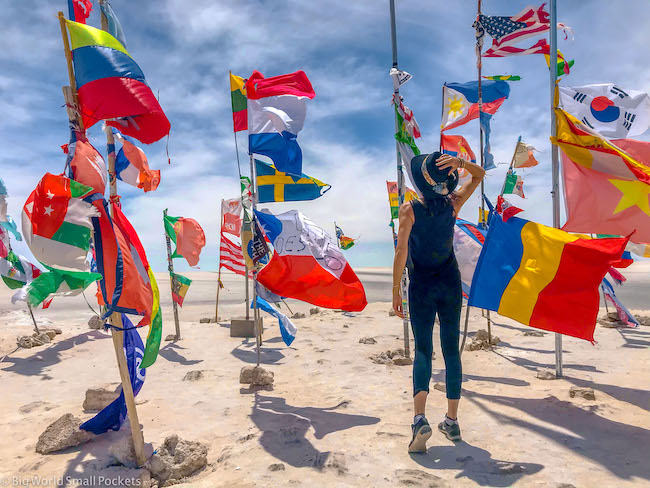 I guess it's worth pointing out at this stage that the whole of this border crossing post is going to be about making the journey overland.
However, for those of you who may be thinking about flying between Uyuni and Salta, I'm going to quickly cover this for you here… and likely put you off!
That's because flying from Uyuni to Salta is not straightforward and all the flights I researched involved at least 2 or 3 stops, with risky self-transfers.
All flights from Uyuni route through La Paz, and it's then likely you'll either have to also stop in Lima or Buenos Aires on your way to Salta.
What's more, the quickest flight time is around 16 hours and the longest Skyscanner gave me was around 40 hours and cost as at least $500 USD!
Ridiculous.
Trust me, the overland route I'm going to explain here is much quicker!
And much cheaper.
And much better for the environment.
Salta to Uyuni Tour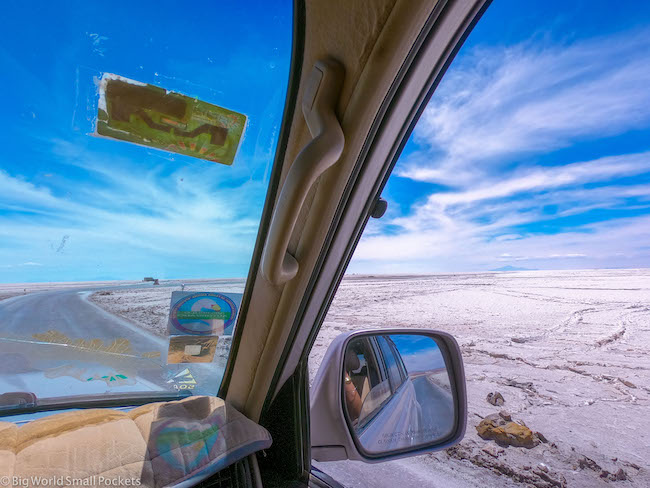 As a result of the above, this article will concentrate on the independent traveller way to cross from Uyuni to Salta using public transport.
However, if you don't like the sound of this and don't feel comfortable with it, then it's helpful to know you can also take a tour which covers both Salta in Argentina and Uyuni in Bolivia, as well as the border crossing between them.
If it's your first time in South America, you don't speak a lot of Spanish or you're nervous about adventuring on your own, a Salta to Uyuni tour (or visa-versa) might be a great option for you.
Many of these tours start / end in Buenos Aires or La Paz too, which makes sourcing transport into and out of these capitals a lot easier as well.
From Uyuni to Villazon By Bus
Ok, so now we've got the flight and tour issue out the way and you know you're going to travel overland independently from Uyuni to Salta, here's how to do it!
After you've enjoyed your stay in Uyuni and decided it's time to head onto your next country, it's time to take a bus from Uyuni to the Bolivian border town of Villazon.
There's a few companies that ply this route, but they all seem to have similar departure times – weird and annoying, but that's often how it goes in Bolivia!
So most buses either leave very early in the morning or in the early afternoon from Uyuni to Villazon.
If you want to arrive into Salta during daylight hours (as I always do in a new country / city) then I highly suggest you take the early morning bus to Villazon.
This is exactly what I did, care of the bus company Trans Salvador.
With their office and departure point situated in the centre of Uyuni, they were easy to find and I bought my ticket there the evening before departure.
The bus left at 6am, sharply, so I'd advise getting there around 5:45am to stow your luggage and get comfortable.
Bring a blanket and pillow onboard if you want to have a snooze, as well as snacks and water for breakfast, as the bus doesn't stop until Tupiza and then only quickly.
From Tupiza Instead
So yes, this bus stops at Tupiza, which means if you've finished your Uyuni tour in this town, or have spent a few days exploring the amazing landscapes around, you can simply hop on the bus from the terminal here instead and then head straight to Villazon saving yourself a few hours.
Easy!
Tupiza is a great option if you want to take a Uyuni tour that is less crowded.
Otherwise, if you've come from Uyuni, use this opportunity of a quick stop to visit the bathroom and buy water / snacks, because it's straight to the border from here.
Arrival at Villazon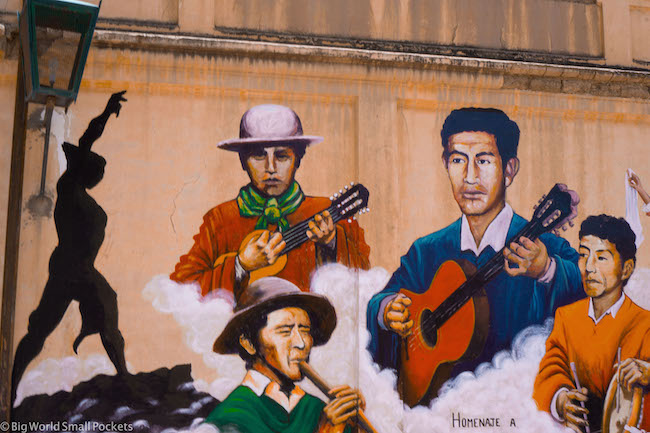 If you take the 6am bus from Uyuni to Villazon, you'll arrive at this border town around 12:30pm in the main bus terminal.
There's really nothing to see here, it's a pretty bleak place, so getting out asap would be my recommendation!
And my second and most important tip is to ignore the tours who will try to sell you a package that goes all from Villazon bus station to Salta.
They put a crazy mark-up on the taxi ride and bus tickets, which you can easily buy yourself.
Instead, exit the station and use maps.me or google maps, to find directions to the border.
The actual frontera is situated quite far away – it's at least a 20 minute walk which, with a heavy pack, you may prefer to avoid.
As such, start walking and hail down a taxi as you go.
Lots will pass you on the streets so this is easy.
A taxi to the border should then cost around 4 Bolivianos, aka nothing!
At the Bolivia – Argentina Border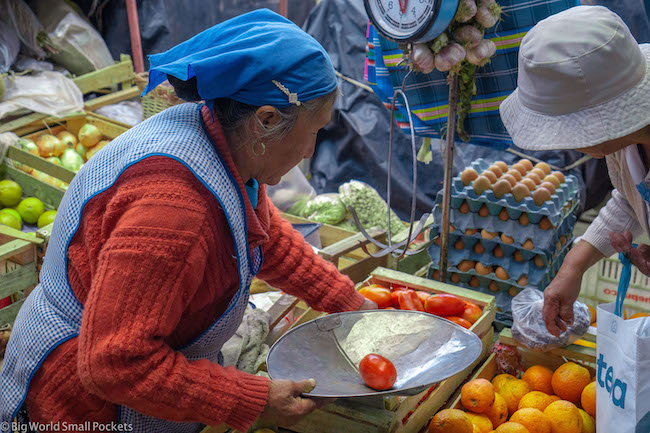 I'd heard horror stories about the Villazon – La Quiaca border crossing between Bolivia and Argentina, but it looks like they've revamped and cleaned it up in recent years, because the whole process here was very efficient and straightforward when I arrived!
The border is physically a bridge that stretches across a river, but before you cross, make sure you change any Bolivianos you have leftover into Argentinian Pesos, plus any USD etc if you need a bit more cash – remember you'll need a long bus fare and food as a minimum before you reach Salta.
You'll get the best rate on the Bolivia side and there's a blue-fronted currency exchange office where the locals were going just right by the bridge, so I guess they offer the best rates.
Weirdly, there's no Bolivia exit point here, so simply, cross the bridge and head to the Argentinian immigration office on the other side.
Arrival into Argentina
The Argentinian immigration office was housed in a container-like structure on the right-hand side immediately after you cross the bridge.
Head here to get your entry stamp and sort your Bolivian departure.
The officials here do both, so you don't actually get a Bolivian exit stamp as they simply stamp you into Argentina and sort the paperwork via this.
I repeat, you will not get a Bolivian exit stamp and that's ok!
As long as you get the entry one into Argentina at this point, you're good.
Afterwards, pass into the official immigration building to have your bag scanned and exit.
Hoorah you've made it into Argentina!
PS. there's bathrooms here if you need as well. Just ask for directions!
Departing La Quiaca
From the Argentinian side of the border, you'll then have around 10 minutes to walk from the immigration post into the town of La Quiaca and its bus terminal, which is located slightly uphill.
There is an ATM to be found a few streets away from the bus terminal (down a street to the left, as you walk up to the bus station) if you need one at this point.
From La Quiaca terminal, which is tiny and basic by the way, there are regular buses leaving to destinations across Argentina.
All offer luggage storage underneath and comfortable seats.
Buy your tickets at the various kiosks and have some change to tip the luggage handlers.
There is a bus that goes all the way to Cordoba and onto Buenos Aires from there.
However the most popular destinations by bus from La Quiaca are Humahuaca, Tilcara, San Pedro de Jujuy and Salta – if you want to get to Buenos Aires you can take a flight from either of the latter of these two.
All of these destinations will involve the same bus, as they are just different stops along the same route.
Be prepared for police stop and searches on this bus service – it's a major drug traffic route and they conduct a lot of spot checks, so have your passport at the ready to show any officer that asks you for it.
For the bus to Humahuaca I paid 345 Argentinian pesos and the journey took 2 hrs.
For Jujuy, the bus costs 600 Argentinian pesos and takes 4 hours.
To Salta its' 7 hours.
However do be aware that Humahuaca, Tilcara and Pumamarca are all lovely authentic towns, which offer good accommodation and tourist services.
If you want to visit the amazing landscapes around here, including the 14 coloured mountain, or experience the unique culture in this part of Argentina, you don't need to go all the way to Salta from the border first.
Instead, hop off the bus from La Quiaca at one of these lovely towns and enjoy them for a few days – my favourite was Humahuaca and you can learn why here.
You can then continue onto Salta afterwards.
Salta to Uyuni
And don't forget, if you are travelling the other way, from Argentina to Bolivia i.e. from Salta to Uyuni, you can follow the exact process I describe above, just in reverse.
Just make sure you take an early bus to La Quiaca and try to arrive into Uyuni before dark, which is about 6pm.
I'd also book somewhere to stay in Uyuni in advance.
Although touristy, Uyuni is not a town you want to be strolling through, looking for accommodation with all your possessions, after dark.
I highly recommend the great hostel Piedra Blanca if you're on a budget.
I stayed there and loved it!
Best Travel Insurance for Argentina and Bolivia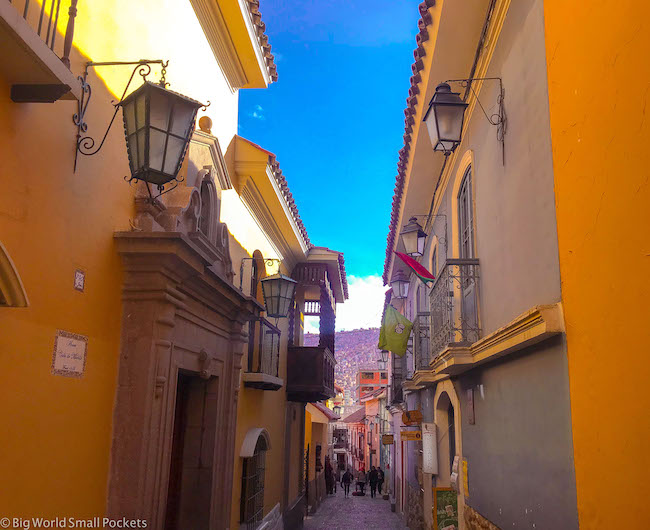 I wouldn't dream of travelling to countries like Argentina or Bolivia without proper coverage and always recommend travel insurance from World Nomads which I've used throughout my time in South America and across the world.
World Nomads are actually one of the few companies that will insure you for hiking and camping at altitudes above 3000m – essential for a country like Bolivia where many destinations are situated above this height.
It's quick and easy to take out, change, extend or claim on your policy whilst abroad with World Nomads and their customer service is excellent too.
5 Essential Packing Items for South America
#1 Good Camera – I would never even think of travelling to Bolivia or Argentina without a camera good enough to capture the amazing landscape and people of countries.
Both my Sony A6000 and GoPro Hero 7 were perfect for the job!
#2 Waterproof / Windproof Jackets – With so much of Bolivia and Argentina situated either high in the Andes or cold down in Patagonia, taking a waterproof and windproof jacket is essential if you're going to be travelling here.
I highly recommend the North Face Venture 2 for the job.
#3 Hiking Shoes – You can't come to Bolivia and Argentina and not do some trekking, so make sure you come prepared with some good, supportive walking shoes.
I've never worn mine so much in my life!
These North Face Storm III are the perfect solution.
#4 Day Pack – Also for the hiking and sightseeing, a good daypack to carry water, snacks, camera, hat, gloves and other clothing layers is key in this part of the world!
This one from Osprey is my pick.
#5 Travel Scarf – And finally, I've just discovered the amazing travel wraps from Sholdit and am so happy I took mine to South America.
Acting both as a scarf to keep you warm and a place to store your valuables while you're out and about, this great invention is perfect for travel in this continent.
PIN IT TO PINTEREST!
So there you have it my complete step-by-step guide on how to travel from Uyuni to Salta by bus.
Have you made this journey recently?
Has anything changed?
If you have any info to add or update, please drop it into the comments box below so you can help fellow travellers out.
Thanks 🙂