One of the great things about Manchester is that it's so easy to get to from many parts of the UK.
Be it London, Leeds, Birmingham or Cardiff, Manchester is accessible from all these cities in just a few hours by train, which makes it ideal day trip material.
Whether it's visiting one of the famous football clubs, checking out some theatre, enjoying the iconic music scene, hitting up a museum or heading there to do some serious shopping or bar hopping, a day trip to Manchester is always a good idea!
And here to bring all the deets about how best to spend a day in this city is my ultimate one day itinerary for Manchester.
Packed full of hot spots you can't miss, including the best places to eat, drink, visit and snap, it's your one-stop guide to a fantastic day out in this northern gem.
Oh and if you enjoy your time in this city so much that you want to stay, then I highly recommend the CitySuites II Aparthotel located at New Kings Head Yard.
Budget it is not, but fabulous it is – with big spacious studios, lots of natural light, comfortable beds, top-notch facilities and a great gym and swimming pool onsite! Winning!
---
Related Posts:
---
My stay in Manchester was kindly sponsored by CitySuites II Aparthotel but, as always, all views are my own.
This page contains affiliate links meaning Big World Small Pockets may receive a small commission on any purchases at no extra cost to you.
---
How to Travel to Manchester?
The first thing you need to know when it comes to planning your Manchester day trip is how to get there.
This is especially crucial if you want to travel to the city and back in a day, because ensuring you reserve the correct trains (that will give you enough of an opportunity to explore the city) is key.
As always, I recommend Trainline for the job – making it easy to compare the journey times and prices of all rail services, this is my one-stop shop for bagging the best deals.
Once booked, it's likely your train will arrive into Manchester Piccadilly, so I'm going to start this one day itinerary from that station.
Don't forget that if you're travelling with luggage, you can use the great app LuggageHero to find a place to store your bags securely and cheaply nearby.
Morning in Manchester
After your arrival in Manchester Piccadilly, I suggest heading to the south of the city first to check out the famous university and perhaps enjoy a historic walking tour of it too.
If you're looking for private and personalised tour in the city this is a great option, otherwise head down to the university yourself either by walking or catching a bus.
On the way, don't miss the Alan Turing Memorial and the chance to learn about this man's amazing story, as well as the highly-rated Manchester Museum, which has a huge collection of archaeology, anthropology and natural history items.
Also in the area of the university are the Whitworth Gallery (one of the city's top art institutions) and the Pankhurst Centre, which are both worth checking out if you have time.
The Pankhurst Centre, at 62 Nelson Street, was actually the former home of Emmeline Pankhurst and her family until 1907, and the first meeting of the suffragette movement took place in the parlour here, so it's quite the slice of history!
If you're more into your football, than your history and sightseeing, then I suggest supplementing this morning suggestion with a trip to one of the city's iconic stadiums instead.
This great small group tour to the Manchester City museum and stadium is extremely well-reviewed… if that's your team of choice!
Otherwise, this Manchester United museum and stadium tour is your other top-rated option!
Lunch in Manchester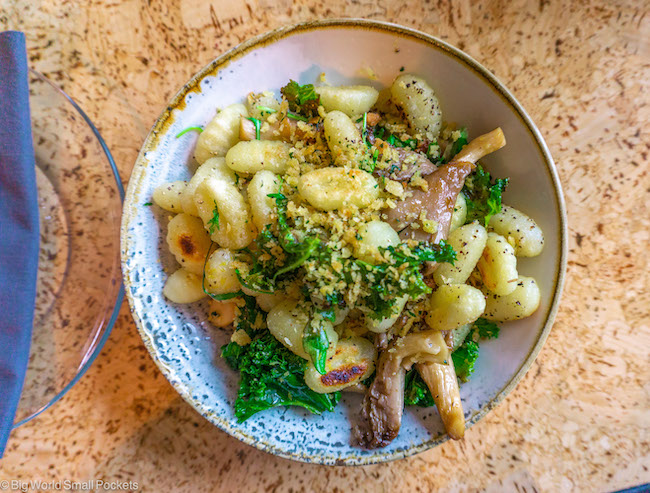 For a cheap lunch bite, you can hit up the famous "curry mile", which runs along Oxford Road near the university, or else head back towards Manchester Piccadilly station on one of the many buses (you can just hop on and use your contactless card to pay) and then make the short walk to the Ducie Street Warehouse.
This fab lunch spot is housed in an old warehouse with a great bar and restaurant, as well as café and outdoor terrace. The food is great, but the atmosphere and service are even better.
Don't miss the vegetarian gnocchi, which was delicious and, as it's pretty reasonable, make sure you leave room for an espresso martini as a dessert!
Afternoon in Manchester
After lunch, it's time to then hit up the city centre and explore the famous buildings and streets of this area including St Peter's Square and Albert Square which sit in the Gothic heart of Manchester and play host to some of the city's largest community events, including the Manchester Christmas Markets.
The Manchester Art Gallery is also here and worth a look in, otherwise the famous John Rylands Research Institute is a must-see.
The latter is based in one of the finest neo-Gothic buildings in Europe and works to promote research in the humanities and sciences using the special collections of the University of Manchester Library.
From here, continue to the Green Quarter, where you can check out the Royal Exchange Theatre on the way and see if there's anything that takes your fancy for this evening or your next trip.
After this, it's onto the Manchester Cathedral – a site which has been home to a religious building as far back as the Domesday survey in 1086.
The cathedral is free to enter and open Monday to Saturday 9.30am – 4.00pm and Sunday 12pm – 4.00pm.
Next, the National Football Museum, in its iconic glass building, is just a stone's throw from the Cathedral and makes a great complementary activity!
And just around the corner is also the place to do your shopping in Manchester, with some of the best malls and arcades found in this part of the city.
In between all this, don't miss the historic Old Wellington pub and the amazing story that's behind its current location!
Evening in Manchester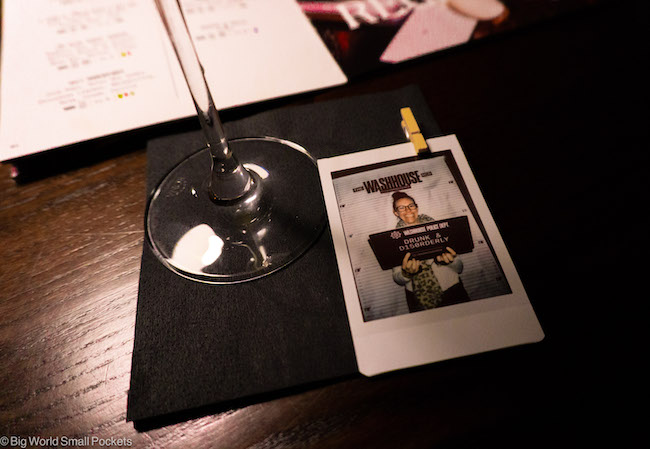 If the Old Wellington hasn't wet your whistle, then it's time to check out The Washhouse.
In fact, even if you have had a pint already, you definitely shouldn't miss the Washhouse, because this place really is a unique experience.
Find the disguised launderette on Shudehill and then pick up the old-school phone and you'll soon be directed to the secret entrance where you can then enjoy a range of amazing cocktails full of incredible flavours and served up with a good slice of drama!
I advise booking ahead if you can!
From here, head on round to the Northern Quarter, where there's a huge plethora of great cafes and bars to choose from.
Before the sun sets, don't miss the great street art of this area and snapping some of the beautiful buildings – this is definitely one of my favourite parts of the city.
Dinner in Manchester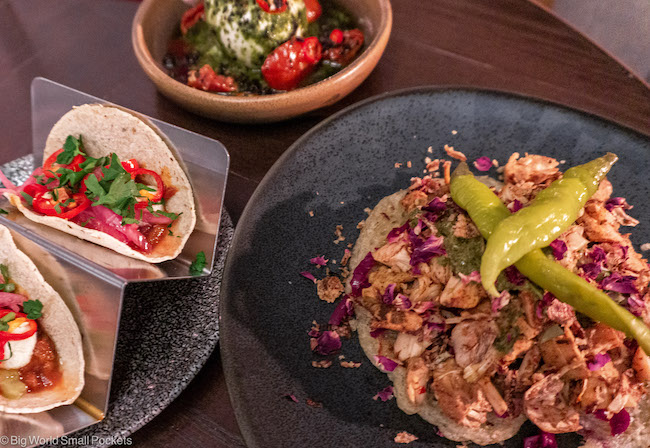 Round off your day in Manchester at one of my fav places to eat in the city – The Refuge.
Set in a gorgeous restored building with ceramic pillars and an elegant atrium ceiling, the casual but high-quality nature of the food, drinks and service here really sets it apart.
Don't miss their fabulous cocktails, gin menu or tapas treats either – this is a really unique and brilliant Manchester spot that shouldn't be missed!
After dinner, it's sadly the end of your great day trip in Manchester, so take one of the free city buses to head back to Manchester Piccadilly to catch your train home.
And just remember to allow more time for your Manchester trip next time!
Have Longer than a Day in Manchester?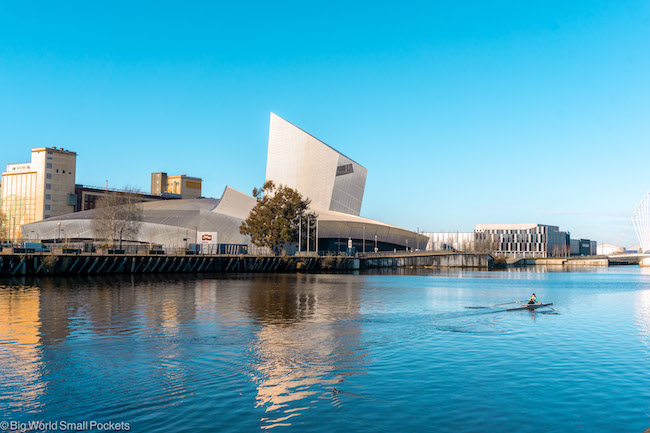 With a second day in Manchester, I highly recommend heading to Salford Quays.
It's easy to catch a tram or Uber there and to check out the cultural icons of the Lowry and the Imperial War Museum North.
You can also enjoy a lovely river cruise here.
Otherwise, why not consider heading out the city to take in some of the beautiful countryside around?
Here's my list of the top days trips you can take from Manchester…
Oh and if you're heading to the Peak District and looking for a great hike, then check out this top Mam Tor and Kinder Scout walk.
And after all that, you can get a great night's sleep at the CitySuites II Aparthotel.
More Manchester Travel Tips
When to Visit?
Manchester is a great day trip at any time of year, but Christmas (when the city is beautifully lit up) is a special time to visit, as are the summer months of June through August, when the better weather makes wandering the city and enjoying some of the nearby day trips even more magical!
How to Get Around?
Public buses and trams all ply this city and you can pay onboard using your contactless card, which makes things really simple.
There's also 3 great free bus lines that take you around most of the city centre too – just simply hop on and off them whenever you need. Learn more here.
Finally, you can also walk around Manchester. Although the city is pretty spread out, wandering the streets is a lovely way to stumble across hidden gems and really get a feel for the place and its people.
Manchester Packing Essentials
#1 A Good Camera – I love my Sony A6000 and GoPro, which are both light, compact and great for travel.
#2 Decent Walking Shoes – Be prepared and ensure you have a decent pair of walking shoes. These cross trainers from New Balance are ideal (and totally stylish) for the job.
#3 Light Waterproof Jacket – Whatever the time of year, don't get caught out and make sure you have a good lightweight and waterproof jacket with you. This North Face one is perfect.
#4 Compact Hiking Day Pack – This super featherweight Kompressor Backpack from Marmot is my go-to, because it folds down to nothing and is water-resistant – ideal for those sudden showers!
#5 Portable Charger – I'd never head off anywhere without my trusty Anker Portable Charger, which keeps my phone and camera batteries full all day, every day.
Travel Insurance for the UK
World Nomads offers simple and flexible travel insurance. Buy at home or while travelling and claim online from anywhere in the world.
Alternatively, if you're a long-term traveller, digital nomad or frequent remote worker seeking travel health cover, check out Safetywing's Nomad Insurance policies.
Travel Money for the UK
The easy way to spend abroad with real exchange rates, no markups and no sneaky transaction fees, you can use your Wise card just like a debit card here… and it links easily with Google and Apple pay – sold! Grab yours here.
PIN IT TO PINTEREST!
So there you have it, my guide on how to spend the best day in Manchester.
Irrefutably one of the top UK cities, I hope this post has inspired you to make the trip north and to perhaps allow for longer than a day trip to Manchester too!