Mam Tor? What a strange name!
Yes it is a rather uncommon appellation, but there's no question this lofty peak in the English county of Derbyshire is a lot more popular than its title!
Meaning "mother hill", Mam Tor can be found in the Peak District National Park – the UK's first national park.
At 517m tall, it is a favourite spot to take in the views over this beautiful part of the UK.
Frequently listed as the highlight of many fabulous trails and hikes in the area, Mam Tor offers an amazing lookout over the limestone parts of this National Park, including the iconic Winnats Pass.
On a clear day, you can even see the city of Manchester shining in the distance.
But which is the best of the Mam Tor walks to do?
With heaps to choose from, I'm going to bring you my favourite Mam Tor hike, which takes in the best of this area including other treasures such as Kinder Scout and the charming village of Edale.
So read on to learn everything you need to know about enjoying this brilliant Mam Tor walk you can't afford to miss!
---
Related Posts
---
This page contains affiliate links meaning Big World Small Pockets may receive a small commission on any purchases at no extra cost to you.
---
The #1 Mam Tor Walk
The best walk that takes in Mam Tor in my opinion is the 20km circular Purple Hills trail.
It's also known as the Kinder Scout and Mam Tor Circular!
Beginning and ending in the village of Edale, in the High Peak borough of Derbyshire, this strong hike takes in Kinder Scout – another nearby high point, the Pennine Way and the Winnats Road Climb, with Mam Tor providing the perfect finale!
Taking around 4 hours to complete with an elevation of just over 800m in total, this hike isn't for the faint-hearted, but your efforts will be rewarded with incredible climbs that allow you to glimpse some of the best scenery and iconic parts of the Peak District National Park.
Walking Mam Tor, which stretches up over 500m above sea level, is always going to involve a climb, so why not add a few more in and enjoy this brilliant half day hike that really will leave you breathless in more ways than one!
How to Get to Edale?
As I explained above, you'll want to head to the village of Edale to begin this top Mam tor walk.
Located in UK's wonderful Peak District National Park, which lies just outside the city of Manchester in the north of England, Edale is located in the so-called Hope Valley.
By Car
Taking around an hour to driv from both Sheffield and Manchester, and just over an hour and a half from Leeds, you should set off early to make sure you have time to drive to Edale and complete this trail.
On the way to Edale, you'll pass the beautiful Ladybower Reservoir – the Ladybower Dam and nearby Bamford Edge are certainly worth checking out on your way here if you have time.
If you need to rent a car while you're in the UK, then check out Discover Cars who offer some of the best deals going.
Parking
Paid parking is available in the village of Edale in the HPB Car Park, which can be found by typing the postcode S33 7ZQ into your satnav.
There's public toilets you can use in this car park too.
Parking can be arranged at the machines in the car park and costs £6 for 10 hours.
Payment is made either by cash or the mobile app Pay by Phone.
However, as you're unlikely to have any phone signal in the car park, I highly recommend either paying for your parking ahead of time (by using the app), or bringing cash (pound coins are best) with you.
If this car park is full (as it can be on busy weekends and during school holidays), then you'll find local farmers and land owners also open their fields for overflow parking.
Costs here are usual £5 cash, payable to the man at the entrance.
Key message: Remember to bring cash for the parking!
By Train
You can also get the train to Edale from both Sheffield and Manchester.
Edale train station is located in the heart of the village and regular trains (roughly 1 per hour) run from Manchester Piccadilly direct to Edale in around 43 mins and costs under £6.
Direct trains also run every hour from Sheffield to Edale, taking just 32 minutes and costing under £5.
As always, I recommend using Trainline to check journey times and book tickets for your rail journeys in the UK.
Things to Know Before you Arrive in Edale
But now we come to the really important part of this guide to the best Mam Tor walk – the things you need to know before you arrive and that will make a huge difference to your experience here!
Entrance Fees
Entrance to this walk and the Peak District National park are free.
The only thing you'll need to bring money for is the parking in Edale and any snacks or water you need to buy in the village.
Edale Facilities
There's 4 good spots to eat and drink in Edale either before or after your walk.
These are the Newfold Farm Café and the Penny Pot Café, along with The Rambler Inn pub and the historic Old Nag's Head pub, which dates back to 1577!
There's also a general store in Edale, very close to the Old Nags Head, for supplies too.
As I mentioned above, there's public toilets in the Edale HPBC car park, as well as a useful Visitor Centre in the village too along Mary's Lane.
The Visitor Centre has maps and leaflets about the walks in the area and sells some useful products such as sunscreen and ice creams.
They expect cash or card, but please be aware they are no bank or ATM facilities in Edale.
The Edale Visitor Centre can be contacted on 01433 670207m or via [email protected].
Opening and Closing Times
The Edale Visitor Centre varies its opening hours throughout the year as follows…
April to September
Every day – 9.30am to 5pm
Closed on Tuesdays
October
Weekdays – 10am to 3pm
Weekends – 9.30am to 4.30pm (half an hour lunch closure)
November
Weekends only – 9.30am to 4pm
December
Open 27th to 31st – 9.30am to 3.30pm
The Peak District National Park is open 24 hours a day.
That said, please make sure you are not left making this great Mam Tor walk in the dark.
As a very rural area, there's almost no light in the Peaks after dark, making it easy to get lost and disorientated, especially if you are hiking outside of any of the villages and away from roads as this Mam Tor walk will have you doing.
Phone signal can also be patchy, so please ensure you allow ample time to finish the walk and return to your car before dark.
Don't forget to download the route map before you set off!
How to Get to the Trailhead?
Form the Edale car park or train station, you'll want to continue walking along Edale Road until you reach the village.
Pass through the village by turning right into Mary's Lane and heading up past the Visitor Centre.
Continue on the road until you reach the Old Nags Head and, just after this, you'll see a trail branch off to the right, marking the beginning of a steep climb.
This is the trailhead to begin your Mam Tor walk.
Purple Hills Trail Route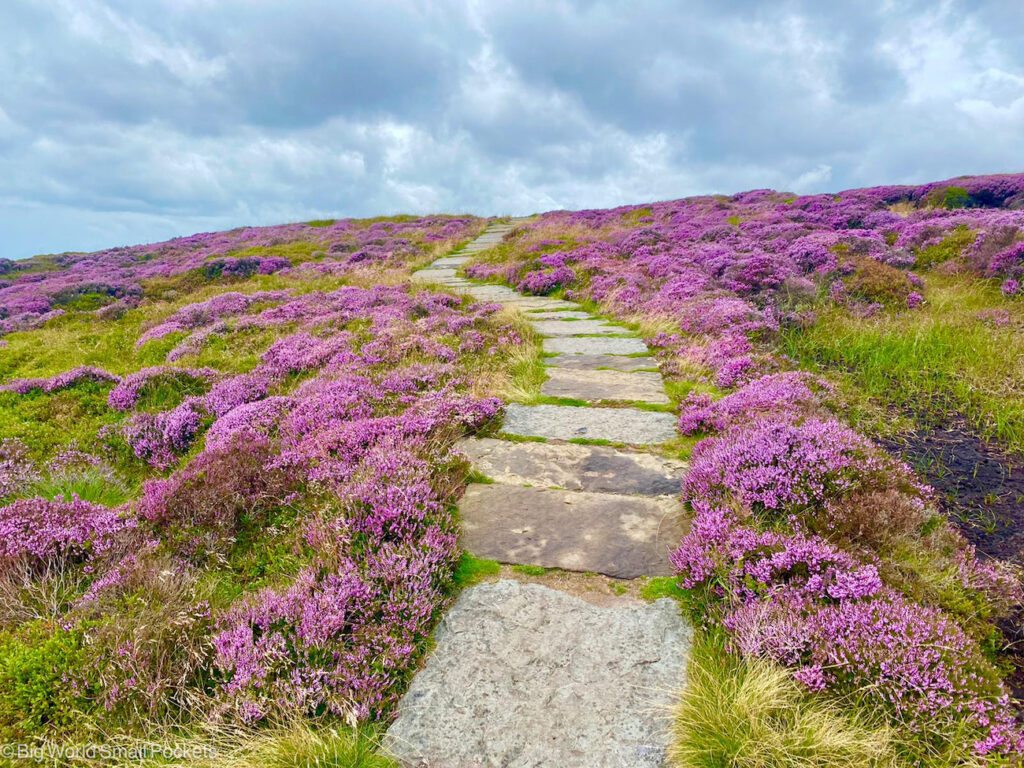 From the trailhead you'll start a steep ascent that you will take you up to the Kinder Scout plateau.
This is known as Grindsbrook Clough.
The section is steep and can involve some scrambling, in particular up some rocks, which form the trail route here.
However, it's only a Grade I scramble, so nothing too scary!
I made this Mam Tor walk in August and at this time of year it was absolutely beautiful, with purple heather in full bloom all around.
Presumably, this is how this Mam Tor trail route got its name!
Once you reach the Kinder Scout plateau you'll be rewarded with fabulous views as you walk along the ridge to Kinder Scout itself, which stands at an elevation of over 600m.
Don't miss the views (or photo opps) from the rock formations known as Crowden Tower and Pym Chair enroute.
Kinder Scout actually forms the highest part of this trail, not Mam Tor, and roughly marks the half way point in this hike.
It holds real historical significance as the site of the Mass Trespass protest in 1932, which involved over 400 people defying the law that prohibited walking across the land.
This eventually fuelled the "right to roam" movement, which led to the establishment of national parks throughout the UK.
After this special place, you'll continue along the plateau, passing Swine's Back, Brown Knoll and Lord's Seat as you go.
This section of the track forms part of the famous Pennine Way.
Continue on along the ridge, passing Nick Mam car park, before you begin the climb up to Mam Tor.
Here, a series of stone steps will guide you towards the summit.
At the top of Mam Tor, make sure you stop to take in the view from this iconic English hill, which includes the surrounding peaks and, on a clear day, even Manchester in the distance!
You'll also find the remnants of an Iron Age hill fort here.
After you've enjoyed your achievements, descend to Hollins Cross as you make your way back to Edale and your parking spot.
Find the route map for this Mam Tor trail here care of AllTrails.
Difficulty & Terrain
This is a challenging and long hike, but one that's certainly rewarding.
As you can tell from the trail description above, the steepest ascent is at the beginning of the hike, and once you've made this, the walk is generally pretty flat with only a mild ascent to Mam Tor near the end.
The path is fairly well-trodden and there's likely to be other walkers you can follow too, but I still recommend downloading the trail map before you set off.
Not suitable for families, this walk takes over 4 hours and you should be prepared for inclement weather at all times of year!
Hiking in wet and icy conditions in not recommend due to the slippery conditions of the scramble at the start.
Facilities
There are no facilities on this walk, so you'll need to bring everything with you including food, snacks, water and sunscreen.
Please remember not to leave any rubbish in the national park and to carry everything out with you, as there's no bins or toilets on the route.
Don't forget to download the route map before you set off, as phone signal can be patchy here and you'll want to ensure you have enough time to compete the circuit before dark.
A headlamp and portable charger for your phone will be useful in case of any accidents.
What to Pack for Your Mam Tor Walk
As always, you'll want to have a good day pack like this one with you for this top Mam Tor walk
In it you should pack all the water and snacks you'll need for the hike, along with sun hats and sun screen in the summer, or warm layers like hats, gloves and scarfs in the winter.
Waterproof and windproof jackets
are a good shout at all times of the year – this is the north of England after all!
I'd also recommend a good walking shoe or hiking boot for this challenging trail.
Phones and portable chargers are a must when you go out for a walk anywhere in my book and don't forget a good camera if you want to snap the best of this amazing place, especially the view of Winnats Pass from the top of Mam Tor.
Other Top Things to Do Around Mam Tor
I've already mentioned the Ladybower Reservoir, which can be found on the road to Edale.
This beautiful body of water has a great dam and the excellent Bamford Edge provides a great lookout point over it.
On the drive back from Edale, I highly recommend you take the scenic Winnats Pass road if you can, which is one of the most famous drives in the Peak District.
Along here you'll find lots of great caverns including the Blue John Cavern, Speedwell Cavern and Peak Cavern.
The caverns are limestone caves and each attraction is ticketed separately and offers something unique – from boat tours on a subterranean lake to marine fossils and unusual rock formations.
Where to Stay Near Mam Tor?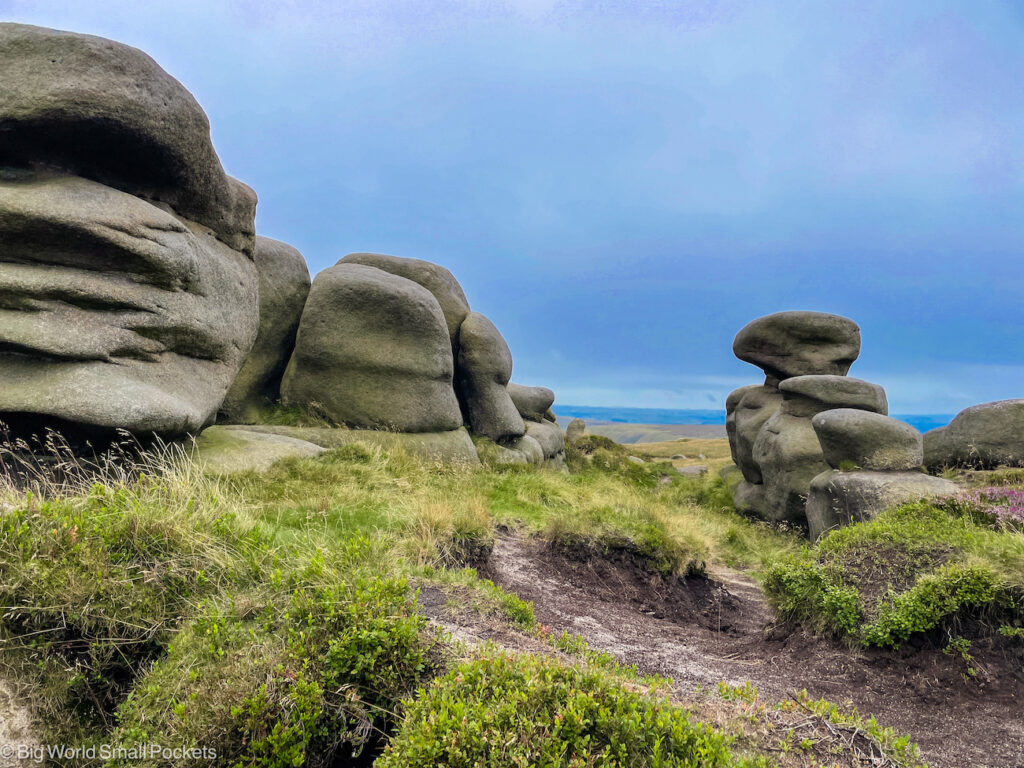 The village of Edale is a natural choice for accommodation if you're looking to stay longer in the region.
Taylor's Croft offers self-catering in a beautiful traditional cottage, and there's also the lovely Ollerbrook Farm Cottages & Bunkhouse nearby too.
At the more budget end of the scale, Edale Camping Barn offers hostel-like accommodation, while Edale Gathering offers glamping options care of pre-erected safari tents.
Slightly further out, the National Trust's Upper Booth Farm Campsite allows you to erect your own tent from March to October.
Otherwise, check out these top accommodation options elsewhere in the Peak District or, if you prefer to stay in either Sheffield or Manchester and simply day trip to Mam Tor, check out these good Sheffield and these fab Manchester accommodation options.
Top Travel Tips for the Peak District
When to Visit?
There's no question in my mind that the best time to visit the Peak District is during the summer season, when the UK's good weather allows you to get the nicest experience from your time there, especially if you want to enjoy some hiking and rolling countryside views.
The only problem with the summer, and the weekend, is that this is when the National Park is busiest, so do be warned!
If you have the option to visit the Peak District on a weekday, or outside of school holidays, then I'd advise this, as parking and getting some good snaps without a ton of other people in-frame will be a lot easier during these times!
How Long to Visit the the Peak District For?
If you can manage 4 days in the Peak District, then you'll certainly be able to tick a good number of top places to visit in the area off your list!
Travel Insurance
World Nomads offers simple and flexible travel insurance. Buy at home or while travelling and claim online from anywhere in the world.
Alternatively, if you're a long-term traveller, digital nomad or frequent remote worker seeking travel health cover, check out Safetywing's Nomad Insurance policies.
Travel Money for the UK
The easy way to spend abroad with real exchange rates, no markups and no sneaky transaction fees, you can use your Wise card just like a debit card and it links easily with Google and Apple pay. Grab yours here.
PIN IT TO PINTEREST!
And there you have it, my full guide to the best Mam Tor Walk there is!
Jampacked with all you need to know about planning your perfect visit, as well as other top things to see in the area, where to eat, drink and stay, it's the only guide you'll need to enjoying this fab hike.
Have you walked Mam Tor?
Which is your favourite trail?
Do let me know in the comments box below…