I'm sorry to say it, but it wasn't until this 2020 pandemic madness forced me to stay put in the UK and explore my homeland, that I finally got to visit the iconic city of Liverpool and the amazing things to do in this city.
This is even more shameful given that I studied for my undergraduate degree, and therefore lived for 3 years, in the city of Leeds, which is not 2 hours by car from Liverpool.
But such is that nature of our own back garden… we rarely explore it!
However, if there ever was to be a silver lining to 2020, it's surely that it's given me the opportunity to explore more of Great Britain which, let's face it, was an opportunity I would not normally have taken.
And despite my obvious sadness about having to surrender an 8 month plan to travel overland from the UK to Central Asia and back, I find myself (somewhat incredulously) uttering the words that a UK staycation has proved a delightful second option.
And there's no question, one of the kingpins in this noble endeavour was my trip to Liverpool.
The trip plan originally came from the fact I wanted to visit Anfield on behalf of a good friend in Australia who was sadly too poorly (and too restricted by pandemic rules) to make a final journey to his beloved spiritual home.
*Anfield is home to the famous Liverpool Football Club for the uninitiated*
However, from this dream, evolved an epic trip that involved me charging around the city for a good 13 hours, desperate to soak in as much as possible, before I had to hop back on a train back to London.
Had I realised just how much I was going to enjoy my time in this city, I would certainly have planned to stay overnight and explore more, but having recently started to pay an extortionate level of rent to live in a very fun part of London, staying overnight was not an expense my budget travel goals could allow.
However, it's definitely fair to say I experienced enough of the top things to do in Liverpool in a day!
In fact, I probably covered what most people would usually do over a leisurely few days, which is why I think this post makes a great weekend planner.
However, if you're mad and have too much energy like me, then why not go the whole hog and try to fit it into a day too!
After all, you can always come back because, if there's one thing that's certain about this great city, there's more epic things to do in Liverpool than you can shake a stick at.
And here's my pick of the bunch…
---
Related Posts
---
This page contains affiliate links meaning Big World Small Pockets may receive a small commission on any purchases at no extra cost to you.
---
#1 See a Stadium
So I'm putting this at number one, mostly because it's the reason (as I've explained in my far too long introduction) why I went to Liverpool initially and for that alone it's getting the top spot on this list, even if I don't care 2 hoots for the game personally!
Yes you can pick from either of the city's major team stadiums – either Everton who play at Goodison Park or Liverpool FC who play at Anfield – and see their amazing grounds for yourself.
Tours of the stadiums can be booked if you're looking for the full works (check out this top-rated option), or you can just wander around and enjoy these iconic locations themselves.
In fact, both grounds happen to be quite close to each other so, if you're super keen, you can squeeze in the double whammy!
Public buses can easily be caught from the city centre of Liverpool to either of the stadiums, which is the cheapest way to get there on a budget.
Personally, I caught the number 17 bus from Queen Square Bus Station, which is near to the main train station, and paid just a few pounds to get to Anfield in around 15-20 minutes – obviously this was not a match day, otherwise the traffic will be a lot worse, so do bear that in mind!
#2 Check out the Bluecoat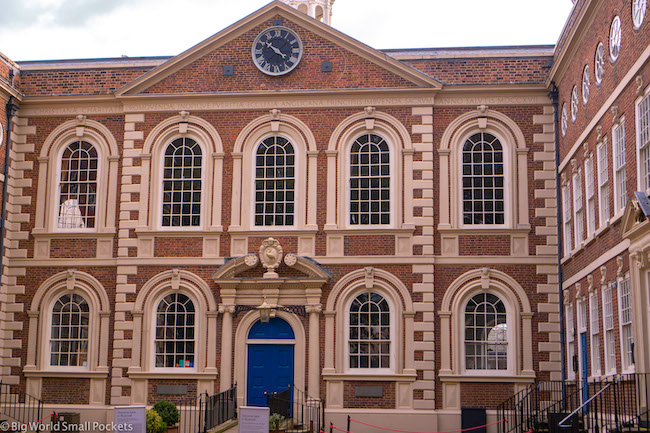 The bluecoat is the city centre's oldest building, and swinging past to say you've at least see it, is definitely one of the top things to do in Liverpool if you're a history buff.
Located on School Lane, it is almost 300 years old and has been beautifully restored and is a Grade I listed building.
Wonderfully, it is now a creative hub – the city's centre of Contemporary Art – and holds regular events, networking socials, performances and exhibitions.
It also has some beautiful gardens at the back you can wander and enjoy.
See what's on at the Bluecoat and learn more about what it does to support creativity in Liverpool here.
#3 Climb the Cathedral
Next up is another old building and city landmark, it's the Liverpool Cathedral, which is set a short distance from the city, but is well worth the stroll.
This is also a Grade I listed building and is amazingly the largest religious building in Britain and the 8th largest church in the world!
Pretty impressive!
This is especially true when you learn that you can climb the Tower of this Cathedral and experience amazing 360 degree views over the whole city at a height of over 500 feet!
The Tower Experience costs just £6, which is well worth it for the views alone, but also because it includes a visit to the Bell Chamber.. FYI: they make a pretty loud noise!
The Cathedral's Twilight Thursday's calendar also allows you to climb up for sunset and even meet a bell ringer!
Pretty amazing!
#4 Chat with a Local
And talking of noise, there's no question one of the best things to do in Liverpool is chat with a local.
Honestly!
Not wanting to perpetuate any cringy stereotypes, I do, however, honestly think the people of this city are the friendliest in England (and I've seen a lot of England this year to verify!) and striking up a conversation with one of them is an unbeatable experience.
In fact, you probably won't have to try that hard.
They're so friendly here that someone will probably just wander over to you and start chatting.
Can't beat the accent either… love it.
#5 Visit Royal Albert Dock and UNESCO Waterfront
Now we move away from the main city centre area and down towards the Mersey, where the real tourist hub of the city is.
The Royal Albert Dock is the heart of the action and has been wonderfully regenerated with a huge range of cultural attractions that are perfect for visitors to enjoy.
From, there, the sweeping wide walkways of the UNESCO Waterfront are ideal for strolling and taking in the river / estuary (whatever you want to call it!) air.
There's also plenty of places to eat, relax and sit in these areas too.
Absolutely one of the top things to do in Liverpool, strolling here to soak in the ambience and the views is free as well – perfect for those of us on a budget!
#6 Explore the Merseyside Maritime Museum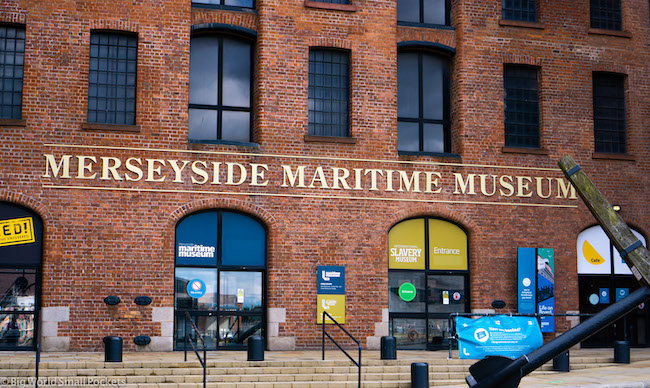 And one of the flagship museums that sits on the Royal Albert Dock is the Maritime Museum in Liverpool – very apt given this used to be the working dock at the heart of Liverpool's seafaring and trading history.
This museum is free to enter and brilliant for families as it charts how this city came to prosper and the characters that shaped the story!
#7 Educate Yourself at the International Slavery Museum
And on the top floor of the Merseyside Maritime Museum, you can find the International Slavery Museum – a wonderful series of exhibitions that covers the history of slavery, Liverpool's connection to this history, as well as modern slavery and the Blacks Live Matter movement.
Well worth a look and absolutely one of the top things to do in Liverpool.
#8 Learn about The Titanic Connection
And also situated within the Maritime Museum, but worth a number on this list in its own right thanks to its popularity, is a Titanic exhibition.
Here you can explore the connection between the city of Liverpool and this infamous vessel as you learn more about the story behind this huge boat and what led to its demise.
#9 Check out the Tate Liverpool
And also situated on the Royal Albert Dock (see I told you it was a hub of arts and culture for visitors to the city) is Tate Liverpool – a fantastic arm of Britain's most famous art gallery series.
Showcasing British art from the 16th century to the present day, as well as international modern and contemporary art, this treasure trove of a gallery is also free to enter, meaning it's certainly one of the best things to do in Liverpool for those on a budget.
The nearby Museum of Liverpool Museum is also worth a stop too if you're not done getting your exhibition fill just yet!
#10 Enjoy the Beatles Story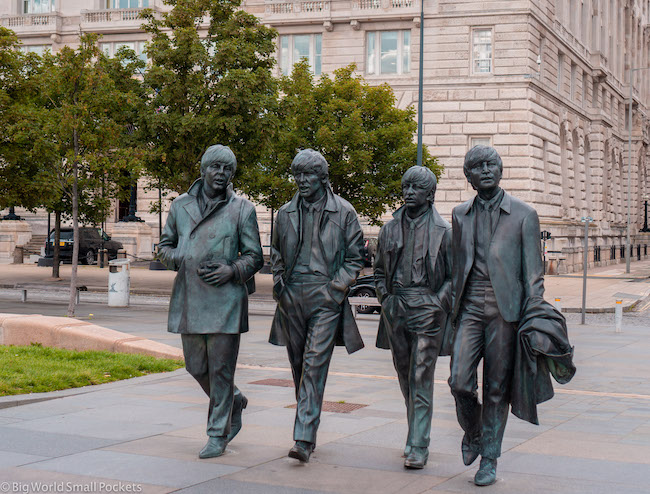 And next we come to the city's most famous residents, yes if you didn't know already, The Beatles hailed from Liverpool and unsurprisingly, the city offers a lot for fans of this popular music group.
And the flagship experience you can enjoy is the Beatles Story – a permanent exhibition dedicated to the life and work of this famous foursome.
Award-winning and accompanied by a great audio guide tour, you can buy your ticket to this brilliant exhibition here.
#11 Snap a Celeb Selfie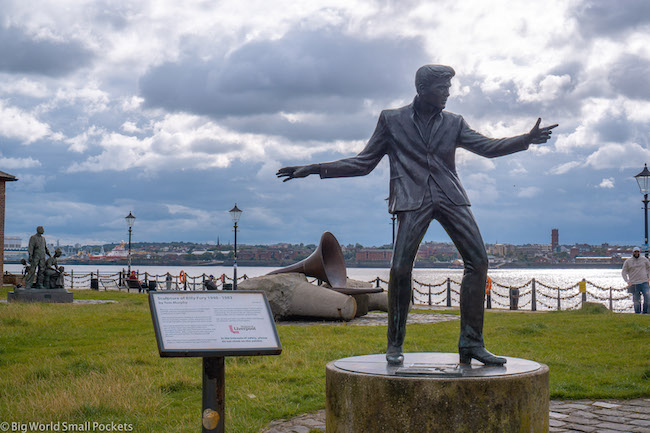 And while we're on the subject of famous Liverpudlians, of which there are a lot, few visitors who come to this city can resist a selfie with at least one of them.
Yes brilliantly, Liverpool manages to capitalise on its famous residents care of the many metal sculptures that are dotted around the city, particularly along the Waterfront and around the Royal Albert Dock.
The Beatles are there, of course, often next to a jolly busker strumming out their top hits, but so too is Johnnie Walker, Billy Fury and Bessie Braddock.
In fact, there are 20 sculptures of famous people across Liverpool city centre, but my favourite was … (drum roll please) obviously Cilla Black.
If you're not British and weren't born before 1990, it's unlikely you'll know who this lady is!
But if you were, my oh my did she give us a lorra lorra laughs!
Find out where to spot Cilla and all the other sculptures with this handy guide.
#12 Ferry Across the Mersey
You can't beat the song and you can't get through a list of the most iconic things to do in Liverpool without mentioning this one!
Yes the Mersey is the river come estuary that runs between Liverpool and The Wirral and you can get a lovely ferry ride across it for just a few quid and sing the song as you go (no extra charge!)
If you love a transport ride, then an open-top sightseeing bus tour in Liverpool might suit you too.
It's a great way to see a lot of the centre's best sights in super quick time – ideal for day trippers.
#13 Shop Till You Drop
No question, Liverpool city centre doesn't disappoint on the shop front, so for all you mad keen shoppers this is a great city to head to.
With a centre that's much more manageable than London, walking around for some retail therapy is a great relaxing adventure in Liverpool.
#14 Wander China Town
And talking of wandering, why not head off to explore Liverpool's cultural diversity with a trip to China Town.
Near the Cathedral, so it's a great idea to combine these 2, you can also grab some top eats here… goes without saying!
#15 Catch a Show at the Playhouse
A hub of evening activity, a great way to kick off a night in Liverpool is by catching a performance in one of the city's many theatrical spaces.
The Empire is the mainstream spot, but the Everyman Theatre is my personal fav.
The Playhouse is also very cool and an architectural gem you can enjoy from the outside too!
In fact, it's a Grade II listed building and can be found on Williamson Square. I love its intimate vibes.
Check out what's on at both latter performance spaces here.
#16 Munch at Duke Street Market
And after any show, it's time to head for dinner, because one of the top things to do in Liverpool is definitely… eat!
Duke Street Market is the place to head for the best vibes and trendy feels in the city.
Revel in the relaxed atmosphere along huge tables and the amazing range of different culinary delights on offer.
This is also a great place to enjoy a drink and soak in the good-time ambience even more!
#17 Enjoy a Drink in the Cavern Quarter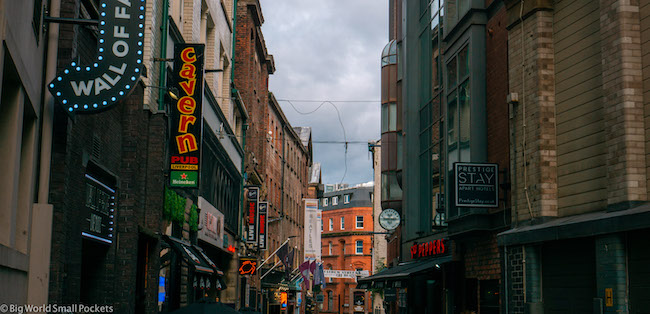 Otherwise, the other top spot to head in this city for a beverage or 2, is the Cavern Quarter.
Complete with a John Lennon statue, this part of the city is the stuff of legends and wandering along the small streets here to discover the many bars and their musical performers is absolutely one of the must-do things in Liverpool.
#18 Catch Some Live Music
And the Cavern Quarter is also the best spot in town to listen to some live music.
Almost every pub and bar here offers some form of live entertainment, so tap into this city's great musical heritage the way it's been done for decades!
#19 Have Fun at the Kazimier
If you want somewhere trendier, or you want to continue your night on further elsewhere, then the Kazimier Gardens is a super spot in Liverpool to do just that.
With a huge outdoor space, as the name suggests, this funky spot is downbeat in its aesthetics, but anything but in its atmosphere.
They also host club nights here if you really want to keep the party going.
#20 Hit the Rope Walks
The Kazimier Gardens is actually set along the Rope Walks – a part of the city that leads up to China Town and then onto the Cathedral.
This area is also full of happening bars, many with roof terraces, which make a great spot to enjoy Liverpool after dark.
#21 Marvel at Crosby Beach!
And finally, last on my list of the best things to do in Liverpool is to head out of the city and take in the amazing coastal location nearby.
Top of recommendations is Crosby Beach, which sits north of the city and is most famous for its Antony Gormley statues.
If you've seen any other Gormley pieces around the UK, including in Margate, this is a must-see.
Called Another Place, you can walk both along the beach and the coastal path here to enjoy the artwork, the views and the fresh air to the max.
Drive here if you've rented a car in the UK, or else there's 4 train stations along this strip of coastline you can use to access the beach from Liverpool city.
Otherwise, the National Cycle Route that runs along here too means grabbing a bike and enjoying the scenery is also possible.

Top Travel Tips for Liverpool
When to Visit?
There's no question in my mind that the best time to visit Liverpool is during the summer months.
This is when the UK's good weather allows you to get the nicest experience from your time there, especially if you want to enjoy some good sightseeing.
How to Get to Liverpool?
Liverpool can easily be accessed from most major cities in England, including London.
As always, I use Trainline to find the best deals on UK train fares.
You can also catch the bus to Liverpool if you are travelling on a really tight budget.
National Expres have some fantastic deals and you can compare these tickets to the train prices, and buy them, care of Trainline too.
Alternatively, if you're looking to hire a car in England, Discover Cars offer some very competitive rates.
It's worth noting however, that much of the parking across Liverpool city centre is paid, so don't forget to factor that and fuel costs into your budget.
How to Get Around?
Liverpool city centre is easy to navigate on foot – and it's a great way to take in the city too.
Otherwise, local bus services are cheap and easy to use – especially if you're heading out of the city to some of Liverpool's football stadiums or coastal areas for example. Get timetable info here.
You can also take a tour around Liverpool. This is a great way to learn more about the history and culture of this diverse and fascinating city.
My top recommendations would be for a City & Beatles open top bus tour, a private Beatles tour by taxi or a Beatles and City walking tour.
Where to Stay in Liverpool?
If you're spending the weekend in Liverpool and looking to stay somewhere on a budget, then you can't go wrong with the YHA Liverpool Central.
Right in the heart of the Cavern Quarter, this is a great spot to base yourself if you want to enjoy Liverpool's amazing nightlife.
Otherwise, for something a bit more private, why not consider the Innkeeper's Collection, which offers some brilliant-value hotel rooms right in the heart of the city.
Or, if you're after some self-catering accommodation, then this entire apartment on Richmond Street gets great reviews.
5 Packing Essentials for Liverpool
And now here's my list of the top 5 packing essentials you shouldn't head to the great city of Liverpool without…
#1 A Good Camera
No doubt you're going to be snapping like crazy in this iconic city and need to ensure you have a good camera to do the place justice.
I love my Sony A6000 and GoPro, which are both light, compact and great for travel.
#2 Decent Walking Shoes
You'll probably be walking a lot around the city centre here, so be prepared with a decent pair of walking shoes – these cross trainers from New Balance are ideal (and totally stylish) for the job.
#3 Light Waterproof Jacket
Whatever the time of year, you have to remember this is England after all, a country in which the heavens can open at any point!
Don't get caught out there and ensure you have a good lightweight and waterproof jacket with you. This North Face one is perfect.
#4 Compact Hiking Day Pack
I never go on any UK trip without a sturdy backpack to ensure I've got everything I need and that the weight is equally distributed across my back and shoulders.
This super featherweight Kompressor from Marmot is my go-to, because it folds down to nothing and is water-resistant – ideal for those sudden showers.
#5 Portable Charger
And finally, I would never head off anywhere without my trusty Anker Portable Charger, which keeps my phone and camera batteries full all day every day!
This means no matter how many top things to do in Liverpool I'm enjoying, I can take all the snaps and use all the maps I need during the day!
Where to Go After Liverpool?
If you're still keen for more UK travel splendour after Liverpool (and, quite frankly, why wouldn't you be?!), then you have some more great options on the doorstep.
North of the city, the amazing Lake District is full of beautiful views and some great hiking opportunities. Check out this top-rated day trip which runs there from Liverpool.
To the west, the beauty of Wales isn't a million miles away and both The Gower Peninsula and Brecon Beacons National Parks in the south are treasures here you shouldn't miss! Otherwise, the mighty Snowdonia is actually closer to Liverpool and is definitely one of my top bucket-list things to do in the UK!
Alternatively, you could head east from Liverpool and explore the county of Yorkshire with its amazing Dales National Park and stunning coastline. Check out my list of the 35 best things to do in Yorkshire for more ideas.
Travel Insurance
World Nomads offers simple and flexible travel insurance. Buy at home or while travelling and claim online from anywhere in the world.
Alternatively, if you're a long-term traveller, digital nomad or frequent remote worker seeking travel health cover, check out Safetywing's Nomad Insurance policies.
Travel Money in the UK
The easy way to spend abroad with real exchange rates, no markups and no sneaky transaction fees, you can use your Wise card just like a debit card here… and it links easily with Google and Apple pay – sold! Grab yours here.
PIN IT TO PINTEREST!
So there you have it, my list of the 21 top things to do in Liverpool.
Whether you are there for a day, the weekend, or even longer, I hope this post has given some great ideas about how to get the best from your time in this amazing city.
Have any other top things to do in Liverpool to add to the list?
Then please drop them into the comments below and help a fellow traveller out…