By the time I reached the tropical Perhentian Islands off Malaysia's east coast I'd be travelling non-stop in Southeast Asia for over 2 months.
And I was exhausted.
I was especially exhausted of the noisy cities, hectic pollution and piles of trash.
And so it was that the beautiful paradise pearls of the Perhentian Islands came just in time!
After 5 days of doing next to nothing on these tiny drops in the ocean, except lying in the sun and hanging out, I felt fully rested and ready to face the road again!
So if you're looking for a Southeast Asia retreat too (or some epic snorkelling / diving for that matter), then let me recommend Malaysia's Perhentian Islands… you won't regret it!
---
Related Posts:
---
This page contains affiliate links meaning Big World Small Pockets may receive a small commission on any purchases at no extra cost to you.
---
Why Visit the Perhentian Islands?
The Perhentian Islands are 2 tiny islands lying off the east coast of Malaysia.
They are perfect for those looking for some beach-underwater-ocean-sand-sun time and make a great alternative to the overcrowded islands of Thailand.
With beautiful waters, these islands are famous as top diving or snorkelling destinations, but are also ideal for those just looking to relax on some sand for a while and read a book.
Far less visited and developed than some of Malaysia's other islands (such as Langkawi) the Perhentian Islands provide a good (and often rare) opportunity to get off the beaten track a little in Malaysia.
Because it takes some time to get here, as well as being fairly rustic round the edges when you arrive, not a whole heap of travellers make the journey to get to this part of Malaysia… and you'll definitely be rewarded with less traveller traffic as a result!
In fact, the vast majority of travellers I met on this island were Malaysian.
And so it seems, the Perhentian Islands are a top local pick!
The best kind of recommendation in my book!
When to Visit the Perhentian Islands
Deciphering the best season to visit Malaysia can be a tricky pursuit… as I found out.
Situated in the tropics. fairly close the Equator and with 2 different coasts, the weather here can be temperamental and unpredictable to say the least.
Trying to give you some parameters however, it's generally acknowledged that there are 2 different rainy seasons in Malaysia – one for the east coast and one for the west.
It goes without saying, this is the time to avoid visiting the respective beaches!
On the west coast of Malaysia, the wet season is generally acknowledged as running between the months of May and November.
On the east coast (where the Perhentian Islands lie), it's the reverse, with rainy season running from May to November (which is the same as much of mainland Southeast Asia).
I visited Malaysia and the Perhentian Islands in early May but have to confide the weather was all over the place.
It rained continually when I was in Penang (northwest Malaysia) but not at all when I was in Malacca (southwest Malaysia).
It was also largely dry in both Kuala Lumpur and the Cameron Highlands, but the forecast in the Perhentian Islands was continually predicting rain, even though when I got there we didn't have a drop for 5 days!
The moral of the tale, or at least the lesson I learnt from my travels this time, was that basically you take a chance whenever you visit Malaysia and, I'm sorry to inform you, the Perhentian Islands are no different!
THE BEST TRAVEL INSURANCE FOR MALAYSIA
I wouldn't dream of travelling anywhere in Southeast Asia without coverage and always recommend travel insurance from World Nomads, which I've used throughout my time in Malaysia and beyond.
I love this company's easy online claims process, as well as their great customer support and the fact that you can buy or extend your travel insurance with them even if you're enjoying your travels already.
How to Get There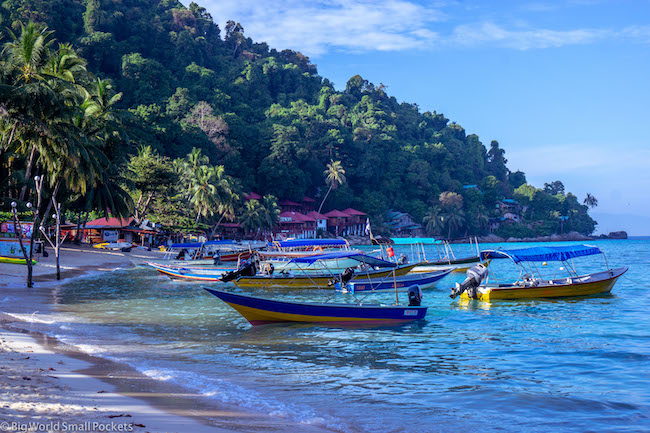 So let's say that you have decided to visit the Perhentian Islands, despite the lack of certainty re. the weather.
Then, the next question you'll want to know is how to get there.
Well first up, you have to get to Kuala Besat, which is the coastal mainland town nearest to the Perhentian Islands.
Buses to Kuala Besat run from across the country of Malaysia, including day buses from Cameron Highlands and night buses from Kuala Lumpur.
In fact, I arrived in Kuala Besat from Cameron Highlands on a tourist service that took all day, but only cost me 65 MYR and was a direct shuttle service.
On leaving Kuala Besut, after my time in the Perhentian Islands, I then took a night bus to Kuala Lumpur, which cost me 45 MYR.
As always in Southeast Asia, I use 12Go to book all my bus tickets as I love their easy and simple online comparison service and secure booking facilities.
And from Kuala Besut, you then need to get one of the public speed boats across to the Perhentian Islands, so it's at this point you'll have to decide which island you want to visit and which resort within that island you want to stay at (if you haven't already).
The boat ride takes around 45 minutes and cost me 35 MYR.
Drivers will drop you off on the jetty of your chosen resort / beach.
It's worth noting there is an additional Marine Park entrance fee you have to pay when you visit the Perhentian Islands.
This cost is 30 MYR and is payable at the time of boarding the boat over to the islands.
How Long to Spend in the Perhentian Islands
Both of the Perhentian Islands are fairly small, fairly basic and fairly limited on their activity offerings, but this can definitely be a good thing!
Both islands are perfect for a quick weekend trip, but even better is to spend a few more days here if you really want to chill out and do not much!
Most people stay in the Perhentian Islands for around 3 nights – it's a popular extended short trip for KL locals.
I stayed 5 nights and know many dive fanatics who stayed longer.
5 ESSENTIALS YOU SHOULDN'T TRAVEL TO MALAYSIA WITHOUT
#1 Lonely Planet Guidebook – The Malaysia Lonely Planet is excellent and very helpful for any trip to this part of the world with lots of top tips and useful information, including great eating recommendations.
#2 Birkenstocks – A good pair of sandals are king in Malaysia and I love my Birkenstocks which are perfect for keeping my feet cool, supported and for kicking on and off easily when you visit temples or hit the beach. Literally wore them all day every day in this country!
#3 British Power Adapters – Malaysia primarily uses the format of British power outlets, so make sure you come prepared with a suitable Skross adapter.
#4 Camera and Lens – I love my Sony A6000 mirrorless, which was ideal for capturing this diverse and delightful country.
#5 Sarong – A great multi-purpose travel item that can be brilliantly used through Malaysia as a beach towel / dress, a pillow / blanket on bus rides and for covering shoulders when you visit temples or your head if you visit any mosques. A good sarong is a Southeast Asia travel must-have in my book.
Which Island, Which Beach?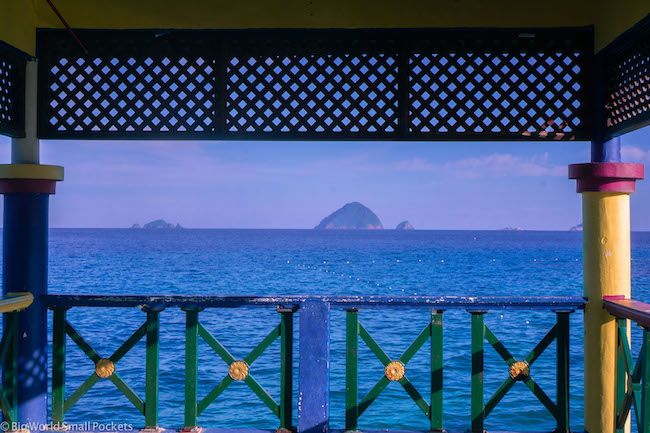 There's basically 2 Perhentian Islands.
The larger 'Pulau Besar' is slightly more upmarket and geared more towards couples and families.
The smaller island 'Pulau Kecil' is more centred around backpackers / groups of friends etc.
No surprise therefore, that I visited Pulau Kecil and was delighted with the choice.
Within this smaller island, which really is pretty small, there's 2 main resorts / beaches you can choose from when it comes to deciding where you want to be based.
'Long Beach' is just that…. a long beach.
The sand is beautiful here and the water crystal-clear, but there's a lot of hotels / restaurants / dive shops spread out along the length of the curved bay and things definitely feel more commercial.
'Coral Bay', where I stayed, is definitely way more rustic, but it's also a lot smaller and quieter.
The beach isn't quite as impressive here, mostly just because it's smaller, but the water is just as nice and I loved the really low-key / barefoot sort of feel to the place.
At each beach on each island, there's a lot of different accommodation options, from posher hotels and resorts like Ombak right through to the typical Southeast Asian huts on the sand, but generally speaking, Coral Bay has more backpacker accommodation, while Pulau Besar has more hotels.
I treated myself when I was in Coral Bay and stayed at the Ombak resort, followed by the Senja Resort.
They are probably 2 of the better accommodation options in Coral Bay, but you pay for it!
The island tax here really is something else!
What to Do There?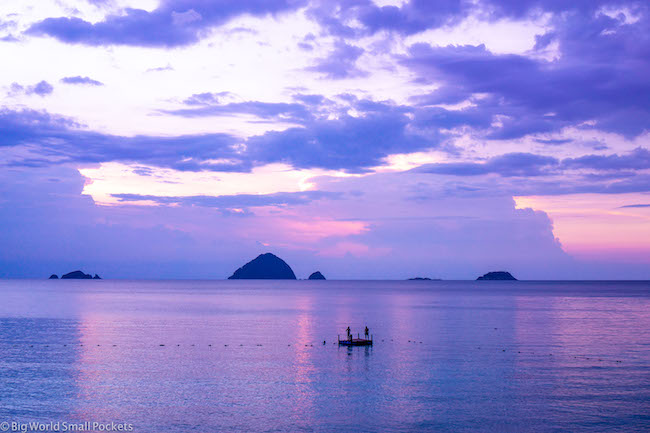 Um chill out?
Yup, when it comes to things to do in the Perhentian Islands, there's not a huge amount of choice… and that's just the beauty of them.
Obviously I know the smaller island 'Kecil' better and can safely attest to the fact that the main things to do here are swim, sunbathe and smile!
There's also some amazing snorkelling and diving to be had.
I wish I'd tried it in hindsight, but I was just so pooped when I arrived to the Perhentian, that lying on the beach was about all I could manage!
If you do want to snorkel, or better, dive when in the Perhentian Islands however, there are loads of dive shops across both islands and resorts and prices are pretty good.
You can also take scuba courses in the Perhentian Islands, with a beginners PADI Open Water Course on offer in many places.
Aside from that, you can also enjoy some walks on Pulau Kecil, largely the forest walk between Long Beach and Coral Bay, as well as to further afield on the island.
However, it is worth bearing in mind the heat and humidity here, which makes any form of exercise definitely an early morning or late afternoon pursuit!
Activities, or lack thereof, are pretty similar across Pulau Becar too!
Packing List for the Perhentian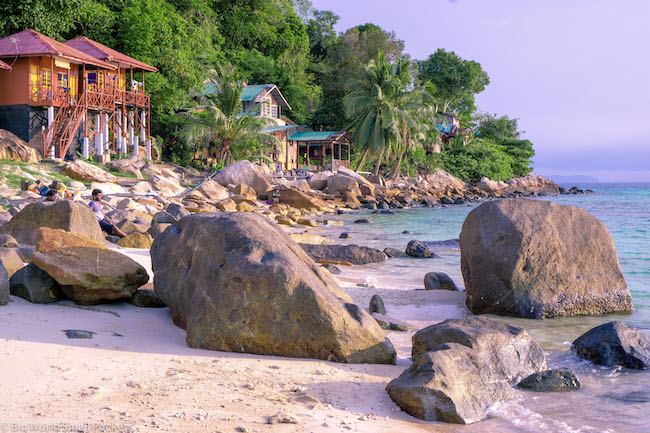 It's all about the sweaty, sandy, salty times in the Perhentian Islands, so when it comes to knowing what you need to pack, the answer is… not much!
Swimwear and a beach towel are a must
The Tesalate sand-free towelsare a super travel option
As are sunscreen for the day and insect repellent for the evening
Sandals are a given… mostly because the sand is too hot to walk on here
And a sunhat or cap to protect your head, face and neck from those super strong UV rays is a great idea
Outside of that, I think it's fair to say I pretty much lived in my sarong when I was here and occasionally threw on a pair of shorts and a t-shirt for the evening!
If you have your own dive gear or snorkel fins / mask, you may want to bring these with you.
And a dry-bag, with a good underwater camera, like the GoPro Hero 7, would be a top idea too.
Things to Know
After basically saying you don't need to pack much when you come to the Perhentian Islands, I'm sort of going to go straight ahead and undermine that, because the first thing to point out in this 'things to know' section is that you should bring everything you need to these islands!
Being remote and small, supplies here are seriously lacking and what is here is pricey, so make sure you come prepared with all the toiletries etc you might need.
You also need to come prepared with all the cash you might need, because there are no ATMs on this island!
That's basically the most important thing to know.
After that. it's just the usuals in Southeast Asia – such as not drinking the tap water, being aware of the heat and the sun, thinking before you eat stuff, staying hydrated and trying to be as conscious as possible when it comes to disposing of your trash.
When you see the sewer pipes on the Perhentian beaches however, as well as all the litter on the jungle trails, it's hard not to become as depressed as I was in much of Southeast Asia.
Finally, again like much of Southeast Asia, bed bugs are a big problem in much of the cheaper accommodation options here on the islands… and there's nothing you can do about it, except be vigilant.
Basically this means checking sheets and mattresses as soon as you arrive somewhere and telling managers / owners immediately in the morning if you've been bitten.
It also means putting all your stuff to bake in the sun afterwards to ensure you don't carry the critters with you from one place to another.
Ultimately however, it's hard to do much more if the managers and owners of guesthouses, along with other travellers, simply don't care.
Personally, I was so sick of bedbugs by the time I got to the Perhentian Islands, that it was another reason fuelling my decision to stay in more expensive, private accommodation, which is honestly the best way to protect yourself from these dreaded critters!
PIN IT TO PINTEREST!
So despite the moan at the end, hopefully you can tell I enjoyed my time in the Perhentian Islands immensely.
Pulau Kecil, in particular, reminded me a lot of the island of Koh Rong Sanloem in Cambodia, and I was as delighted to reach here and chill the heck out in the sun for a few days.
Have you been to the Perhentian Islands?
What did you think of them?
Tell me all in the comments box below…