Looking to visit Koh Rong Sanloem – the tiny Cambodian island? Then you've come to the right place! Here's my full travel guide jam-packed with all the info you need to enjoy this delightful part of Southeast Asia.
"Welcome to paradise!"
That's likely to be the greeting you'll hear when you first step foot on the island of Koh Rong Sanloem in Cambodia… and it's not far wrong!
Because it has to be said, this place is pretty damn idyllic!
From the azure blue ocean that gently laps at the white sand shores to the green jungle richness that backs the coast to, quite frankly, one of the most chilled vibes I've ever experienced in my traveller career – this is the spot in Cambodia as far as I'm convinced.
And you know what I mean by the spot right?!
In the same way that Byron Bay is the spot on the east coast of Australia, Golden Bay is the spot in New Zealand, Little Corn Island is the spot in Nicaragua and Chefchaouen is the spot in Morocco, Koh Rong Sanloem is the spot in Cambodia – yeah you know what I'm talking about!
I first visited this island in 2019, but have updated this guide in 2020 to bring you all the latest info, so read on to learn more…
---
Related Posts
---
This page contains affiliate links meaning Big World Small Pockets may receive a small commission on any purchases at no extra cost to you.
---
Where is Koh Rong Sanloem?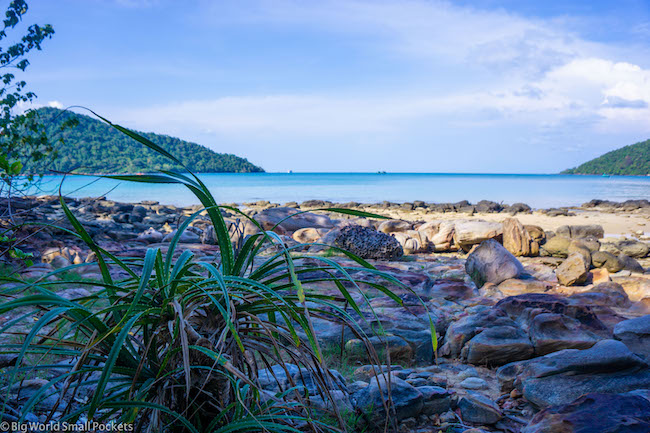 Koh Rong Sanloem is a small island off the southern coast of Cambodia in the Gulf of Thailand.
There's actually a collection of islands here – including the slightly larger Koh Rong and some other tiny ones too – but I'm going to suggest you visit Koh Rong Sanloem, which has the perfect balance of being small enough to feel hidden, but large enough to meet other people and have a good time.
As such, it's often compared to the Thai islands in terms of its appearance, but is known for having far less tourists and for being a little bit more laidback / behind / less developed – all plus points in my book when I'm looking for a tropical island getaway to be honest!
Not far from the Thai border, the nearest mainland city in Cambodia to Koh Rong Sanloem is Sihanoukville, which is a large coastal city with good transport links as well as tons of services and hotels, although I would not recommend staying here, because it's a bit of a dump!
Why Visit Koh Rong Sanloem?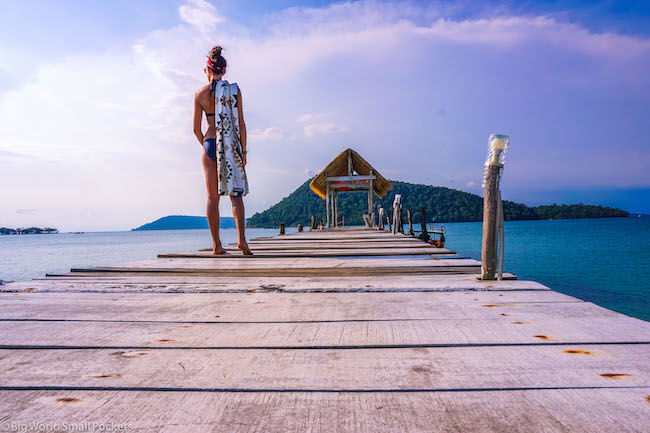 If you want some beautiful island times, but can't quite stomach the thought of overbearing, full-moon madness in Thailand, go to Koh Rong Sanloem.
If you're getting a bit sick of the hustle, bustle and pollution of Southeast Asian cities and feel you need to get some fresh air and extended natural views, go to Koh Rong Sanloem.
If you want to not wear shoes / sandals / much clothing, go to Koh Rong Sanloem.
If you want to hit the beach, snorkel, swim in the ocean, swing in a hammock, read a book and not do much else, go to Koh Rong Sanloem.
Different parts of Koh Rong Sanloem offer different types of experiences within the beachy chill sorta vibe, but generally this is a place for people who like to relax, like a beer, don't mind a bit of rough and ready, and love the beach!
Families, backpackers, long-term travellers, couples all flock here.
And they all get stuck!
Just a warning!
When to Visit?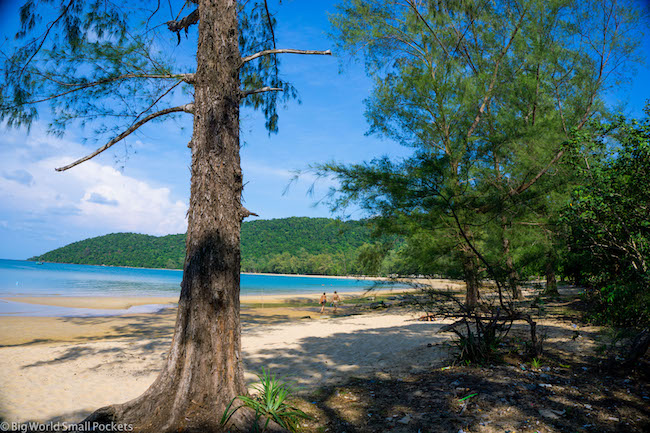 The best time to visit Koh Rong Sanloem is definitely when it's dry.
Tropical islands are very little fun when it rains for more than a day – trust me I lived on one off the coast of Central America for a year and wet weather gets very boring after a few days of enjoying a break from the heat!
So the rainy season in Cambodia – and the low tourist season – runs from May to October roughly.
I'd honestly advise against visiting Koh Rong Sanloem at this time.
Peak season is after the rain i.e. November through to February – this is when the island will be at its driest and coolest, but also its busiest, so it just depends if low humidity or low numbers of people are more important to you.
If the answer to this question is, "low numbers of people", then can I suggest visiting Koh Rong Sanloem during the shoulder season in March and April, which is actually when I enjoyed my stay there.
During March and April it gets very hot and humid on the island, but that chases many people away and the island is then perfectly balanced between not too busy but still fun!
Plus there's always a sea breeze here, so I honestly didn't find the humidity too unbearable and some nights I even slept without a fan!
Disclosure: I do have a broken internal thermostat though so don't take this for normal behaviour.
How Long Should You Spend There?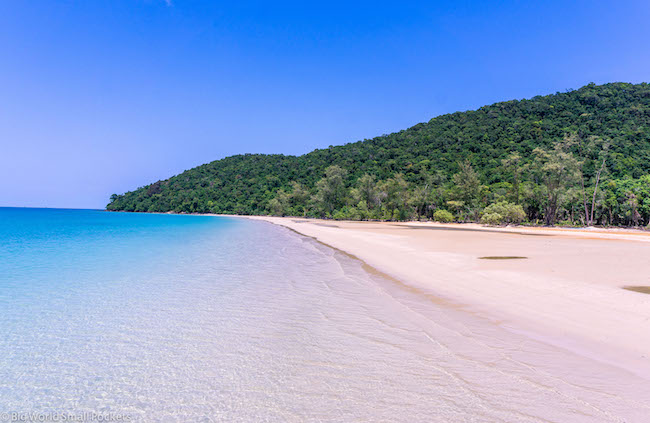 Blimey, now that's a question!
Because the answer is "how long ya got homies?"
I left my trip to Koh Rong Sanloem almost until the end of my Cambodia itinerary and I did it on purpose, because despite only initially booking 3 nights for my island stay, I knew I was pretty much, definitely, almost certainly, going to want to spend more time here, and that I'd be able to do that if I'd already visited everything else in the country I wanted to.
And so it was that I ended up spending a week on Koh Rong Sanloem… and it could have been a lot longer!
Read. tropical islands are my happy place.
Basically, everybody who goes to Koh Rong Sanloem ends up extending their time here, so clear the diary and settle in is my advice.
This is your second warning people!
How to Get to Koh Rong Sanloem?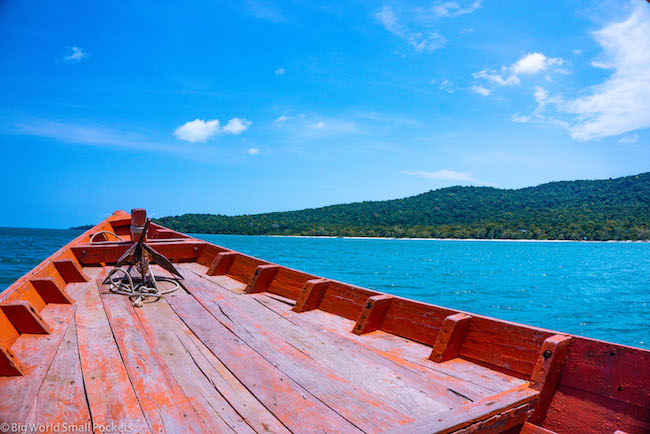 As I mentioned at the start of this article, the nearest mainland city to Koh Rong Sanloem is Sihanoukville and it's here you must head if you want to cross to the island.
You can easily get to Sihanoukville, via bus, from all the major tourist cities in Cambodia including Phnom Penh, Siem Reap, Kampot and Battambang.
You can also reach Sihanoukville from Thailand.
As always, when it comes to long-distance buses in Cambodia, I highly recommend travelling with the excellent company, Giant Ibis. You can book your tickets and view their timetables online via the handy 12Go website.
Once you arrive into Sihanoukville, you'll then need to grab a tuk-tuk to the ferry terminal (aka a rather rudimentary pier rather than a terminal per say) where all the boats to Koh Rong Sanloem and its big brother – Koh Rong – leave from.
Sometimes bus companies to Sihanoukville offer packages that include the boat fare. You can also buy boat tickets at the many of the bus company depots when you arrive into Sihanoukville.
The advantage of paying probably an extra dollar for this all-inclusive ticket is that it includes a tuk-tuk from the bus station to the ferry terminal.
The disadvantage of buying an all-inclusive ticket upfront is that if your bus breaks down on the way from Phnom Penh and you have to spend 3 hours at the side of the highway waiting for a replacement bus, you're going to miss your boat and not being able to get a refund or transfer the ticket!
Not that I'm speaking from experience because luckily, I was disorganised enough that I had not bought the boat ticket in advance, which is just as well because I would have missed that boat due to bus breakdown if I had.
And finally, to give you some idea of prices, the cost of the boat ticket from Sihanoukville to Koh Rong Sanloem is $22 USD return.
The bus I took from Phnom Penh to Sihanoukville cost me $13 with Giant Ibis – the luxury bus company I also used to get from Bangkok to Siem Reap.
The bus I then took from Sihanoukville to Kampot on my way out of Cambodia to Vietnam cost me $8 USD.
Where to Stay on Koh Rong Sanloem?
There are 2 main beaches to base yourself at on Koh Rong Sanloem, and basically deciding which of them you're going to stay at will also dictate where you are going to spend your time on the island, because you can only get between them by boat – walking across the island is not possible.
You can get boats to either of these main bays direct from Sihanoukville, but just make sure you specify which one you want to go to as there's a good 20 minutes ride between them so you don't want to miss your stop!
Saracen Bay
First up is Saracen Bay, which is the ever so slightly more developed and commercial side of Koh Ring Sanloem.
It's actually a long way from being developed and commercialised, but many businesses do line the shoreline here and there's some fancier hotels so I guess that counts for something!
The beach is beautiful – long with white sand and several boat jetties, but if I'm honest I felt this place lacked a bit of soul.
You could definitely lounge around here for a few days drinking, but outside of that, I'm not sure it offers much more on the fun factor.
M'Pai Bay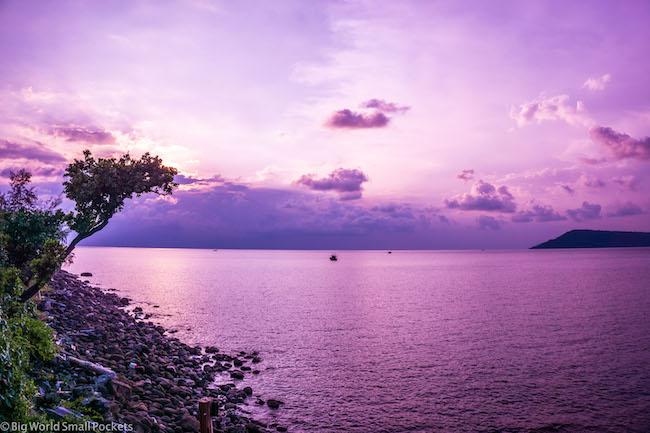 And I say that because I'm probably hugely biased as I visited Saracen Bay after M'Pai Bay, which is where I decided to base myself and stay on Koh Rong Sanloem.
This is definitely the less polished, more ramshackle beach, with barefoot dreadlocked folk aplenty – but for me, it definitely had more soul and vibe as a result.
I'm so glad I chose to stay at M'Pai Bay, not Saracen, and would highly recommend it for more alternative backpackers or long-term travellers in general.
Within M'Pai Bay itself, I stayed at the Hornbill Guesthouse – rough and ready as it was, I loved this sweet spot, which has some of the most welcoming and friendly staff and is a great place to chill, enjoy a beer, play a board game, chat sh*t, drink coffee or work at your laptop!
Owned by a couple of lovely British fellas, if you go there, please say hi from me (Jersey Steph!) and see if they still have my "office" – essentially a little desk corner downstairs I nabbed for myself!
Hornbill also do some of the best and cheapest breakfasts in town, with yummy vegan options – hoorah!
It's definitely the best place to stay on Koh Rong Sanloem in 2020!
Other Bays
In addition to the 2 main beaches / towns of Koh Rong Sanloem, there's also a few more isolated beaches that essentially have 1 hotel on them and not much else.
Staying at one of these beaches generally involves being very resort-based and there's literally nothing else around.
The Mad Monkey Backpacker Resort is an example of this – great if you just wanna party, hang out with other backpackers and sunbathe I suppose, but probs not for me… I hate feeling trapped in and having to eat and drink at the same place all day every day.
Things to Do on Koh Rong Sanloem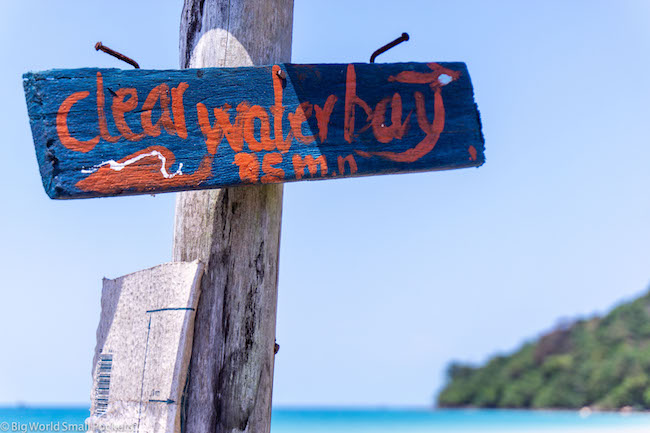 I'm going to concentrate this 'things to do' aspect around M'Pai Bay, because that's what I know best, but I do imagine, the possibilities are fairly similar at Saracen Bay.
So let me see, things to do in Koh Rong Sanloem are … well… swim in the ocean, sunbathe, swing in a hammock, read a book, drink a coffee / beer/ smoothie, chat with people, stroll around, eat in cafes, hang out.
That's pretty much the main topics covered.
In addition, you can go snorkelling, hike to Clearwater Bay, take a boat to another part of the island, explore the bioluminescence in the ocean at night, watch the sunset, party, chill.
Oh and you can dive too if you want!
The best places to eat in M'Pai Bay are Lost&Found and Pier 23 (or it could be Pier 21, I can't remember!) in my opinion.
Both of these offer great vegetarian / vegan fare in particular – hence why I like them!
Delighted to say Pier 23 is Turkish-owed and does amazing Middle Eastern food – man was I happy to find this place!
Sunset drinks are best enjoyed from the Dragonfly, which has some great views over the water.
There's also some great yoga and meditation classes I enjoyed in a studio above a cafe on the main beach – all very dreamy!
Things to Know Before you Go
Money
The most important thing to know if you're going to head over to Koh Rong Sanloem is that there are no ATMs on the island, so you must take all the cash you need over with you.
This includes cash for a few more days than you think, because you will end up staying longer (3rd and final warning here!), as well as factoring in that island tax exists here and things are a little bit more expensive than the mainland. This is especially true when it comes to food I found.
Power & Water
It's also important to know that power on the island is supplied solely by a generator.
It runs all day, but of course, can cut out at any time for an unknown amount of time, so taking a headlamp with you to Koh Rong Sanloem is definitely a good idea.
Ditto the water, which can also disappear at random intervals.
As always, my advice is to remember you are in Cambodia on a tiny remote island and you need to go with the flow – also it's a good idea to shower / charge electrical items whenever you can / need as you just don't know when you might get another chance!
A portable powerbank to at least charge your phone is a very helpful travel accessory in places like Koh Rong Sanloem.
Solo Female
I travelled to Koh Rong Sanloem as a solo female and, as with everywhere in Cambodia, felt completely safe in doing this.
The island is very sociable if you want it to be, and I met some great people there.
Overall it felt a very easy place, probably due to its size, and many places are open onto the street – not even having doors to lock up at night!
The only thing I wouldn't advise is walking by yourself off the main drag i.e. along the beach etc, at night.
Just sensible yeah!
Trash
Trash is the main issue I'm going to point out here and can be a pretty depressing sight on Koh Rong Sanloem that it would be dishonest to pass over.
Please try to help the situation if you travel to the island by not getting plastic bags when you shop, not littering and taking your own reusable metal straw and refillable water bottle etc. with you.
My new discovery of the epic Life Straw Go Water Bottle, would have been ideal here!
Leaving the Island
You'll generally buy a return boat ticket when you cross to Koh Rong Sanloem, which is open-ended… very helpful!
The day before you do leave the island however, you'll need to register your ticket at the Turkish Café on the pier – specifying what time you want to catch the boat as there's several per day.
For onward travel from Sihanoukville to your next destination, I'd advise booking your bus with the travel agent on Koh Rong Sanloem – located in a "shop" basically at the end of the pier.
Not only does this mean you'll be assured a spot on a bus, but the ticket also includes a tuk-tuk from the ferry terminal in Sihanoukville to the bus depot – very helpful.
Mini Travel Guide to Cambodia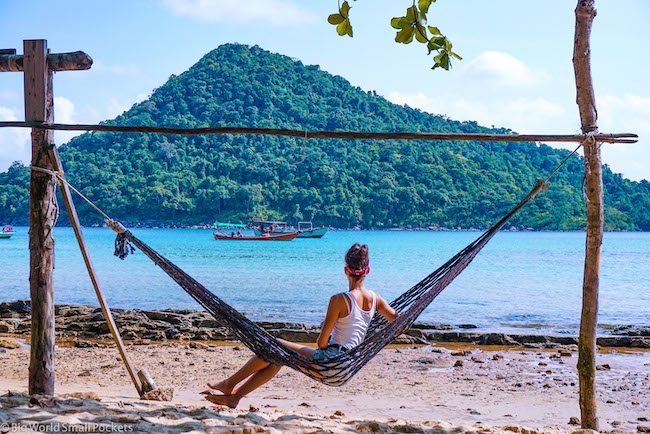 4 Packing Essentials
#1 Walking Shoes – There's likely to be a lot of walking in Cambodia, especially around temples and town! As such, I advise packing a pair of good runners, like these New Balance trainers, which are perfect.
#2 European & British Power Adapters – Cambodia has a mixed range of power outlets, but generally opts for a combination of the European and British ones, so make sure you come prepared with a Skross world adapter.
#3 Camera and Lens – I love my Sony A6000 mirrorless, which was ideal for capturing this colourful country.
#4 Travel Scarf – A great multi-purpose packing item, a travel scarf can be used to both safely store valuables and cover your shoulders while you explore Cambodia's temples.
Travel Insurance
World Nomads offers simple and flexible travel insurance. Buy at home or while travelling and claim online from anywhere in the world.
Alternatively, if you're a long-term traveller, digital nomad or frequent remote worker seeking travel health cover, check out Safetywing's Nomad Insurance policies.
Travel Money
When it comes to paying for things in Cambodia, you want to ensure you're not being charged overseas transaction fees or getting poor exchange rates when using your card abroad, which is why I always take my Wise card away with me wherever I travel.
The easy way to spend abroad with real exchange rates, no markups and no sneaky transaction fees, you can use your Wise card just like a debit card here… and it links easily with Google and Apple pay – sold! Grab yours here.
PIN IT TO PINTEREST!
And there you have it, my complete travel guide to Koh Rong Sanloem in Cambodia!
Have I convinced you to head there yet?