C'mon now, who doesn't want to see Angkor Wat at least once in their lifetime!
It's huge, it's very old, it's UNESCO-listed and it's freaking amazing!
Yes despite the growing crowds, which have drastically swelled the traveller popularity of these ancient Cambodian ruins, this place is still incredible and I'd encourage anyone to visit… just maybe do it sooner rather than later!
And if you want to see the place at its best when you do, then it's an Angkor Wat sunrise you've got to experience and here's how…
---
Related Posts
---
My trip to enjoy sunrise at Angkor Wat was kindly sponsored by TakeMeTour but, as always, all views are my own.
This page contains affiliate links meaning Big World Small Pockets may receive a small commission on any purchases at no extra cost to you.
---
What is Angkor Wat?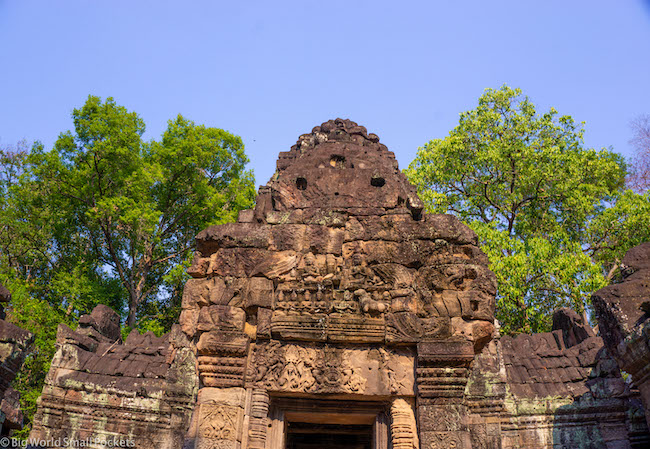 Angkor is a huge site of ancient ruined temples that was once the epicentre of a vast civilisation which ruled this part of Southeast Asia for centuries.
Spanning the reign of several kings, the temple ruins vary in style, size and condition as they chart a period of rich Khmer (the name given to the ethnic nationals of the country now known as Cambodia) history, when the land ruled by these people grew powerful and strong.
The temples are all that remain of a city that was once home to over a million people – they were the only buildings constructed out of stone, not wood, and therefore are the only remnants to have beaten the surrounding jungle in the quest for survival.
Abandoned several hundred years ago and rediscovered by the French who colonised Cambodia, Angkor remains one of the greatest temple complexes in the world.
It's a UNESCO World Heritage Site, named one of the seven alternative wonders of the world and all-round freaking wonderful!
It's definitely one of the top 10 things to do in Cambodia.
And it's vast too – there's many different temples to explore spread out over a massive area that chart several centuries of history – so taking your time to soak it all in over a couple of days is highly advised and top of the list… an Angkor Wat sunrise of course!
It's worth noting here that despite what we are led to believe, Angkor Wat actually only refers to the largest, oldest and most iconic temple in the complex.
The whole site is, in fact, just known as Angkor, so don't be confused!
However, the terms are used interchangeably by many guides and tours as they know tourists don't always know the difference, if you get what I mean!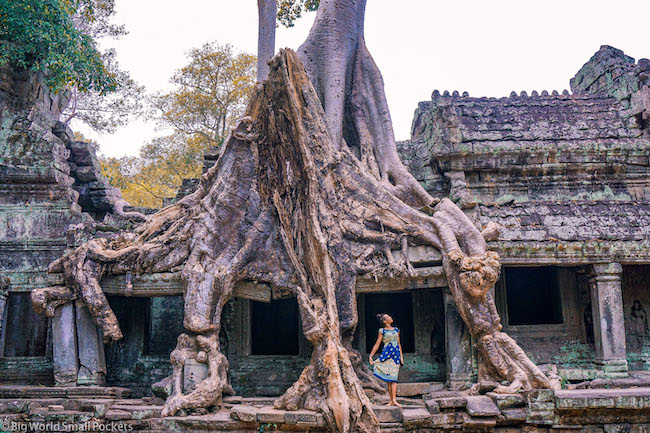 Where Is It?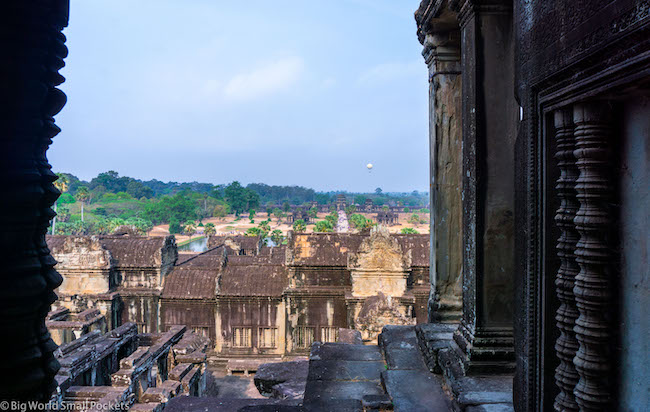 Situated in the north-west of Cambodia, the nearest access city for those who want to visit Angkor Wat is Siem Reap – the country's second biggest city and now largest tourist destination – I'm guessing here, but I think it's probably true because there's A LOT of tourists!
Siem Reap is accessible via bus from many destinations around Cambodia including other popular tourist spots like Phnom Penh and Battambang.
Siem Reap is also accessible in a day from Bangkok – a border crossing journey I made by bus, but you can also make via plane.
Learn more about my bus crossing from Bangkok to Siem Reap here.
Basing yourself in Siem Reap is necessary, as there are no accommodation facilities in the Angkor Wat complex, and it's a nice, small, riverside city to spend a few days anyway.
I'd highly advise staying in the centre of this city so that you can access restaurants, cafes, bars, shops and markets on foot, as well as pick up any tours you may want to when it comes to visiting Angkor Wat.
Here's my recommendation for the best place to stay in Siem Reap as well as my list of the top 10 things to do there.
THE BEST TRAVEL INSURANCE FOR CAMBODIA
I'd never even consider travelling to Cambodia without proper coverage and always recommend travel insurance from World Nomads who I've used throughout my time in this country and beyond.
I love their cover of a wide range of adventure activities, as well as their great customer service and the fact that you can easily claim or extend your coverage while you're still abroad, online.
Best Times to Visit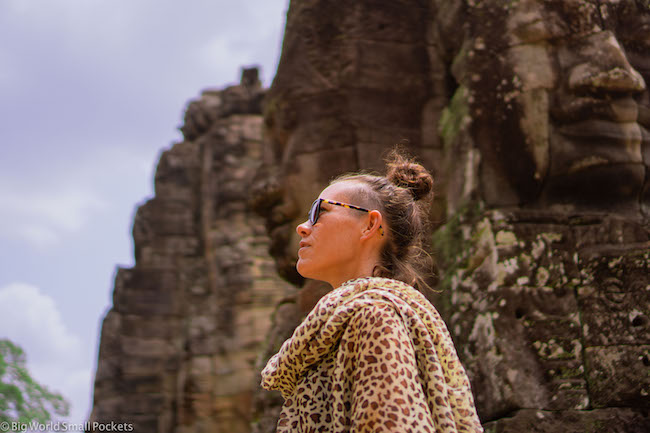 So, as this article is about how to experience the best Angkor Wat sunrise, you can probably deduce that this is definitely one of the best times to visit this incredible place.
As the colours of the breaking day light up the dark temples and the jungle around with some stunning hues, there's certainly magic in the air.
In fact, this experience strongly reminded me of the time I witnessed sunrise over the largest Buddhist Temple in the world – Borobudur in Indonesia.
Sunset, perhaps unsurprisingly, is another great time to visit Angkor Wat, when you can actually climb to the top of some of the temples to enjoy the light display as the sun dips below the steaming jungle and eventually, the horizon.
Outside of these times, it really depends on your schedule as to the best times to visit Angkor Wat.
Getting there early before the tour buses roll in post-breakfast is definitely advisable if you want to see the main temples without the throngs, otherwise many of the smaller structures remain quiet and uncrowded for much of the day.
November through January is peak tourist season at Angkor Wat (and in Cambodia in general), when arguably it's hard to ever get away from the crowds and while May through August will be quieter here and the surrounding jungle greener, it's also likely to be wet as this is rainy season!
The shoulder season months of February / March / April and September / October are great times for seeing Angkor Wat when it is dry and less crowded.
I visited in March, which was great, but don't forget this is also the hottest time of the year, so be prepared to sweat a lot and be pretty uncomfortable within Angkor during the heat of the day.
Tickets for Angkor Wat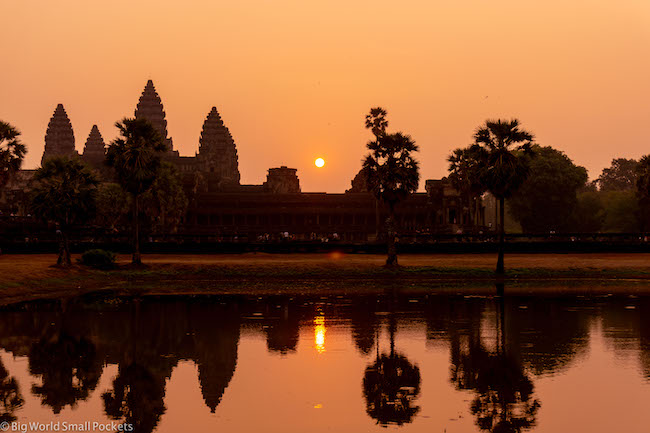 Tickets need to be obtained for any visit to Angkor Wat and can be done so online in advance or at the ticket gates, which mark the entrance to the site.
Keep your tickets with you at all times as you'll need to show them at various checkpoints across your visit.
The Angkor site is open from roughly 5am to 7pm daily (different temples have different times) and the ticket office is open 5am until 5:30pm.
If you want to see an Angkor Wat sunrise on your first day at the temple complex, then arrive at the ticket office no later than 5:15am to ensure you can still get a good spot for the photos… but more about this later!
You can also arrive the evening before because, if you purchase a 1 Day ticket after 5pm, it's still valid for the following day.
Tickets for Angkor Wat are available for 1 Day at $37 USD, 3 Day at $62 USD or a Week at $72 USD. Note, these are the new prices as there was a recent price hike. You can pay by card or cash.
Entry for Cambodian nationals and all children under 12 is free.
I'd honestly advise getting a 3 Day pass for Angkor in order to balance costs with having enough time to really grasp the enormity and significance of the site, and even return for a second sunrise if you're first one was masked by clouds… as can happen!
A 3 Day pass is valid for 10 days from the day of purchase, meaning you can explore Angkor on any 3 days within this period.
Having 3 days for the temples, means you should allow for a 4 night stay at Siem Reap as, on your day of arrival you're unlikely to get your money's worth from the site and may want to just explore the city itself instead.
5 CAMBODIA PACKING ESSENTIALS
#1 Lonely Planet Guidebook – The Cambodia Lonely Planet is excellent and very helpful for any trip to this country with lots of top tip and recommended places to eat.
#2 Walking Shoes – There's likely to be a lot of walking in Siem Reap especially around those temples! As such, I advise packing a pair of good runners, like these New Balance trainers, which are perfect for strolling and climbing the big steps.
#3 European & British Power Adapters – Cambodia has a mix of power outlets, but generally opts for a mix of the European and British ones, so make sure you come prepared with a world adapter.
#4 Camera and Lens – I love my Sony A6000 mirrorless, which was ideal for capturing the amazing temples of Angkor.
#5 Travel Scarf – A great multi-purpose travel item that can be used to safely store valuables and cover your shoulders while you explore Cambodia's temples.
Tour for an Angkor Wat Sunrise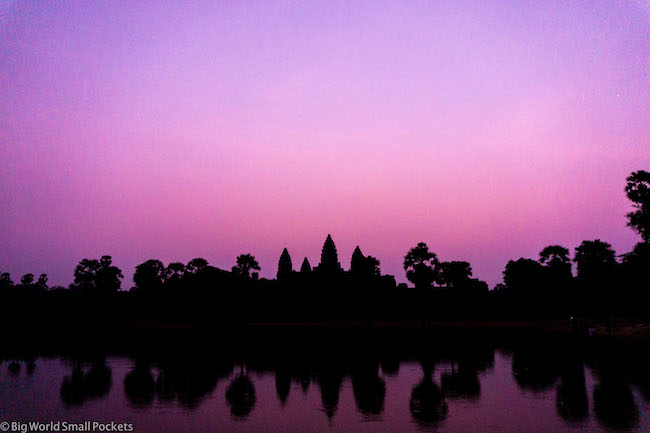 So let's be honest here, you can visit the Angkor site independently with a tuk-tuk, a feat you can achieve quite easily on the streets of Siem Reap.
For your first day in the temple complex however, especially if that's for your Angkor Wat sunrise experience, I'd definitely advise taking a tour.
Not only does taking a tour guarantee someone will be there to collect you when you stumble out of bed at 4:30am and ensure that your early rise wasn't for nothing, but you'll also be assured of a good English speaker who will know all the best tips and tricks for getting the most out of your Angkor Wat sunrise.
I was lucky enough to have been gifted an Angkor Wat sunrise tour by the excellent company TakeMeTour – who I also worked with in Bangkok.
This award-winning online start-up essentially acts as a virtual marketplace for lots of small and independent tour companies / guides who want to promote their services without hassling tourists on the street.
The clear itinerary, pricing and review structure of TakeMeTour also means tourists can be assured of getting what they paid for and enjoying an excellent standard. Payment is securely processed online, which means travellers also won't be overcharged or undersold.
This of course, brings great peace of mind and, likely, a better experience as a result.
Check out my pick of the 7 best Angkor Wat tours here.
Photographing Angkor Wat Sunrise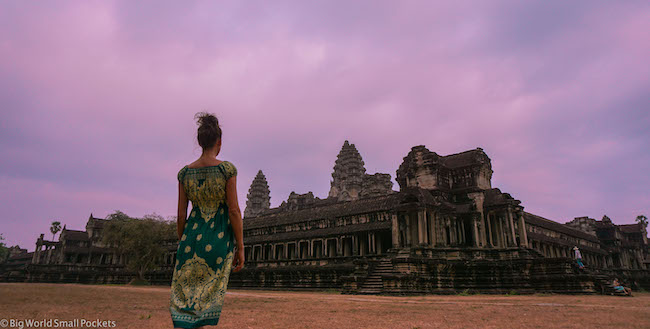 And so it was that I enjoyed an excellent tour to see an Angkor Wat sunrise – because trust me when there's hundreds of people milling around in a dark jungle in a pre 6am daze, it can be pretty hard to know what's going on!
But Bo, my excellent guide, helped me buy my ticket and then hurried me to get the best spot for my Angkor Wat sunrise pics, which is essentially slightly off centre in front of a large lake.
From here you can see the great, red ball of the sun rising over the most famous temple – Angkor Wat itself – the colours reflecting off its dark stone walls and the water in front, in one epic spectacle.
This is the most popular Angkor Wat sunrise spot and likely to be the one you've seen hundreds of photos from; but, if you want to get some snaps away from the crowds, then just heading metres away from the lake to stand in front of the temple itself, with the lake behind you, will also you give you some amazing snaps, with hardly anyone around!
This is where I'm really glad I had my guide.
Bo could tell me exactly where the sun would rise, where the quiet spots were and a ton of other information too.
Let me tell you, he made me very insta-happy!
Did I just say that?
*cringe*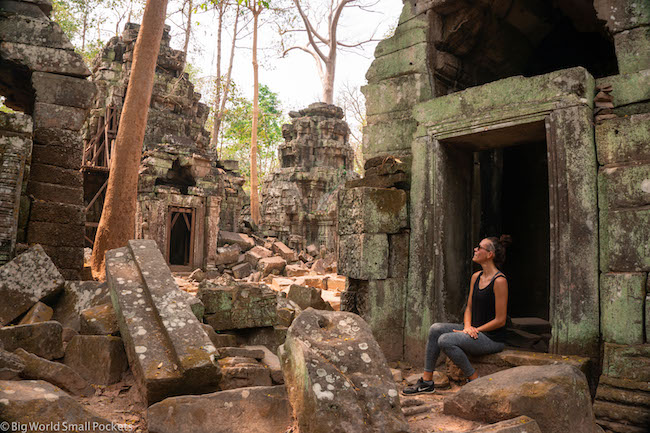 Cycling Angkor Wat
But my great time with TakeMeTour didn't end there, because actually the Angkor Wat sunrise was just the beginning!
What followed was an incredible day-long trip around the Angkor site, taking in multiple temples on foot, as well as by 2 wheels, all with the dedicated attention and expert knowledge of Bo to guide me.
Trust me, this guy knew his stuff and even geeky history-lover me, had trouble keeping up with the wealth of contextual info he provided!
With breakfast and lunch also included in the tour, we covered a huge amount of ground within the Angkor site, including some of the local villages and jungle tracks too.
Cycling through hidden paths that I never would have found alone, gave a whole different experience to seeing Angkor – definitely one away from the crowds and much more embedded in the landscape around.
Suddenly popping out from the undergrowth to find crumbling ruins or soaring temples in front of me was quite the experience, and gave so much more depth to my first day around Angkor than just a sunrise would have.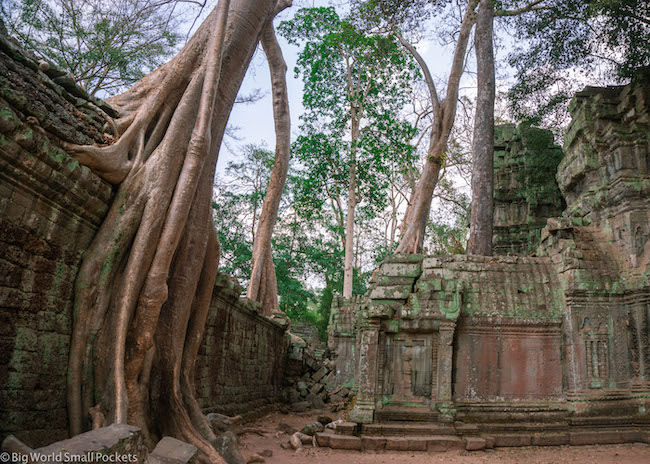 In the end we visited 4 temples (along what is known as the short circuit) cycled many kms and took I don't know how many photos!
What I learnt about the history of Angkor Wat and the culture of modern day Cambodia from my guide only fed into the awe I felt at seeing this place, and deepened both my experience of it that day, as well as the subsequent days I visited.
Whatever type of ticket you choose to go for when it comes to visiting Angkor, I highly recommend taking a tour on your first day to experience an Angkor Wat sunrise – there's no intro like it!
PIN IT TO PINTEREST!
So tell me, have you experienced an Angkor Wat sunrise?
Or is it still on your list?
I'd love to know more in the comments section below…