If, like me, you're wanting to travel overland cheaply and efficiently from Bangkok to Siem Reap, then listen up!
I've just made this journey and it could not have been more straightforward or simple… if you know a few bits of key information!
So read on to get the latest and complete lowdown about how to do this in the best possible way from someone who's been there, done that…
---
Related Posts
---
All information contained within this post is based on my own personal experience as a British citizen, written in good faith and correct at the time of publication. I cannot be held responsible for any actions taken as a result of this information.
This page contains affiliate links meaning Big World Small Pockets may receive a small commission on any purchases at no extra cost to you.
---
#1 Getting your Cambodian Visa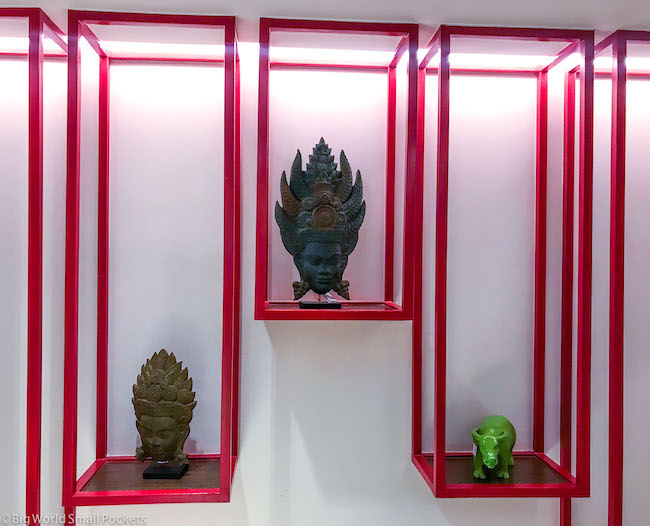 Before you do anything in terms of travelling to Cambodia, you need to make sure you have a visa.
As a Brit, I was eligible for a Cambodia eVisa, which I organised quickly online here.
Technically you are meant to allow a few working days for the visa to come through, but mine was granted almost immediately.
To apply for an eVisa online you need to have an electronic copy of your passport you can upload, as well as some suitable passport photos you can upload too, but with this all at my fingertips, it was easy.
You also need to know your dates of travel to Cambodia and at which border you'll enter, so it pays to do a bit of travel prep and research in advance.
FYI: If you're going to cross from Bangkok to Siem Reap using the method I outline in this post, the border you'll cross at is Poipet.
Once you get the eVisa approved, you will need to print off 2 copies of the paperwork emailed to you – 1 to be submitted on entry and the other when you exit.
You pay for the Cambodia eVisa online and there is a small handling fee, but honestly you'll likely pay this amount at the border (or more) as a "processing cost" anyway, so I do advise saving yourself time and hassle and just coughing up in advance.
I paid £27.72 for my Cambodia eVisa, plus a non-GBP transaction fee of £0.82 charged by my bank.
If you complete the eVisa process you can also avoid getting a whole page visa sticker in your passport (crucial if you're short on pages like I was) and just get an entry stamp for Cambodia instead.
#2 Booking a Bus
So first up is finding a reliable bus company that are actually going to deliver you from Bangkok to Siem Reap and not just leave you at the border!
After reading several horror stories of this nature online, I decided to put my trust in Giant Ibis and am really glad I did – they were excellent… but more about this later.
Because I was staying in the Sukhumvit area of Bangkok and didn't have the time, or the inclination in the crazy humidity, to walk to their office just off the Khao San Road, I decided to spend the extra dollar (which I would have spent on public transport anyway) and book my Giant Ibis bus ticket online.
I did this through a great website I've found called 12Go, who operate across Southeast Asia and are a great portal for booking loads of long distance bus services in the region online.
The website was secure and issued me with an e-ticket I could use without having to print anything off.
I was actually glad I booked online, because when I did go to the Giant Ibis office in Bangkok several days later, as well as on the morning of my departure, it was closed… but more about this later!
To book your Bangkok to Siem Reap bus with 12Go, click here!
My ticket cost £25.32.
Alternatively, you can also compare services and prices at Bookaway.
#3 Finding the Giant Ibis Bus!
So the key information to know once you have bought your ticket through 12Go is that the departure point details are a little hazy – in fact they gave me 2 options and didn't seem to be able to clarify which point of departure was correct – hence why I found myself at the Giant Ibis office (located at 229 Phra Sumen Road) trying to get some answers some days later!
But as I said, it was closed – cue mild heart attack on my part!
To save you the trouble and confusion I went through – which involved several emails to 12Go – the best thing is to call Giant Ibis, once you've booked your ticket, to find out the departure information from them direct.
They will probably tell you to just go the Giant Ibis office on the morning of your departure, which you should do at least half an hour before your bus is scheduled to leave.
But if, like me, you still find the office closed (cue 2nd heart attack) simply call them again and they will promptly come and collect you from the office and take you to the bus – which is parked a few streets away on Thanon Bowon Niwet.
You could of course head straight here on the morning of your departure, but as I don't know when you're going to be reading this post and if / when the information and bus departure point might change – I'd honestly just advise calling them to be sure.
The number I used to get hold of Giant Ibis was +66 92 193 9333.
This number is also printed on your 12Go eticket.
#4 Onboard Giant Ibis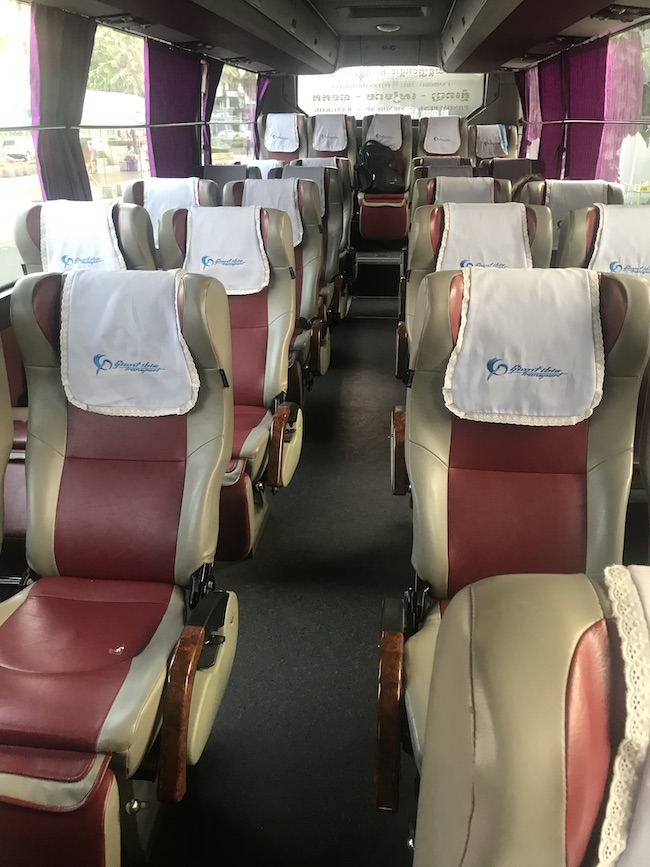 When I got onboard the Giant Ibis bus, I suddenly knew all the panic was worthwhile, because this luxury liner was epic!
With wifi, reclining seats, tons of legroom, leather seats, aircon, onboard toilets, free water, snacks and even lunch – it was about as comfortable as a bus can get I reckon!
Along with the driver, who drove very safely I'm delighted to add, there was a perfect-English speaker guide on the bus, who helped us through every step of the border process – so simple it was a delight!
#5 Leaving Thailand
My scheduled departure from Bangkok to Siem Reap was at 7:45am.
We actually left the bus parking area at 8am and then drove around to pick up a few extra passengers before departing Bangkok and setting off to the border.
It took a few hours, but we stopped for toilet breaks and snacks!
When we got to the Bangkok border, the great English-speaking guide talked us through the whole process and even walked through the border with us.
There were no queues and the process was very easy.
REMEMBER: You will require the white exit slip you received when you entered Thailand to leave, otherwise you will have to "pay" for a new one. Learn more about this and other tips for visiting this country in my post about the 15 things to know when you travel Thailand.
You have to take all your carry-on luggage with you when you exit Thailand as you'll walk across the border and meet a different Giant Ibis bus on the Cambodian side.
But brilliantly, the staff deal with all your big bags – which are stored underneath… high five Giant Ibis!
#6 Entering Cambodia
Once you've walked across the Thai border with the guide, you'll present your eVisa documentation (remember the paper you had to print out) to the Cambodian immigration official, who will simply stamp your passport and staple an exit form into it – no 1 page sticker here!
As a Brit, I got a 30 day, single-entry tourist visa for Cambodia this way.
Once this was done, we got onto the new Giant Ibis bus, got lunch given to us and waited for our big bags to arrive.
Once this was complete, we set off to Siem Reap.
FYI: The Giant Ibis staff do a side-hussle on SIM cards, so I actually got my Cambodian SIM up and running within minutes of having crossed the border – stellar service! I got a Metafone SIM off the guide for 25 Baht which included $150 USD worth of data!
#7 Arriving into Siem Reap
We eventually arrived into Siem Reap at 5pm after a very smooth drive.
As you start motoring through Cambodia, the level of development compared to the Thai side is quite evident.
Once you arrive at the Giant Ibis office in Siem Reap – which is a little way from the centre – there will be tuk-tuk drivers, who speak great English, waiting to take you to your hotel.
My hotel ride cost $3 USD and my helpful tuk-tuk driver even waited for me to use an ATM on the way so I could get some Cambodian Riels out.
TOP TIP: Check out this post for my tip on the best place to stay in Siem Reap.
It's worth noting that Cambodian Riels (KHR) and USD are used interchangeably in Cambodia and both can be withdrawn from ATM machines.
The exchange rate at the time of publication was 4000 KHR to $1 USD.
I recommend spending at least 3 days in Siem Reap, as there's a lot to do here, including visiting the amazing Angkor Wat of course.
Learn more in this list of the 10 best things to do in Siem Reap.
Mini Travel Guide to Siem Reap and Bangkok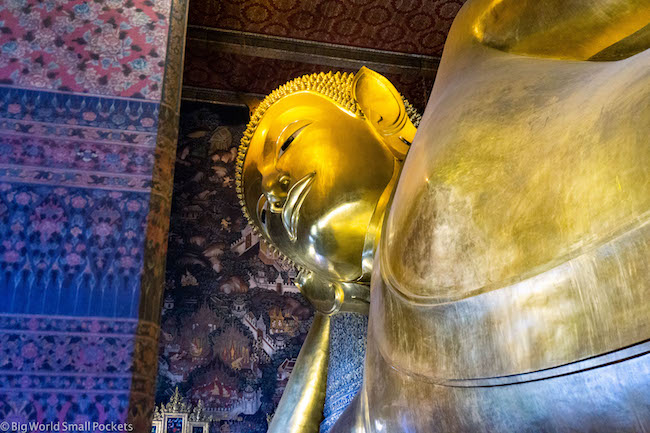 When to Visit?
November through February are the best months to visit Bangkok and Siem Reap, when it's dry and not too humid.
How Long to Spend There?
I think 3-6 days is a good amount of time in Bangkok.
I think 3-4 days is a good amount of time to visit Siem Reap, including Angkor Wat.
Best Place to Stay in Bangkok
As opposed to staying on or near the Khao San Road, which is honestly one of the worst places I've ever had the pleasure of spending a full 3 minutes before I turned on my heels and fled, can I suggest you stay in the Sukhumvit area of Bangkok instead.
Very tourist-friendly with excellent transport links across the city, this place is full of great restaurants, bars, cafés, malls, massages, amenities and services.
And when it comes to my recommendations, especially if you want to treat yourself, then look no further than the Mercure Bangkok Sukhumvit 11.
Ideally located, with huge, clean and comfortable rooms (some of which include a bath!) and some of the most helpful staff I've ever encountered, this place is an absolute haven amongst the hustle and bustle of Bangkok.
5 Packing Essentials for Bangkok and Siem Reap
#1 Guidebook – The Bangkok Lonely Planet is excellent and very helpful for any trip to this city with lots of top tips and recommended things to do.
#2 Walking Shoes – There's likely to be a lot of walking in Bangkok especially as the traffic here can be bad! As such, I advise packing a pair of good runners, like these New Balance trainers, which are perfect for city strolling.
#3 European & British Power Adapters – Bangkok has a mixed range of power outlets, but generally opts for a combination of the European and British ones, so make sure you come prepared with a Skross world adapter.
#4 Camera and Lens – I love my Sony A6000 mirrorless, which was ideal for capturing this crazy capital.
#5 Travel Scarf – A great multi-purpose packing item, a travel scarf can be used to both safely store valuables and cover your shoulders while you explore Bangkok's temples.
Travel Insurance for Thailand and Cambodia
World Nomads offers simple and flexible travel insurance. Buy at home or while travelling and claim online from anywhere in the world.
Alternatively, if you're a long-term traveller, digital nomad or frequent remote worker seeking travel health cover, check out Safetywing's Nomad Insurance policies.
PIN IT TO PINTEREST!
And there you have it, my complete lowdown on crossing from Bangkok to Siem Reap overland.
Have you made this trip lately?
Do you have any updated info to add?
Please help other travellers out by posting any news in the comments box below…