Looking for the best place to stay in Siem reap? Then you've come to the right place!
Because yes, the word is out.
In fact, the word is well and truly out.
Angkor Wat – the enormous, ancient, UNESCO-listed temple complex in Cambodia – is incredible and quickly shooting to the top of many a traveller's bucket list.
And so it should.
For it is, truly incredible.
Located in the middle of the jungle and fearlessly guarded, you can't stay in or really even near Angkor Wat, so the closest place to rest your head, especially if you want to be up early for those sunrise pics, is the nearby city of Siem Reap.
The second biggest city in Cambodia, I spent 5 days here trying out a range of accommodation and can happily confirm I have now found the best place to stay in Siem Reap if you want to visit Angkor Wat.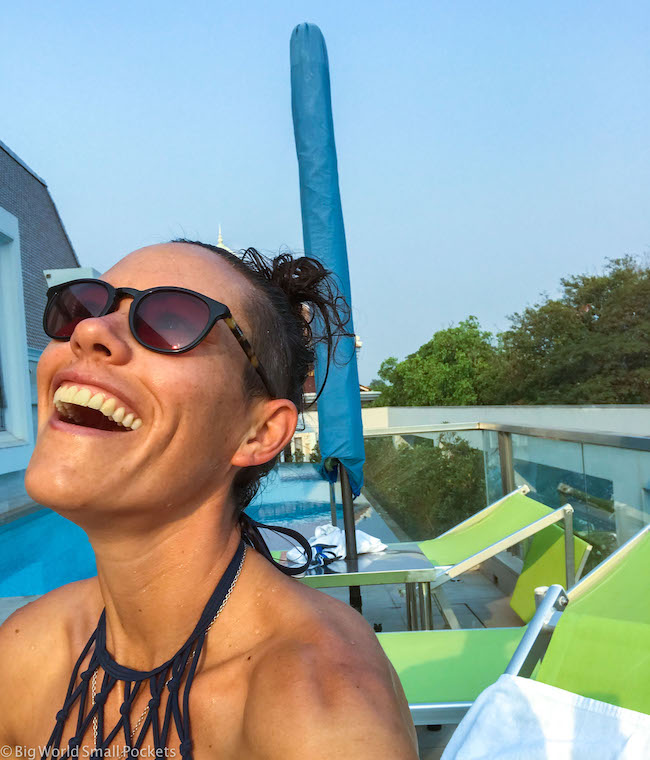 ---
Related Posts
---
My stay at the Ibis Styles Siem Reap was kindly sponsored but, as always, all views are my own.
This page contains affiliate links meaning Big World Small Pockets may receive a small commission on any purchases at no extra cost to you.
---
IBIS Styles Siem Reap
Enter the Ibis Styles Siem Reap!
A new and modern small hotel right in the heart of Siem Reap, this place is as functional and convenient as it is quiet, peaceful, relaxing and comfortable.
And this perfect blend is exactly the reason I'm calling the Ibis Styles the best place to stay in Siem Reap.
With a choice of suite or standard rooms, it's also perfect for every budget and for every traveller – be it business, backpacker, family or couple holidaymakers.
Staff are incredibly friendly and with 24hr reception, a bar, restaurant and swimming pool on-site, there is honestly everything you need here – perfect when you come back from those temples utterly exhausted and can't make it too much further!
The international brand of the hotel also means you can trust the quality and standards here, as well as your safety and security.
Generous buffet breakfasts are included in your room rate and everyone will be delighted to know the wifi here is lightning fast too!
Location
So as I briefly mentioned above, the location of the Ibis Styles is excellent and certainly one of the top reasons I'm naming it as the best place to stay in Siem Reap.
However, it's so perfect, that I really do think it deserves a bit more explanation.
Spread out along a river, Siem Reap is a sprawling city, although the tourist centre, unlike Phnom Penh, is quite concentrated.
Ibis Styles combines the best of Siem Reap by being located on the edge of the tourist centre (making it quiet) along the river (giving it nice views) and next to the night market (giving you loads of food and people-watching options).
Everything you could possibly need is within easy walking distance, and even alone as a solo female at night, I felt very safe strolling around by myself after dark.
Just being able to amble through the thronging streets, enjoy an al-fresco drink, or grab some food along the water's edge meant I really enjoyed the location of the Ibis Styles Siem Reap.
Comfort and Design
I also liked how spotlessly clean the Ibis Styles Siem Reap was, as well as its modern, contemporary design.
Simple and sophisticated with an urban cross Asian influence, the decor perfectly lent itself to the feel of the hotel's home city.
Swinging, colourful wicker pods in the lobby were a lovely touch and accompanied some interesting art pieces and wall paintings around the hotel.
My large, double bed was incredibly comfortable and shower superbly hot with excellent pressure.
An in-room safety deposit box was large enough to fit my laptop in and the desk in my room was a welcome addition when I needed to do some work!
The rooftop swimming pool was a delight to enjoy after a long, hot sweaty day exploring the temples and the sunbeds meant I could even catch some late afternoon rays too!
Best of all was the way you could gaze out over the people on the streets below from the refreshing waters of the pool!
Facilities
So from lightning-fast wifi to excellent service, buffet breakfast to clean, modern design, friendly staff to comfortable beds, there's no doubt the Ibis Styles ticked all the boxes for me as the best place to stay in Siem Reap.
And with a very reasonable price tag to match, this certainly makes a great choice if you want to visit Angkor Wat too.
Tuk-tuks can easily be picked up outside the door at any time of the day – meaning getting to the temples for sunrise or sunset couldn't be easier.
And then, when you're hot, sweaty, exhausted and templed-out, you can easily return to the peaceful and quiet Ibis Styles to enjoy a refreshing swim and reset before you venture out for a delicious dinner in one of Cambodia's best tourist destinations.
Mini Travel Guide to Cambodia
Best Time to Visit Cambodia?
No question that the best time to visit Cambodia is during the winter season, when the humidity and temperatures are slightly lower in this tropical country and the chance of rain is greatly reduced.
December through February forms the main high season in these parts, but honestly, I'd avoid these times as crowds at Angkor Wat then will be insane!
Instead, bat for the shoulder season months of either October and November or March and April; prices will be better and although there will still be a lot of tourists around, it won't quite be as bad!
How to Get to Siem Reap?
With an international airport, it's easy to fly directly into this city if you're travelling from further afield.
It's then just a short tuk-tuk or taxi ride to the city centre, where your accommodation is likely to be.
Alternatively, if you're travelling to Siem Reap from a nearby destination – perhaps from the Cambodian capital Phnom Pehn or Bangkok in Thailand, then you can easily use a good bus service to make the journey.
As always, I use Skyscanner to get the best deal on flights to Siem Reap and highly recommend 12Go if you want to find the best bus prices, as well as book them online in advance safely and securely.
How Long to Spend There?
I think 3-4 days is a good amount of time to visit Siem Reap, including Angkor Wat.
Travel Insurance
World Nomads offers simple and flexible travel insurance. Buy at home or while travelling and claim online from anywhere in the world.
Alternatively, if you're a long-term traveller, digital nomad or frequent remote worker seeking travel health cover, check out Safetywing's Nomad Insurance policies.
5 Packing Essentials for Cambodia
#1 Lonely Planet Guidebook – The Cambodia Lonely Planet is excellent and very helpful for any trip to this country with lots of top tips and recommended places to eat.
#2 Walking Shoes – There's likely to be a lot of walking in Siem Reap, especially around those temples at Angkor Wat. As such, I advise packing a pair of good runners, like these New Balance trainers, which are perfect for strolling and climbing the big temple steps.
#3 European & British Power Adapters – Cambodia has a mix of power outlets, but generally opts for a mix of the European and British ones, so make sure you come prepared with a Skross world adapter.
#4 Camera and Lens – I love my Sony A6000 mirrorless, which was ideal for snapping the amazing temples of Angkor Wat. Alternatively, a Go Pro Hero would be awesome for capturing the more active side of your trip here.
#5 Travel Wrap – A great multi-purpose travel item that can be used to safely store valuables and cover your shoulders while you explore Cambodia's temples, I love mine from Sholdit.
Travel Money in Cambodia
When it comes to paying for things in Cambodia, you want to ensure you're not being charged overseas transaction fees or getting poor exchange rates when using your card abroad, which is why I always take my Wise Card away with me wherever I travel.
The easy way to spend abroad with real exchange rates, no markups and no sneaky transaction fees, you can use your Wise card just like a debit card in Cambodia… and it links easily with Google and Apple pay – sold! Get yours here.
So what's my recommendation for the best place to stay in Siem Reap?
The Ibis Styles of course!
When you are going to stay?