It's an absolute budget travel favourite and an all-round backpacker classic – yes the mighty Thailand is just one of those countries most travellers visit.
Known for its great food, vibrant culture, buzzing cities and cheap prices, Thailand remains an eternal favourite no matter whether you're a gap year wanderer, a digital nomad, a scuba diving fanatic or a serious beach lover!
And that's because, thanks to its diversity, Thailand is awash with things to do, see and visit for just about every sort of traveller – from temple hunting to hiking national parks, epic snorkelling to infinity pools with cityscapes, this country has it all.
So here, to bring you all the lowdown and get you ready for your trip to this fab country are the 15 things to know before you travel Thailand.
---
Related Posts
---
This page contains affiliate links meaning Big World Small Pockets may receive a small commission on any purchases at no extra cost to you.
---
#1 When to Visit Thailand
So the first thing to know before you travel to Thailand is when to go.
And actually, this can be a tricker question than you first imagine.
And that's because this country has 2 distinct climate zones (as well as several more micro ones).
Yes it certainly depends which side of the country you are on (east or west) in terms of the sort of weather you'll get more, but more important than that is the north to south divide in the country.
Largely this can be broken down into northern mainland Thailand and then the islands and coastal regions in the south.
You also have to balance the best time to visit Thailand not only in terms of weather, but also crowds.
As with most of Southeast Asia, the high season for visiting Thailand runs from November through to February, this is when rainfall and temperatures across the region tend to be lowest and, as a result, humidity levels too.
There's also a shoulder season at the end of high season, namely the months of March and April.
In general, this tends to be the best time to visit Thailand too, especially if you're travelling widely across the country and wanting to see all its best bits.
Once you start getting into May, things can be really uncomfortable, hot and humid, especially in the north, so I really do recommend avoiding the May-November months if you can.
Learn more about the best time to visit Thailand, and in particular Bangkok, in this article I wrote.
#2 How Long to Travel in Thailand For?
Well the answer to this question is really, how long is a piece of string?!
Because honestly, while you could easily spend a few months in this country, most people still enjoy their time here even if it's only a few days or weeks.
Most people are governed by travel entry requirements, which we'll come on to, and for most European or North American travellers, this is 30 days.
After this, you'll have to leave Thailand or arrange a border run.
As such, 30 days is a common maximum amount of time that many travellers, who want to see a lot of this country, enjoy.
Particularly in places in the north like Chiang Mai or Pai, it's easy to get stuck and spend weeks or even months here as you use these destinations as a base to explore the surrounding area more.
Ditto with beaches and islands in the south where many people end up spending a lot longer than they planned especially if they're completing a diving certificate or perhaps teaching English.
At the opposite end of the spectrum, there's people who just arrive in Thailand to spend a few days in the bustling beauty of Bangkok, or even those who descend on the Thai islands or coastline for a week or 2 as part of their annual holiday.
All of these options are worthy possibilities and so the amount of time you may want to spend in Thailand will depend largely on the time you personally have available, as well as how long the flight or overland journey will take you to get there.
If you do want to spend longer in the country, and really get into the culture of Thailand, then a great option is to take an online TEFL course, which will then allow you to teach English here – essentially, you'll then be living and working in Thailand and able to engage a lot deeper with this amazing country and its people.
#3 Visas for Thailand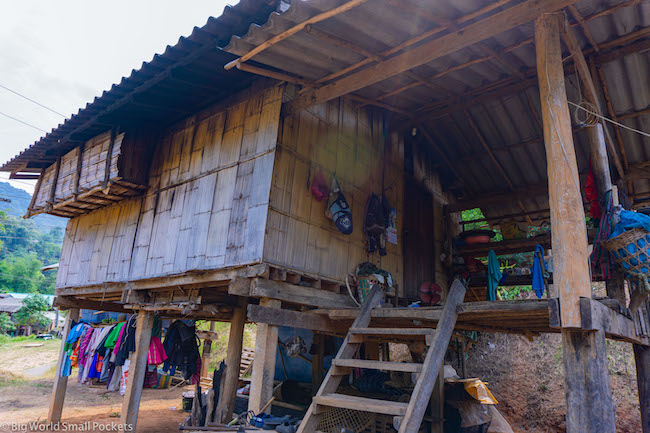 As I mentioned briefly in the last section, many North American, European or those from Australia and New Zealand, do not require visas to enter Thailand as tourists.
This is also true for passport holders from many other South Asian nations.
In general, entry to these groups is given for a total period of 30 days, via a stamp on entry, as long as they have 6 months validity left on their passports.
Visas can be extended, and sometimes border runs can work, but I highly suggest you check out the requirements laid out by your respective embassy or foreign office website on this one.
Sometimes the amount of time granted to tourists also depends whether they fly into the county or arrive overland, so do make sure to do your research on this one too.
Those who aren't eligible for visas will have to apply online in advance of their travels at a Thai embassy in a nearby country.
#4 Flying into Thailand
So, with the visa issue out of the way, it's time to move on to discussing how to get to Thailand.
I'll start by talking about flying into the country, which is probably the most likely option for most people, especially those who are coming from further away.
The main international airport in Thailand is situated in the capital Bangkok, but Phuket, Chiang Rai and Chiang Mai also other popular airports for travellers arriving from outside the country.
All airports are clean, well-serviced and easy to access – transport from the nearest cities can be easily arranged through ridesharing apps.
Once you've passed immigration, just remember to keep the white departure slip you receive (ideally with your passport, so you don't lose it!)
You'll need this when you are leaving the country!
As always, I recommend you check out Skyscanner to get the best deals on your flights to Thailand no matter where you're heading in from.
#5 Crossing Land Border into Thailand
If you're arriving from any nearby countries i.e. those within the southeast Asia region, then it's true that travelling into Thailand overland i.e. by boat or bus might be the easier (and will certainly be the cheaper) option for you.
Common routes include between Luang Prabang in Laos and Chiang Rai in the north (read about how I made this journey here), from Bangkok across to Siem Reap in Cambodia (learn about how I travelled this route here) and between the Thai islands of Koh Lanta or Koh Lipe and the Malaysian Island of Langkawi.
There's also several open land borders with Myanmar, as well as other options for crossings to Laos, Cambodia and Malaysia too.
#6 How to Get Around?
One of the best things about travelling Thailand (or at least one of the easiest things about it) is that transport across the country is plentiful, efficient, simple and user-friendly.
It makes getting around this large nation really straight forward.
First up, there's a lot of choice with domestic flights, buses and trains all on offer in various parts of the country.
In general, flights will be the quickest, but are also likely to the best most expensive and are definitely the least friendly for the environment.
They are also only really convenient if you are fairly close to an airport – although there's so many across Thailand, this will probably be the case!
Domestic flights are regular and there's several budget airlines that ply major routes – Air Asia is probably the best known.
As always, I use Skyscanner to find the best deals across domestic flights, as budget airlines are included in their search results.
Trains are an option in parts of Thailand, although routes are more limited and to be truthful, I've never travelled there this way, although I know many tourists have.
The most common way to travel Thailand therefore, especially those travelling short distances, or on a budget, is using local buses.
Now don't be confused, these are not basic affairs, but full-blown luxury liners that offer a great degree of comfort, especially on longer journeys.
As always, I use the great website 12Go to research and book my bus travel in Thailand and across Southeast Asia.
They easily display results in English and make buses both simple and secure to book.
When it comes to getting around in Bangkok you can use the metro, sky train or the river boat, all of which are really safe.
You can also use Grab – a great ride sharing app that works wonderfully for cheap taxi rides across Thailand.
#7 Where to Go?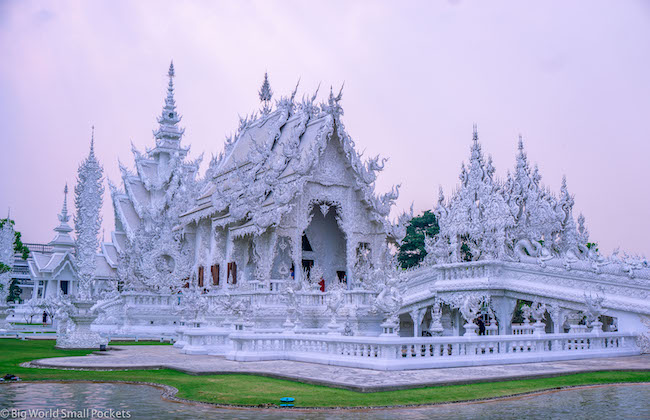 So that you know how to get around when you travel in Thailand, it's time to move on to discussing where you should travel to.
It's always one of the first things I want to know when I'm beginning to plan a visit to a country, so I thought it might be helpful here to list the top places tourists like to head in Thailand.
First of all, there's the north of the country – a spot you're likely to head if you're heading into or out of Thailand via Myanmar or Laos.
Northern destinations are also popular with alternative types and digital nomads, who like the less-commercialised, but nevertheless trendy, vibes up there.
Top destinations in the north of Thailand include:
Central Thailand is often popular with sightseers, who want to take in the country's main cultural assets including:
And finally, in the south of the country are coastal resorts and islands.
There's so many to choose from here that it's impossible to list them all and to cater to everyone's tastes – some places are more mainstream and busy, while others offer remote, hideaway vibes.
Here's a list of the most popular spots:
Phuket
Koh Phangan
Koh Samui
Koh Chang
Koh Tao
Koh Lanta
Koh Lipe
Koh Phi Phi
#8 Money & Costs
Now that you have an idea (or at least a list you can research more) when it comes to the best places to visit in Thailand, it's time to move on to costs and money.
The currency in Thailand is the Thai Baht (THB).
This is divided into 100 Satang and comes in notes and coins.
ATMs can be found widely across Thailand and are easy to use with instructions generally in English.
Normally they won't charge you to withdraw cash, although your bank in your home country might.
Cards can also be used to purchase goods at most official businesses in Thailand such as accommodation, restaurants and tours / activities.
When it comes to paying for things in Thailand, you want to ensure you're not being charged overseas transaction fees or getting poor exchange rates when using your card abroad, which is why I always take my Wise card away with me wherever I travel.
The easy way to spend abroad with real exchange rates, no markups and no sneaky transaction fees, you can use your Wise card just like a debit card here… and it links easily with Google and Apple pay – sold! Grab yours here.
As I've said before, travelling in Thailand is very cheap and in general, most budget travellers should be able to get away with spending under $40-50 USD per day… or even half that if you're really watching your pennies.
The main ways to save money when travelling Thailand are to limit your domestic flights (buses are way cheaper), stay in dorm beds in hostels and to avoid cafes and restaurants in lieu of eating on the street!
#9 Food and Drink
Which leads me nicely onto the topic of food and drink while travelling in Thailand
For many people, Thai food is one of the premium reasons to visit the country and from top-notch restaurants in Bangkok to night markets in every little town, Thai food is available in abundance here.
And it's good! … although if you are vegetarian, you'll want to watch out for the use of fish oil, which they tend to pour into everything here when cooking!
When it comes to eating in Thailand on a budget, night markets are a great way to get a cheap and authentic feed as you join locals at plastic chairs and tables where food is served straight from the heat.
In general, most travellers don't get sick when eating like this but, as always, check for a busy stall that has plenty of locals sat at it already when making your choice!
Booze in Thailand is notoriously cheap – but don't use this as an invitation to overindulgence!
Tap water in Thailand is not safe to drink from the tap and it'll likely to hurt your stomach, especially if you're not used to it.
Instead of buying copious amounts of mineral water in plastic bottles – bad for your budget and the environment – I suggest investing in a LifeStraw Water to Go bottle instead.
This genius piece of equipment allows you to fill up from any fresh source of water and then safely filters it when you drink, removing 99.9% of parasites and bacteria.
I love mine and certainly wouldn't travel anywhere without it anymore!
Buy one here.
#10 Telecommunications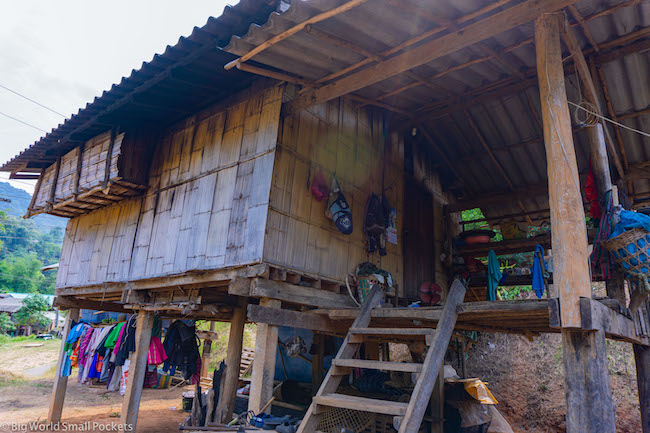 And while we're talking of equipment, I strongly advise you to bring your smartphone with you when you travel Thailand.
That's because you can pick up a local tourist SIMh here for next to nothing… and having one of these will make your time travelling in the country a lot easier.
Not only do tourist SIMs in Thailand give huge amounts of data for next to nothing, but they'll also allow you to book accommodation and tours, read reviews, use Google maps and contact people easily and while you are on the move – very handy when it comes to travel logistics and safety!
Pick up your Thai SIM at most airports or in phone shops in almost every town and city.
#11 Shopping & Essentials
Thailand is a shoppers' paradise and you can buy almost anything you want in this country!
Souvenirs are easy to come by and very reasonably priced.
You can also buy loads of clothes and any toiletries or health products you need while you are in Thailand too; so if you forget to pack anything, don't panic, you'll certainly be able to restock in most of the major cities, especially Bangkok.
Here, many international brands and high street stores, including Boots the Pharmacy and 7/11 Supermarkets are common!
Shops are generally open from 10am-10pm across the country and you will find there is quite a late-night culture here.
#12 Types of Accommodation
So now we move onto the sort of places you should stay when you travel Thailand.
First up are backpacker hostels, which are ideal for budget travellers and often offer both dorm and private rooms with a communal atmosphere perfect for budget travellers.
As always, I use Hostelworld to book Thailand hostels as they offer loads of choice and helpful customer reviews you can use to compare places.
Next up are homestays, or private rentals, which offer good value for money in Thailand with a bit more privacy.
Personally, my go-to site here is VRBO.
Check out this incredibly good-value 2 bed apartment they offer in Bangkok, or this amazing villa, which sleeps up to 8 people, in Phuket for more ideas.
And finally, there are traditional hotels which include some luxury and popular international brand hotels in cities like Bangkok, right through to independent and small boutique hotels across the country.
When it comes to hotels and guesthouses in Thailand, I always use Agoda. Check out their wide range of listings in Bangkok, as an example, here.
All of these make good options, it just depends on the budget and level of luxury / privacy you're looking for.
#13 What to Pack?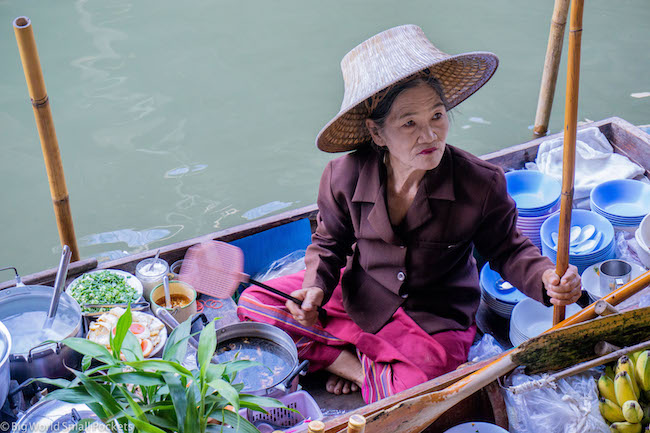 For more information about what to wear and pack for Thailand, I highly recommend taking a look at my Southeast Asia Packing list here.
Otherwise, a few things you can't forget to pack for Thailand are:
A good travel camera like a GoPro (great for underwater stuff) or a Sony A6000 (ideal mirrorless for beginners).
A pollution mask – it can get pretty bad in parts of Thailand at certain times of the year.
A European or UK adapter – both types of sockets are used in Thailand, so a World Skross adapter is a good idea to have all bases covered.
A good insect repellent is also a useful idea to bring as the mosquitoes when you travel Thailand can be brutal.
I'd also advice some good natural UV-protection sunscreen as the rays in Thailand can certainly be strong!
When it comes to clothes, relaxed thin clothes are key in Thailand for covering up when you need to respect local culture (i.e. when visiting temples) and also for keeping cool in the humidity and hot temperatures.
#14 Dangers & Annoyances
And talking of humidity, there's no question it's one of the things in Thailand that can be a big problem for many travellers here.
The key to surviving the heat however is to avoid the midday sun, stay hydrated and ensure you have a sun hat or cap on to protect your face from the sun.
Traffic in cities and pollution across Thailand, especially in the north of the country during the burn-off season of May, can be really bad and sometimes the air quality is dangerously poor.
People can get sick in Thailand, mostly from drinking bad water or eating bad food, but stick to busy places and don't drink from the tap, and you should be alright.
Penalties for drug offences are high in Thailand – do not get involved.
Be careful not to overdo it on alcohol here too and remember to be respectful of local culture.
There are several large festival periods in Thailand, so do be aware that most of the country comes to a standstill at these times. Book both travel and accommodation for these periods well in advance.
Finally, for all you North Americans and mainland Europeans, it's useful to know they drive on the left in Thailand, so take care when crossing the road!
#15 Solo Travel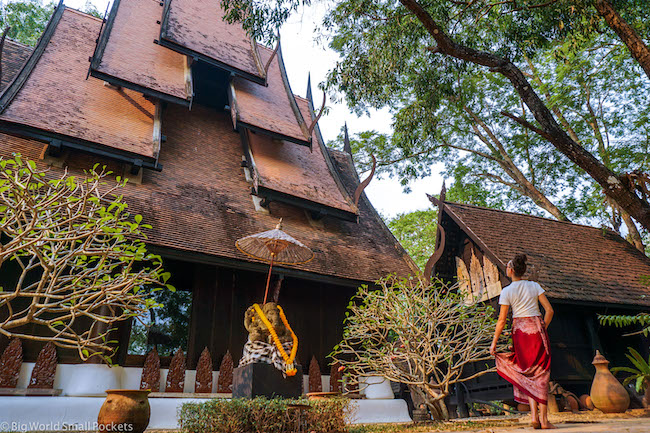 Thailand is a great country to travel solo and if this is your first solo travel experience, you've picked a good beginner spot!
In general, Thailand is safe and easy to travel and female visitors experience very little hassle.
Incidents do happen of course, but the most common is petty theft so always keep your valuables close to you and in sight at all times.
As a solo female traveller, I felt very safe throughout Thailand, including on night buses and walking in the cities after dark.
Generally sticking to populated and busy areas is a good tip and ensuring you always know how to get back to where you are staying is a great idea too!
Many people in Thailand, especially young people and those in the travel industry, speak English so it's easy to make local friends.
There's also tons of other travellers, including solo travellers, you can easily make friends with via meet up groups, in hostels, during activities or in restaurants and bars.
I find that picking up a local SIM card and using it when I travel, is a really good way for me to feel safe and connected too. Thailand is no exception.
World Nomads offers simple and flexible travel insurance. Buy at home or while travelling and claim online from anywhere in the world.
Alternatively, if you're a long-term traveller, digital nomad or frequent remote worker seeking travel health cover, check out Safetywing's Nomad Insurance policies.
PIN IT TO PINTEREST!
Well there you have it guys, my list of the top 15 things to know before you travel Thailand.
I hope this list has proved useful and you now feel ready for your trip to this budget travel beauty.
If you still have any questions, or any ideas to add to this article, then please hop on in and join the conversation via the comments bow below!
Thanks, Steph 🙂