Krabi, a beautiful part of Thailand, has the most stunning scenery and things to do.
From incredible white beaches, jungle landscapes, limestone crags and over 200 islands dotted around its coastal position, it's no surprise therefore that this is definitely one of the most popular places to visit in Thailand, especially for budget travellers.
But what can you get up to in this tropical destination?
Read on to learn about the 11 can't miss things to do in Krabi, Thailand if you're travelling there independently – which you totally can!
Otherwise, if this is your first time to Thailand, or your first solo trip abroad, you may want to join a group.
---
Related Posts
---
This page contains affiliate links meaning Big World Small Pockets may receive a small commission on any purchases at no extra cost to you.
---
When is the Best Time to Visit Krabi?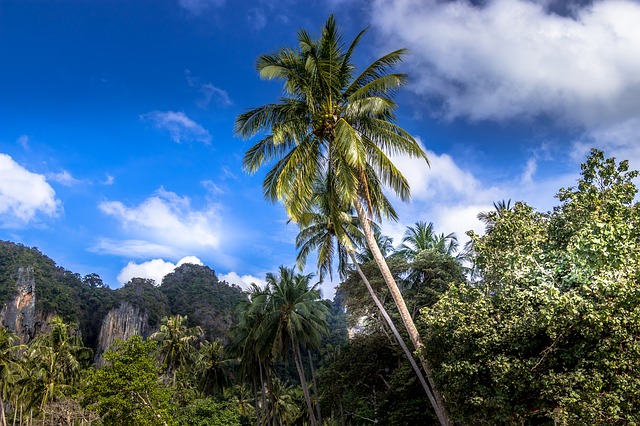 Located in the South of Thailand, Krabi enjoys a tropical climate.
This means there are two main seasons – the dry and the rainy season.
Bearing this in mind, the best time to visit Krabi is from November to March, which is the high season across Thailand and much of Southeast Asia.
During these months you can enjoy nearly perfect conditions of calm, crystal-clear seas and cloudless blue skies.
The sun is strong and temperatures high, but the humidity is less during this time too.
Honestly, I wouldn't book a trip to Krabi at any other time, especially not in the monsoon months of May to November!
To learn more about the climate in Thailand and other top tips for visiting this country, see this advice guide to travel in Thailand I wrote.
How to Get to Krabi
There are several ways to reach Krabi, both by land and by air from other destinations within Thailand.
Check out Bookaway, a great travel site that allows you to compare all the different methods of getting to Krabi from around Thailand and beyond…
Flying
First up, Krabi airport is very well connected with flights arriving here from across the country, but primarily from Bangkok. As always, I use Skyscanner to find the best flight prices around.
From the airport it is then a drive of about 14km to the centre of Krabi Town. Use Grab to find the cheapest taxi ride you can.
Bus
Situated on Highway 4, Krabi also is also well connected by road from Bangkok with regular buses running from the southern bus terminal in the capital.
It takes about 12hrs to reach Krabi by road from Bangkok and the main bus station here is then set 5km north of Krabi Town. You can easily get a minivan into the centre from the station.
When it comes to buying your buses to Krabi, the best idea is to check schedules, prices and book tickets online a few days in advance via the website 12Go.
I've used this site throughout my time in Thailand, Cambodia, Vietnam and Malaysia, and love it's simple and straightforward process, as well as secure online payment facilities.
Things to do in Krabi
And now we come to the main point of this article, namely what are the best things to do in Krabi?
No surprise, given its tropical setting, that scenic splendour is high on this list because, despite the touristic vibes, this place has still managed to retain a lot its natural beauty.
So let's get cracking….
#1 Rock Climb at Railay Beach
Railay beach is only accessible by boat and is the place to head if you want to try your hand at Krabi's most famous activity… rock climbing.
Although the area is getting more popular and therefore more crowded, visiting Railay Beach for its natural beauty and outdoor activities is still definitely one of the best things to do in Krabi.
As you land on the beach, you will see jungle all around you and, soaring above, giant limestone cliffs and viewpoints.
This natural feature make this place a climber's paradise and you can enjoy a huge series of climbs here from beginner to advanced.
In fact, with over 1000 routes in over 51 areas, Railay Beach is one of the most famous destinations for rock climbing in the world. Check out this great half-day rock climbing experience if you're looking to tackle one.
There are no roads here, only footpaths in Railay Beach, which means this tropical paradise also offers lazy days and chilled out evenings if you don't fancy climbing.
Don't miss the Princess Cave (Tham Phra Nang Nok), Diamond Cave (Tham Phra Nang Nai) and Hidden Lagoon (Sa PhraNang) which all are famous spots to visit here too.
#2 Stay in Ao Nang
Ao Nang is the best place to stay in Krabi for those who want to lay their heads in the area.
The nicest resort town around (compared to Krabi Town it's much better), Ao Nang also serves as the best base camp from which you can explore all the region has to offer.
With plenty of good guesthouses and restaurants, as well as long-tailed boats and ferries, staying in Ao Nang and then making short trips to nearby beaches and islands, is a popular traveller choice.
As always in Southeast Asia, there's countless travel agents here who can help you plan some astounding day trips.
There are also many good spas you can enjoy in Ao Nang too, which definitely makes a stay here one of the most relaxing things to do in Krabi!
#3 Climb to the Tiger Cave Temple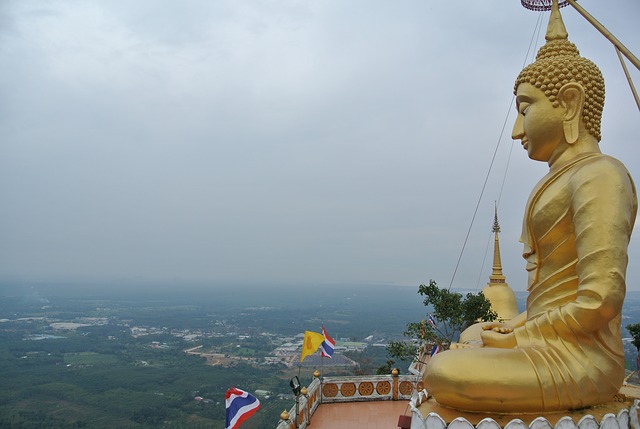 Despite lacking any tigers now, probably thankfully let's be honest, legend has it that back in the day a monk climbed up this hill and did find tigers roaming around the cave.
Indeed, an impression of a tiger's paw can be still be seen.
Pretty impressive you've got to admit, tigers or no tigers, climbing up to this cave is definitely one of the best things to do in Krabi.
After ascending the 1,240 steps, you will find a massive golden statue of Buddha and amazingly sweeping views off to both sides.
Apart from being an important meditation site, this cave temple, known locally as Wat Tham Suea, is also a place of archaeological and historical interest.
The surrounding area is covered with a large number of trees, which are hundreds of years old and once you make it to the very top, you are rewarded with a stunning 360 degree panorama over miles of countryside all the way to the Andaman sea.
#4 Visit Thung Teao Forest Natural Park
If you are a nature enthusiast and enjoy feeling all green-fingered among lovely flowers and beautiful birds, visiting the Thung Teao Forest National Park is definitely one of the best things to do in Krabi.
This place provides a delightfully calm experience for visitors, and the simplicity and tranquillity of Thung Teao makes it totally unique.
Honestly, just a short trip here will leave you feeling as if you've been transported to another world… and don't even get me started on the crystal lagoon.
This lagoon is named after the effect the water here produces and does it live up to the hype?
Go and see for yourself!
Admission fees are 100 Baht for children and 200 Baht for adults.
#5 Marvel at Krabi Shell Cemetery, Susan Hoi
This 200m stretch of fossilised shells dates back more than 40 million years – pretty epic huh!
Yup, the scary and oldest place in this area, and the only one of its kind in the world, visiting this spot is definitely one of the best things to do in Krabi.
A heaven for geology buffs and sea-relic lovers alike, the shell cemetery was formed when limestone deposits covered ancient sea creatures, trapping and preserving them in the process.
Besides this natural wonder, there are several small Chinese temples to explore around the cemetery, meaning you'll get your cultural fix here too.
In addition, the undisturbed beaches of Susan Hoi add another level of loveliness.
Having maintained their natural surroundings well, and boasting a distinctly non-commercialised air, this is a must-visit area in Krabi in my opinion.
It's also worth knowing that the mangroves, which otherwise have restricted access, are reachable through cemetery here and are certainly worth exploring.
That said, do check the tide timings before visiting as high tides may disrupt your visit and make it unsafe to enter.
There are certain kiosks which charge you for a visit, but technically, this is a free site.
#6 Bathe in the Klong Thom Hot Springs
These deep-rooted thermal springs are located inside the volcanic chambers of Klong Thom, where warm water has flowed for thousands of years.
Believed to have healing properties that aid skin afflictions, both the hot and cold water springs found here are great for circulation too and make bathing in this spot undoubtedly one of the best things to do in Krabi.
The lush, green setting is a bonus and the soothing atmosphere can be a welcome respite from the often chaotic Thailand vibes!
Located quite close to the emerald pool at Thung Teao Park, it's a good idea to plan a combined day trip from Krabi taking in both these sights at once.
#7 Get Stuck on the Phi-Phi Islands!
The Phi-Phi islands are top of many travellers' lists and is it any wonder given their tropical setting?!
As your boat approaches the islands, they seem to rise from the sea like fortresses and, whether you choose to visit Ko Phi Phi Don, Ko Phi Phi Leh, Bida Nok, Bida Nai or Bamboo Island (Ko Mai Phai), you'll likely feel as if you've arrived in a movie!
Indeed, the islands came to prominence following the release of the film The Beach, which was shot here, and feature crystal clear waters, beaches to die for and protected natural environments.
Visiting them (perhaps for longer than you planned) is definitely one of the best things to do in Krabi and the wider region.
Phi Phi Don, the largest island, offers sandy beaches and hidden caves.
Diving and snorkelling are also popular here as you can experience both coral gardens and deeper reefs.
However the island is busy and becoming increasingly crowded and touristy.
The quieter spots are along the east and south coasts, but are getting harder to comeby.
Phi Phi Leh is quieter than Phi Phi Don and only accessible as part of a day trip or sunset cruise from Phi Phi Don.
#8 Snap Khao Khanab Nam
These mountains, set on either side of the bay, are the most recognisable landmarks in Krabi.
Standing 100 meters tall, their majestic wonder acts as a gateway to Krabi Town, with the river running in between them making for a highly memorable view.
Inside the mountains, a very holy site is hidden, which is well worth exploring.
Indeed, the location is famous for the large number of human skeletons that have been found in the caves here.
The caves are wonderfully accessible through the stairwell and the panoramic view from the top is definitely worth the climb.
All in all, making a trip to Khao Khanab Nam is certainly one of the top things to do in Krabi and the area can be reached by chartering a long tail boat from Krabi Town or Ao Nang.
As part of your charter trip, do stop by the Ko Klang fishing village too and discover the museum and local craft center here.
#9 Relax on Koh Lanta
Much calmer than Koh Phi Phi, Koh Lanta provides a far more relaxed and less backpacker-y vibe.
Edged by mangrove forests, mile-long sandy beaches and rainforests, this place is delightfully exotic and offers more of a midrange getaway.
As such, relaxing here is definitely one of the best things to do within reach of Krabi.
Must-do activities on Koh Lanta include diving and snorkelling, in fact this island boasts some of the best marine life and reefs in the whole of Thailand.
Must-sees are the underwater pinnacles of Hin Muang and Hin Daeng.
Other must-visit places on Koh Lanta include Sunshine Hill Viewpoint and Ban Si Raya, which is otherwise known as Lanta Old Town – a charming old port area with stilt-houses that hawk back to a bygone era.
Otherwise, from here you can always head over to Koh Lipe and from there, over the border to Langkawi in Malaysia if you're looking to explore further afield in the region.
#10 Take the Four Island Tour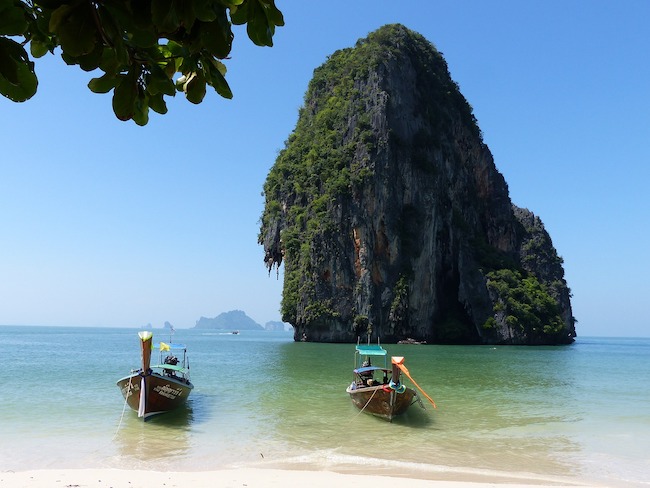 The breathtaking four island tour is definitely one of the top things to do in Krabi and covers Koh Gai, Koh Tup, Koh Mawr and Koh Poda
This fun experience usually provides you with a short amount of time to enjoy each island as well as check out Pranang Cave, aboard a speedboat.
Koh Gai is a chicken-shaped island (hence the name, read. Gai means Chicken!) and is linked to Koh Tup with a sandbar.
The third island, Koh Mawr is a rocky spot with cliffs jutting out of the sea and lush green foliage on top.
Finally, Koh Pada, usually the last stop, is a large island with coconut plantations.
Tour boats usually hold 35-40 people and can be booked in advance here.
#11 Wat Kaew Korawaram
One of the most prominent temples in the Krabi region is Wat Kaew Korawaram.
Though not as beautiful as Tiger Temple, Wat Kaew Korawaram is absolutely a must-visit location when in Krabi, primarily for the amazing carving of Buddha, which was produced from a single piece of jade.
There are also temple gardens here to enjoy which, located on the hill, are accessed via a grand staircase lined by Naga sculptures.
This place was established in 1887 and the temple is clean and well-maintained, with its ceilings and walls covered with fascinating murals.
Mini Travel Guide to Thailand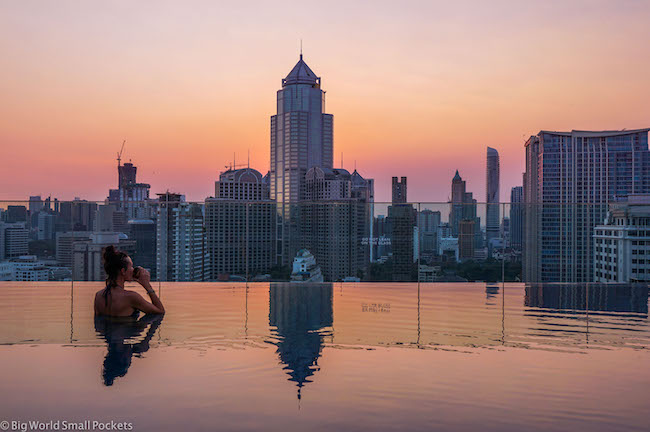 Travel Insurance for Thailand
World Nomads offers simple and flexible travel insurance. Buy at home or while travelling and claim online from anywhere in the world.
Alternatively, if you're a long-term traveller, digital nomad or frequent remote worker seeking travel health cover, check out Safetywing's Nomad Insurance policies.
5 Packing Essentials for Thailand
#1 Lonely Planet Guidebook – The Thailand Lonely Planet is excellent and very helpful for any trip to this country with lots of top tips and recommended places to eat.
#2 Walking Shoes – There's likely to be a lot of walking in Thailand's cities, so I advise packing a pair of good runners, like these New Balance trainers, which are perfect for city strolling.
#3 European & British Power Adapters – Thailand has a mix of power outlets, but generally opts for a combination of the European and British ones, so make sure you come here prepared with a Skross world adapter.
#4 Camera and Lens – I love my Sony A6000 mirrorless, which was ideal for capturing this crazy country, its culture, countryside and cuisine, as its very best.
#5 Travel Scarf – A great multi-purpose item that can be used to safely store valuables and cover your shoulders while you explore Thailand's temples, there's no way I would come to this country without a travel scarf – just so damn handy!
Travel Money in Thailand
When it comes to paying for things in Thailand, you want to ensure you're not being charged overseas transaction fees or getting poor exchange rates when using your card abroad, which is why I always take my Wise card away with me wherever I travel.
The easy way to spend abroad with real exchange rates, no markups and no sneaky transaction fees, you can use your Wise card just like a debit card here… and it links easily with Google and Apple pay – sold! Grab yours here.
PIN IT TO PINTEREST!
And there you have it, my complete list of the top things to do in Krabi.
From beautiful and alluring islands to lush green mangroves, epic climbing opportunities and pristine ocean water made for diving, there's no question this is a must on your Thailand itinerary.
Are you dreaming of this destination as much as me?
When are you going?!
---
Vinod & Divya are Software Techies by profession, gradually driven towards travel by passion!
They are the founders/editors of the travel blog Budget Travel Plans and are based in India.
Having travelled across exotic destinations including Mauritius, Singapore, Malaysia, Thailand, Srilanka, Bhutan and the Middle East, they aim to share their budget travel experience, tips and tricks.
Follow their adventure on Facebook here.
---