It's a big problem.
And it's growing.
It's a problem that's affected me, as well as countless other digital nomads, remote freelancers and long-term travellers I know.
And that is the question of insurance.
Travel insurance for nomads to be precise.
If you've ever tried to take out insurance when you're not in your home country, you don't know when you'll be back in your home country, or you're confused about where your home country might be, then you'll know it's a complete mission aka a nightmare!
But finally, I've found a solution.
Or rather a solution has found me, hoorah!
So get ready to discover the great, new travel insurance for nomads that is making my travel life and those of countless others around the world, a whole lot easier!
---
Related Posts
---
This article was sponsored by SafetyWing, but as always, all views are my own.
This page contains affiliate links meaning Big World Small Pockets may receive a small commission on any purchases at no extra cost to you.
---
The Problems of Travel Insurance for Nomads
Personally, I discovered the problems of travel insurance for nomads when I was a temporary and tax resident in Australia, but a permanent resident in the UK – although I didn't live there, hadn't done for years and had no sense of when I would be back there!
I wasn't eligible for most Australian insurance and I wasn't eligible for most UK insurance either, and that list got even smaller when I added in the factors that I was travelling for an unknown period of time.
I was falling between the cracks of both systems.
I guess I can see from an insurer's point of view that I provided some sort of major headache, because I didn't fit any of their neat little boxes.
But guess what?
They provided me with a huge headache too, because in 2019, you just can't afford not to have travel insurance, especially as a digital nomad.
The Importance of Insurance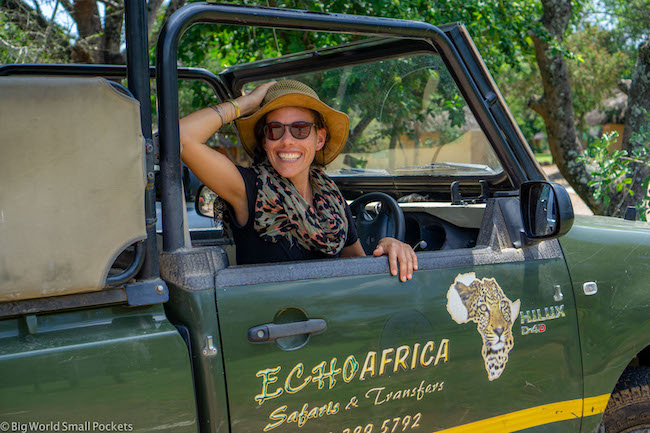 I mean call me old-fashioned, but travel insurance is not a compromise for me, it's a given.
Even though I might take some quite big risks in my life in some quite big ways, this is one area in which I'm not going to take a risk i.e. not be covered by insurance.
In fact, all the other risks I take are minimised by the fact I always have and always will travel with insurance cover.
From getting sick to things getting lost or stolen, from travel plans being cancelled to unforeseen circumstances unfolding, travel insurance for nomads is even more crucial when you consider the length of time we're on the road for compared to most people.
This, of course, heightens the risk of anything untoward occurring.
Not that I'm all doom and gloom, it's just a fact.
Because the nature of our work as remote freelancers, digital nomads or those working overseas, is that we also travel with most of our possessions doubling the need for travel insurance and peace of mind.
Equally, we need that sense of medical security too when we're miles from home and often alone out there.
And who can forget the importance of a passport – the small book of dreams and plans and possibilities – because goodness knows, we want to be covered if we lose that too!
The Solution of Travel Insurance for Nomads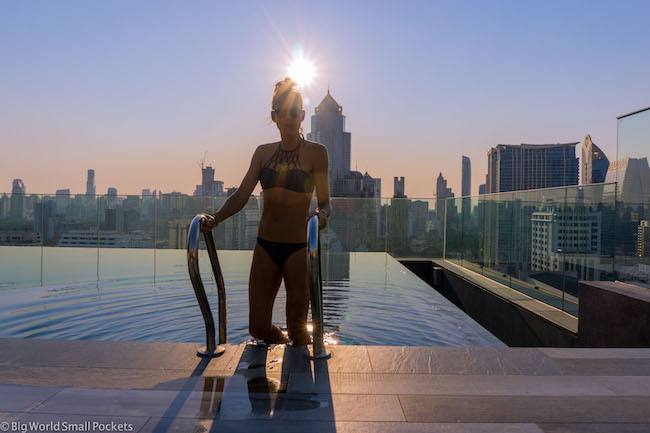 And so, it blatantly became obvious that a solution which provided travel insurance for nomads, specifically, was a genius idea; an insurance that didn't have to be tied to set return dates, be taken out in your home country or necessarily involve you knowing where you were going to go.
Now that's a level of freedom I can get behind!
Even though I've left Australia now, my permanent travel lifestyle still means finding suitable insurance can be a difficult undertaking for me.
Not to mention an expensive one too!
I'm constantly trying to scramble policies together that cover the length of my adventures, possible extensions and possible deviations from original destinations and plans too.
And then, what happens when I'm back travelling in the UK?
What happens when my international policies have ended, but I still want to be covered for any jaunts around my homeland?
Well hoorah for the travel insurance gods, because now I've found a solution.
So enter SafetyWing the ideal travel medical insurance for nomads!
5 ESSENTIAL ITEMS FOR DIGITAL NOMADS
#1 Shampoo & Conditioner Bars – Ideal for helping you bypass those liquid restrictions, shampoo and conditioners bars are perfect for keen travellers and great for the environment too. Small, plastic-free, light and compact, they take up little space and are a godsend for nomads the world over!
#2 Portable Power Bank – Charging on the move is crucial nowadays as all those travel snaps will have you draining your batteries in no time. The Anker Powercore 20100mAh Portable Charger is my go-to choice when it comes to charging my smartphone, mirrorless camera or GoPro on the move. When I'm out working for the day, this guy is a continual lifesaver!
#3 Mirrorless Camera – And here is the camera I use, the Sony A6000. Being mirrorless, it's light, sturdy and compact – ideal for nomading around the world with!
#4 Travel Scarf – Temperatures within an aircraft can often be freezing as they crank the aircon and can often lead to me feeling cold, if not catching one. I always avoid this by having a scarf with me and the Sholdit Travel Scarf is ideal for the job. A perfect travel accessory, both on and off the plane, it has a secure pocket, ideal for storing your valuables discreetly if you want to adventure safely.
#5 Anti Theft Backpack – And sticking with the safety theme, you can't look past the Bobby Anti Theft Backpack if you want to ensure those all-important valuables you travel with (such as laptops, hard drives, cameras, lens and phones) remain secure. Shock-proof, slash-proof and water-resistant, there's no bag I'd rather journey with.
SafetyWing Travel Medical Insurance
So lo and behold, somebody's only come up with the perfect travel insurance for nomads, myself included!
Yes, the great guys behind SafetyWing have designed, created and launched an insurance product that caters especially for those of us who love to be on the move.
And if you look at their international team, it's clear these guys like to be on the move too… so they get it!
First up, travel medical insurance from SafetyWing doesn't require you to take out a policy when you're in your home country, you can take it out if you're already abroad.
Secondly, instead of having to constantly fiddle around with extension dates, renew or try to find a new policy, their brilliant coverage allows you to work on a rolling, subscription basis.
What this means in real terms, is that you simply pay a monthly fee and your cover keeps extending, automatically, every 28 days until you pick an expiry date.
And a subscription starts from only $37 USD per 4 weeks!
No more having to set yourself calendar reminders, no more unnecessary items added to your to-do list, you can rest assured these guys have your back, month after month for up to 354 days. And after this, you can extend your cover easily for another year and so on and so on for as long as you want or need.
And as the policy rolls, you can even return to your home country and maintain coverage!
Yes for every 90 days you are abroad, you can use your medical coverage for 30 days in your designated home country, except people from the US who get 15 days home coverage for every 90 days abroad.
Plus, young children are included in the policy free of charge too!
Talk about travel insurance for nomads made easy… and cheap!
This means if you're a family nomad, as I know many of you are these days, you can also get cover for 1 young child per adult (up to 2 per family) aged between 14 days and 10 years old without any additional costs.
Policies from SafetyWing are reliable, comprehensive and can cover you in the eventualities of lost checked luggage, medical and dental emergency, natural disaster, trip delay or interruption, evacuation and the all-important loss of that passport!
Yup, these guys got it covered!
Signing Up is Easy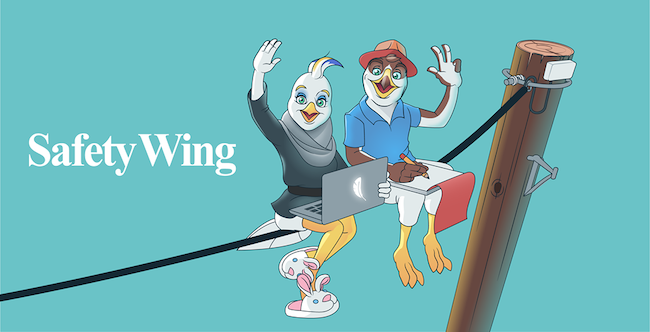 The only thing SafetyWing don't currently insure is the loss of electrical possessions, such as laptops, cameras and phones, so you may want to take out a separate policy to cover any specific items of this nature you have.
But once you've got that, signing up to SafetyWing is quick and easy.
Accessible online from anywhere in the world, all you need is an email, a mailing address, your date of birth and a listed home country… choose from 180 available options!
The process is quick and easy, which I love, and their website is clear and simple to use.
It takes 2 minutes to register and once that's happened, selecting a rolling policy or coverage between specific dates takes just 2 minutes – with the only credential being whether you plan to travel in the US or not or whether you have any pre-existing medical conditions… the standard stuff.
Yes, one of the things I love most about this great travel medical insurance for nomads is the lack of complications – there's no different policy levels to choose from and no overly laborious T&C's to wade through.
Full policy details are contained within one digestible and downloadable PDF, and there's an easy FAQ section on the website to guide you through too.
You can easily submit a claim to SafetyWing via email and they handily list all the criteria and proof you'll need online.
Plus their support team is available to chat to you 24/7.
What could be simpler?
So finally, I've found a great travel medical insurance for nomads that provides all the stress-free, flexibility and peace of mind I need.
Maybe it can help you out too?
Why not take a look at the SafetyWing website for yourself and see just how easy and affordable they make it all.
PIN IT TO PINTEREST!