I think it's fair to say Armenia is pretty off the beaten track. Which is why knowing these 18 things before you travel there is pretty useful!
Indeed before I adventured here, there were just a handful of bloggers writing about this country online.
So, after my amazing time there, I wanted to post an article that would give other travellers thinking of heading here a bit of heads up about what to expect.
Because it's hard to know what to expect from Armenia isn't it?!
The first nation in the world to adopt Christianity as its state religion, a former Soviet state and situated between Iran, Turkey and Azerbaijan, it's fair to say Armenia isn't easy to pigeonhole!
Positioned at a long-standing travel nexus, straddling the border between both Europe and Asia, Armenia is something of a puzzle… and all the more amazing for it I say!
So if you're planning on heading to this lovely little country, first of all, congrats and second of all, strap in for this ride through the 18 things to know before you travel Armenia…
---
Related Posts
---
This page contains affiliate links meaning Big World Small Pockets may receive a small commission on any purchases at no extra cost to you.
---
#1 Visas for Armenia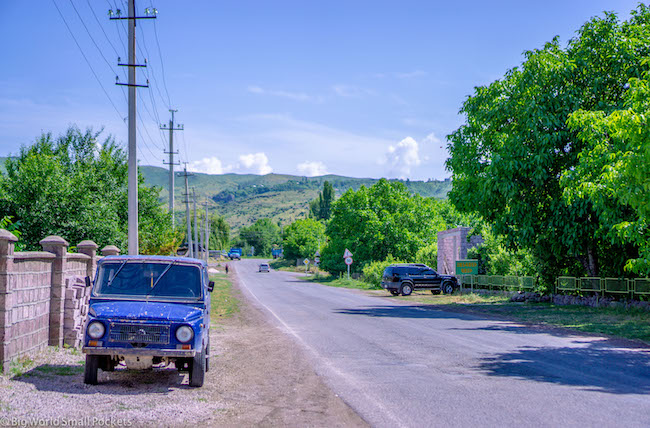 The first thing you need to know if you want to travel Armenia is if you can!
And by that I mean, do you need to get a visa?
If you're travelling from the UK, the EU, Australia, New Zealand, the US or Canada, then the great news is that you don't need a visa to visit Armenia and can just get a stamp on arrival, either at a land crossing or at the airport.
This is also true for the citizens of many other Middle Eastern nations, but do check before you travel as the rules can always change.
#2 Crossing Into Armenia By Land
Unsurprisingly many travellers combine the Caucasus countries together when they travel and, as such, lots of people cross into Armenia via the land border with Georgia.
There's primarily 2 reasons for this:
#1 Flights from Europe to this part of the world are generally cheaper when they land in Georgia, especially if you get a budget airline flight to the city of Kutaisi. As always, use Skyscanner to find the best deal.
#2 Armenia does not have open land borders with 2 of its neighbours, namely Turkey (semi-frosty relations, although flights do run between these 2 countries) and Azerbaijan (severely frosty relations and disputed territory issues).
As such, the only countries you can cross in Armenia from / to by land are Georgia and Iran, and it's obvious, which the more frequently travelled country of those 2 is.
In relation to point 2, you also need to watch if you have an Azerbaijani stamp in your passport, as sometimes this can cause problems when entering Armenia.
That said, I've heard that the Armenian immigration officials are way more chilled than the Azerbaijani ones, so I do recommend heading to Azerbaijan first, followed by Georgia and then Armenia if you're hitting up the 3 all in one trip.
I made the land crossing with Georgia myself when exiting Armenia and can happily attest to the fact it was one of the easiest border crossings I've ever made in my life.
Local minivans (mushrutkas) regularly ply the route between the 2 capitals of Yerevan and Tbilisi in a hurtling and hair-raising 7 hour journey through the countryside that costs around 7000 Armenian Dram … enjoy!
#3 Arriving By Air
Otherwise, if you're arriving into Armenia via a flight, like I did, you'll be arriving into the country's only international airport just outside of the capital of Yerevan.
The cheapest flights generally arrive here from Dubai and Istanbul, so check out FlyDubai and Pegasus Airlines via Skyscanner if you're looking to score a well-priced ticket.
The airport is small, but clean and efficient.
Pass immigration, grab your bag, use the ATM for some local currency and even get a SIM card if you need one – more about this in #18 of this article.
You can then grab a taxi to the city centre / your accommodation, but do not pay more than 4000 Armenian Dram.
Alternatively, use an Armenian ride-sharing app to get to the centre – more in #7.
#4 Best Time to Visit Armenia?
Armenia has a crazy climate, in that it goes from freezing cold in the winter to boiling hot in the summer!
I guess that's the reality of being a landlocked, mountainous country!
As a result of the climate variation, I honestly think the perfect time to travel Armenia is during the northern hemisphere spring and autumn, namely April through June and September through October respectively.
In this way, the best time to travel Armenia is similar to that of the Middle East.
Travelling during these months means you avoid the freezing conditions of the bleak winter, but you don't risk burning to a crisp in the summer temperatures and humidity!
It's also wildflower season during spring and conditions are perfect for hiking, which you should definitely do when you travel Armenia.
I visited this country in June, and because I'm a sunshine-fan, loved the warm climate, long sunny days and green countryside backed by snowy mountains I found.
Here's my perfect packing list for Armenia if you're also travelling there in the spring / summer months.
#5 How Long to Travel Armenia For?
As a small country, most people allow between 2 days to 2 weeks to travel Armenia.
With 2 days, you'll hardly see anything, with 2 weeks, you'll see everything, so pitch it according to your travel style and how thorough you like to be!
For more info, including a day-to-day travel schedule, check out my Armenia itinerary, which gives you 5 options for a great trip here.
#6 Money in Armenia
The currency is Armenia is the Armenian Dram… but you knew that right!
ATMs are widespread in the cities here and easy to use with both Mastercard and Visa accepted.
However life gets very rural in Armenia very quickly, so if you're heading out to the countryside at all, I definitely suggest taking all the cash you'll need with you.
At the time of publication, the Armenian Dram was worth approximately…
£1 = 600 Dram
$1 USD = 450 Dram
1 Euro = 550 Dram
Yeah big numbers, annoying from my poor maths brain too!
When it comes to paying for things in Armenia, you want to ensure you're not being charged overseas transaction fees or getting poor exchange rates when using your card abroad, which is why I always take my Wise card away with me wherever I travel.
The easy way to spend abroad with real exchange rates, no markups and no sneaky transaction fees, you can use your Wise card just like a debit card here… and it links easily with Google and Apple pay – sold! Grab yours here.
#7 Getting Around Armenia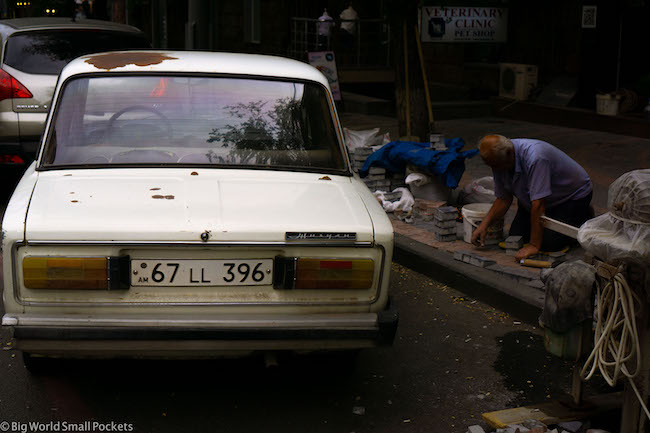 Due to a lack of tourist infrastructure and some poor road conditions in parts, getting around Armenia can be a little tricky.
Public minivans, known as marshrutkas, are the cheapest way to go, but they only ply main roads and generally operate only to and from the capital.
To make matters a little more complicated, there are 6 marshrutka stations across Yerevan and finding out which buses leave from which stations is an adventure in itself!
Check out this useful website, which had the most current info I found online, otherwise ask where you're staying for the latest details, as the often buses often change stations!
To combat the confusing minivan situation however, the good news is that hitchhiking is easy and commonplace across rural Armenia – often you'll be picked up on the street without even having to stick your thumb out!
Otherwise, ride-sharing apps such as Yandex can be used to grab cheap taxi rides for shorter distances and make communicating across any language barriers much easier.
In Yerevan, there's also an extremely cheap metro system.
Failing all of the above, guided day trips or private taxis will happily shuttle you to most major tourist sites around the country. If you can get a group together this can be a surprisingly cost-effective option. Check out these well-priced Armenia tours for some ideas.
#8 Travel Highlights in Armenia
There are 2 primary attractions across the whole of Armenia and they are… monasteries and mountains… and often they are combined!
Yes situated in the Caucasus region, Armenia is an undulating, elevated country which boasts beautiful mountain landscapes within its own borders, as well as the famous snow-capped peak of Mount Ararat (now situated within Turkey) that makes for an amazing backdrop.
As the oldest official Christian state in the world, Armenia also has a huge number of Orthodox Monasteries, that are often set in stunning locations and are adorned with beautiful frescos. Hundreds of years old, they are all very much living monasteries – regular worshippers still attend them and religion very much forms a large part of local life here.
In addition to the mountains and the monasteries, Armenia also boasts a beautiful lake – Lake Seven and offers several cable car experiences, namely at Tsaghkadzor and the longest one in the world at Tatev!
There's Roman ruins at Garni, wine production in Areni and who can forget about all the amazing fresh produce and local food production that scatters the country.
For more information and ideas about what to see, check out my list of the top 10 things to do in Armenia.
#9 Hiking in Armenia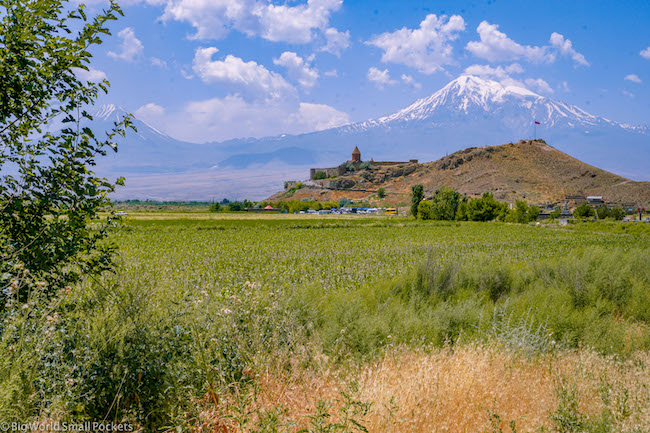 Hiking is a key thing to do when you travel Armenia and there's no way any time here would be complete without a few good walks to take in the stunning views, ancient tracks and lungful's of clean, fresh air.
Hiking trails can be found almost anywhere in country, mostly as ancient routes to and from villages, rather than purposefully constructed trails.
As such, it's always a good idea to download the maps.me guide before you set out.
HIKEArmenia, who have an office in Yerevan, can provide you with a huge range of free information. Find them on Vardanants Street in the capital. They are open Mon-Sat 10am -7pm.
Some of the best hiking in the country can be found in the south, around the city of Goris, and in the Garni, Geghard, Goght area just outside of Yerevan.
#10 Visiting Monasteries
If you fancy seeing a good monastery, then trust me, Armenia is the country to come to!
From those UNESCO-listed ones in the north of country around the town of Alaverdi, to the picture-postcard Khar Virab, or the famous Tatev, Geghard or Noravank Monasteries, there's a lot to choose from!
Great news for budget travellers is that all the monasteries are free to enter.
Suitable clothing must be worn to enter any Orthodox Monastery, which for women in particular, means long trousers / skirt and a headscarf. Thankfully, there are usually free garments at each church door you can borrow to enter.
If you are lucky, you may get to catch an Orthodox Sunday service at one of them, or at the very least some wonderful singing /chanting.
#11 Visiting Yerevan
Yerevan is where most people begin and end their time in Armenia and, in my opinion you can't miss it.
There's a few key sites to see in the capital, namely the Armenian Genocide Memorial Complex, the Cascade Comple, the Vernissage Market and the Republic Square.
While these are all fascinating places, the real beauty of Yerevan for me, was just the peaceful atmosphere of this city, which is celebrated in every corner – from the benches of its green parks to the cafes and wine bars that line its streets, along with its quirky antique and famous carpet shops.
Fresh fruit, vegetable and nut stalls line the pavements and you can't walk more than 20m without stumbling across a coffee cart!
No surprise then that I loved this city and found it the perfect introduction to Armenian culture.
You can learn more in my article that covers the 21 amazing things to do in Yerevan.
#12 Where to Stay in Armenia?
Many travellers who are pushed for time find it easy to base themselves in Yerevan and simply day trip around Armenia from there.
Throughout my time in the capital I stayed at the wonderful MGA Hostel which, along with their sister property, Retro Hostel, I can highly recommend – central locations and great, English-speaking staff.
Otherwise, you may wish to consider Envoy Hostel who run their own tours, both within Armenia and to Georgia, and who offer guests a discount on these if they stay with them.
Outside of Yerevan, the fabulous 3G's camping and guesthouse, run by the lovely Sandra, is well worth stopping by to enjoy the many sights, hikes and local life in this area. Situated between the Geghard Monastery and Garni Temple this place is perfect for sightseeing, but also chilling by the amazing pool and meeting other guests in the huge and well-equipped kitchens.
In Dilijan, I recommend Old Dili, or head to either Granby Hostel or Art Guest House.
In Goris you can stay at Yeghevnut Hotel – a traveller favourite.
#13 Armenian Food
And now we come to eating, one of the best things to do when you travel Armenia!
And it is any surprise given the amount of amazing, fresh produce they can grow in this fertile land?!
From vegetables to nuts, fruit to honey, cheese to bread, almost anything fresh you buy in Armenia will have been grown and / or produced here and it tastes all the more amazing for it.
Local streetsellers hawk their delicious goods on almost any street corner, otherwise, small farm stalls line the road sides and market places.
Don't miss the sight of the traditional lavash bread being made either – you can spot this by Geghard Monastery as well as many other places in the country.
Seriously, don't miss out on trying as much food as you can in Armenia!
#14 Drinking in Armenia
Ok so I lied, eating isn't the real national pastime in Armenia… drinking is!
From mountain water to coffee to wine, Armenians love nothing more than a sit, a chat and a drink.
The water across the country is potable, thanks to all those beautiful mountain springs, which produce the most delicious water.
Fill your reusable metal water bottle from any tap in the country for free, or try the mountain water from any of the hundreds of free, public drinking fountains you see scattered around.
Next up, it's the coffee, which is brewed here like Turkish / Arabic coffee. Traditionally served strong, black and with lashings of sugar, this is the perfect way to kick start your hiking!
Independent coffee carts litter the country serving up heaps of this delicious stuff for next to nothing.
And who, of course, can forget the wine?!
One of Armenia best produces, wine-drinking here is engrained into the culture and indulged in by just about every citizen.
Traditional wines flavoured with fruits are common, otherwise regular style red and whites are great, cheap and should be sampled in abundance when you travel Armenia!
#15 Costs of Travelling Armenia
Great news for those who wish to travel Armenia… this country is cheap as chips!
While accommodation and tours are pitched at an international market and therefore probably slightly more than you might expect, local food, drink and transport is extremely cheap and monasteries and hiking are free!
In light of all this, I'd suggest a budget of around 30 euros per day if you want to travel Armenia – this includes staying in private rooms in budget guesthouses / hostels, many meals out and some day tours.
If you only took public minivans / hitched and either camped or stayed in dorms, you could easily travel Armenia on between 10-20 euros a day.
Learn about the full cost breakdown of my trip to Armenia here.
#16 Safety in Armenia
I'm happy to report that my travel Armenia experience was definitely one of the safest ever.
Even as a solo female hitchhiking and hiking alone, I felt incredibly safe in this country with local people seemingly not able to do enough to help me.
In all honestly, I'd often be picked up when walking along the roadside and not even attempting to hitchhike!
And I was also given countless amounts of free food and drink.
I really felt Armenian people were so happy to have tourists visiting their country that their engrained hospitality and deeply religious values came into fullforce!
If you want to learn more, then check out the specific article I wrote about safety and my experience of travelling as a solo female in Armenia.
World Nomads offers simple and flexible travel insurance. Buy at home or while travelling and claim online from anywhere in the world.
Alternatively, if you're a long-term traveller, digital nomad or frequent remote worker seeking travel health cover, check out Safetywing's Nomad Insurance policies.
#17 Armenian Culture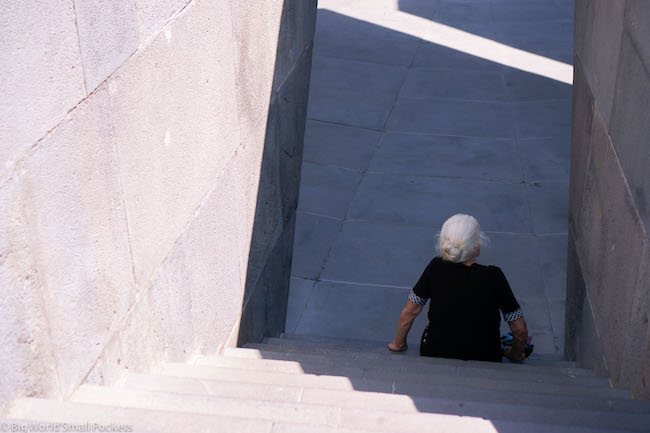 And that's because I truly believe Armenian people are some of the friendliest going.
For them, it seems, welcoming strangers is part of an almost religious duty and they apparently can't do enough to help you or make you feel welcome in their country.
Situated at a geographical crossroads, one that trading empires and migrating people have traversed for centuries, it Armenians appear to be tolerant and open people.
Like their Middle Eastern neighbours, there's no doubt the Armenians are late night people too with little open, even in Yerevan, before 10am and bars still pumping every night of the week at 3am!
While many younger people, especially in the capital speak English, do be aware that many older people / those outside of the capital don't speak English. If you know a bit of Russian, this may come in handy!
#18 Telecommunications
As I mentioned in the #3 airport arrival section of this article, Armenian SIM cards can easily be bought at the airport arrivals hall in Yerevan.
If you're coming from Georgia or Iran however and need to buy a SIM car when you cross the border I highly recommend Beeline, who I used throughout my travels in Armenia.
With good coverage across the country, as well as 3G data packages for next to nothing, this makes a great opinion when you travel Armenia, especially if you will be out hiking / travelling by yourself and would like extra piece of mind.
Mini Travel Guide to Armenia
Recommended Tours in Armenia
Check out these fantastic tours of Armenia, which will help you see the best of this country.
5 Packing Essentials for Armenia
#1 Caucasus Lonely Planet – Still my go-to when it comes to guidebooks, the Caucasus Lonely Planet packs in a huge amount of information about travelling in Armenia, Georgia & Azerbaijan and will likely save you the cost of a guide in many of this country's fabulous historical attractions.
#2 Good Camera – From the mountain landscapes to the village life, you'll want a good travel camera to capture the best of Armenia and the Sony A6000 mirrorless ticks my box every time!
#3 Headscarf – If you're heading to see any monasteries in Armenia, ladies will need to come prepared with a headscarf to enter, as well as a long skirt or pair of pants and a long-sleeved top.
#4 Hiking Shoes – No trip to Armenia would be complete without spending at least a day or two hiking in this country's untouched rural landscape. Coming prepared with a pair of good walking shoes is essential therefore and Keen Targhee's II always get my vote!
#5 Rain Jacket – I visited Armenia in June, technically the start of summer and the high season, but was amazed how storms suddenly blew in across this high altitude country. Having my North Face lightweight, windproof and waterproof jacket therefore saved my life!
Travel Insurance for Armenia
World Nomads offers simple and flexible travel insurance. Buy at home or while travelling and claim online from anywhere in the world.
Alternatively, if you're a long-term traveller, digital nomad or frequent remote worker seeking travel health cover, check out Safetywing's Nomad Insurance policies.
PIN IT TO PINTEREST!
So there you have it, the 18 things to know before you travel Armenia.
Have I convinced you to visit this amazing country yet?
If you have any more questions, please shoot them across in the comments box below…