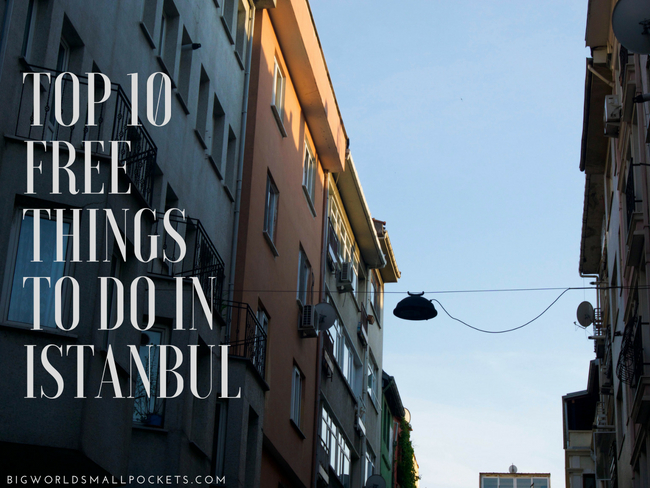 There's something truly mystical about the city of Istanbul in Turkey.
The metropolis that has spanned continents, empires, religions and cultures for thousands of years has an undeniable tenacity to it and an almost mythical allure that still has travellers heading there in droves today.
Because despite not being the official capital of Turkey, there's no doubt Istanbul is its most dynamic and dazzling city, and visiting it as part of my travels through the Middle East was a definite highlight.
Yes, the 5 days I spent in Istanbul really did give me a great opportunity to explore large amounts of this city and so here they are, my 10 top free things to do there.
---
Related Posts
---
This page contains affiliate links meaning Big World Small Pockets may receive a small commission on any purchases at no extra cost to you.
---
#1 Window Shop on the Streets of Kadikoy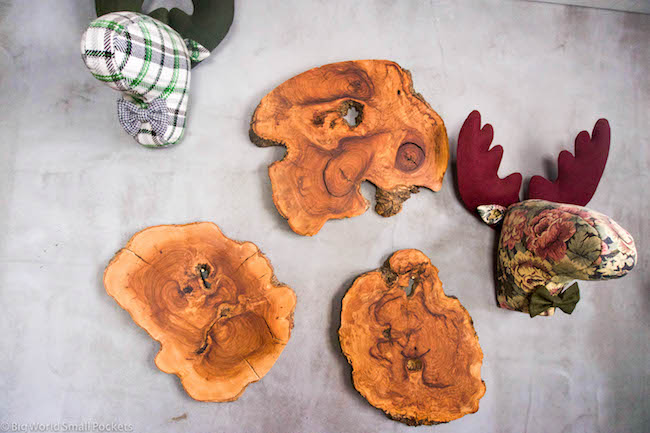 I ended up staying in Kadikoy (a less toursity suburb of Istanbul) after being advised by many friends that this was the best spot… and I totally loved its very local and authentic feel.
Located over on the eastern side of the Bosporus – the narrow strait of water that separates Asian Turkey from the European side – Kadikoy is definitely a very youthful and vibrant place, full of quirky antique shops and vintage pop-up stalls.
As such, wandering its colourful lanes to window shop to your heart's content is definitely one of the best free things to do in Istanbul.
That and stopping to enjoy the caffeinated beverages at one of the many, many cafes situated here of course – honestly, I don't know if I've ever seen so many in my life before!
#2 Visit Ortakoy Mosque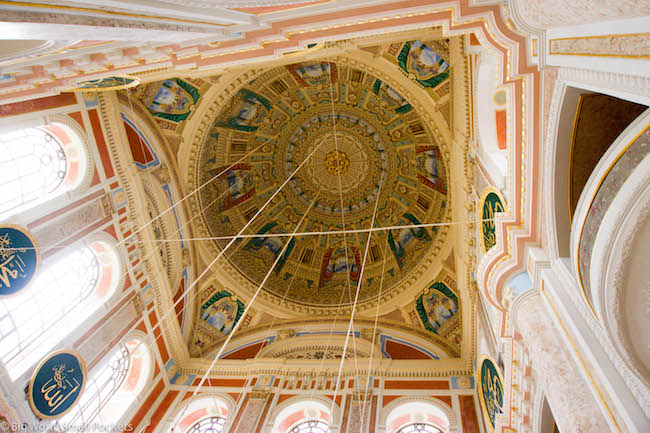 Sat on the European banks of the Bosporus, Ortakoy Mosque is open to non-muslims and with its waterway setting, is one of the most beautiful religious buildings to visit in the city.
Free to enter and easy to find, the ceiling in the main room herw is beyond gorgeous and wonderfully, photographs are allowed.
Ladies just make sure to cover your heads, and everyone should wear a respectful level of clothing and take off your shoes.
#3 Snap the Outside of Dolmabahçe Palace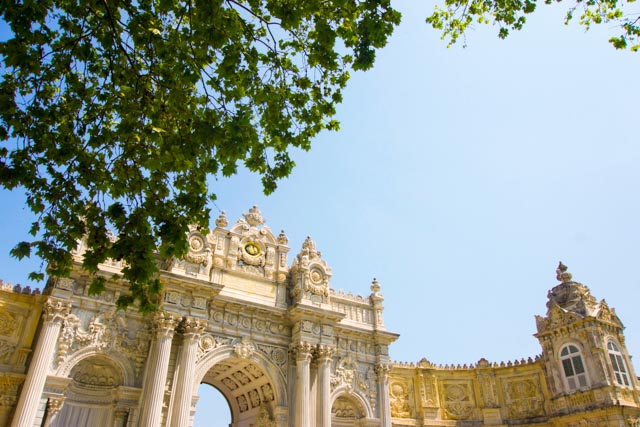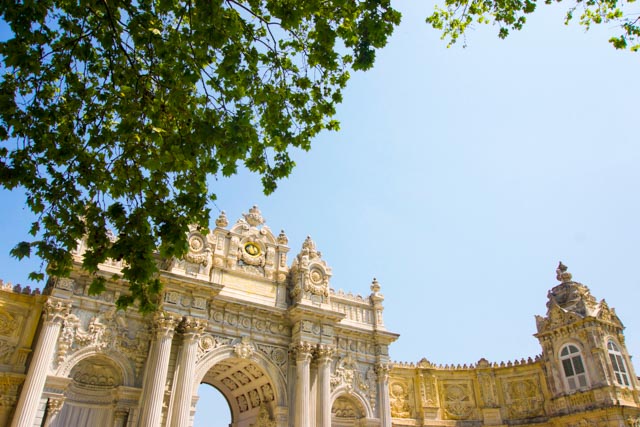 So while you do have to pay to officially enter this amazing piece of regal architecture situated in the suburb of Beşiktaş, you don't have to pay to stroll the lovely entrance gardens or admire the view of the entrance archways, both of which give you a pretty good idea of what lies behind!
Unless you're a huge fan of palaces therefore, I'm not sure that paying the entrance fee justifies itself here, so why get your insta-worthy shots and soak up the ambience without splashing the cash!
Did someone say complete backpacker cheapo?!!!
#4 Wander Through Yıldız Park
Wandering through the near-deserted Yıldız Park was actually one of my favourite things to do full stop in Istanbul, let alone given the fact that it's free!
If you get a lovely sunny day it certainly helps, but this gorgeous park with its gentle walkways and rope bridges would be a nice treat any time of the year.
Perfect for a picnic or to take in the views of the city from its elevated position, heading to Yıldız Park is definitely the place for some peace and quiet amidst the hustle and bustle of Istanbul.
#5 Stroll the Foreshore in Khalkodean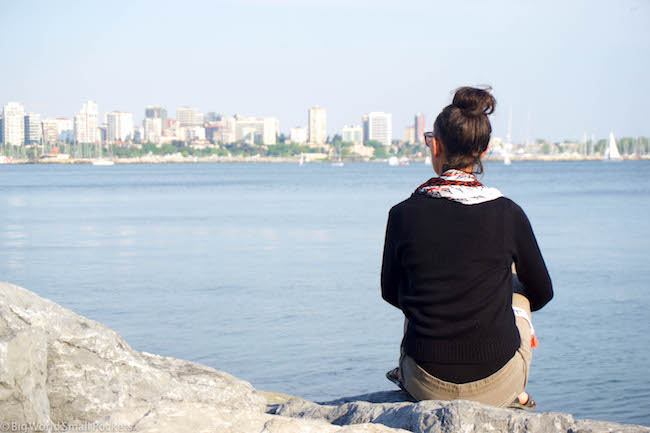 Back over on the eastern side of Istanbul, near the suburb of Kadikoy, the little area of Khalkodean lines the water's edge here and is the perfect place for a stroll and some fresh air.
Filled with locals, especially on sunny weekends, who lounge on the grassy reserves opposite, this is a great place to soak in the authentic vibes of Istanbul and marvel at just how different the 2 sides of this city can be!
#6 People Watch in Taksim Square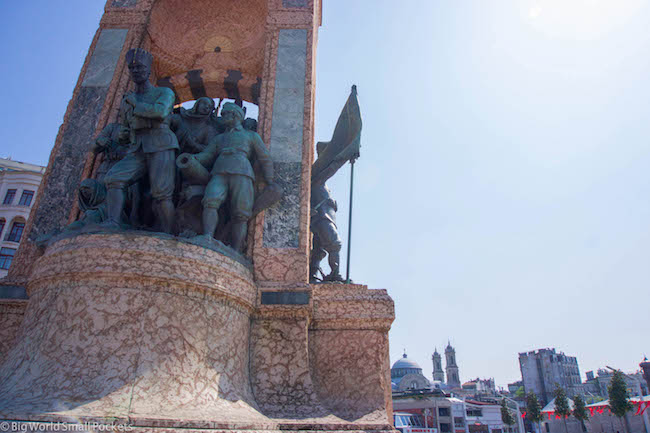 Istanbul's flagship plaza, no visit to this city would complete without taking a trip to Taksim Square.
Considered the modern heart of the city, with the Monument of the Republic standing tall in the middle, this central plaza on the European side is a great place to sit and watch the city run around you.
#7 Enjoy the Live Music Along Istikal Avenue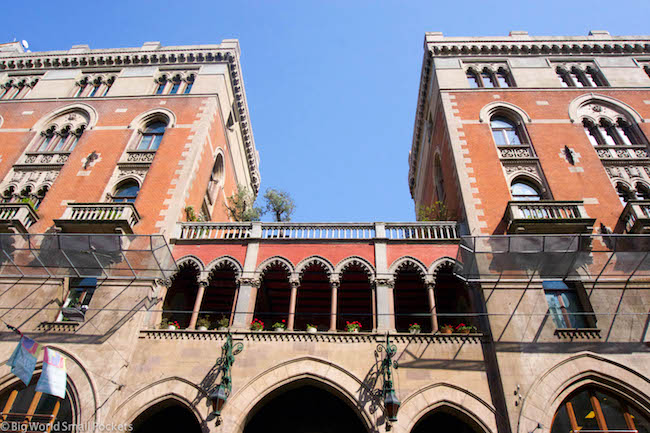 And leading right on from Taksim Square is Istanbul's main shopping street – Istikal Avenue.
But it's not just shops that line the cobblestones here, no historic buildings, ancient churches, oldy-worldy trams and loads of great live entertainment fill the street too.
From ice cream makers shouting out for potential buyers to wonderful buskers and street performers, this avenue has a real buzz to it and taking it all is definitely one of the best free things to do in Istanbul.
#8 Wander the Cobbled Street of Karaköy
Another great area to check out and stroll around on the European side of Istanbul is Karaköy – one of the oldest and most historic parts of the city with a lovely quayside and bridge.
However it's the Galata Tower that this place is most famous for – although given the queues and the price to get in, you're just as well to take a quick snap from the outside, learn about the end of the Silk Route it commemorates, and instead pass your time wandering the delightful cobbled lanes around it enjoying a coffee and some window browsing!
#9 Marvel at the Blue Mosque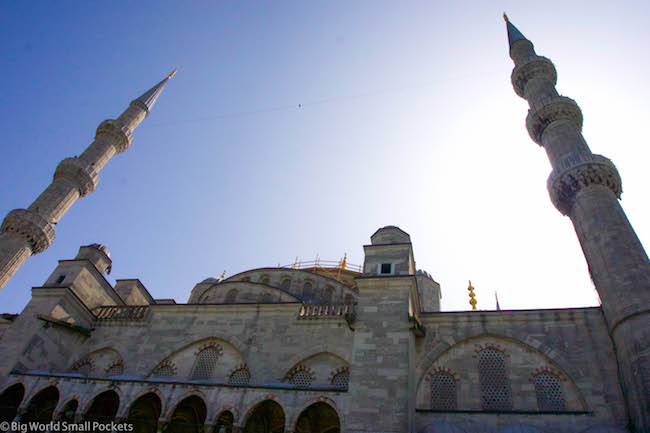 Number 9 on my list of the best free things to do in Istanbul is perhaps a no-brainer given it's one of the most famous structures in the whole city.
However that doesn't detract from the fact that the Blue Mosque is well worth a visit.
Sadly being renovated when I visited (although it will be open now as I literally passed through Istanbul in the final week of the work), even strolling in the courtyard here to marvel at the outside was worthwhile.
So if you do get the chance to go inside and see the famous coloured tiles for which this religious building is named after, my advice would be to do it!
#10 Revel in the Grand Bazaar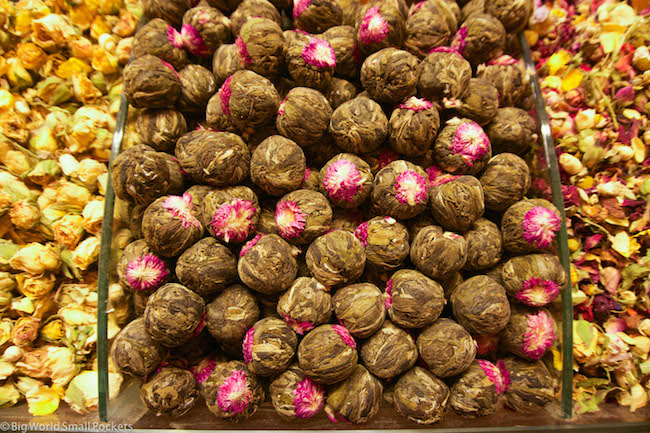 And finally, the last entry on my list of the best free things to do in Istanbul has to go to the Grand Bazaar.
Is it touristy? Yes.
Is it crazy busy? Yes.
But do you still have to go?
Yes!
No trip to this city would be complete without a visit to this enormous market place and whether you're looking to get some souvenirs for those at home, or teas, spices, soaps and Turkish towels for yourself, this is the spot to find them!
PIN IT TO PINTEREST!
So there you have it, my list of the top 10 free things to do in Istanbul.
Have you visited this amazing city?
What did you enjoy doing best there?