There's something truly mystical about the city of Istanbul in Turkey.
The metropolis that has spanned continents, empires, religions and cultures for thousands of years has an undeniable tenacity to it and an almost mythical allure that still has travellers heading there in droves today.
Because despite not being the official capital of Turkey, there's no doubt Istanbul is its most dynamic and dazzling city, and visiting it as part of my travels through the Middle East was a definite highlight.
Yes, the 5 days I spent in Istanbul really did give me a great opportunity to explore large amounts of this city, but almost left me feeling overwhelmed.
Yes if it's your first time visiting Istanbul too, then it's easy to feel completely bamboozled by all the different areas and things to do in this city, especially if you haven't got long to visit.
But fear not, this perfect guide is designed to bring you all highlights you need to see to make your first trip to this city a success, so here they are, the top 13 things to do in Istanbul for first-time visitors…
---
Related Posts
---
This page contains affiliate links meaning Big World Small Pockets may receive a small commission on any purchases at no extra cost to you.
---
#1 Caffeinate in Kadikoy
I ended up staying in Kadikoy (a less touristy suburb of Istanbul on the Asian side of the city) after being advised by many friends that this was the best spot… and I totally loved its very local and authentic feel.
Located over on the eastern side of the Bosporus – the narrow strait of water that separates Asian Turkey from the European side – Kadikoy is definitely a very youthful and vibrant place, full of quirky antique shops and vintage pop-up stalls.
As such, wandering its colourful lanes to window shop to your heart's content is definitely one of the best things to do in Istanbul.
That and stopping to enjoy the caffeinated beverages at one of the many, many cafes situated here of course – honestly, I don't know if I've ever seen so many in my life before!
Yes, as you may have guessed already, Kadikoy is a student-heavy area and, filled with many young people, which means there's a lot of fun to be discovered here.
And when it comes to staying in Istanbul on a budget, you'll be pleased to know one of my fav hostels in this city is in this suburb too.
Hush Hostel Moda is a wonderful spot thanks to its top location, as well as rooftop bar, and comes highly recommended.
#2 Visit Ortakoy Mosque
Sat on the European banks of the Bosporus, Ortakoy Mosque is open to non-muslims and with its waterway setting, is one of the most beautiful religious buildings to visit in the city.
Free to enter and easy to find, the ceiling in the main room here is beyond gorgeous and wonderfully, photographs are allowed.
Ladies just make sure to cover your heads, and everyone should wear a respectful level of clothing and take off your shoes.
I really loved this mosque because it's a lot less famous than the Blue Mosque and provided a wonderful insight into more local life in this Islamic coutnry.
#3 Snap the Dolmabahçe Palace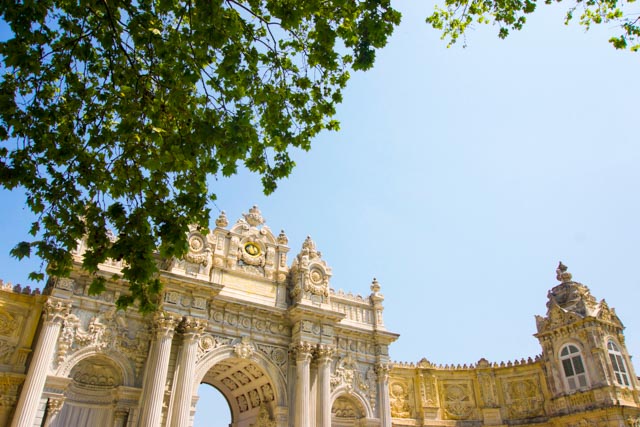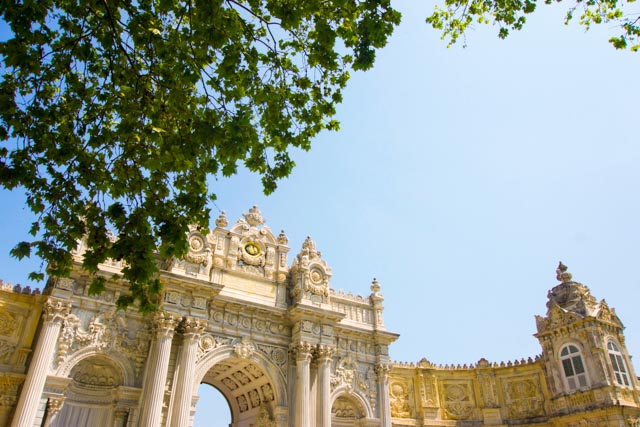 Located in the Beşiktaş district of Istanbul, this magnificent palace served as the main administrative centre of the Ottoman Empire from 1856 to 1887 and again from 1909 to 1922.
Historic, grand and opulent, this is Turkey's largest palace, and it actually contains the world's largest ballroom.
Spit into 3 sections and set amidst beautiful gardens, it costs 300 TL to enter and you should allow 2-3 hours for your visit.
Get your tickets for the palace here, or book your tour of the palace here, otherwise if you'd rather not spend your money on this, then it pays to know you can stroll the lovely entrance gardens and admire the view of the entrance archways for free.
#4 Wander Through Yıldız Park
Wandering through the near-deserted Yıldız Park was actually one of my favourite things to do full stop in Istanbul, let alone given the fact that it's free!
If you get a lovely sunny day it certainly helps, but this gorgeous park with its gentle walkways and rope bridges would be a nice treat any time of the year.
Perfect for a picnic or to take in the views of the city from its elevated position, heading to Yıldız Park is definitely the place for some peace and quiet amidst the hustle and bustle of Istanbul.
It's the perfect way to escape the tourist crowds and see the real Istanbul – a must for first-timers.
#5 Stroll the Foreshore in Khalkodean
Back over on the eastern side of Istanbul, near the suburb of Kadikoy, the little area of Khalkodean lines the water's edge here and is the perfect place for a stroll and some fresh air.
Filled with locals, especially on sunny weekends, who lounge on the grassy reserves opposite, this is a great place to soak in the authentic vibes of Istanbul and marvel at just how different the 2 sides of this city can be!
#6 People Watch in Taksim Square
Istanbul's flagship plaza, no visit to this city would be complete without taking a trip to Taksim Square.
Considered the modern heart of the city, with the Monument of the Republic standing tall in the middle, this central plaza on the European side is a great place to sit and watch the city run around you.
Known as the Republic Monument, it was built to commemorate the formation of the Turkish Republic in 1923 and feels like the heart of the city in many ways.
#7 Enjoy the Live Music Along Istikal Avenue
And leading right on from Taksim Square is Istanbul's main shopping street – Istikal Avenue.
But it's not just shops that line the cobblestones here, no historic buildings, ancient churches, oldy-worldly trams and loads of great live entertainment fill the street too.
From ice cream makers shouting out for potential buyers to wonderful buskers and street performers, this avenue has a real buzz to it and taking it all is definitely one of the best free things to do in Istanbul.
#8 Savour the Cobbled Streets of Karaköy
Another great area to check out and stroll around on the European side of Istanbul is Karaköy – one of the oldest and most historic parts of the city with a lovely quayside and bridge.
However it's the Galata Tower that this place is most famous for.
First built in 1348, it now serves as a museum and has an amazing 360 view of the city from its observation deck. Get your tickets here.
This Tower is also thought to make the end of the Silk Route, so is a must for history buffs and definitely one of the top things to do in Istanbul for first-timers.
And while you're here, don't miss strolling around this lovely neighbourhood – with its hipster vibes, cobbled lanes, coffee shops and lovely independent shop windows, it's a delight!
#9 Marvel at the Blue Mosque
And it's taken until number 9 on my list of the best things to do in Istanbul, but now we're starting to get to some of the big hitters!
And first up, it's the Blue Mosque – perhaps a no-brainer to visit given it's one of the most famous structures in the whole city!
Sadly being renovated when I visited (although it will be open now as I literally passed through Istanbul in the final week of the work), even strolling in the courtyard here to marvel at the outside was worthwhile.
So if you do get the chance to go inside and see the famous handmade coloured tiles this religious building is named after, my advice would be to do it!
UNESCO-listed in 1985, and known as Sultanahmet Mosquelocally, this is the main Mosque in the county and you can grab your tickets here.
#10 Revel in the Grand Bazaar
Next up on my list of the top things to do in Istanbul, it has to be to head to the Grand Bazaar.
Is it touristy? Yes.
Is it crazy busy? Yes.
But do you still have to go? Yes!
No trip to this city would be complete without a visit to this enormous market place and whether you're looking to get some souvenirs for those at home, or teas, spices, soaps and Turkish towels for yourself, this is the spot to find them!
Covering 61 streets however, it is easy to get lost here, so if you'd rather take a tour, this one comes highly recommended.
#11 Tick Hagia Sofia Off Your List
The Hagia Sophia Grand Mosque was originally constructed in Roman items as a Cathedral, and is one of the world's first examples of Byzantine architecture – let's not forget Constantinople (as Istanbul was formerly known) was the capital of the Byzantine empire.

When Constantinople fell to the Ottoman Empire, the Church was converted into a Mosque, before becoming a museum as part of a secular country from 1935 until 2020. After this, Hagia Sofia was once again converted into a religious building.
You can still visit the Hagia Sofia, including an audio guide, which you can buy access to here.
Alternatively, you can take a tour of Hagia Sofia, which would include fast-track access – a good idea as the queues are often really long!
This top-rated small group tour includes a professional licensed local guide and access to Hagia Sophia, the Basilica Cistern and Topkapi Palace.
#12 Cruise the Bosphorus
There's not many cities that can boast a border in their midst – and there's even fewer that can boast a border between continents!
But that's just what a gorgeous ride along the Bosphorus River in Istanbul gives you chance to do, plus it includes incredible city views and some delightful, fresh sea air free of charge!
And there's plenty of choice too, with several ferry docks in this city – the main ones can be found in Karakoy, Kabatas, Besiktas and in Eminonu on the European side and Uskudar and Kadikoy on the Asian side.
Simply rock up and buy a ticket for the next sailing – which is usually no more than 15 minutes away.
There's actually 22 public ferry lines along the Bosphorus, which are priced according to the distance travelled, so the only thing you need to do is pick your destination.
Worth noting, Boshporous ferries only run until 11pm.
#13 Take a Food Tour
And last but not least on my list of the top things to do in Istanbul for first timers it's eat!
Quite frankly, there's simply no way you can come to this city and not get heavily involved in the food it offers… as well as learn all about the local dishes too.
And this 4 hour evening walking tour, really is the best way to do it.
The perfect way to pair seeing Istanbul with a professional guide and learn about the best things and places to eat in the city, this top-rated tour will have you enjoying everything from seafood to sugary treats and includes a minimum of 4 food stops.
It also includes a hotel pick and is limited to a small group, which makes it a much-preferred option to some of the free walking tours that are super overcrowded here in my opinion.
Things to Do in Istanbul on Your 2nd Visit
And if it's not your first visit to Istanbul – perhaps it's your second or even third – then here's a list of my other top picks when it comes for top spots to visit in this city.
Topkapi Palace
Archaeological Museums
Museum of Turkish and Islamic Art
Basilica Cistern
If you want to visit any of these attractions (or perhaps all of them), then you might want to consider either the Istanbul Welcome Card or the Istanbul Museum Pass, which will give you fast-track entry.
Just click the links to learn which passes include which attractions and to see the prices.
I'd also think taking a walking tour to the Fener/Balat World Heritage area in Istanbul is another top thing to do in this city if you can squeeze it in!
Mini Travel Guide to Turkey
When to Visit Turkey?
I visited Turkey in May and have to say it was a pretty perfect time of year. September would also be a great option.
Not yet getting the crowds (or humidity) of the high summer season, there will still be plenty of sun around during these months, as well as some great weather for city sightseeing too.
I'd avoid visiting Turkey during the winter months (November through February) – too cold – and also during the high summer months (June, July and August) when it can be way too hot.
How Long to Spend in Turkey?
In case you hadn't looked at a map already before travelling to Turkey, I'll give you a heads up… this is a big country!
Really you'll need a month to dp this country justice, but I understand not everyone has this amount of time!
In which case, 2 weeks is a good amount of time to see the highlights, including Istanbul, Cappadocia, Izmir and the Mediterranean Coast.
How to Get Around Turkey?
One way to save time is to fly around the country rather than covering big distances overland and the good news is that there are many budget airlines operating domestic flights within Turkey and prices can be surprisingly cheap if you book in advance.
I flew from Istanbul to Cappadocia and then onto Izmir, and was delighted to only pay around $35 USD for each leg of this trip – avoiding overnight buses that would have left me feeling wrecked the next day.
As always, I use Skyscanner to get the best deals – including on domestic Turkish flights.
But of course, buses and trains within Turkey are definitely open to those on a shoestring budget, and from Izmir, I opted to use land transport to get around during the rest of my time in Turkey including to Pamukkale and the Mediterranean coastline.
Turkey's public transport is surprisingly good and there are multiple connections via most major cities.
Trains are cheap, clean and efficient, and many long-distance bus companies provide refreshment services, charging points and reclining seats, so it's really not difficult to travel this way.
Trains can be booked on the morning of departure in most instances, but buses often fill up because, weirdly, they can be quicker.
This means bus tickets are worth reserving the day before via the company offices which tend to all be located together in a city's main transport area – very easy!
The only other thing to note is that often overland travel in Turkey can require a number of changes.
Normally you'll have to get to the nearest central town or city and from there connect to another major destination, before carrying on again.
And if you're final stop is a smaller town, you'll possibly have to travel on a dolmus (which is a small minivan) too.
It's all pretty straightforward, however, and often you can buy multiple legs at the same time with the same company in the same office – result!
Otherwise, you can use Busbud to book your tickets online, which saves a lot of time and hassle!
Travel Money in Turkey
The currency in Turkey is the Turkish Lira (TL).
ATM's are plentiful across the country – accepting both Visa and Mastercard – and there's many exchange offices offering good rates on Euros, British Pounds and US Dollars too.
And to avoid getting ripped off on bad exchange rates and overseas transaction fees, I highly recommend taking a Wise card with you to Turkey.
The perfect way to get good rates on the Turkish Lira and to avoid paying to using your card at the ATM, my Wise Card never leaves my side these days!
Recommended Tours of Turkey
If you'd rather not travel to Turkey independently, but still want to see the best of this amazing country, then why not check out these top Turkey tours.
Covering a huge range of destinations in the country, and varying in length from 1-3 weeks, there's loads of choice here, meaning you're bound to find your perfect trip!
4 Essentials to Pack for Turkey
#1 Good Camera – From the lunar landscape of Cappadocia to the azure turquoise waters of the Mediterranean, the bustling bazaars of Istanbul to the ancient ruins of Ephesus, you'll need a good travel camera for Turkey and the Sony A6000 mirrorless ticks my box everytime!
#2 Headscarf – If you're heading to see any mosques in Turkey, ladies will need to come prepared with a headscarf to enter, as well as a long skirt or pair of pants and long-sleeved top.
#3 Beach Gear – A lovely bikini and gorgeous sun hat are essential for looking the part on Turkey's Mediterranean coastline.
#4 Rain Jacket – I visited Turkey in May, technically the start of summer and the high season, but was amazed how chilly and wet it was when in some parts of the country like Istanbul and Cappadocia. Having my North Face lightweight, windproof and waterproof jacket with me therefore saved my life!
Travel Insurance for Turkey
World Nomads offers simple and flexible travel insurance. Buy at home or while travelling and claim online from anywhere in the world.
Alternatively, if you're a long-term traveller, digital nomad or frequent remote worker seeking travel health cover, check out Safetywing's Nomad Insurance policies.
SAVE THIS TO PINTEREST!
So there you have it, my list of the top 10 free things to do in Istanbul.
Have you visited this amazing city?
What did you enjoy doing best there?