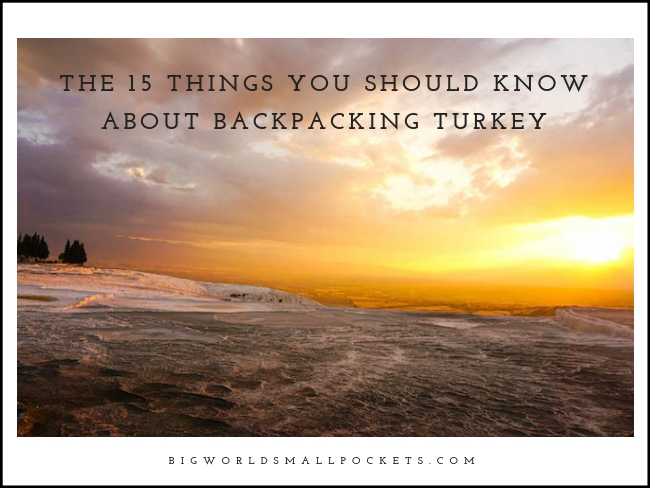 Turkey was one of those countries that had been on my bucket list for ages, but I just seemed never to have been able to make it there.
Coming out of the Middle East however and posed to hit up Europe next, it was the perfect stopgap and I knew my chance had come!
So the decision was made, I packed up my bag from Lebanon, bagged myself a super cheap flight (albeit in the middle of the night) and headed towards Istanbul with a month on my hands to explore this huge country.
Granted it wasn't enough time (it never is right?) but I did see a large part of this country and feel I'm able to bring you quite a few helpful tips if you want to backpack Turkey.
Because let's not forgot, this is the perfect backpacking country – diverse, delightful and mega cheap – I highly suggest ticking Turkey off your bucket list soon too!
---
Related Posts
---
This page contains affiliate links meaning Big World Small Pockets may receive a small commission on any purchases at no extra cost to you.
All information is correct at the time of my visit in May 2018.
---
#1 Visas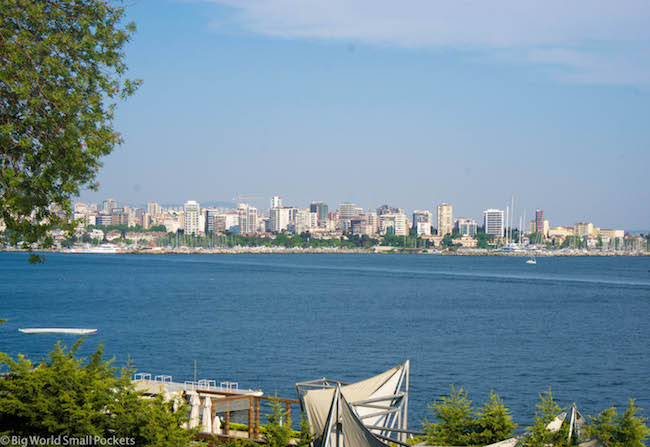 So a good thing to research before you decide to backpack any country is, of course, the visa situation.
Turkey recently changed their visa rules (at least for EU citizens they did) and it's worth knowing that you'll need to buy an eVisa in advance to enter this country as a tourist.
But don't fear, this is a super easy process and can all be done quickly and efficiently online here.
Costing just $20 USD, a Tourist eVisa to Turkey will give you 90 days in the country with the ability to come and go as many times as you like within a 180 day period starting from the first entry date.
One word of advice if you're looking to backpack Turkey, however, is to print out the visa before you arrive in the country because you'll have to present the physical paperwork to immigration officials here before you can get a stamp in your passport.
For UK citizens, the Turkish visa rules have also changed recently and the great news is that for travels up to 90 days within any 180 day period, visas are no longer required.
As always, however, I suggest you consult your embassy website for the latest info.
#2 Sim Card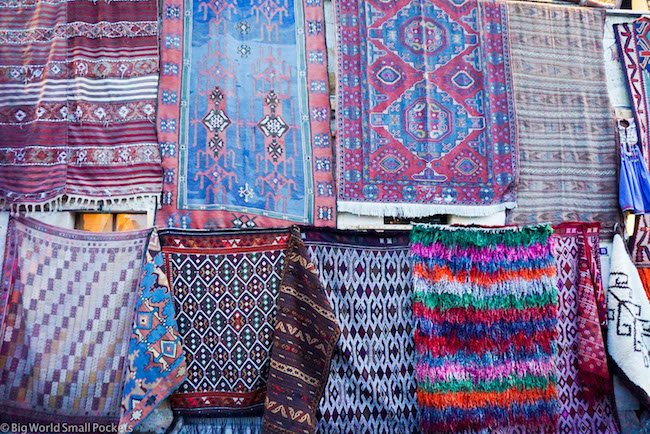 Many of us backpackers, travel bloggers included, want to get a SIM card for their time in Turkey and I'm delighted to say this is both easy and affordable.
I actually managed to get mine at Istanbul's Sabiha Gokcen International Airport, where I found Turk Telecom provided the best deal for travellers – a 1 month SIM and 15GB data package for 120 Turkish Lira (TL), which is around $22 USD.
Turk Telecom was located in the arrivals hall and with my passport, I picked up a SIM in just a few minutes, via the English-speaking staff.
Good to know that with your Turk Telecom SIM you can dial 9333 to get your balance information in English!
#3 ATMs & Money
This leads me on nicely to talking about money.
The currency in Turkey is the Turkish Lira and it's taken a big hit over the last year, which means this country is even cheaper than before.
Yet another reason to get backpacking Turkey on your hit list sooner rather than later!
ATM's are plentiful across the country – accepting both Visa and Mastercard – and there's many exchanges offices offering good rates on Euros, British Pounds and US Dollars too.
#4 Big Country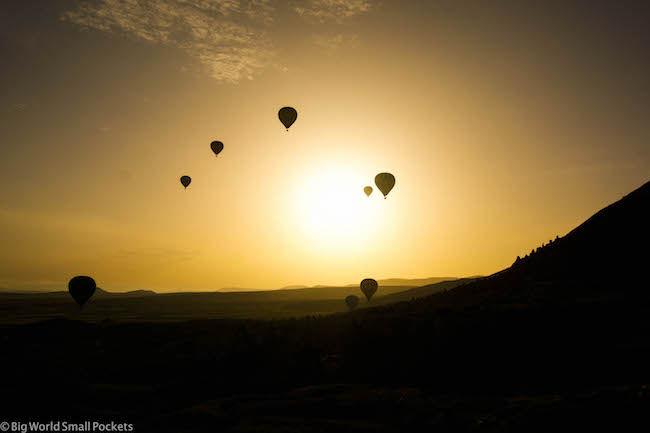 In case you hadn't looked at a map already before backpacking Turkey, this is a big country!
Spanning the distance between Europe and Asia, this is a country that straddles lots of borders in lots of ways.
Not European, not Asian, not even really Middle Eastern, Turkey is a land unto itself and even within the country there's a huge amount of difference and diversity.
Personally, I think this makes backpacking in Turkey an even richer experience, and from the developed city of Istanbul to the remote Black Sea areas, you really want to give yourself at least a month to do this country justice.
One way to save time is to fly around the country rather than covering big distances overland.
The good news for us budget travellers is that there are many budget airlines operating domestic flights within Turkey and prices can be surprisingly cheap if you book in advance.
I flew from Istanbul to Cappadocia and then onto Izmir, and was delighted to only pay around $35 USD for each leg of this trip – avoiding overnight buses that would have left me feeling wrecked the next day.
5 ESSENTIALS TO PACK FOR TURKEY
#1 Turkey Lonely Planet – Still my go-to when it comes to guidebooks, the Turkey Lonely Planet packs in a huge amount of information and will likely save you the cost of a guide in many of this country's fabulous historical attractions and rich cultural cities.
#2 Good Camera – From the lunar landscape of Cappadocia to the azure turquoise waters of the Mediterranean, the bustling bazaars of Istanbul and ancient ruins of Ephesus, you'll need a good travel camera for Turkey and the Sony A6000 mirrorless ticks my box every time!
#3 Headscarf – If you're heading to see any mosques in Turkey, ladies will need to come prepared with a headscarfto enter, as well as a long skirt or pair of pants and long-sleeved top.
#4 Beach Gear – A lovely bikini and gorgeous sun hat are essential for looking the part on Turkey's Mediterranean coastline.
#5 Rain Jacket – I visited Turkey in May, technically the start of summer and the high season, but was amazed how chilly and wet it was when in some parts of the country like Istanbul and Cappadocia. Having my North Face lightweight, windproof and waterproof jacket therefore saved my life!
#5 Trains & Buses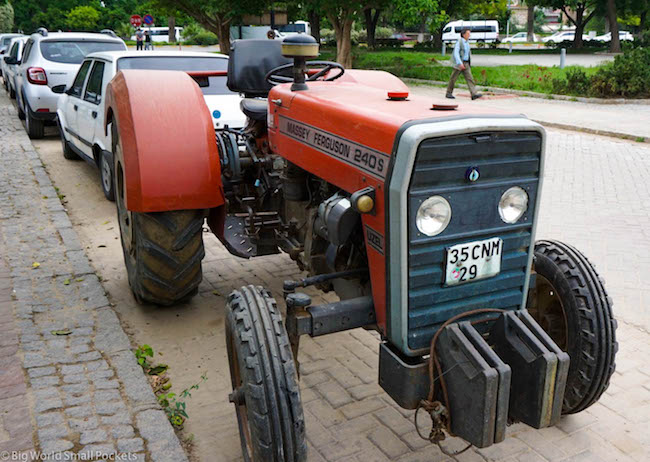 But of course, buses and trains within Turkey are definitely open to those on a shoestring budget, and from Izmir, I opted to use land transport to get around during the rest of my time in Turkey including to Pamukkale and the Mediterranean coastline.
Turkey's public transport is surprisingly good and there are multiple connections via most major cities.
Trains are cheap, clean and efficient, and many long-distance bus companies provide refreshment services, charging points and reclining seats, so it's really not difficult to travel this way.
Trains can be booked on the morning of departure in most instances, but buses often fill up – because ironically they can be quicker.
This means bus tickets are worth reserving the day before via the company offices which tend to all be located together in a city's main transport area – very easy!
The only other thing to note is that often overland travel in Turkey can require a number of changes.
Normally you'll have to get to the nearest central town or city and from there connect to another major destination, before carrying on again.
And if you're final stop is a smaller town, you'll possibly have to travel on a dolmus (which is a small minivan) too.
It's all pretty straightforward, however, and often you can buy multiple legs at the same time with the same company in the same office – result!
#6 Budget Accommodation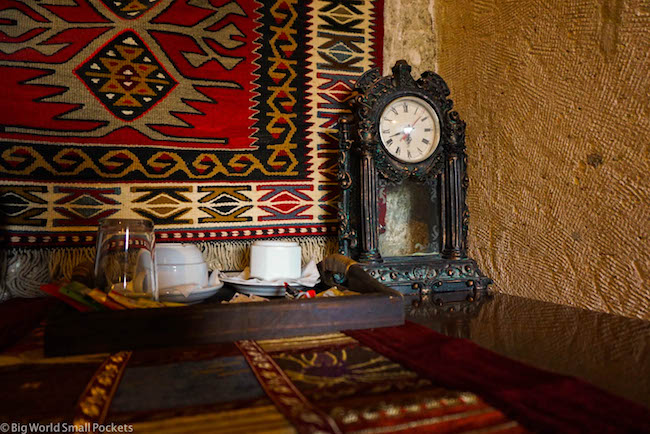 In the major cities such as Istanbul, there's a good range of hostels to choose from for those of us backpacking Turkey.
But in many other locations around Turkey, backpackers aren't such a common thing and you're more likely to find yourself in a budget guesthouse.
Usually providing private rooms and ensuite facilities, these can be picked up for around 80TL and tend to be independent-run businesses, full of character and charm – result!
BEST PLACES TO STAY IN TURKEY ON A BUDGET
#7 Weather & Climate
I visited Turkey in May and have to say it was a pretty perfect time of year.
Not yet getting the crowds (or humidity) of the high summer season, there's was still plenty of sun around and it was the perfect weather for city sightseeing too.
That said, Turkey has a diverse topography and therefore at almost any time of the year you have to be prepared for changeable conditions, especially in the mountains.
As such, I'd definitely advise bringing a rain jacket with you, as well as a sweater and even a scarf and hat.
When I was in Cappadocia it was FREEZING at night!
That said the coast was balmy, so definitely bikini, beach dress and sarong for here!
#8 Language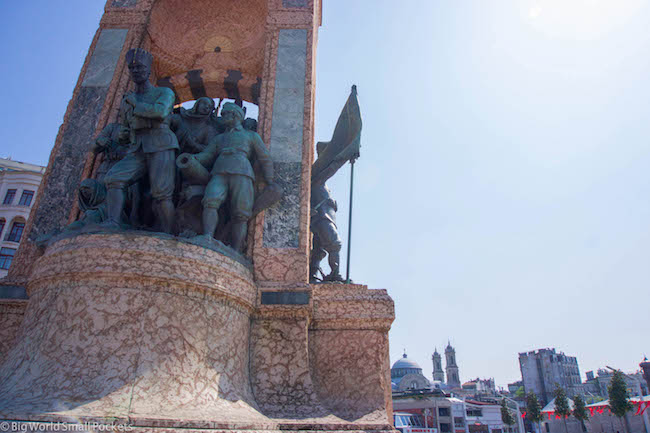 Yeah, so perhaps unsurprisingly, the language in Turkey is Turkish.
It's got its own alphabet too, just to add to the confusion if you're backpacking Turkey.
It's worth learning a few words of course – even the usual hello's and thank you's go a long way – but it's not an easy one to pick up by any means.
As such a cheap Lonely Planet Turkish Phrasebook could be a real aid.
Most people connected with the travel industry speak good English, but outside of this and the major towns, you could struggle.
#9 Off the Beaten Track
There's some places that most people visit when they backpack Turkey, namely Istanbul, Troy, Ephesus and Cappadocia, which you should see too because they are amazing.
But that said, it's also worth getting off the beaten track in Turkey.
I loved the little known hidden valley of Kabak on the Mediterranean coast, but for the real intrepid travellers among you, the east and north of the country are rarely explored and would provide an off the beaten track treat I'm sure.
Note to Self: Must get there next time!
DISCOVER MORE: Why Kabak is Turkey's Most Guarded Travel Secret
#10 Food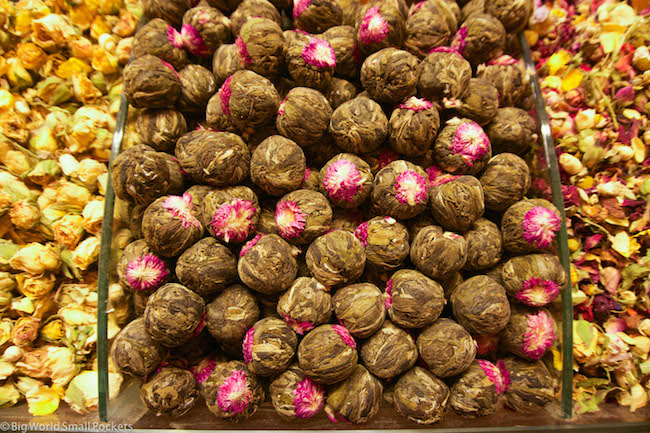 Like most things when you are backpacking Turkey, food is very cheap here.
It's also delicious.
Given the street snacks available and the cheap price of eating out, you may want to weigh up whether it's really worth going to the supermarket in Turkey (outside of picking up essentials) because many accommodation places include breakfast in the price and often eating out can be just as cheap as cooking in.
THE BEST TRAVEL INSURANCE FOR TURKEY

I wouldn't dream of travelling to a country like Turkey without proper coverage and always recommend travel insurance from World Nomads which I've used during my time in the country and across the world.

World Nomads are actually one of the few companies that will insure you for a huge range of outdoor activities as standard – essential for a country like this.

Alternatively, if you're looking for travel insurance with Covid-19 cover, then look no further than Safetywing's great Nomad Insurance policies. These guys will cover you at some seriously great prices, including if you have to quarantine!
#11 Coffee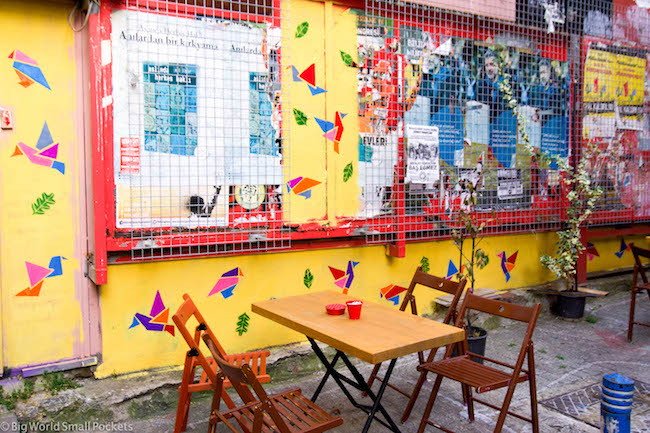 Sadly, and despite most of the world having heard of Turkish coffee, this liquid black gold is surprisingly lacking in the country.
In fact, I found it almost impossible to get a good coffee outside of the major cities here and mostly what you'll get served up is Nescafe – boo!
You'll have to ask especially for Turkish coffee in places and make sure to stipulate no sugar if you don't want any!
And that's because the Turks are tea drinkers.
Yup, contrary to everything we've been led to believe, the Turks love a tea more than a coffee, so morning noon and night they have their own fancy version of a teapot that you'll regularly see around.
Tea is served black, strong and with lashings of sugar – you have been warned!
READ MORE: The Most Unbelievable Things to Do in Cappadocia +Itinerary
#12 Museum Pass
Something I didn't realise until I actually started backpacking Turkey is that this country has a national Museum Pass that covers entry to a huge range of historical and cultural attractions and may well save you some money if you're planning on seeing a lot of them.
You can find out more info here.
If you decide this isn't going to work for you, then all good.
Entrances to sites such as Ephesus and Troy are well-priced and you generally didn't need a guide to appreciate their grandeur.
#13 What to Wear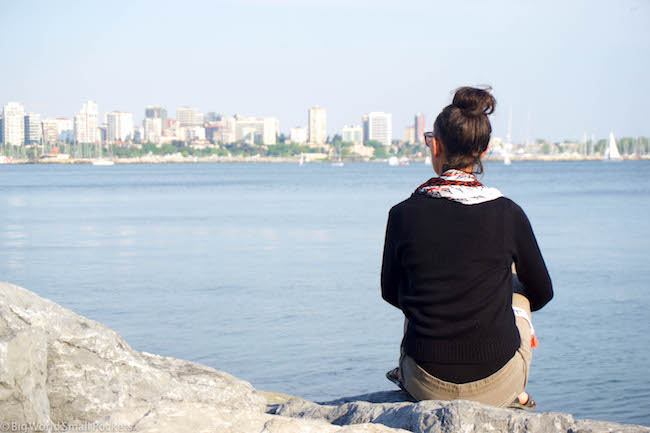 Of course Turkey is an Islamic country but, in most parts, it tends to be quite moderate, and dress standards are modern and accommodating.
This means ladies certainly won't have to wear a headscarf; and western dress in places like Istanbul and the Mediterranean coast is completely acceptable.
The only exception is when you are visiting any mosques, so do come prepared for that.
Also worth noting is the fact that, despite being an Islamic country, the weekend falls on a Saturday and Sunday in Turkey.
LEARN MORE: The Complete Backpackers Guide to Selcuk, Turkey
#14 Plugs
Turkey uses the European-style power sockets, so come prepared when you start backpacking Turkey with a suitable adapter if needs be.
Grab your cheap European adapter here.
#15 Powercuts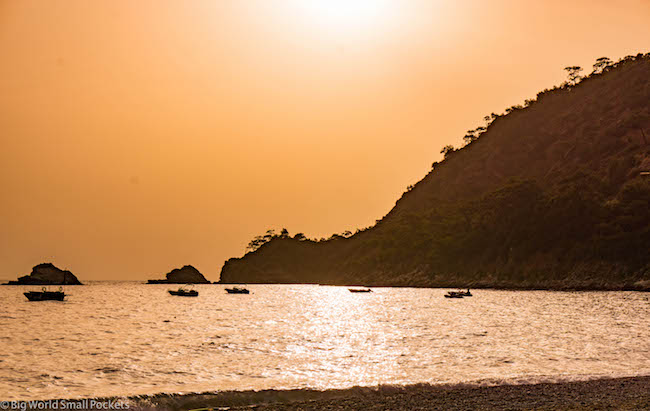 In many parts of the country, power cuts can still be a problem, so it's worth bringing a headlamp with you if you're planning to backpack Turkey.
I love my Black Diamond Storm, which served me brilliantly in Turkey and beyond.
ADDED BONUS! #16 Cheap and Charming
Did I mention Turkey's cheap?
Think I might have done a few times!
Well it is, especially right now, so it's the time to go, go, go backpacking Turkey!
Turkish people are very friendly, hospitable and welcoming and the country is astoundingly beautiful.
How many more reasons do you need?!
PIN IT TO PINTEREST!
And that's my list of the 15 things you should know before backpacking Turkey.
Are you thinking of heading to this country as a budget traveller soon?
If you've got any more questions, just hit me up in the comments below…