Turkey is a HUGE country and straddling the border between Europe and Asia, it also boasts a huge diversity of landscapes and cultures.
From coast to castles, hikes to hot air balloons, ruins to relaxation, Turkey's got it all and honestly you could spend a year or more adventuring through this country and still not see everything.
But whose got the luxury of a whole year right? Very few of us!
So here, to allow you to short circuit and cut to the chase, are my Turkey highlights – the 10 most awesome things to do in this country you shouldn't miss!
---
Related Posts
---
This page contains affiliate links meaning Big World Small Pockets may receive a small commission on any purchases at no extra cost to you.
---
#1 Unwind at Kabak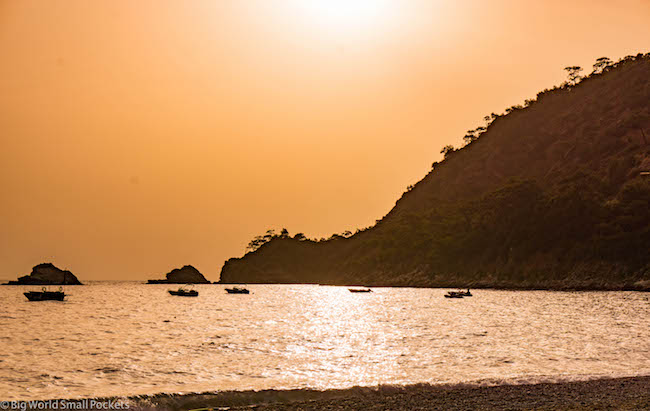 I'm kicking of this list with an absolute belter and that's because I reckon Kabak is Turkey's most guarded travel secret!
Situated on the stunning Mediterranean coast, Kabak remains a rare undeveloped pearl in this otherwise resort-ridden post-paradise!
With its low key, alternative vibe, its gorgeous natural surrounds and its sense of intrepid isolation, Kabak really is the sort of the place to kick off your shoes, unwind and get lost for a week, a month or a….
DISCOVER MORE: Why Kabak is Turkey's Most Guarded Travel Secret
#2 Discover Ancient Antalya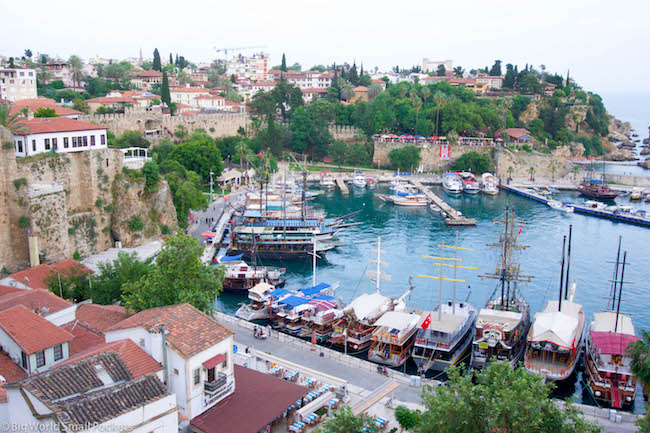 Also along the Mediterranean coastline is the gorgeous town of Antalya.
A major hub for those flying in and out to holiday on Turkey's beaches, this city isn't as quite as quiet as sleepy Kabak, being well and truly on the tourist trail!
That said, most people simply fly in and shuttle out of Antalya, which means taking the opportunity to spend a night or 2 in this city can present you with a whole fresh sense of the area that many other travellers don't get.
In particular, the old town and gorgeous port area of Antalya are well worth strolling.
Don't forget to snap the scenic coastal views or dine on the foreshore here – it makes the perfect start or end to your Turkey trip.
And one of the best ways to discover the gorgeous surrounds of Antalya is to take a tour there with a local. You can find a list of guided tours (including costs and reviews) here at GetYourGuide. I love GetYourGuide because they're easy to use and book with, and offer some of the best prices around.
#3 Ferry the Bosporus of Istanbul
There's not many cities that can boast a border in their midst and there's even fewer that can boast a border between continents.
But that's just what the city of Istanbul has, and traversing between the 2 halves of this city on a ferry is undoubtedly one of the most memorable things to do in Turkey.
Even without the geographical significance, this is a gorgeous ride giving you, as it does, incredible city views and some fresh sea air.
LEARN MORE: Top 10 Free Things to Do in Istanbul
#4 Revel in the Ruins at Ephesus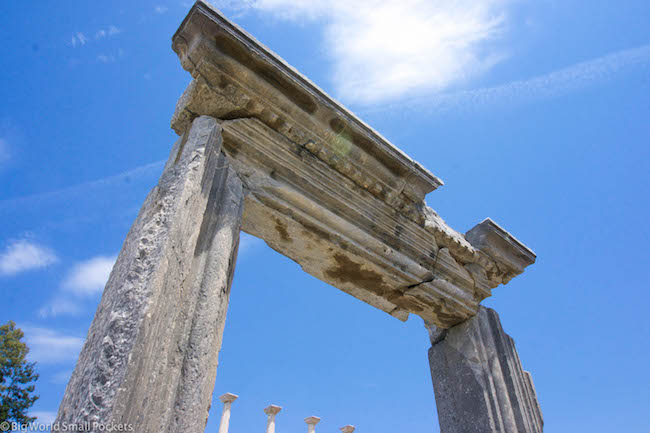 Known to be one of the best preserved set of Roman ruins in the world, there's no doubt that Turkey's Ephesus is a must see when visiting this country.
Situated near the city of Izmir and the gorgeous town of Selçuk, a full day at this fascinating archaeological site will give you just enough time to wander what really is a whole city, complete with streets, theatres, temples, houses and more.
Wandering right through the heart of this ancient town, it's hard to not imagine Roman people doing the very same thousands of years ago and it's honestly quite astounding to discover this UNESCO-listed experience really is as accessible as it is.
5 ESSENTIALS TO PACK FOR TURKEY
#1 Turkey Lonely Planet – Still my go-to when it comes to guidebooks, the Turkey Lonely Planet packs in a huge amount of information and will likely save you the cost of a guide in many of this country's fabulous historical attractions and rich cultural cities.
#2 Good Camera – From the lunar landscape of Cappadocia to the azure turquoise waters of the Mediterranean, the bustling bazaars of Istanbul and ancient ruins of Ephesus, you'll need a good travel camera for Turkey and the Sony A6000 mirrorless ticks my box every time!
#3 Headscarf – If you're heading to see any mosques in Turkey, ladies will need to come prepared with a headscarf to enter, as well as a long skirt or pair of pants and long-sleeved top.
#4 Beach Gear – A lovely bikini and gorgeous sun hat are essential for looking the part of Turkey's Mediterranean coastline.
#5 Rain Jacket – I visited Turkey in May, technically the start of summer and the high season, but was amazed how chilly and wet it was when in some parts of the country like Istanbul and Cappadocia. Having my North Face lightweight, windproof and waterproof jacket therefore saved my life!
#5 Hot Air Balloon in Cappadocia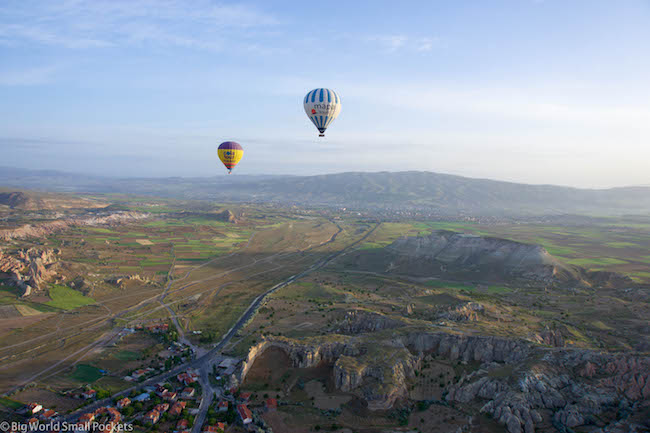 Ok, so now we're really starting to roll out the big guns!
Enter not only one of the best things to do in Turkey, but one of the best things to do in the world, ever!
Yes if you haven't tried hot-air ballooning yet (as I hadn't before I got to Turkey's Cappadocia) then you're in for a real treat as I honestly can't think of a better place to have your first experience.
That said, it's also going to be truly breathtaking if it's your 2nd, 3rd or 4th hot air balloon experience, as there really is nothing like soaring over this otherworldly landscape in such a calm, peaceful way.
EXPLORE MORE: The Most Unbelievable Things to Do in Cappadocia + Itinerary
#6 Get Lost in Love Valley
And following on from hot air ballooning, another top thing to do in the Cappadocia area of Turkey is to head out on a hike… and there's few places better to do it than the aptly named "Love Valley".
Honestly, there's loads of beautiful walks to do this area, many that can be accessed right from the front door of your hostel if you stay in Goreme – but the scenery of Love Valley takes some beating and as soon as you get there you'll know what I mean!
BEST PLACES TO STAY IN TURKEY
#7 Hike the Lycian Way
And on the hiking theme, did you know that one of the world's best long distance hiking trails runs through Turkey?
Yes the Lycian Way is strung out along the country's Mediterranean coast – roughly between the cities of Antalya and Fethiye – and provides days of gorgeous coastal hiking through pine forest, past waterfalls and with azure blue sea views.
Day walks and multi-day walks are also possible along this trail, so don't think you have to tackle the whole thing to get an idea of its beauty.
Instead select a section and consider the accommodation options along the way – with tons of little towns, villages and hamlets dotted throughout, this is a great way to get off the beaten track in Turkey.
#8 Drink Wine in Şirince
Only 15-minutes by bus from Selçuk, a town near the city of Izmir and the gorgeous ruins of Ephesus, the Greek village of Şirince is all about the wine!
Tastings here are a big part of the attraction as are the very insta-worthy views!
Taking a day trip here is probably the best way to enjoy the viticulture of this area and to really get into the local spirit of it all.
EXPLORE MORE: The Ultimate Backpackers Guide to Selçuk
Extra Time?
If you have more time to spend in Turkey, then why not also consider the following destinations which have some more great things to do:
Konya
Mardin
Mount Nemrut
Gallipoli & Troy
#9 Kick Back in Kadikoy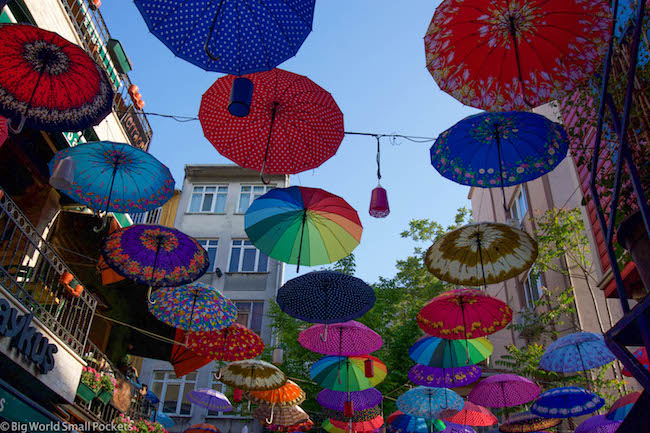 The coolest spot in Istanbul in my opinion, Kadikoy is a youthful, slightly-alternative suburb on the "Asian" side of the city that boasts an array of cute streets, funky cafes, quirky shops and generally wander-friendly delights.
It also has some great water views and pulses to a decidedly quirky beat, so if you have any time in Istanbul, I highly suggesting factoring some kickback, Kadikoy coffee quota into your itinerary.
#10 Soak in the Sunset at Pamukkale
If there's one day trip you have to make during your time in Turkey, then it's to Pamukkale.
In fact, I'd even advise extending it to an overnight stay if you possibly can because it is amazing!
A bizarre calcite formation, whose blue cascading mineral pools look like they belong more in Iceland than Turkey, this is a really fun, natural attraction to explore, especially after the rest of the day trippers go home.
Not only will you lose the crowds if you're able to spend a night here, but you'll also get to experience one of the most amazing sunsets I've ever seen!
As the golden light bounces off the pools and ice-like structure onto the surrounding rural landscape around, there's no words for this level of natural spectacle.
PIN IT TO PINTEREST!
So I guess only one question remains following my list of these 10 awesome things to do in Turkey and that is… when are you booking your trip there?