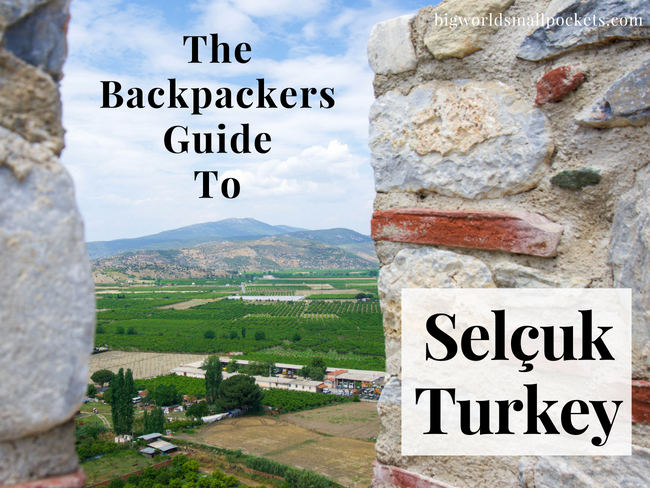 The Turkish town of Selçuk, just inland from the Aegean coast is a small, provincial and peaceful place that is likely to bring some welcome relief from the hustle and bustle of Turkey's other major cities.
Indeed after the size of Istanbul and the franticness of my programme in Cappadocia, I was beyond delighted to reach this "cute as a button" country town and ease into a more relaxed pace of life for a few days.
And with a plethora of things to do in and around Selçuk, including one of Turkey's most prominent set of ruins, it's easy to spend a few days, strolling, sightseeing and soaking it all in.
So if you're thinking of putting Selçuk on your Turkish itinerary, here's my budget travel guide to encourage you to do just that…
---
Related Posts
---
This page contains affiliate links meaning Big World Small Pockets may receive a small commission on any purchases at no extra cost to you.
My stay in Selçuk was kindly sponsored by ANZ Guesthouse but, as always, all views are my own.
---
Getting to Selçuk
Set in Turkey's western province – loosely the Aegean Coast area – Selçuk has several good transport connection options, most of which link up in the region's capital Izmir.
Buses may be the cheapest option and are likely to involve an overnight ride if you're coming from places like Istanbul or Cappadocia.
You may be able to get a bus direct to Selçuk that will arrive early in the morning, otherwise, connect in Izmir or Aydin and from there take another bus, or dolmuş (a Turkish minivan pronounced Dollmush), to Selçuk itself.
If you're arriving from a closer destination, such as Pamukkale, then you'll be pleased to know Selçuk has its own train station.
The line here connects with Izmir at one end and with Denizli (a major transport hub town) at the other. From this latter option, you can then easily take a dolmuş to Pamukkale.
A range of Turkish budget airlines fly to Izmir airport and I actually managed to score an amazing deal with Turkish Airlines from Istanbul there, which worked out cheaper than the night bus (so a no brainer!)
Transport from Izmir Airport to Selçuk is then straightforward via a train or an organised shuttle bus.
I took the later as I was arriving after dark and it cost me 25LE.
The shuttle bus continues on past Selçuk to the coast, so make sure you shout to the driver to set you down when you reach Selçuk.
I booked my airport shuttle through LastMinute Travel Agency and then just paid the driver.
Getting Around Selçuk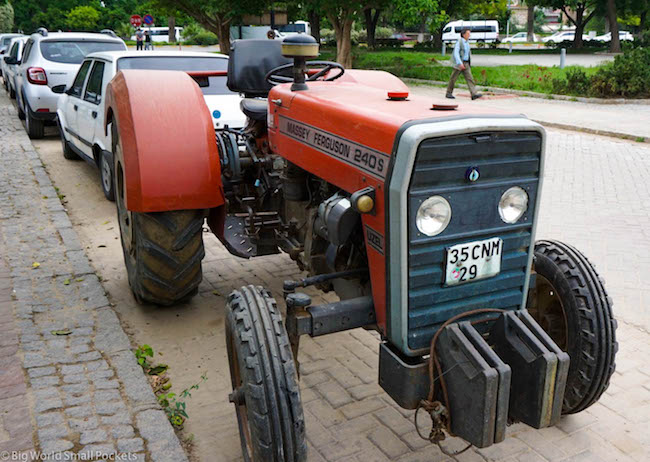 Honestly, you don't even need to worry about getting around Selçuk, as this tiny town is easily walkable in any direction.
Plus strolling the streets here and enjoying the glimpse of local life you'll get, is a delight.
You can even stroll to Efes, or Ephesus (depending how you spell it), Selçuk's major tourist drawcard, which is just a 3km walk from town.
Things To Do in Selçuk
Within the town of Selcuk itself, there are 4 major attractions that make for a nice day of sightseeing.
Free to enter, this mosque has a beautiful courtyard and visitors can go inside – although they must be appropriately dressed, with long clothing and women taking a headscarf.
St John's Basilica & Ayasuluk Castle
Just up the hill from the Mosque, the Basilica and Castle are must-sees in Selçuk and thankfully the 10TL entrance fee includes access to both.
While the ruins are great, it's the elevated views here that really seal the deal. Heading up there for sunset would be a great choice.
One of the ancient 7 wonders of the world, it's worth walking the short distance to see the Temple of Artemis just for this.
Although sadly there isn't much left to see when you get there, the entrance is free!
This small museum houses a good collection of artifacts excavated from the nearby Roman ruins and includes some beautiful sculptures, including a very famous and well-preserved one of Artemis.
Entrance is 10TL and heading here gives you a good insight into the richness of the archeological finds at Efes, which are still going on.
5 ESSENTIALS TO PACK FOR TURKEY
#1 Turkey Lonely Planet – Still my go-to when it comes to guidebooks, the Turkey Lonely Planet packs in a huge amount of information and will likely save you the cost of a guide in many of this country's fabulous historical attractions and rich cultural cities.
#2 Good Camera – From the lunar landscape of Cappadocia to the azure turquoise waters of the Mediterranean, the bustling bazaars of Istanbul and ancient ruins of Ephesus, you'll need a good travel camera for Turkey and the Sony A6000 mirrorless ticks my box every time!
#3 Headscarf – If you're going to visit any mosques in Turkey, ladies will need to come prepared with a headscarf, as well as a long skirt or pair of pants and long-sleeved top.
#4 Beach Gear – A lovely bikini and gorgeous sun hat are essential for looking the part on Turkey's Mediterranean coastline.
#5 Rain Jacket – I visited Turkey in May, technically the start of summer and the high season, but was amazed how chilly and wet it was in some parts of the country like Istanbul and Cappadocia. Having my North Face lightweight, windproof and waterproof jacket therefore saved my life!
Amenities in Selçuk
The town of Selçuk itself is also well worth some of your time.
After all, no day in Turkey is complete without taking a tea, chilling in a café and watching the world go by!
In addition to the plethora of local eateries, Selçuk also has several ATM machines, pharmacies, telecom shops for SIM / data packages and travel agencies, so everything you need is available here.
Visiting Ephesus
Selçuk's major attraction, no visit to this part of Turkey would be complete without hitting up Ephesus.
Second only to Rome in its importance as a centre of the Empire, Ephesus is huge and I'd suggest allowing a whole afternoon to wander its ancient streets and marvel at its vast mass of ruins.
If you come in the afternoon, the late daylight will also give you some great snaps.
You can easily walk to the ruins from Selçuk – it's 3km along the main road, but there's a well protected footpath – or you can take a dolmuş for 3TL.
Entrance to the site is 40TL (if you don't have the Turkish Museum Pass) and can be purchased at either gate (lower or higher).
If you come from Selçuk on foot or by bus you'll arrive at the lower gate.
With no shade, I'd advise bringing a hat, water and sunscreen for your trip to Efes. And, of course, your camera.
The Turkey Lonely Planet offers some good background info on the site, and with some good signs dotted around, taking a guide here isn't necessary in my opinion.
One of the best ways to discover the marvel of Ephesus is to take a tour there with a local. You can find a list of guided tours (including costs and reviews) here at GetYourGuide. I love GetYourGuide because they're easy to use and book with, and offer some of the best prices around.

THE BEST TRAVEL INSURANCE FOR TURKEY
I would never think of travelling to Turkey without proper coverage and always recommend travel insurance from World Nomads which I've used during my time in this country and throughout the Middle East.
I love their great coverage of hiking activities – crucial for travel in a country like Turkey – as well as their excellent customer service and ability to claim online, which is very handy if you're travelling in remote places for a long time.
How Long to Spend in Selçuk
I think 2 days would be a good amount of time to spend in Selçuk.
This would give you 1 day to explore the town and its attractions and another day to see the Ephesus ruins.
Add in more time if you want to make any day trips.
See below…
Budget Hotels in Selçuk, Turkey
When it comes to budget hotels in Selçuk, there's only one choice for me and that is the excellent ANZ Guesthouse.
Without any official hostels in town, this is as close as it gets in Selçuk with both dorm and private rooms available, as well as some lovely communal spaces and a sociable atmosphere.
There's free wifi, free breakfast and the super friendly owners can help you out with just about anything you need.
It's also incredibly well-located in a quiet part of town, just across from the bus station and within easy walking distance to anything you need.
They can also rustle you up some dinner, sort you some day trips, do your laundry or sell you a beer. Why go anywhere else?!
Eating and Drinking in Selçuk
Here's my top tips for eating and drinking in Selçuk:
For Coffee – Ziryab Café
For Breakfast – Stay at the ANZ Guesthouse and it's included!
For Lunch – Kebab House (they do delicious veggie fare too)
For Dinner – Ali Baba
Day Trips from Selçuk
Outside of Selçuk there are several good day trips you may want to make.
Of course you can also extend these to overnight stays+ if you have the time.
Only 15-minutes by bus from Selçuk, the Greek village of Sirience is all about the wine!
Tastings here are a big part of the attraction as are the very insta-worthy views!
If you head out towards the coast from Selçuk (look for dolmuş marked Kusadasi), you'll soon get to Selçuk's nearest beach – ideal if you want some time out from all that sightseeing.
If there's one day trip you have to make from Selçuk, it's this one.
In fact, I'd even advise extending it to an overnight stay because it's that brilliant.
A bizarre calcite formation, whose blue cascading mineral pools look like they belong more in Iceland than Turkey, this is a really fun, natural attraction to explore.
It costs 35TL to enter and you also get access to the Roman ruins of spa-town Hierapolis at the top.
All in all, it's easy to spend a good few hours here, wandering, snapping, paddling and taking in the views.
Regular tours run from Selçuk, otherwise you can do it independently (and cheaply) by getting a morning train (3.5hrs, 17TL) from Selçuk to Denizli and from there hopping on a dolmuş (20 mins, 4TL) to the town of Pamukkale.
This will get you there around 2-3pm which gives you plenty of time to see the pools, although I'd highly recommend staying the night too so you can see it once all the day trippers have left and the killer sunsets shed their amazing light on the place.
If you do stay in Pamukkale, the wonderful Beyaz Kale Pension (+90 258 272 20 64) is a fabulously clean and central guesthouse offering free wifi, free breakfast, ensuite and a pool for 75TL a night.
The lovely owners here can also rustle you up a delicious vegetarian dinner for 25TL, which is exactly what you'll want when you return from sunset at the pools… trust me!
PIN IT TO PINTEREST!
So there you have it, my backpackers guide to Selçuk.
Do make sure you get this amazing little spot on your Turkey itinerary.
It's honestly too cute to miss!