If you weren't aware, Bosnia Hercegovina is the new kid on the travel block in Eastern Europe and it's absolutely freaking brilliant!
Cheap, easy to travel, fascinating and drop-dead gorgeous, I was quickly taken with this little Balkan country and perhaps never more than by its second city of Mostar.
Located in the south, Mostar is just a hop skip and a jump from cities like Dubrovnik in Croatia and Kotor in Montenegro and makes an ideal sister destination to either of these.
Of course, it's only a couple of hours away from the Bosnian capital Sarajevo too and is perfectly sized if you want to spend a few days enjoying a quieter, riverside repose.
Unless you're into bridge jumping that is…
Want to know more… check out these 9 reasons why I loved Mostar.
---
Related Posts
---
This page contains affiliate links meaning Big World Small Pockets may receive a small commission on any purchases at no extra cost to you.
---
#1 The Bridges!
So top of the list why I loved Mostar is its riverside setting and of course, we all know a riverside city is nothing without a good bridge.
If you agree with me you're in for a treat, because Mostar has got several and they're all overflowing with history and instagram-ability!
The most famous is the Stari Most – a symbolic structure rebuilt after the devastating war this country endured in the nineties.
Now home to some crazy bridge jumping competitions and stunts, this tends to be the epicentre of the tourist action in the city – as many gather beneath to grab their iconic snaps or from the top to watch the crazy ones jump!
I know which side of the bridge I was on… can you guess?
There's also the crooked bridge, which I found even more charming, and several others dotted round the city.
All in all, they add greatly to the quaint and alluring charm of Mostar.
#2 The Museums
No article on travel in Bosnia Hercegovina can talk about this country and fail to mention the horrific civil war that ripped the nation apart back in the 1990's.
While it would be wrong to continue define this country by that horrific event, nevertheless learning more about this devastating time in its history is important, and as a traveller, I do believe its important to educate yourself too.
There's few "better" places to do this than in the museums of Mostar – another reason why I loved this city so much.
Top of the list is the Museum of War and Genocide which is open daily from 9am-9pm.
It's not the most objective account of the history, but can provide a valuable insight nonetheless.
After all, there's no better way to learn about a place than to go there and no better way to educate yourself than to travel with your eyes, ears and mind open.
LOOKING FOR CHEAP TRAIN & BUS TICKETS IN EUROPE?
When it comes to the quickest and easiest way to book train and bus tickets across Europe, look no further than Trainline.
Offering the best prices, with a handy journey planning feature and live departure updates, this is my one-stop shop when it comes to organising all my Europe adventures on a budget.
#3 The Street Art
And in keeping with this sad history, it's not just museums that you can visit to learn about the conflict that ripped through Mostar.
A lot of street art around the issue still remains and bullet holes are a common appearance in the city too.
In many ways, Mostar reminded a lot of Beirut in Lebanon.
The best place to see the street art and learn about the line that divided the city is to visit the area of Mostar near what is known as the "Sniper Tower".
I won't say too much more, but read up about this sadly iconic building before you visit.
6 ESSENTIAL PACKING ITEMS FOR MOSTAR
#1 Good Camera – You will be pretty much snapping non-stop during your Mostar itinerary and will need a good camera to do this iconic city justice. I highly recommend the Sony A6000, which I use for all my travels and love, not least because it's light, compact and robust!
#2 Good Walking Shoes – There will be a lot of walking in the city of Mostar, it's as simple as that! Make sure your feet are comfortable on those cobbles therefore with a pair of New Balance Trainers. Perfect for stylish city strolling, as well as being practical, I love mine.
#3 Good Guidebook – I'm a massive fan of the Bradt Guidebooks when it comes to more off the beaten track spots and think their Bosnia Hercegovina edition is particularly well put together.
#4 Good Water Bottle – All the city sightseeing is thirsty work, so make sure you have a metal water bottle that you can refill as you go, because Mostar tap water is drinkable… and free!
#5 Good Backpack – And to carry your water bottle, camera and guidebook, you're going to need a decent backpack that will help you balance the weight as you walk the city streets. In my opinion, you can't go past the Bobby Anti Theft Backpack, which is also perfect for helping you avoid pickpockets too.
#6 Travel Insurance – And finally, I wouldn't backpack anywhere without coverage and have personally found travel insurance from World Nomads to be great for travel in Bosnia Hercegovina and beyond.
#4 The Great Coffee… Obvs!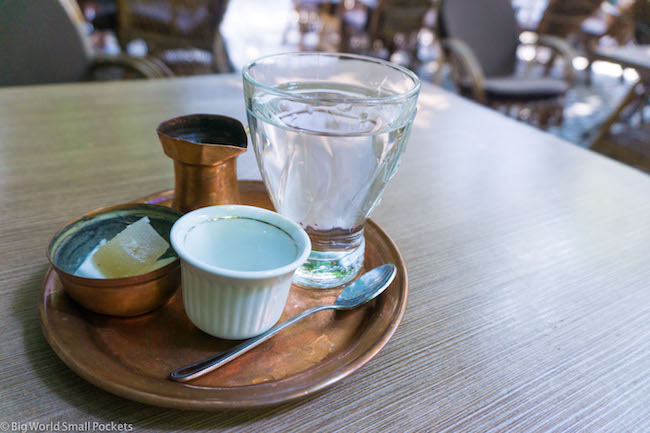 Like everywhere in Bosnia Hercegivona (thanks to the Ottomans who were here a while back) coffee is the drink of the day… and it's done well.
Indeed, great coffee and choice of cafes is one of the reasons I enjoyed Mostar so much.
After all, who doesn't want to enjoy a lazy morning, sat slowly enjoying a coffee on sunny summery morning next to a sparkling blue river and surrounded by green mountains.
Sounds ideal?
Yup, I'll bet you love Mostar too.
And if you like Burek – see this post for more info on what it is – you'll love this city even more!
#5 The Fascinating History
So yes, if you hadn't guessed from my last few points, it's pretty clear that Mostar, like much of Bosnia Hercegovina, has a fascinating history.
Occupied by many an empire from the Ottomans to the Austro-Hungarians and not discounting the more recent tragic events, this is a fascinating place to travel if finding out about politics, religion, culture and history float your boat.
Well they certainly do mine and that's definitely one of the main reasons I loved Mostar.
From walking the Spanski Trg – dividing line during the last conflict – and seeing many of the ruined buildings, through to visiting the local mosques, churches and synagogues, there's plenty to be explored in Mostar and it's all pretty cheap to do.
WHERE TO STAY IN MOSTAR
When it comes to top places to stay in Mostar on a budget, I highly recommend Musala – a cute house, turned budget accommodation spot a few minutes walk from the city centre.
Delightfully close to the bus station, the owner here – Sasa – is a Mostar local and full of helpful information and stories that he's more than willing to share.
Grab the best prices for your stay at Musala HERE!
#6 The Free Walking Tours
Being a budget traveller, and being a bit of a nerd, it's no surprise than I'm a big fan of a free city walking tour too and have done plenty in my time!
However the one I took in Mostar was undoubtedly one of the best (along with the one I enjoyed in Sofia, Bulgaria).
Meeting at 9:30am and 6pm daily during the summer outside the Hamam Museum in central Mostar, my time with Sheva Walking Tour (completely free aside from an optional donation at the end) was well worth it.
2-3 hours of jampacked info from a local Mostar resident, this tour truly gave me an incredible insight into the everyday life in this city and was definitely one of the main reasons I enjoyed my time here so much.
Find out more info on this free walking tour at www.mostarfreewalkingtours.com
#7 The Amazing Day Trips
And while we're on the subject of tours in Mostar (something I'm not usually a fan of I'd like to point out), I've got to say that while staying here there is one incredible day trip you simply can't miss.
Known as Moran's Tour (the owner of the company, which doubles as a backpackers is called Moran) this is an incredibly personal, eye-opening, fact-filled, fun and gorgeous day.
In fact, I'm even going to say it was one of my favourite days during my whole travels in Eastern Europe – quite the accolade I know!
We visited the towns of Blagaj, Pocitelj and Kravice Waterfalls, as well as an amazing hidden bunker and the stunning surrounding countryside.
And there's no question this is one of top reasons I enjoyed Mostar so much.
Just go to Hostel Miran to book, or else check out these great offerings for other top Mostar excursions on GetYourGuide.
HOW LONG TO SPEND IN MOSTAR
Given that you'll want at least a full day to explore the city of Mostar, as well as a full day for the tour I describe above, I'd suggest at least 2 full days for your itinerary here, which means if you're arriving from far away, you'll probably want 3 nights.
#8 The Instagrammability (sorry not sorry!)
No question when it comes to Mostar's Instagrammability and being a travel blogger, sadly I've got to admit this pushes any city higher up my love list.
From bridges to scenery, Mostar is a treat for your camera and will have you falling in love with Bosnia Hercegovina if you haven't already.
#9 The Chilled, Small and Safe Vibes
And last, but not least, the 9th reason on my list of why I loved Mostar so much is because it's safe, small and chilled.
Instead of feeling like a bustling city, this is more like a quiet provincial town and from the cobbled streets to the quiet parks, from the cemeteries to the local markets, this is a super easy place to travel alone… and on a budget!
Result!
PIN IT TO PINTEREST!
So that's my 9 reasons why I fell in love with Mostar.
Have you visited this gorgeous city?
Did you like it too?
Tell me how much in the comment box below…