It's a funny old thing when, after you've been backpacking for over 15 years, you find yourself looking to purchase a carry on suitcase, instead of a tattered old rucksack, and realise, with an alarming alacrity that you're suddenly getting older!
I guess it happens to the best of us!
Because let's be honest carry on suitcases are just so bl**dy brilliant aren't they?
Out with the shoulder-aches due to lugging so much weight around on your back, out with the clips and straps which seem to get caught on everything, and out with your possessions getting wildly whipped around as you bounce, bustle and cavort your way off on holiday.
And in with easy rolling moves, effortless gliding action, light, flexible and stylish carry on suitcase.
I mean what's not to love?
And what's not love especially if you're only heading off on a trip that'll last a week or a weekend?
Because, in my defence, that's why I've been looking to purchase a great carry on suitcase.
Not because I'm doing away with the backpacking forever, nor because I think I can suddenly survive a multi-month trip on an even smaller amount of possessions, but because this summer I've most been enjoying mini trips around my home country and continent.
(That's the UK and Europe FYI!)
So whether it's been a weekend down in Dorset or a short trip to Bristol, a few days up on Leeds or an excursion hiking in the Czech Republic, a side trip to Madrid or an overnight in Hastings, getting a hand carry suitcase has been a complete gamechanger for me.
And not least, because I reckon I've found the best one around.
And here's why…
---
Related Posts
---
This article was sponsored by Chester Travel (makers of the Minima Spinner Suitcase), but as always, all views are my own.
This page contains affiliate links meaning Big World Small Pockets may receive a small commission on any purchases at no extra cost to you.
---
Enter the Minima Carry On Suitcase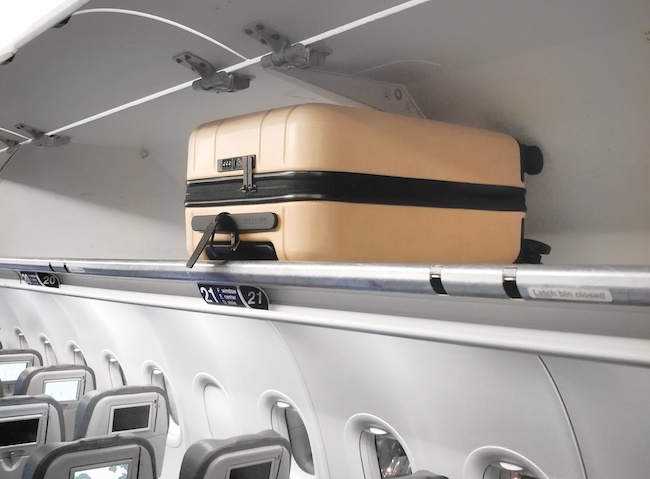 And that gem I'm talking about is the Minima Carry On Spinner Suitcase.
Perfectly balancing price (because don't get confused I've still got small pockets over here!) and style, this top hand carry suitcase is the perfect solution to your short break travel needs.
It goes without saying its compact design allows it to fit entirely within TSA and IATA cabin baggage guidelines, which to me and you means it will fit in the overhead locker on the plane.
Designed specifically to help you save those ludicrous baggage fees therefore, it's perhaps no surprise I'm a fan!
The Minima Carry On Spinner Suitcase is also incredible light. Weighing in at just over 3kg to us Europeans (7lbs to those of you across the Atlantic) it means lifting this hand carry suitcase into the overhead compartment won't be a challenge either.
… Although (disclaimer) that does depend what you pack in it!
Roomy and Secure
Because, you can get quite a lot in the Minima Carry On Spinner Suitcase… as I discovered.
When I used this carry on suitcase for my recent trip to the Czech Republic, I managed to fit 5 full days' worth of outdoor and evening gear into this amazing piece of luggage, including a pair of hiking boots and all my toiletries, a day pack for hiking, a rain jacket and several thick layers for the mountain terrain.
And that's because this excellent carry on suitcase has a 38 litre capacity (almost as big as my old backpack I was talking about!)
It also has several well-defined compartments, which makes organising your possessions fast and easy and there's even a dirty laundry pouch… hoorah for the OCD among us everywhere!
And when it comes to keeping your contents safe, this hand carry suitcase is perfect with a recessed TSA-approved combination lock.

3 ESSENTIAL ITEMS FOR CARRY ON PACKING
#1 Shampoo & Conditioner Bars – Ideal for helping you bypass those liquid restrictions, shampoo and conditioners bars are ideal for carry on travellers and, being plastic-free, are great for the environment too.
#2 Portable Power Bank – Charging on the move is crucial nowadays as all those travel snaps will have you draining your batteries in no time, the Anker Powercore 20100mAh Portable Charger is my go-to choice when it comes to charging my smartphone, mirrorless camera or GoPro on the move.
#3 Travel Scarf – Temperatures within an aircraft can often be freezing as they crank the aircon and can often lead to me feeling cold, if not catching one. I always avoid this by having a scarf with me and the Sholdit Travel Scarf is ideal for the job. A perfect travel accessory, it has a secure pocket, perfectly for storing your valuables if you want to safely snooze on the plane as well.
Carry On Suitcase for Every Travel Style
But let's be clear, with all this talk of sophisticated travel, I'm not completely abandoning the adventurous lifestyle… and with the Minima Carry On Spinner Suitcase I don't have to.
Because the silent spinner wheels on this hand carry suitcase effortlessly glide over rough terrain with their 360° multi-directional design, meaning I can still take this hand carry suitcase wherever I want or need to.
So whether it's the cobbled streets of a European city, the bumpy paving stones outside the airport or wooden floors of where I'm staying, the Minima Carry On Suitcase helps get me and my stuff to where I need to be… without any struggling, lifting or worrying.
Because it's definitely true that sometimes a poor quality carry on suitcase can be a disaster.
We've all seen them haven't we?
Those poor people at airports with broken zips, broken wheels and broken handles.
Suddenly the hand carry suitcase goes from being everyone's dream to be everyone's worst nightmare.
Thankfully, that's not going to happen with the Minima Carry On Suitcase.
The 100% aluminium telescoping ergonomic handles on this piece of luggage provide a secure grip along with peace of mind, and their 2 lockable positions guarantee you ultimate control without having to worry about any breakages!
There's also both top and side easy grab handles on this carry on suitcase to help you manoeuvre it into overhead compartments or up stairs and, if an accident was to happen, no problem, because this case can even survive high falls!
And that's thanks to the polycarbonate hard shell, which protects all your belongings against all the elements with its highly durable composition that offers protection against rain as well as bumps, scratches and drops.
And don't forget this all comes in at just over 3kg… it's more lightweight than aluminium!
Look the Part
Because there's no doubt, the Minima carry on suitcase looks good too.
Sleek and stylish, the easy clean interior and exterior means it's easy to keep looking good and the beautiful range of colours allows this bag to fit your style perfectly.
Personally I love the Ocean Blue shade, but there's actually 7 colours to choose from and all come with a 100-day trial, free return process and a 10-year limited warranty.
And with a price tag under $230 USD, there's no question this piece of luggage is great on the eye and the wallet.
Quite simply, it's the perfect carry on suitcase for me.
And if it sounds like it might be great for you too, check out more about the Minima Carry On Spinner Suitcase here.