As Big World Small Pockets continues to unearth tips about how to travel through more typically expensive destinations like Australia and Europe for less, I couldn't resist turning my attention to the capital of Spain, the wonderful city of Madrid.
Here's how to explore this city for less…
---
Related Posts
---
This page contains affiliate links meaning Big World Small Pockets may receive a small commission on any purchases at no extra cost to you.
---
Good news!
There's a myriad of things to do in Spain's capital city that don't require you to be a millionaire!
From Egyptian temples to gargantuan cathedrals and vibrant nightlife options, there are tons of wonderful things that await you in Madrid which won't cost you a heap of euros.
Between grabbing great food (trust me, no need for big price tags in this category—all the food is good!) and scoping out ways to see the sights for free or reduced prices, you'll find that a weekend adventure, or even a week-long escape to this city, can easily turn from the imagings of an expensive dream into a budget-friendly reality.
So here's how you can enjoy Madrid without going broke!
#1 Get All the Cheap Eats
Tapas
It's the one word you need to know when it comes to Spanish food, and it's really the most important for getting to enjoy Madrid.
Small considerations, like how the Madrid natives only eat lunch after 2pm, are important, but not so much as the small, perfectly flavoured dishes that are going to turn your holiday from a run of the mill vacation to a life-affirming event!<
One way to keep the prices down while enjoying the best Madrid has to offer is to hit up some of these great tapas-serving spots.
Totó e Pepino, La Musa Latina, La Dolores, and Los Gatos are the best places to start and don't forget to stop at El Brilliante too – here the atmosphere is unrivalled and the food simply divine without any of the crazy price tags!
#2 Take Yourself on an Adventure
When you're new in a foreign city, like Madrid, it can be hard to get the confidence to strike out on your own, especially if you can't afford to pay for taxis, private guides or even group tours.
In this situation, I always rely on a couple of great apps to get me on a path that's both cheap and good fun!
If you want to enjoy Madrid without going broke, then check out some of these free apps and learn all about the good stuff to do in the Spanish capital without spending a cent.
Field Trip – uses your current location to pick up on must-see sights near you and provides awesome background info for each one too.
HearPlanet – a self-guided tour that puts you on a specific course depending on what you want to see.
Rick Steve's Audio Europe – a highly entertaining, self-explanatory guide from one of the greatest travel guides in the world.
#3 Buy a Cheap SIM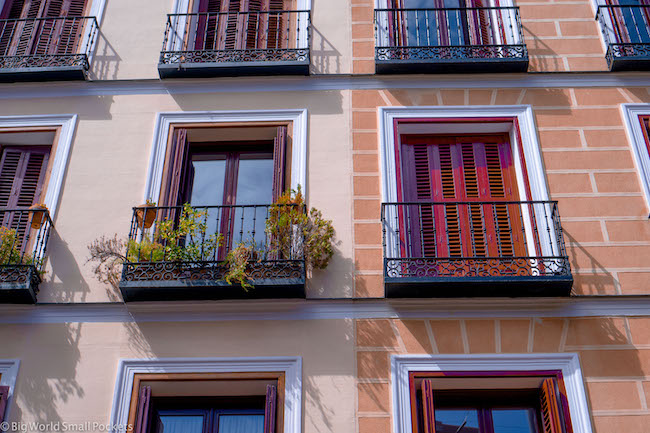 If you're using a free app to get around Madrid, then make sure you're able to access your data cheaply too!
When I'm travelling on a budget I always skip an international extension on my plan and instead opt for a local SIM card.
Normally you can find a cheap one for about 10-20 euros per month in Spain and this should get you a good amount of data.
Orange come highly recommended as they usually have the best data allowances on prepaid plans and can easily be picked up in many stores around the city.
You can then enjoy a great connection to your free app for a fraction of the usual roaming charges!
Otherwise, if you already have a SIM from another EU country, you can use this for no extra charge (i.e. with no roaming fees) in Spain.
#4 Look for Out Discounts
Another tip to get you around Madrid without shelling out a fortune is to hunt down some discounts.
One thing I always do when visiting Madrid is take my student university card with me.
Even if you're no longer a student, you can get discounts as long as you look between 18-26 years of age, so it's definitely worth taking even an old one with you!
Another option when it comes to discounted ways to enjoy Madrid is to stop by the front desk of your accommodation or one of the city's Tourist Offices to see if there are any free walking tours offered.
If not, then perhaps consider the Madrid Tourist Pass instead.
Starting at 47€, this card can give you free entry to over 50 museums (with priority admission in many of them) and amazing discounts in many shops and restaurants too.
#5 Pick your Accommodation with Care
If you're looking to enjoy Madrid on a budget, then you'll be glad to know that the city is no stranger to the backpacker culture.
There are many great hostels here and my top suggestion is The Hat Madrid, which provides good bang for your buck.
However, the real gem if you want a bit more privacy is to check out the booking site VRBO.
From single rooms in downtown Madrid at $23 a night, to gorgeous studio apartments in Sol at an easy $71 a night and even palatial pads in the old Austrias neighbourhood at $113 a night – it's easy to have a 5 star experience without the 5 star expenses with VRBO!
Check out this epic apartment for 6 people, which is a bargain given its right in the heart of Madrid with aircon, beautiful decor and owners who are ranked as Premier Hosts too!
#6 Tour the Free Stuff
When it comes to the best ways to enjoy Madrid on a budget, it's not just about taking yourself on a guided tour.
Sometimes it's about sneaking into those galleries and museums that house the cultural identity of the region too.
This is my list of the best free attractions in Madrid:
Biblioteque Nacional – From posters and spoken word archives to gorgeous maps and old periodicals, a trip to the Biblioteque is quite literally a dive into the rich history of Madrid. Don't miss out on its stellar collections and impressive architecture.
El Retiro Park – A gorgeous place for a stroll, a picnic or a boat paddle.
Old Austrias Neighborhood – The name may throw some visitors off, but this part of Madrid is the named after the old centre of the city and is the perfect place for keen photographers. Visit the Plaza Major, the Royal Convent of La Encarnation, and Casa de la Villa to start off, but then feel free to get lost!
El Rastro Sunday Flea Market – Sunday is the day to wander the streets of this great market for goodies. Trinkets, curios, books, handmade souvenirs, street food, coffee and more await you in this bargain hunter's dream. Start at La Latina metro stop and work your way up from there.
Palacio Real – Free to EU citizens with passports on Wednesday, the Royal Palace of Madrid still technically houses the Spanish royal family, but is more widely used for special occasions of state. Wander the gardens and be amazed at the size of the place! If you want to visit this place any other day of the week, I highly advise booking your Royal Palace Skip the Line Ticket & Guide ahead of time, you won't regret it when you see the queues, trust me!
The Reina Sofia – The modern art collection at the Reina Sofia will be a breath of fresh air compared to the Baroque-style design that otherwise dominates Madrid's art influence. Stop by this great gallery on a Saturday to wander the halls of Wifredo Lam, Damian Ortega and Remy Zaugg for free.
La Colegiata Church – This former cathedral of Madrid holds a distinct place in the city's history and its interior is one of a kind. If religious artefacts are your cup of tea, then definitely make a stop at this beautiful 17th century church.
PIN IT TO PINTEREST!
Hopefully, I've given you more than a few ideas about how to enjoy Madrid without going broke, so that you too can explore this fascinating European capital for less.
Have you been to Madrid?
What are your best budget tips for this city?
Feliz Viaje!