From glorious beaches and fabulous national parks to a strong sense of history and rich cultural assets, Mackay is blossoming into a great Australian travel destination.
Located on the coast in Tropical North Queensland, the city has long been popular with home-grown tourists.
It's now expanding its horizons however and attracting a large amount of international visitors too.
I loved the long weekend we spent in Mackay recently as part of the great budget 4wd trip around Australia and definitely recommend it as a great stop on your itinerary too.
In particular, we thoroughly enjoyed the amount of cheap and accessible stuff there was to do in the area, so cast your eyes over this list of the top 10 free things to do in Mackay and prepare to start planning a trip there now!
Grab Your Copy of How to Road Trip Australia on a Budget
My ultimate guide to road tripping Australia on a shoestring is now available, meaning you can finally get ALL my top tips for driving around all, or parts, of this amazing country in one handy eBook, including…
Full Planning & Preparation Guides
Day by Day Itineraries & Routes
Complete Packing & Gear Lists
Top Money-Saving Tips & Hacks
---
Related Posts
---
This page contains affiliate links meaning Big World Small Pockets may receive a small commission on any purchases at no extra cost to you.
---
#10 Cool Down at the Bluewater Lagoon
Right in the heart of the city, the Bluewater Lagoon is a water park perfect for the whole family as well as backpackers needing to cool down!
Set right opposite the main city mall, you can easily spend a day at the Lagoon splashing around in one of the 3 pools without even having to leave the city!
A great place to balance out that tropical heat, the Bluewater Lagoon is certainly one of the top 10 free things to do in Mackay.
#9 Hit the Beach at Eimeo
If swimming in the sea is more your thing than a swimming pool, why not head to Mackay's Northern Beaches to enjoy the water instead.
Eimeo Beach has lifeguards and makes for a great swimming spot – just watch out for the stingers!
There's also a lovely park behind the beach with a number of great free BBQs.
Enjoy the great climate of Mackay in true Aussie style as you fire up the barbie with a few beers and a beach view!
5 ESSENTIAL PACKING ITEMS FOR AUSTRALIA
#1 Good Camera – You will be pretty much snapping non-stop in Australia and will need a good camera to do this gorgeous country justice. I highly recommend the Sony A6000, which I use for all my travels and love, not least because it's light, compact and robust!
#2 Good Walking Shoes – There will be a lot of walking in Australia – from cities to national park! Make sure your feet are comfortable therefore with a pair of New Balance Trainers. Perfect for stylish strollling, I love mine
#3 Good Guidebook – I'm still a massive fan of the Lonely Planet Guidebooks and do think their Australia edition is well put together
#4 Good Water Bottle – Travelling in hot old Australia can be thirsty work, so make sure you have a metal water bottle that you can refill as you go, because tap water is drinkable… and free!
#5 Good Sun Hat – And there's no denying you'll need a good sun hat for protection in Australia too. In my opinion you can't go past this Hello Sunshine one, which is both gorgeous and ideal for keeping the rays off your face.
#8 Get your Cultural Fix at the Artspace
Right next to Mackay's main street, the impressive Artspace building glitters with potential.
Stop by and enjoy some of the travelling exhibitions it showcases or take part in some of the great workshops held there.
Much of the programme is free and the rest of it is still within the easy reach of a budget traveller's price range.
#7 Snap Kangaroos on the Beach at Dawn
Seeing kangaroos close up in the wild really is a treat for anyone, and in the wonderful Cape Hillsborough National Park, just north of Mackay, it's absolutely free!
The daily arrival of kangaroos on the beach here really is one of the most famous Australian images and you'd be mad not to set the alarm early enough to see it.
It's thought the kangaroos and wallabies gather at Cape Hillsborough's beach to eat the mangrove seed pods washed up by the morning tide.
But trust me, you've got to be on time as the animals are there for less than an hour.
The best way to see them is to camp overnight in the Park, so you don't have to drive far in the early hours.
Cape Hillsborough Nature Tourist Park is situated just above the beach where the kangaroos and wallabies feed at dawn and is less than a 2 minute walk away. Otherwise, the wonderfully cheap and beautiful Smalleys Beach Camping Area where we stayed, is about 8km away.
Seeing kangaroos on the beach at Cape Hillsborough is a hard one to beat even if you are from Australia, let alone a visitor, so definitely make sure it's on your Mackay bucket list.
#6 Picnic in the Botanic Gardens
Back in Mackay itself, you can't enjoy a visit to this city without exploring its beautiful Botanic Gardens.
With over 3km of lovely walking trails, as well as perfect grassy areas beside them, the Botanic Gardens are the ideal spot for an alfresco lunch and definitely one of the top 10 free things to do in Mackay.
Enjoy the blissful weather this part of the world offers by getting out amongst it as much as you can I say!
#5 Cycle the Public Art Trail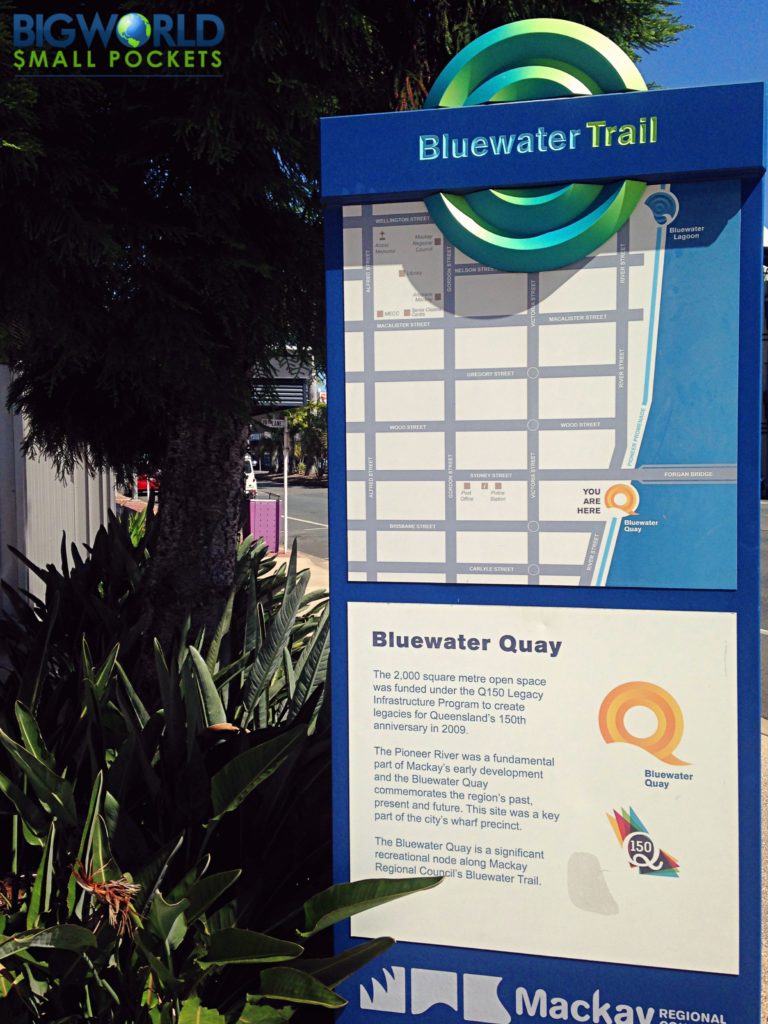 The Bluewater Trail in Mackay has over 20km of paths that are both bike-friendly and stroll-friendly!
Winding along the Pioneer River, this awesome route links up popular attractions including the 6 impressive public art installations that border the river.
With many large sculptures constructed out of a range of materials and inspired by the heritage of the area, this is a great way to take in the city, enjoy its blossoming artistic side and get some exercise at the same time!
#4 Snap Sunset at Shoal Point
One of the best places to watch the sunset in Mackay is at Shoal Point in the Northern Beaches region.
In fact, this sunset spot is so stunning, I'd hesitate to say it's actually one of the best places to watch the sunset in the whole of Australia.
Being in the tropics, sunset in Mackay is always quite early, generally around 6pm, so getting down to Shoal Point isn't a late night affair.
Instead, get here early to enjoy a walk along this gorgeous stretch of sand and to marvel at the patterns nature creates.
The huge tidal range here makes an impressive shot for photographers and the colours against the water really are hard to beat.
#3 Go Back in Time with the Heritage Trail
Step back in time as you walk Mackay's Heritage Trail.
This extended pedestrian route provides you with plenty of information about the city's history, including how the industries that shaped the city developed.
The story of many of the older buildings in town are also told as part of this fascinating trail, which you can either complete yourself (just grab a brochure from the Visitor Centre) or undertake as part of a 90-minute guided tour.
#2 Cruise the Marina
From boat watching in the shadow of the lighthouse to enjoying sunset from Lamberts Beach Lookout or taking a scenic drive to the end of the pier, there's a huge range of fun free activities to try your hand at down by the Mackay Marina.
Harbour beach is a popular spot for swimming and the breakwater is a fishing fanatic's dream!
Add into the mix the lovely green spaces of Slade Point Nature Reserve and the Ram Chandra Park and you've got yourself more than enough to explore for an afternoon!
#1 Spot the Shy Platypus at Broken River
If it's wildlife you're after, then I certainly recommend heading inland from Mackay towards the township of Eungella.
Only 75km away, this area is home to the Eungella National Park, one of the most famous platypus spotting areas in the whole of the country.
The Broken River section of the park has some awesome viewing platforms, easy parking, a great boardwalk and a lovely picnic area, all to help you spot these native and rare Australian animals with ease.
We camped right along the river here and actually ended up seeing a Platypus within about 30 seconds – amazing!
We also enjoyed some gorgeous walking in Eungella National Park accompanied by the stunning views of the Pioneer Valley.
Definitely one of my favourite memories from Australia so far, getting the opportunity to glance one of these rare and very shy creatures is, without a doubt, one of the best free things to do in Mackay.
PIN IT TO PINTEREST!
So those are my recommendations for the top 10 free things to do in Mackay.
Hopefully they'll leave you as pleasantly surprised by this city as I was.