Possibly the most famous stretch of Australian landscape, driving from Brisbane to Cairns is one of this country's classic road trips.
And so it should, a feast for beach lovers, scuba divers, surfers, nature lovers and wanderlusters, this part of Queensland is as diverse and delightful as it is magnificent and massive.
And massive, it certainly is!
Some 1700km in distance, driving from Brisbane to Cairns is a fair old road trip to make even when you aren't stopping to see a ton of awesome stuff along the way!
Throw in some national parks, a sailing trip or 2, some beaches you won't be able to tear yourself away from and sprinkle of adventure and you've got yourself a fair old journey that could take you a lifetime!
But most of us haven't got a lifetime right?
At least I know I didn't when I began my great budget 4wd adventure around Australia.
So, to help you plan your journey better and let you know all the highlights I enjoyed most, here's my perfect 20 day itinerary for driving from Brisbane to Cairns.
Grab Your Copy of How to Road Trip Australia on a Budget
My ultimate guide to road tripping Australia on a shoestring is now available, meaning you can finally get ALL my top tips for driving around all, or parts, of this amazing country in one handy eBook, including…
Full Planning & Preparation Guides
Day by Day Itineraries & Routes
Complete Packing & Gear Lists
Top Money-Saving Tips & Hacks
---
Related Posts
---
This page contains affiliate links meaning Big World Small Pockets may receive a small commission on any purchases at no extra cost to you.
---
Day 1 & 2: Brisbane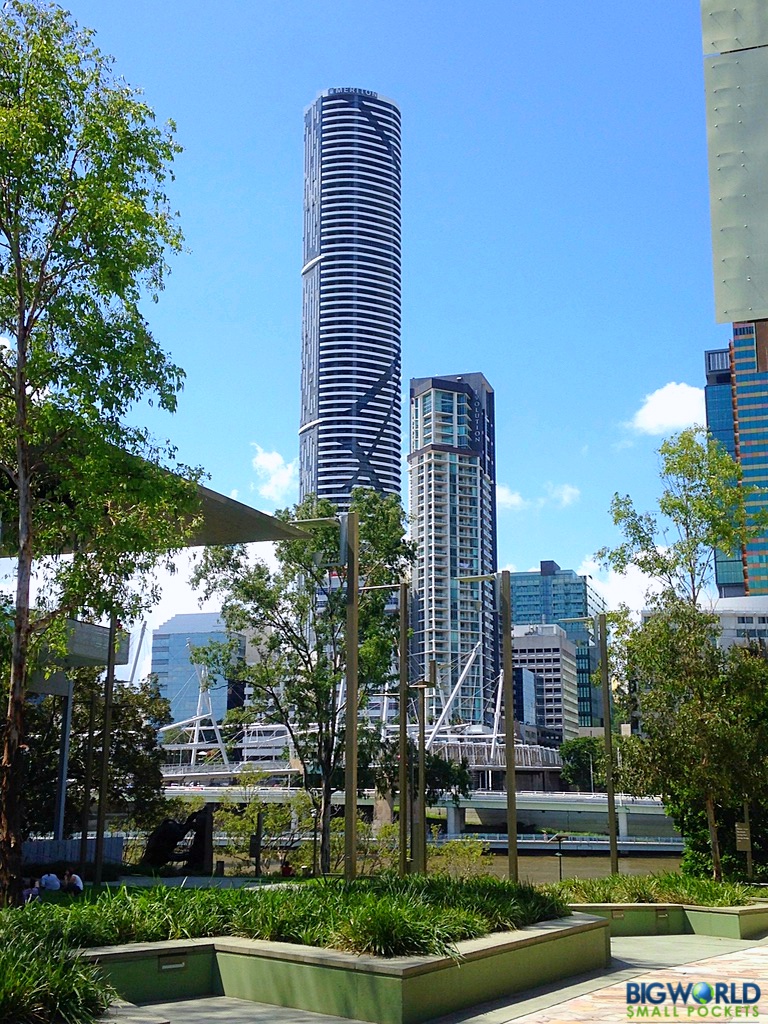 Starting your road trip in Brisbane is the most common way to make this great Queensland road trip.
As a major city, it's where you're most likely to buy or hire a vehicle easily.
It's also a great place to do any planning you might need, including buying those essential road trip gadgets and getting hold of any camping gear or navigation tools you require.
Amidst all your preparations however, don't forget to check out this awesome city too.
There's a ton of great things to do in Brisbane, as well as some really great suburbs to explore.
One of my favourite things to do there is stroll along South Bank.
Here you can ride on the Wheel of Brisbane, check out the Gallery of Modern Art and relax on the Street Beach, as you gaze at the city skyscrapers glistening above you.
In the evening, I recommend venturing out into Fortitude Valley to listen to some great live music and sample some local craft beers.
5 ESSENTIAL PACKING ITEMS FOR AUSTRALIA
#1 Good Camera – You will be pretty much snapping non-stop in Australia and will need a good camera to do this gorgeous country justice. I highly recommend the Sony A6000, which I use for all my travels and love, not least because it's light, compact and robust!
#2 Good Walking Shoes – There will be a lot of walking in Australia – from cities to national park! Make sure your feet are comfortable therefore with a pair of New Balance Trainers. Perfect for stylish strollling, I love mine
#3 Good Guidebook – I'm still a massive fan of the Lonely Planet Guidebooks and do think their Australia edition is well put together
#4 Good Water Bottle – Travelling in hot old Australia can be thirsty work, so make sure you have a metal water bottle that you can refill as you go, because tap water is drinkable… and free!
#5 Good Sun Hat – And there's no denying you'll need a good sun hat for protection in Australia too. In my opinion you can't go past this Hello Sunshine one, which is both gorgeous and ideal for keeping the rays off your face.
Day 3 & 4: Noosa
Ok, time to get on the road!
A great first destination when driving from Brisbane to Cairns is the gorgeous coastal town, and my old stomping ground, of Noosa.
Just a few hours north from Brisbane on the Sunshine Coast, this beachy town has a ton of outdoor activities to try out amidst a fantastic climate.
From stand-up paddle boarding on the river, to surfing the waves at Sunshine, to walking in the national park or even perusing the open air markets, there's more than enough to amuse you here for a couple of days.
Then of course, there's always the lovely cafes, restaurants and bars to try out in Noosa too.
My picks include Clandestino Café in the morning, Café La Monde for lunch, Mooshka for happy hour and then the lovely beer garden at Halse Lodge for your evening entertainment!
If you have even more time, why not extend your stay and check out some of the best day trips from Noosa too.
With some wonderful nearby waterfalls and historic hinterland towns, this is a great place with a little bit of something for everyone.
Day 5 & 6: Fraser Island
Stay: If camping isn't your thing, then check out the Eurong Beach Resort for your accommodation instead.
I strongly suggest an early start on Day 5 if you want to make the most out of your time on Fraser Island!
From Noosa, make your way up Teewah Beach (providing you have a 4wd – otherwise take the inland highway) and then onto Rainbow Beach, stopping to enjoy the coloured sands and awe-inspiring Carlos Sandblow as you go.
Once you get to Rainbow Beach, either stay the night here or hop straight on a great Fraser Island tour instead.
Essentially a huge sandbar, traversing this amazing national park can be tricky and is probably best left to the experts!
That said, Fraser Island is definitely one of my favourite places when driving from Brisbane to Cairns and, as soon as you're on the ferry over there, I'm sure you'll understand why!
With colours to die for and a heap of amazing wildlife, I always think Fraser Island is best described as a giant, natural adventure park for adults.
No surprise therefore, that there's a ton of great things to do on Fraser Island.
My favourites include enjoying a cooling dip in Lake McKenzie, spotting dingoes on 40 Mile Beach, photographing the Maheno Shipwreck and staring at the view from Indian Head.
Oh and who could forget camping under the stars too!
Day 7 & 8: Agnes Water
Stay: Cool Bananas or Workmans Beach Camp Ground
After Fraser Island, you'll most likely return to Rainbow Beach.
From there, you then want to continue your road trip north until you reach the gorgeous haven of Agnes Water.
This tiny town at the end of track, is a low-key, relaxed beach paradise and its neighbour, the town of 1770, is famous for being the first place Captain Cook set foot on Queensland soil.
It's worth bearing in mind that Agnes Water is your last opportunity to enjoy the famous Queensland waves as, north of here, the Great Barrier Reef stops the big sets rolling in.
On top of this, Agnes Water is actually the cheapest place for you to learn to surf in Queensland, so it's an even better opportunity you don't want to pass up!
For some more great ideas about what to do in this beautiful town, check out my ultimate guide to Agnes Water, or just string up a hammock and watch the world go by!
Day 9: Cape Hillsborough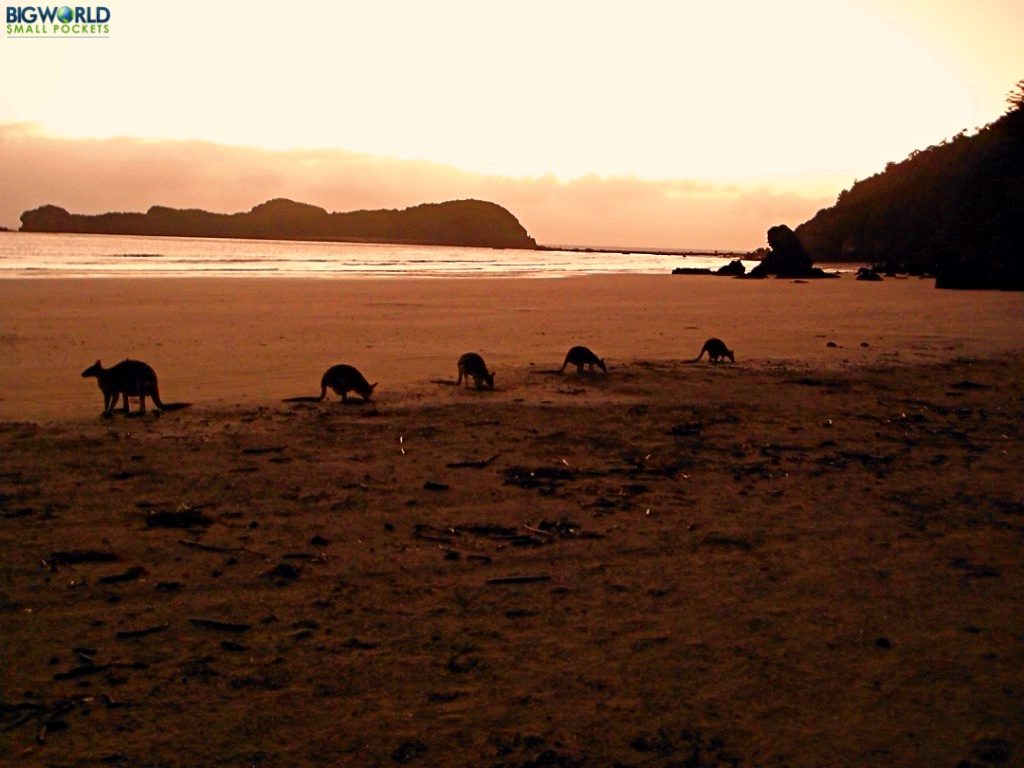 Stopping at Cape Hillsborough National Park for one night is an absolute must when driving from Brisbane to Cairns, especially if you have a campervan you can sleep in.
Just 50km north of the city of Mackay, this national park boasts some amazing beaches, but is most famous for the kangaroos that come to the beach at dawn.
Each morning, as the sun peels over the horizon, grey kangaroos and wallabies descend on to the sand here to feast on the mangrove seed pods washed up by the tide.
Grabbing a snap of them silhouetted against the red dawn sky is a wonderful treat and certainly worth the stopover.
Day 10: Airlie Beach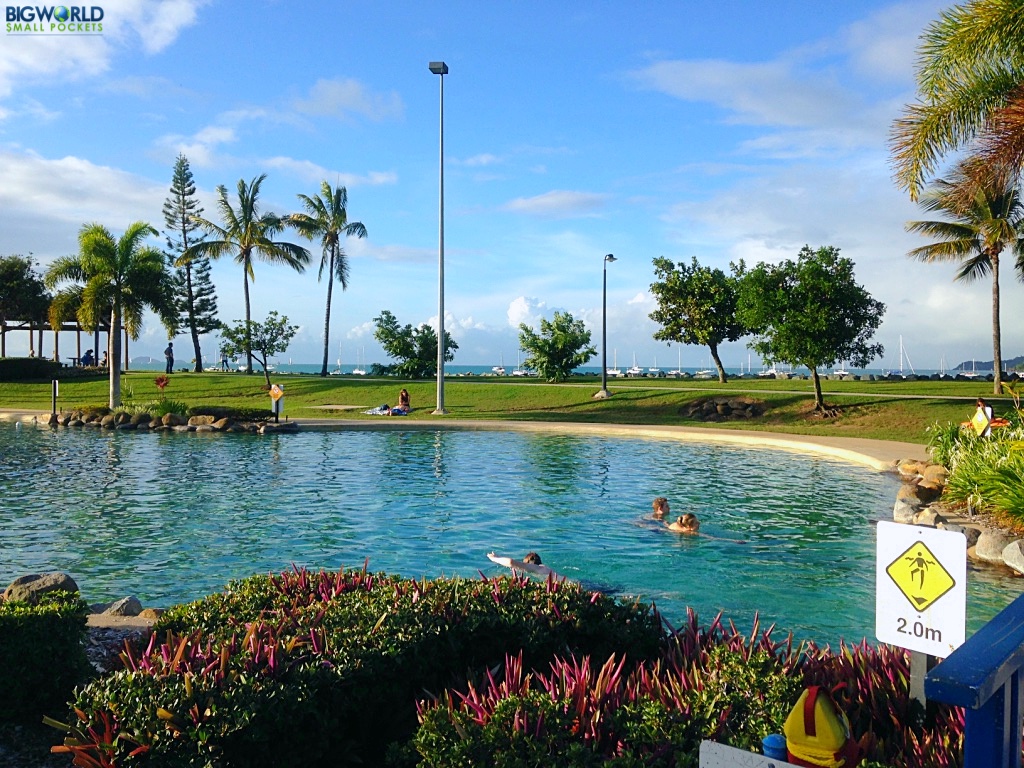 From Cape Hillsborough, you then want to head to the backpacker mecca of Airlie Beach, which is the main gateway to the Whitsunday Islands.
No journey that involves driving from Brisbane to Cairns would be complete without a stop in this picture-perfect paradise, so use this day in Airlie Beach to grab yourself a last minute deal for a Whitsunday sailing trip.
After that, check out some of the awesome free things to do in Airlie Beach.
My favourite is to just relax at the Lagoon and enjoy the idyllic views of some of Australia's most famous islands as a backdrop.
Day 11 & 12: Whitsunday Sailing Trip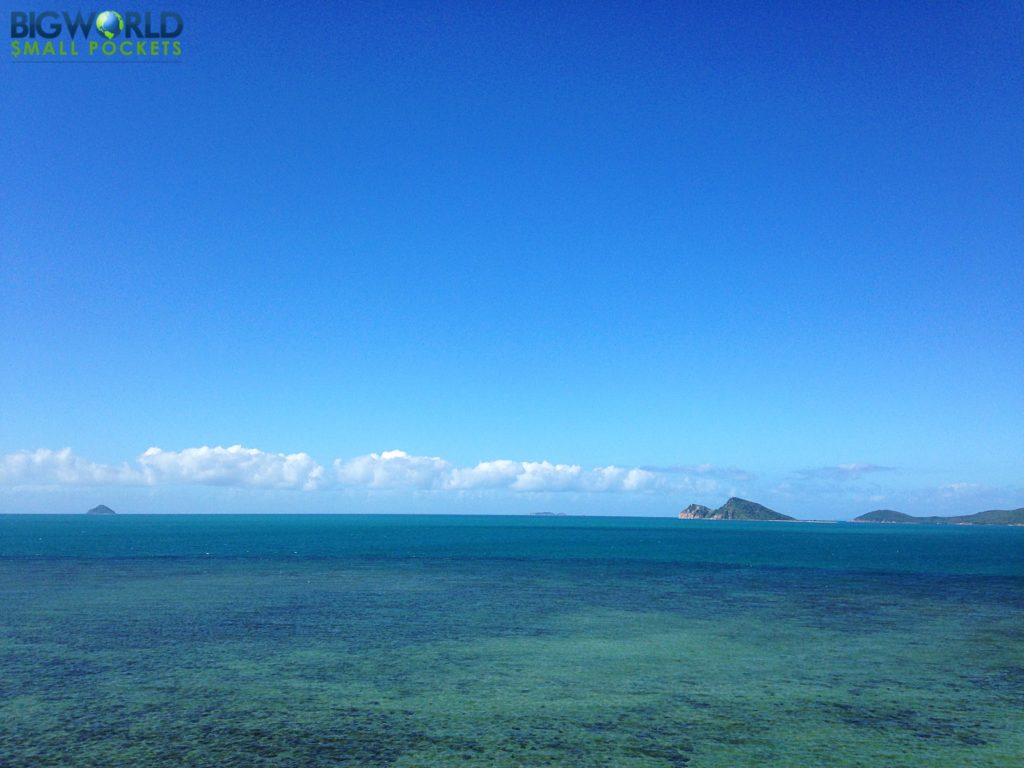 Jump aboard your sailing boat and prepare to have the time of your life!
From snorkelling and diving the tropical waters here, to visiting some of the world's whitest and best beaches, taking a 2 day sailing trip in the Whitsundays is bound to be an experience you'll never forget!
Alternatively, if sailing isn't your thing, check out my guide about how to see the Whitsundays cheaply.
This gives you all the information you need when it comes to remote camping in this picture-perfect paradise instead!
Day 13: Airlie Beach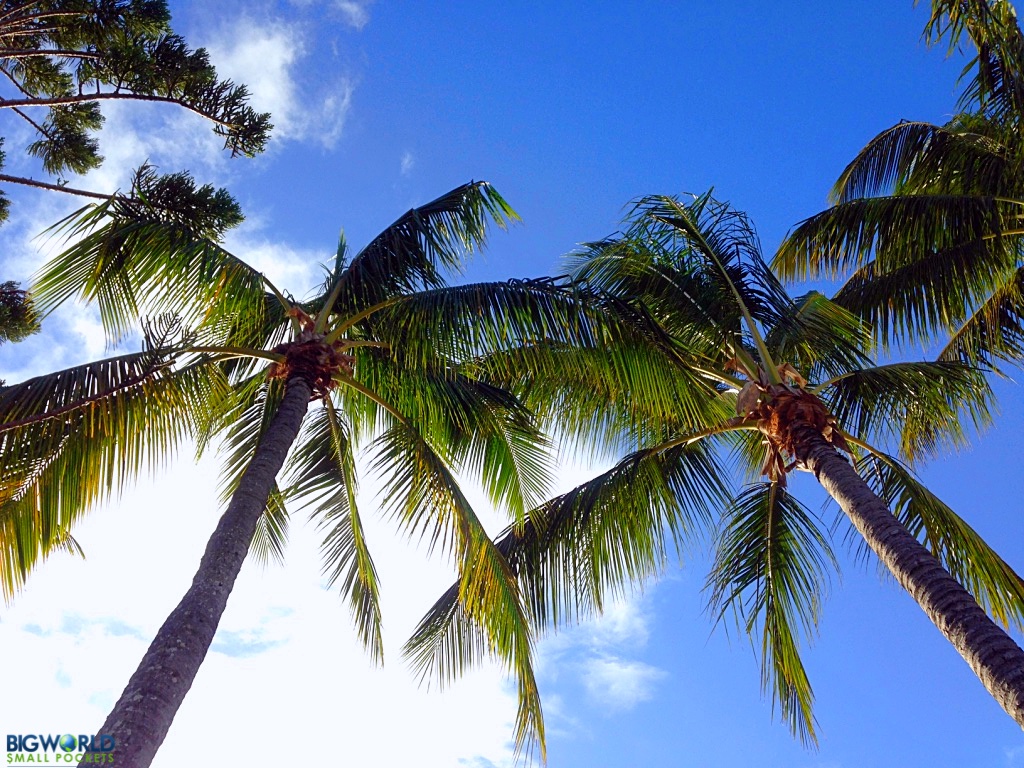 Return to Airlie, find your land legs, stock up on supplies and get ready to hit the road again.
Day 14: Townsville
The largest city in tropical north Queensland, Townville is definitely worth a look-in if you're driving from Brisbane to Cairns.
One of the most incredible hostels I've ever stayed in is in Townsville, so trust me when I say booking yourself in for a night at Rambutan YHA, is worth a trip to this city in its own right!
Otherwise, there's a heap of free things to do in Townsville, perfect for those on a budget.
The Friday night markets at the Strand were a particular favourite of mine.
Day 15 & 16: Magnetic Island
The next hotspot is only a hop, skip and a jump from Townsville, so leave your vehicle on the mainland and grab a cheap passenger ferry over to Magnetic Island.
The lovely Maggie Island, as it's colloquially known, is a little haven of relaxation and has tons of amazing beaches begging to be explored.
The best way to do this is by hiring a car on the island, so nab yourself a fun little 4×4 that will allow you to explore the most remote parts of this fab location.
Highlights include the Forts Walk, complete with koala spotting, snorkelling at the gorgeous bays of Florence and Radical and then heading over to West Point for one of the most spectacular sunsets you'll see on the whole east coast!
For more ideas, check out my ultimate travel guide to Magnetic Island, which has tons of information put together over the course of the 3 months we lived there!
Day 17: Mission Beach
You're well into the tropics now, so why not make the most of it by enjoying yet another beach!
Here's my list of the best things to do in Mission Beach, to convince you it's worth a stop if you're driving from Brisbane to Cairns.
Indeed, it's definitely well worth a night, especially as Mission has one of the best beaches in Queensland, plus plenty of great cafes to check out too.
If you're feeling more active, then why not hop on a kayak tour to Dunk Island, or try a spot of snorkelling instead.
If you're feeling braver than that even, then why not jump out of a plane and hurtle back to earth at some crazy speed!
Apparently, it's called fun and you have a beach landing guaranteed!
Day 18 & 19: Port Douglas
A beauty of a stopover if you're driving from Brisbane to Cairns, the little town of Port Douglas really should not be overlooked.
There's something about this great beachside hamlet that I love and it's not just the epic beach, beautiful ocean swimming possibilities or morning outdoor yoga classes!
Complete with weekly markets, a great lookout point, some character-filled buildings and a relaxed atmosphere, definitely allow yourself at least 2 days to really enjoy all Port Douglas has to offer.
Day 20: Cairns
After 20 days of driving from Brisbane to Cairns, you've finally reached your destination!
Revel in the glory, by relaxing at the Strand Pool and enjoying some Cairns nightlife too.
If you really want to make your last day of the road trip a good one, then why not create some amazing memories by visiting the Great Barrier Reef as well.
If you don't have to get on a plane in the next few days, then scuba diving here comes highly recommended, otherwise opt for a boat trip.
This epic adventure day trip to Fitzroy Island, which includes snorkelling the coral reef, also comes highly recommended when you're in Cairns!
Whatever you choose to do here, it will be the perfect ending to the road trip of a lifetime!
LIKE IT? PIN IT!
So that's my perfect 20 day itinerary when it comes to driving from Brisbane to Cairns.
Have you made this epic road trip before?
What were your favourite spots and where did you enjoy staying most?